Adia Murad is an Arab NYC-based Spiritual Artist whose mission is to help people feel seen, heard, and loved through art. When she was 20 years old, Aida was diagnosed with Rheumatoid Arthritis and subsequently became semi-paralyzed for 4.5 years. They say the darker the shadow the brighter the light and Rheumatoid Arthritis was her shadow. Art, however, became her light. When she was in a place of suffering, she turned to painting to help heal but instead of using brushes, she painted only with her hands. Through her work, Aida demonstrates to herself and to the world that she is not damaged and that this dysmorphia does not define her.
Can you tell us about your work?
I paint abstract art that has healing properties as I incorporate Reiki (an ancient Japanese form of energy healing) into the art. I've created 12 collections, and they change so much but all my art celebrates the spectrum of emotions.
Each painting is created with multiple layers of painting, where you only see the final chapter but there are on average 7 to 11 chapters (layers of paint) behind it which creates a highly textured appearance. People have chosen to purchase my art because it sparked a deep emotional connection with them, whether it's impressionist art, modern art, etc I do not focus on that as my art form has evolved and will continue to evolve (or at least I hope so).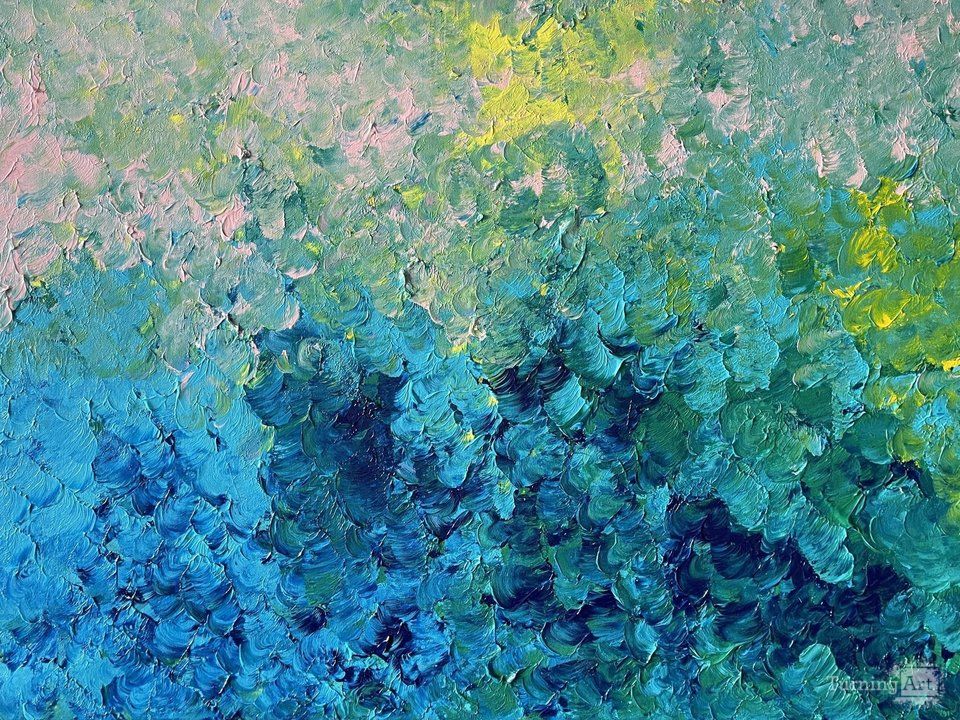 Can you tell us more about your artistic process?
My brain works like an orchestra, I need to paint 7 to 8 paintings at a time. I never plan which color palettes I will work with, so I always have all my colors with me.
I always start with clearing the energy by using palo santo or sage. I perform Reiki (energy healing) on the painting and then I pick a song to play on repeat as I paint. My brain enters the flow state easier when I have a song on replay. I paint only with my fingers and forearms, never with a paintbrush. I also never have a plan of what I am going to paint, it is a true surrender to the creative journey, which is why I say my art comes through me and not from me, sometimes I even paint with my eyes closed. It's magical to paint without seeing what I am creating. I become connected to the work in the deepest sense, through energy.
When you are looking for inspiration, what resources do you turn to?
Nature and God. I find such divine beauty in nature and it's a place where I feel most space, in communion with nature.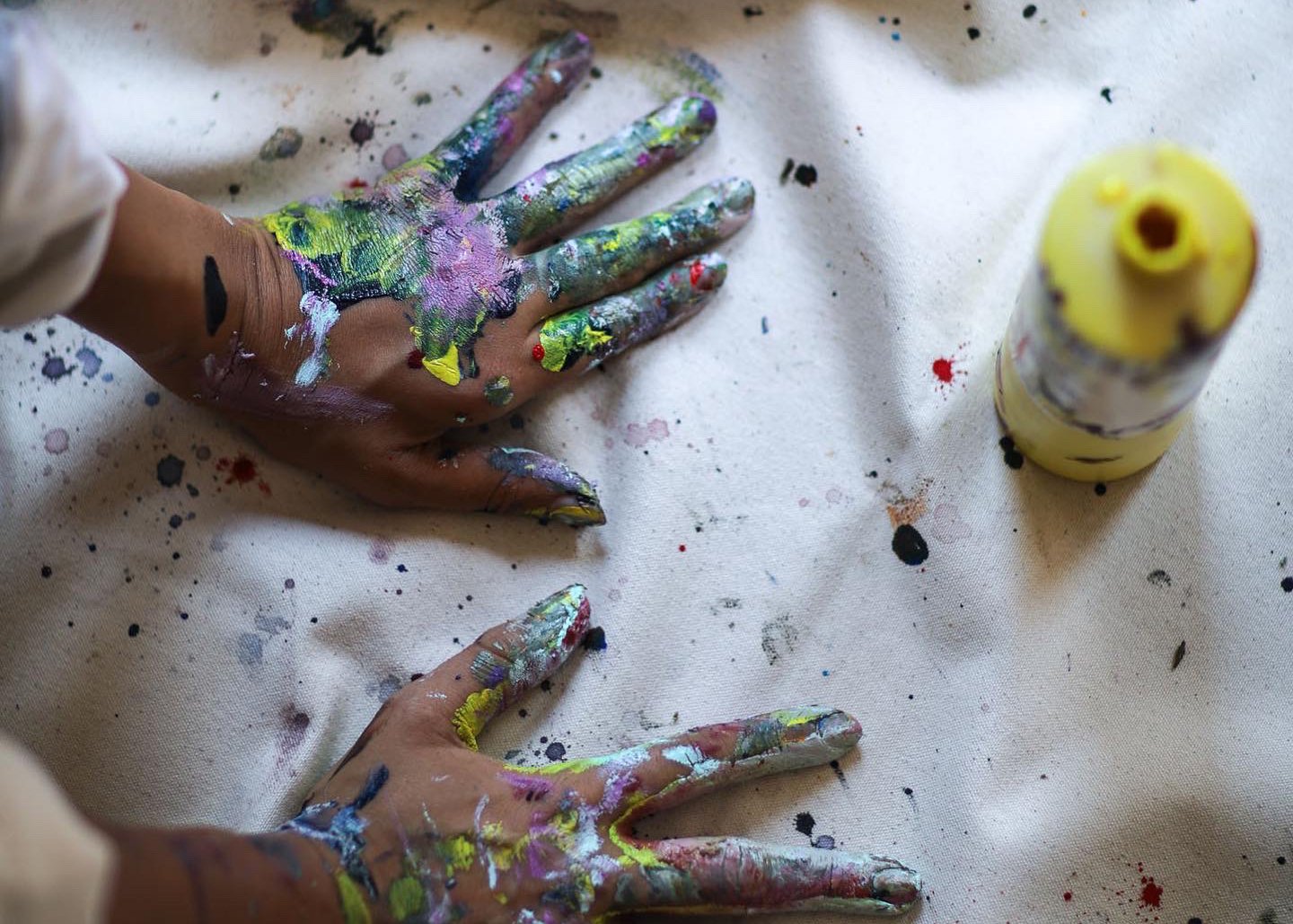 Walk us through a typical day in your studio. What is your routine?
There is no typical day, that's the fun part!
What advice do you have for combating creative block?
Paint with your eyes closed. It works miracles for me. I also would recommend forms of therapy, primarily talk therapy and body movements because, in my opinion, creative blocks are linked to trapped emotions. So when you get curious about the trapped emotion, see it, hear it, and dialog with it, that's when you can transmute it and allow creativity to come back in.
As an artist, how do you measure success?
My answer to this question has evolved along the journey. It used to be primarily how many paintings I sold but today it's primarily how my paintings impacted a person's life and physical and emotional space. I've witnessed such incredible success stories of how people's stress has reduced and happiness increased after acquiring my paintings. That is deeply rewarding. Of course, the business of the art is still critical so the number of paintings sold is still an important factor in my success.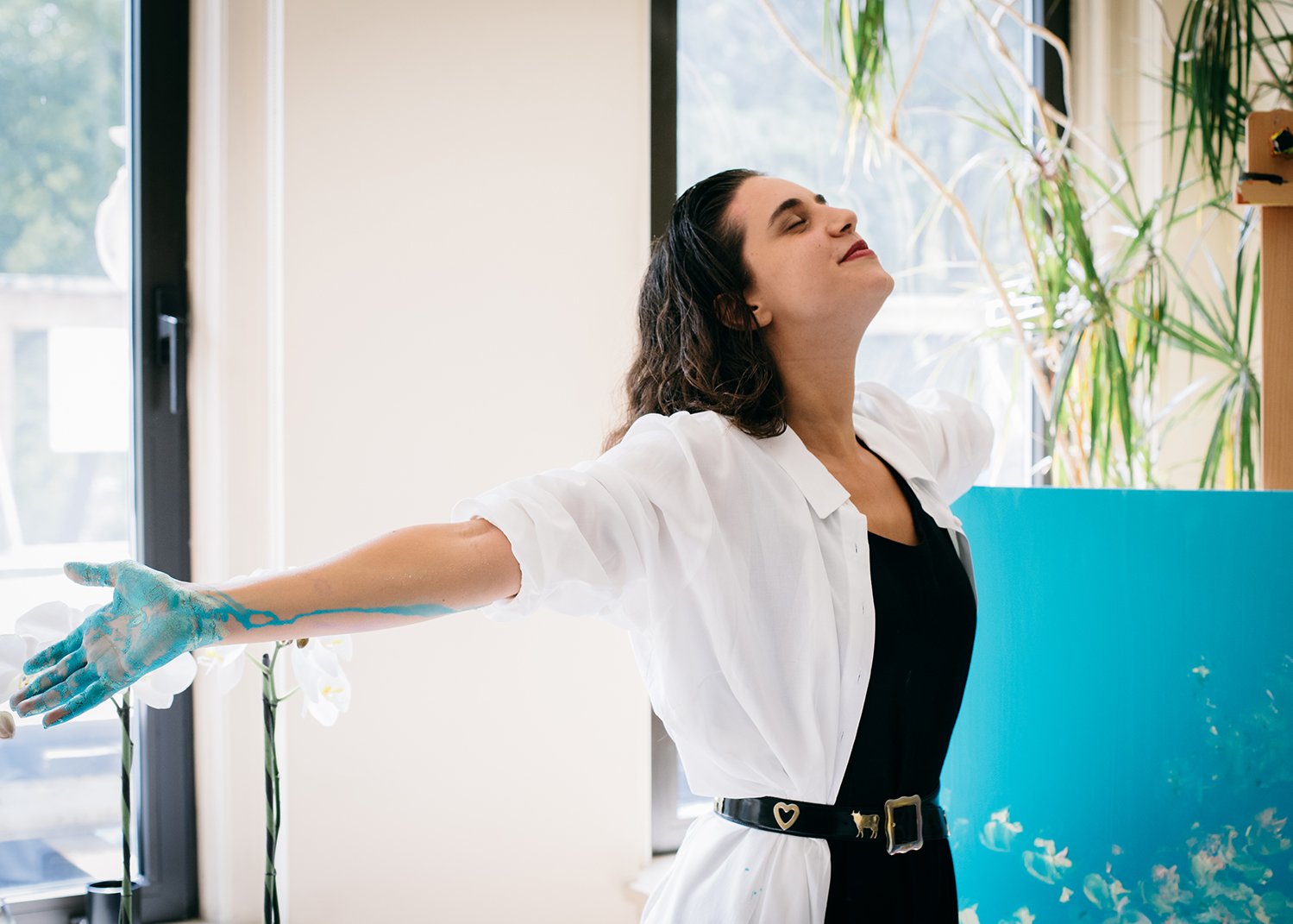 How do you see the art market changing? Where you do see yourself in this transition?
It's becoming more democratized. For example, I have followed a non-traditional path. I've sold out 10 collections primarily by people finding me organically. I did not exhibit in a traditional gallery and work my way up. I created a path and people found me which I am forever grateful for.
I've also noticed more opportunities for people of color. For example as an Arab, this was important as I did not see examples of Arab role models in art. But today that is changing and I bet it is opening pathways for the younger generation to think, hey maybe I can be an artist too - and that is priceless!
What advice do you have for artists who are beginning to build their careers?
I personally did not have the urge to see other artist works until I was deeply comfortable with my own creative process. A lot of people pressured me to go to museums, and new gallery openings and stay in touch with the latest art, but that did not serve me. I needed to be fully with my own art before I went out there to look at other artists, but then again I spent a lot of time with the best art in the world: nature.
So my advice is to keep very close to your intuition, and always maintain an excel sheet with every single person who expressed interest in your art. I wish I had an organized sheet from day one!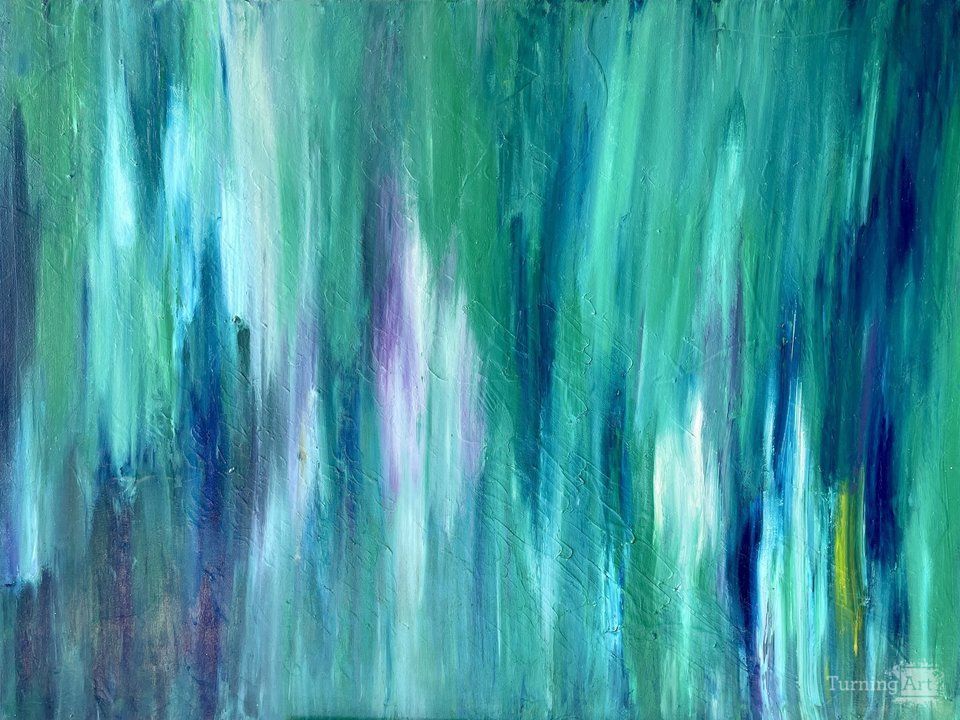 Do you consider yourself, and all artists, to be entrepreneurs? Why or why not?
Yes! I personally also run the business of my art and even if I was only the creative, we still need to manage and be in touch with the pulse of our business. We cannot be disconnected from it. We need to know about the finances, art collectors, which markets are interested in our art, etc because that's part of being responsible in my opinion.
I have a Chief Operating Officer and several art strategy advisors who help run the administrative, operational, strategy, and partnerships part of the business but I am the CEO so I need to be involved to make sure the vision of my art is physically going where I want. One piece of advice, hire people who are smarter than you and who have impeccable values. When you find them, treat them well because they are gems.
Failure is an inevitable part of success in any field. Do you have advice for overcoming setbacks?
I had one art dealer tell me she could only see my art in the bathroom of hotels. She obviously was quite rude and did not like my art. That was 7 years ago. I have thought of that statement often and I realized that it fueled me to keep at my craft knowing that I can't please everyone. My art is NOT meant for everyone, nor is your art meant for everyone. So, my advice is to get comfortable with people not liking your art, and know that's not unique to you. After you make peace with that, focus on the people who DO value your art. I've thankfully had art collectors who now come back to me to buy a new painting each year because that's how much they love my art! Focus on those people and you are good.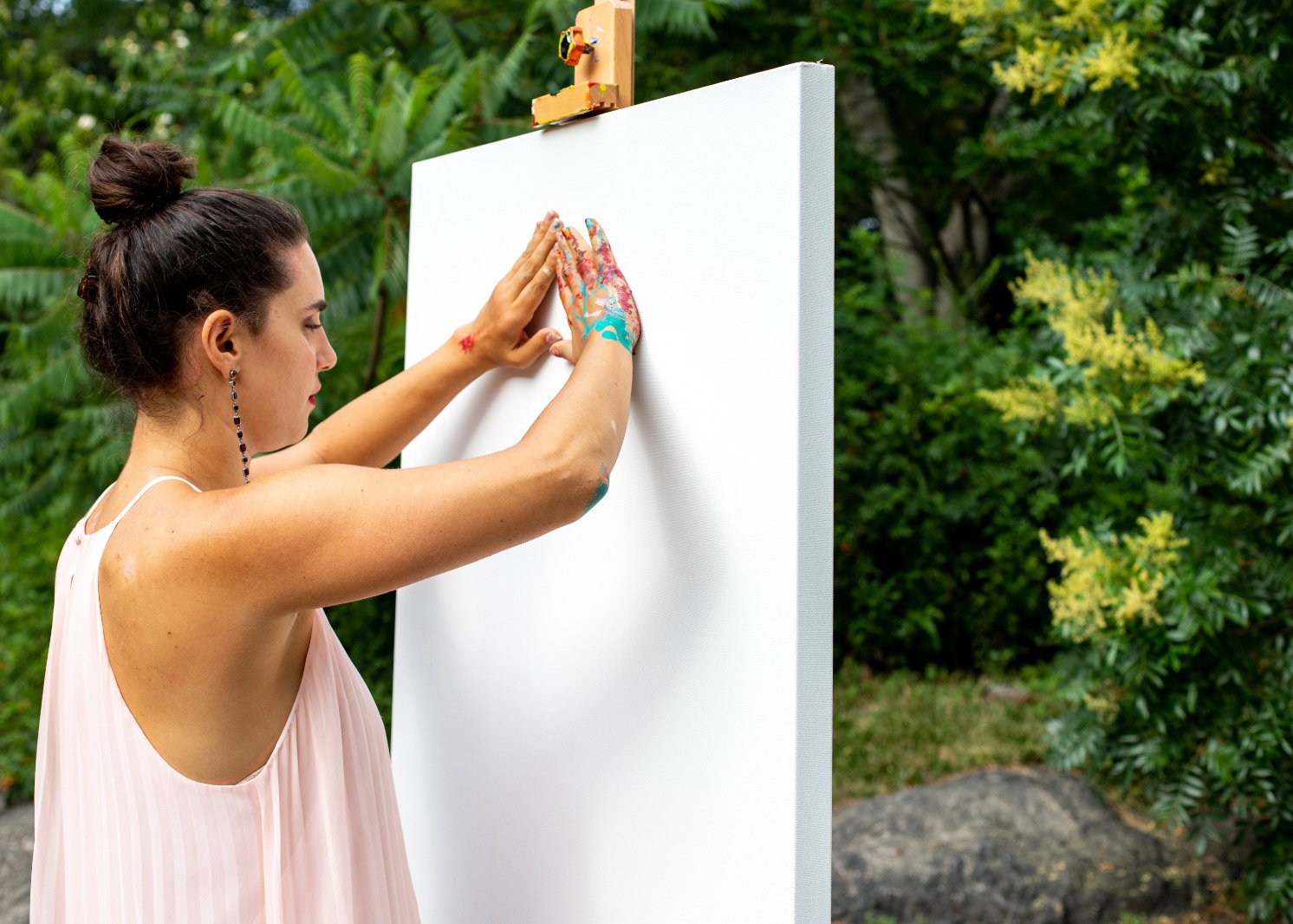 What sparked your interest in partnering with TurningArt?
I was in search of collaborations so I could focus more on my craft and I craved tapping into markets that I did not have direct access to. TurningArt truly cares about its clients and that built trust for me as care for my art collectors is a big part of my ethos. I'm excited for the journey with TurningArt to continue and expand into new magical ways!
What does having your artwork in the workplace and other commercial or public spaces mean to you?
It's very special because you do not know who you have impacted along the way. Hundreds, thousands, and maybe one day millions of people could see the art and it could have helped them smile that day, feel seen, or helped them calm down. Knowing that I will never know the full impact my art has had on a stranger is profound because it humbles and excites me. Having my art in the workplace is also very important to me because we can spend more than half of our time there and beauty in the workplace is critical to fostering calmness, wholeness, and inspiration for innovation.
To see more featured TurningArtists, return to our blog. To get Aida's art in your space, set up a free consultation with an Art Advisor here!