Many times in Charissa's life she has come upon an archeological artifact, plant, animal, or insect that at first glance has a questionable identification, origin, or meaning. Her mind is at once awed by the mystery, and at the same time, it works through her past experiences, trying to place meaning on what is in front of her. It is a guessing game, where narrative or meaning is created. There is a line that is walked between what she sees, what she thinks she sees, and what she actually sees. Charissa's work explores this phenomenon. She is interested in what the viewer thinks they see, the perceiving, and the interpretation of the perceived based on personal mythology created by one's past experiences.
Can you tell us about your work?
My work method stems from an interest in the complex structure of bamboo and its unlimited potential as an art material. When I work, I develop a system for creating a structure. Some systems, like stacking split bamboo pieces into progressively smaller rows, I have been using for years. I consider each of these systems to be like a sentence in a paragraph that tells a story - a part of my visual vocabulary. Glass is a wonderfully amorphous material. Combined with the bamboo it captures light, accenting the fine tips of the bamboo. Glass adds to a narrative, creating a light and translucency the bamboo cannot. I use glass in the same manner I do bamboo, it is a part of the visual vocabulary.
While growing up in New Mexico I became aware of and inspired by the adobe brick architecture, the multitude of patterns in the local basketry and pottery, the sparse and delicate landscape, and the many myths I have read over the years. The impetus for my work comes partly from a collection of the forms, textures, materials, and methods of other cultures, past and present. It also comes from an interest in forms in nature, the microcosmic and the macrocosmic, and patterns contained within the plant and animal world. The continuous evolution a plant makes inspires me to further explore how to manipulate my own forms. These elements are combined with ideas I have gathered in making and evaluating my past work. In the abstract objects that I create, I incorporate a continuous narrative of my own internal culture, one that includes all that I am exposed to. Referencing aspects of objects from the past and forms from nature through knots, interwoven lines, and stacking systems, I am creating a story in hopes of calling to mind a story in us all.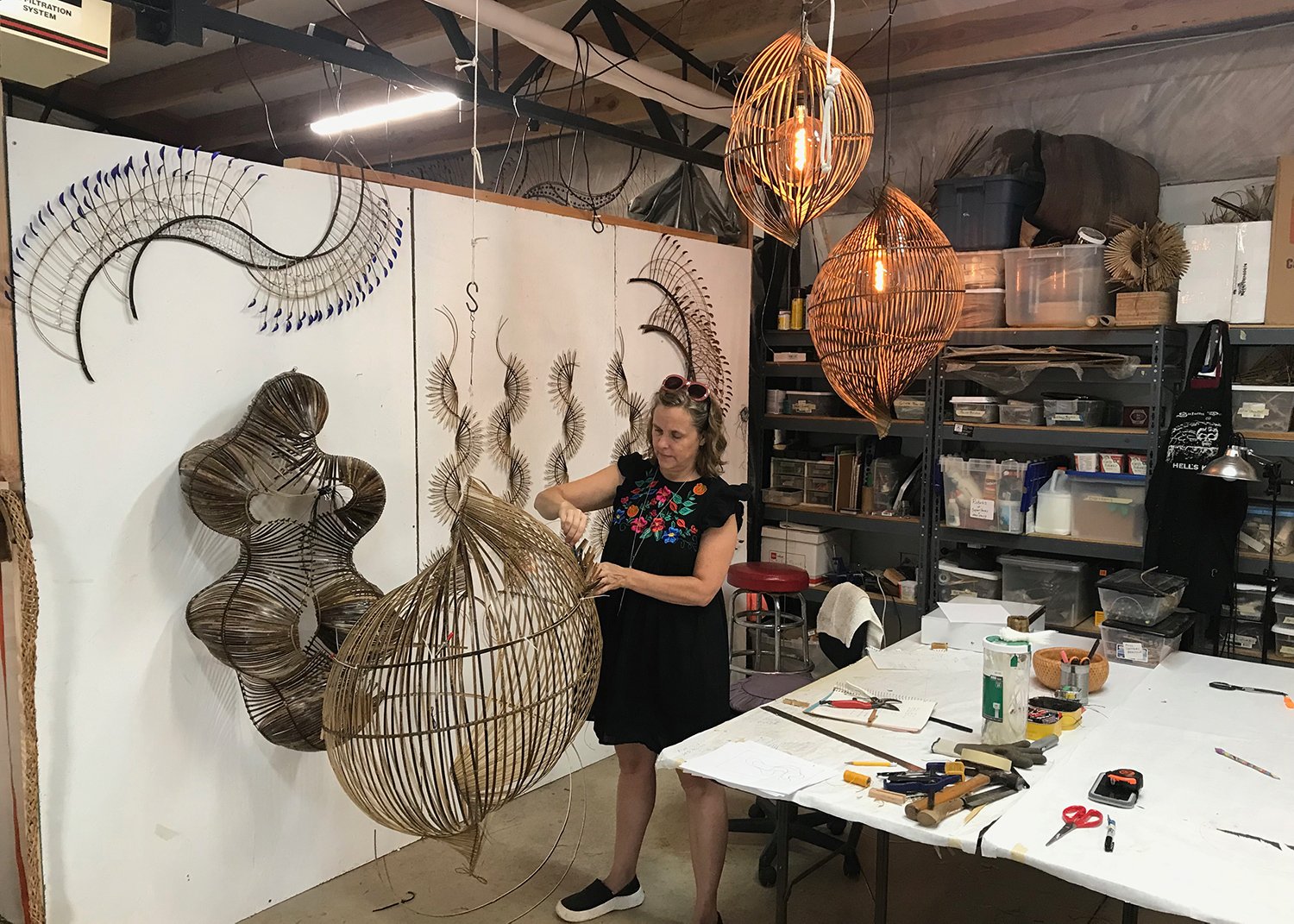 Can you tell us about your journey to becoming a professional artist?
My journey started as a child, growing up in the house of a glass artist, my mom, Emily Brock. I was able to learn from a very young age to use tools, develop the ability to see details, think in a visual language, understand self-discipline, and see firsthand how an art business was run. I never became an artist, I just was an artist all along. In undergraduate school at the College of Art and Design in Detroit, I refined my search for a material that spoke to me in the Crafts department down to natural materials. I was attracted to plants I could gather without harming nature. I loved studying the patterns and forms of plant materials and creating sculptures out of them. From 1993 to 1998 I worked in this way, exhibiting my work within the realm of contemporary basketry. In 1999, while a grad student at Tyler School of Art I was searching for places to gather natural materials and was invited to come and see a grove of bamboo. I was immediately struck by the potential of the plant and took some back to my studio to do material research. The internet didn't exist yet so my research was all hands-on activity. Within a year I developed several techniques with which to build my sculptures, which I still use today. After graduating from Tyler, I moved to Portland as an artist in residence at Oregon College of Arts and Crafts. Portland turned out to be the best place I could have chosen. Ned Jaquith, the founder of Bamboo Garden Nursery, lived there. He taught me about bamboo as a living growing plant and gave me access to bamboo. Jiro Yonezawa, a Japanese bamboo basket artist also lived in Portland. Over the course of six years, he generously showed me demonstrations of various traditional bamboo techniques. With each new technique, I have learned or developed, my work has grown.
Can you tell us more about your Process?
I gather my materials from bamboo groves around the Pacific Northwest. Bamboo grows well when a grove is well maintained and I feel good knowing that harvesting the material is actually helping the plant. I take the bamboo back to my studio and heat treat it. In this process I remove an oily starch in the bamboo by holding it over a flame, wiping the bamboo clean when the oil is released by heat. Depending on what I am going to make, the bamboo will then either be cut up into small pieces or split into long strips. I only use the skin of the bamboo for a lot of pieces. I split the bamboo cane into 16ths and remove the skin, discarding the inside. The skin is then pulled through two different sets of knives to make each piece the same width and thickness. Next, these pieces are cut, heat bent, and sanded before being sewn together. Fused glass elements, which are created in my studio kiln in a series of steps, are then incorporated into the pieces. Although there is a lot of physical processes I go through to create the work, there is also a mental process I go through to come up with the ideas for the work. Most pieces are developed over time through the creation of the body of work. While working on one piece I have ideas for the next. The work feeds itself if I carefully listen and watch for the potential.
When you are looking for inspiration, what resources do you turn to?
The biggest inspiration for the work is the work itself. Ideas are formed for the next piece while working on the previous one. Secondarily ideas are found in nature while gathering bamboo, gardening, or just walking. Details within the natural world hold secrets; the development of plants unfolding towards the light, the patterns, and the quiet presence all are absorbed, processed, and integrated into the work. I also am very inspired by other artists' works. It is not necessarily what artists make, but the amount of energy they put forth in communicating their inner world to the outer world that inspires me.
Walk us through a typical day in your studio. What is your routine?
I start my day by taking care of any communication needed while eating breakfast. I then go to my studio and do a little straightening up while I clarify what is needed within the day's work. I like my tables laid out orderly so it's easy to find the tools needed without the clutter of yesterday. I choose music depending on if I will be moving around a lot, feel like singing, or will need to sit quietly and still while sewing. Part of my day is spent processing materials and part of the day is spent working on whatever large project is at hand. If I have an employee working that day they are working on the next step ahead of me, preparing what they can for me while I think two steps ahead at what I might need to train them to do next. At 2 pm I take a lunch break and welcome my son home and get him settled into his afternoon routine before working for a few more hours. My day ends with me thanking the studio spirits as I close my door.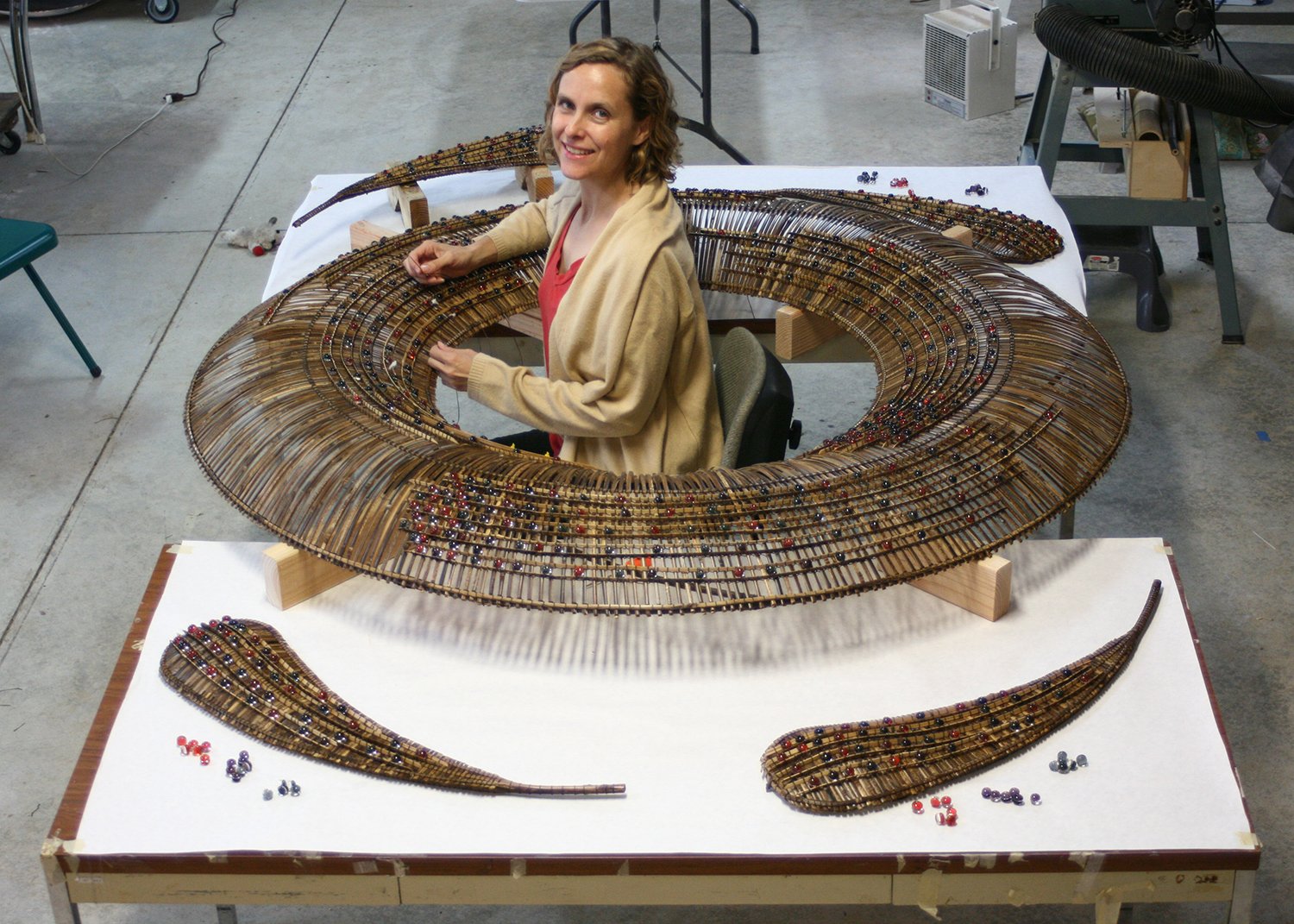 Finding the right rhythm to be productive in the studio can be a challenge, what advice do you have for staying productive and focused?
I prepare a lot of materials in advance and then work with those rather than making small batches of materials for each project. If I have parts left over, I brainstorm a smaller piece for those. I keep a pen and paper next to my workstation so I can write down a list things that pop into my head to do and ideas for future projects. I have early morning time blocked out for my to-do list and communications so I don't feel the need to answer emails or calls right away unless necessary for business. My studio is also on the same property as my home so I do need to completely ignore the housework and garden work in order to get studio work done. I have blocked out Tuesdays for any off-property appointments and I cluster together errands to maximize my work time. I guard my time so I can be in the studio as much as possible. When working, if restless, I remind myself I am exactly where I am supposed to be.
What advice do you have for combating creative block?
I always feel like I have another idea in store. I have so many ideas but I will not be able to bring them all to fruition within my lifetime. I don't really get creative block, what I get is an "opps" block. Sometimes what I imagine and what comes out into the world physically are different, I might not have seen the image clearly in my head and now, out in front of me on my work table, is a piece with a physically impossible problem. When this happens I might try to think of several creative solutions, do photoshop sketches, and see which looks best. When I start to feel overwhelmed and tired, if no solutions look good, I find a way to relax my mind (usually a half-asleep nap). When my mind is relaxed it can visualize solutions, I feel refreshed, and can return back to the studio with new solutions to try. This sort of creative block can lead to new ideas, so I try not to be too discouraged while going through it, aware that something big and new might be born.
As an artist, how do you measure success? Can you recall a specific event in your career that made you feel successful?
There are small successes and large successes as an artist. Both making a piece that truly hits the mark as well as attending a well-installed show and hearing enthusiastic feedback from people who feel connected to the work feels successful. Mostly, being able to work full-time as an artist and maintain a well-balanced life feels like the type of success I have wanted all along. When I wake up with images of sculptures past, future, and present in my head and know I get to walk right next door to the studio, in a beautiful garden, I feel I've found the place in my career I've been looking for.
One milestone that I treasure is when I got to travel to Japan to meet other artists who work with bamboo as a participant in a TV show. It was a trip of my wildest dreams, getting to do all things bamboo. I visited one bamboo artist named Ueno Maseo outside of Tokyo to see his studio and artwork. It was very meaningful to visit him and share time together, as I had long admired his complex bamboo sculptures. He used a mathematical program on the computer to design his pieces. I had given him a catalog of my work towards the end of our visit and was showing him my work. He stopped at one of my pieces in the cloud series and asked "What program did you use to design this?" I pointed to my head and he laughed and said, "But it is so complicated". This was a milestone in my career, to find equal admiration with another artist who loved bamboo as much as I do.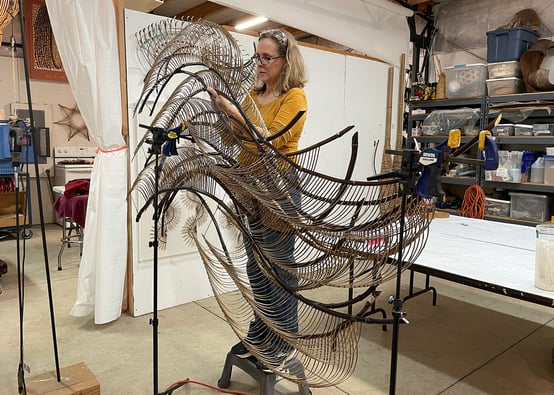 How do you see the art market changing? Where you do see yourself in this transition?
Several years ago galleries started shutting down. At that point, I had been mostly making a living from the sale of artworks through galleries, teaching, and a part-time job. Now, half of my living is made selling one-of-a-kind sculptures, and the other half is made through commission work. The art market seems to be mostly online, with art consultants taking the place of the missing galleries. It is easy to find artists with so many platforms and search engines out there and it is easy to get images out to the public if one has time to invest in doing so. I love how much easier it is to do business with so many technology tools available, many of them free, and so many people offering business information. It is easier to do business in the new art market and I love it. I am left with more time to concentrate on the studio work. I still love doing in-person gallery shows with my one-of-a-kind work; interacting with the public feeds my soul and offers me an opportunity to educate about bamboo in a much more personal way. However, I will be continuing to use online resources such as Turning Art to sell work, and am grateful they are there!
What advice do you have for artists who are beginning to build their careers? Have there been any habits or strategies that you have adopted that you feel have created more opportunities or visibility for your work?
When I first started out I had a part-time job I liked but did not drain my energy in a way that I couldn't show up to my studio for my "second shift". Find a bridge job that either feeds your studio work, that you can network in, and that is flexible enough you can do your studio work too. Photograph your work professionally or learn how to photograph it. Images are really what sells the work nowadays and if you don't have good images of the work people will not be attracted to it.
Learn business skills. When I went to school business class was about resumes, artist statements, and labeling slides. So much more is needed to run a business. There are some great non-profits out there that offer classes for free or are very inexpensive (Mercy Corps). Although artwork is very personal, others who are trying to sell it see it as a product so you will need to look at it through that lens too. Take risks now, when you're young. Apply for the big things, say yes to the crazy projects, volunteer with the non-profit arts organizations, do the travel abroad artist residencies. Now that I am older and have a ton of specialized equipment and a family, I have to measure out if and how to do those things. Earlier in my career, I said yes to a lot more than I do now and had no equipment or ties. Each show, class, or event leads to some very interesting door opening and a lot of them got me out of my comfort zone and stretched my skill set. Say yes, but not to the detriment of your credit history or your long-term health.
Do you consider yourself, and all artists, to be entrepreneurs? Why or why not?
We are absolutely entrepreneurs. Artists are so impassioned about what they do they will work a second job to pay for capital to invest in their business for years before it ever pans out. They are the idea makers, the R and D department, the accountant, the marketing department, and the janitor. They work overtime because they believe in their vision, it is tied to who they are intrinsically as a person. If only everyone who was running a business felt that way.
Failure is an inevitable part of success in any field. Do you have advice for overcoming setbacks?
At the beginning of my career, getting a rejection notice felt much bigger than it does now. Getting rejected does not mean that the work is bad, it means that it wasn't in front of the right audience at the right time. Several years ago, I had a whole show that didn't sell. I got busy finding places to post the work online. A lot of the work I stored. That work is still finding lovely homes and right now I'm busy enough that I am grateful I have that back stock. During the time it didn't feel great. Fortunately for me, the feeling of making the work is important, and I keep the faith that being an artist is what I am meant to do. I focused on self-care and nurturing studio time; if thoughts came into my head that the show was a failure, I reminded myself that it just wasn't the right audience at the right time. Each piece has an owner. It just takes some pieces longer than others to find their owner.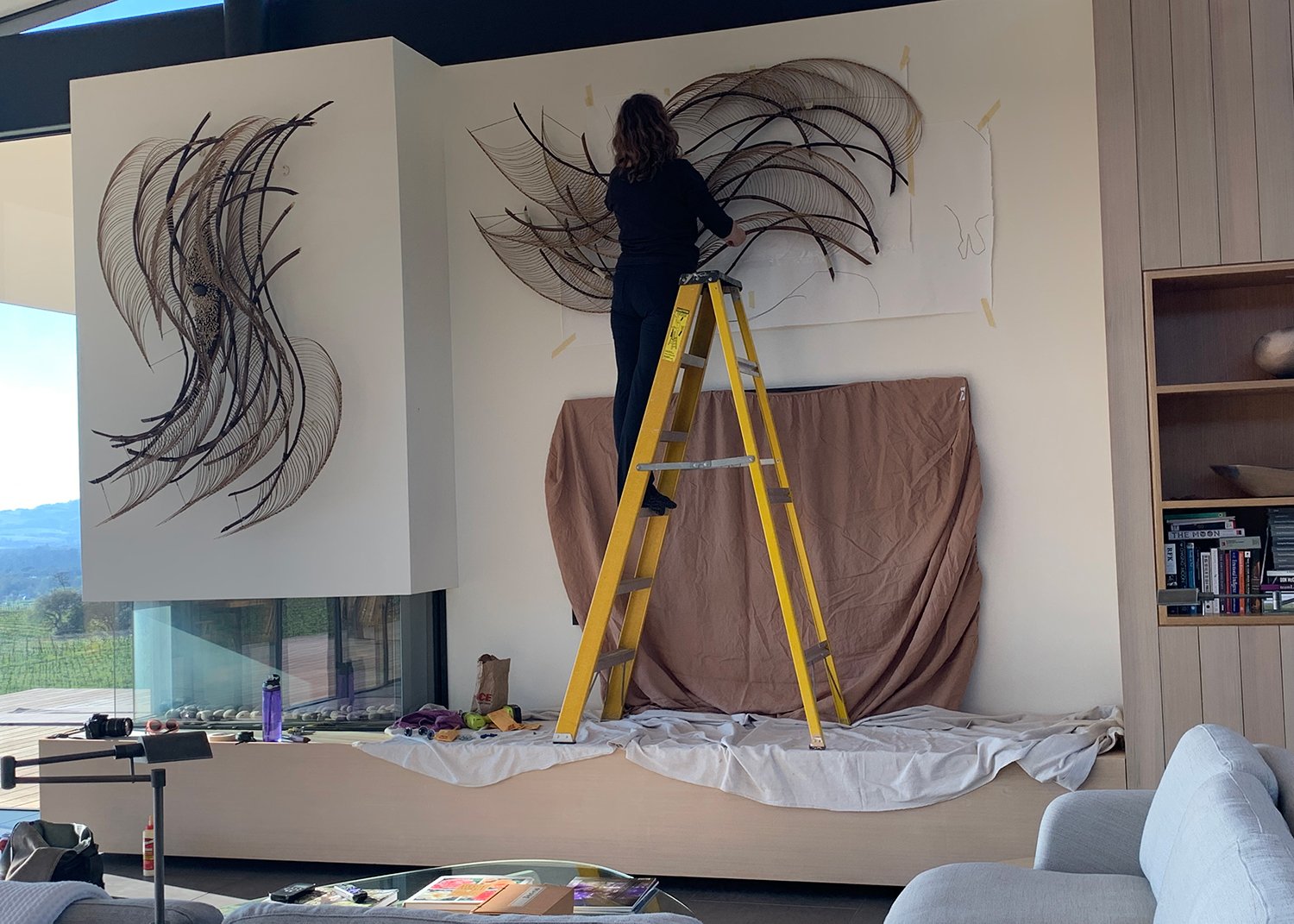 What sparked your interest in partnering with TurningArt?
What made me gravitate toward Turning art was the opportunity to work with a company that put works into public spaces. It's important to me that the work be where the public can see it and enjoy it and Turning art offers that opportunity. I love that I can upload images, including past works, into the database and now that Turning art is working with other online markets I'm interested and excited to see what happens next. Recently, I was able to install a work in a public building and a representative flew out to help coordinate the many artworks being installed. It was wonderful to meet someone in person from the company!
What does having your artwork in the workplace and other commercial or public spaces mean to you?
It is really special to have work in a public space. Artwork should not just be for those who can afford to buy it, pay to see it in a museum, or need to access the internet to see it. Artwork can calm, heal, entertain, elevate the mind and emotions, make us think, educate us, and transport us to other realms. Being able to have my work put out into the public realm is a gift I can give others and a way to tell my unique story. I'm so grateful to be able to do so!
To see more featured TurningArtists, return to our blog. To get Charissa's art in your space, set up a free consultation with an Art Advisor here!