Bold brushwork, brilliant colors, and a luminous sense of light define TurningArtist Christopher Clark's impressionist paintings. For as long as he can remember, Christopher has identified as an artist. Growing up, he would watch Bob Ross on public TV while sitting at the coffee table following along with crayons. It took him many years to make the decision to finally pursue his dreams but he eventually quit his job, traveled around Italy, and then returned to the US to paint full time, which he's been doing ever since. At first, his income was humble but after several years, Christopher now makes more from his art than he did at any "real job" he ever had.
We joined Christopher in his studio to learn more about his artistic process and discuss what it means to be successful as an artist.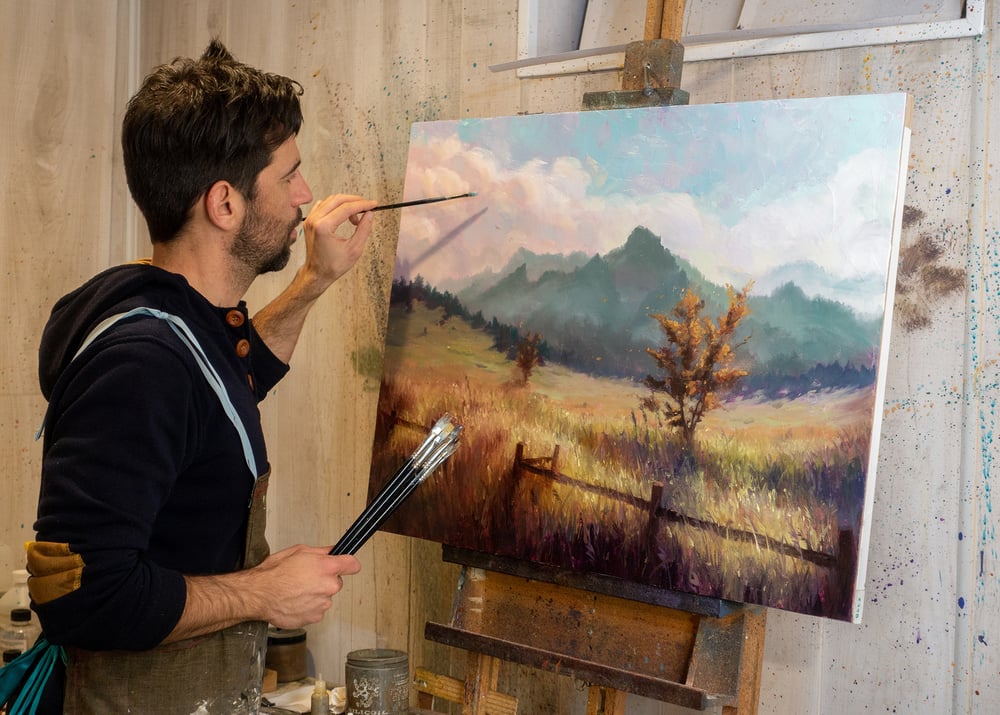 Can you tell us about your work?
I have an impressionist oil-painting background, and my favorite era of art, in general, is the late 1800s. I feel like this is an era where light and brushwork were being fully explored in new ways. Every time I discover a new artist that I love, if they're not alive now, chances are they painted in the late 1800s. (Sargent, Renoir, Manet, Monet, Degas, Zorn, Fechin, Turner, to name a few). So I've adapted a lot of their techniques and approaches to my work. My first consideration in every painting is light. If the light isn't great on my subject, I don't like the subject. I also attempt to capture a fleeting moment in time, using loose brushwork, implying detail with a few clever brush strokes rather than painting every single blade of grass or strand of hair.
Can you tell us about your process?
I travel the world looking for beautiful places to paint or have friends spontaneously pose for me in a beautiful setting. Or I hire models to sit for me if I have a specific idea in mind. Again, light is the most important thing for me. I paint from life or sketches and studies done from life, or from photo reference, or from memory. It's all the same: I have to make the person feel like they're standing there, experiencing that moment. Making my painting look like a photo is absolutely NOT my goal. It has to look like a living, breathing memory of real life. I do studies in charcoal, pen, and ink, watercolor, or oil, and ultimately I do my full finished paintings in oil. The painting is finished when I have nothing left to say, or when it just feels right. That's a difficult thing to explain technically, but I know it when I feel it.
When you are looking for inspiration, what resources do you turn to?
I have a tremendous library of photos I've taken from places I've traveled to, or models I've worked with, and I can pull from these to put together ideas. I never just paint the photo, that would be completely missing the point - it's a reference, not a replication. It's a way of reminding me of that moment in time, some specific details about the scene, etc, but I have to add in the feeling of what it was like to really be there – the sense of light, the way the place moved, the way it felt. That is never captured in a photo, and it's up to me to make it come to life again in my painting. I may also go through my sketchbooks with random ideas I've drawn out, for inspiration to create a scene that never existed in real life.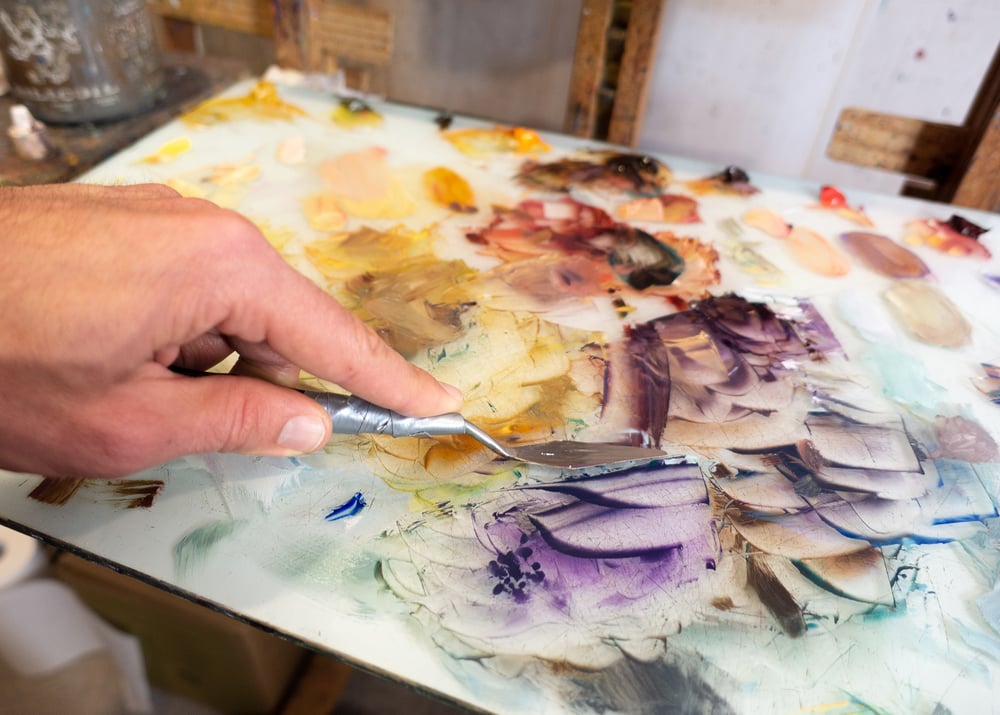 Walk us through a typical day in your studio. What is your routine?
There's no such thing as a typical day in my studio. My schedule varies from building wood panels all day, (my preferred painting surface) to brainstorming my next painting, (with sketches, studies, or digital compositing) to actually painting in the studio for very long hours, to doing essential but boring admin stuff on the computer, to visiting galleries to take care of random business things. I also travel a lot for art shows, usually once or twice a month.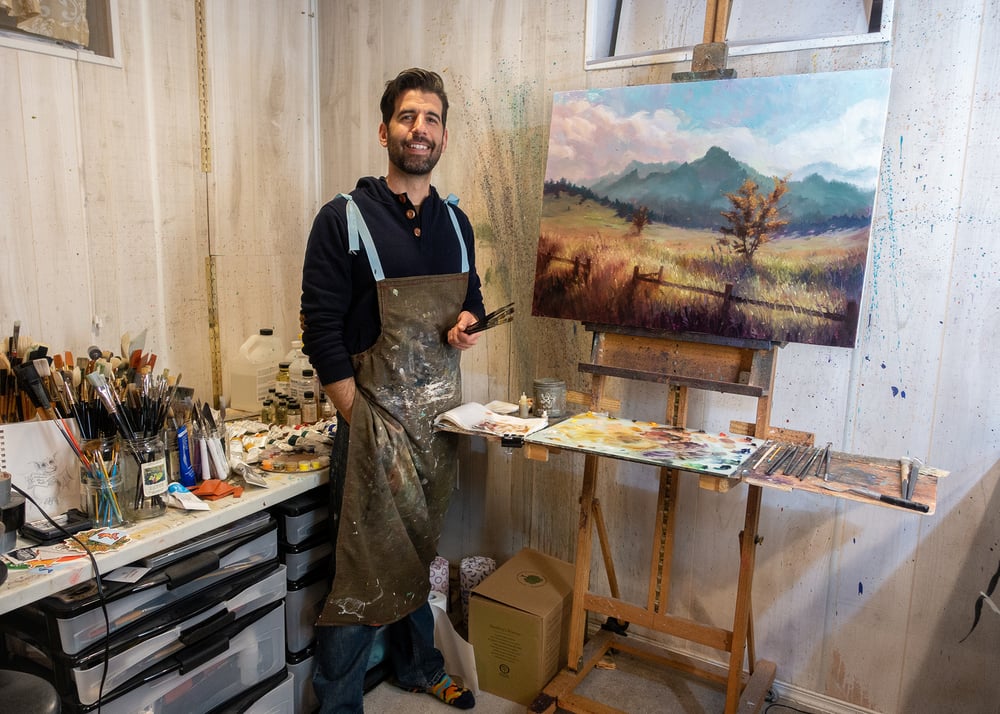 For emerging artists, finding the right rhythm to be productive in the studio can be a challenge, what advice do you have for staying productive and focused?
Staying productive and focused is kind of a matter of how much you enjoy your artwork, and how dedicated you are to making this a career. Being a professional artist isn't a lah-dee-dah lifestyle of sleeping all day and drinking absinthe all night, and only painting when you're "inspired". It's something you work at every day, whether it's creating new work, jotting down ideas, or even doing some homework by continuing your education. I have to say personally, I love what I do so much that I can't help but be productive – I have so many painting ideas I can't even keep a list, and I think I'll be laying on my death bed as an old man saying "Oh the paintings I could have done!" So to stay focused, just love what you do.
What is your advice for combating creative block?
To combat creative block, that's easy: just paint what you love. I admit sometimes you have to pay the bills, so maybe you'll take commissions that you're not thrilled with. But endure through those, do a good job, and then reward yourself by doing a painting or a series of ideas that you are absolutely thrilled to share with the world. It's a give and a take, and over the years you'll earn a collector base who will buy anything you create, and you can do more and more of the subjects you love.
As an artist, how do you measure your success?
I considered myself a successful artist the day I started painting full time. Supporting myself with only my painting was a highlight of my life, and even though I began my art career with a significantly lower income than my cushy desk job, I was infinitely happier. I felt like my life had meaning, and I could offer something to the world other than just paying my bills and existing. This was what I was born to do, and after many years of hard work and some great sacrifices, I had the courage and opportunity to do it, and I will never do anything else as long as I live.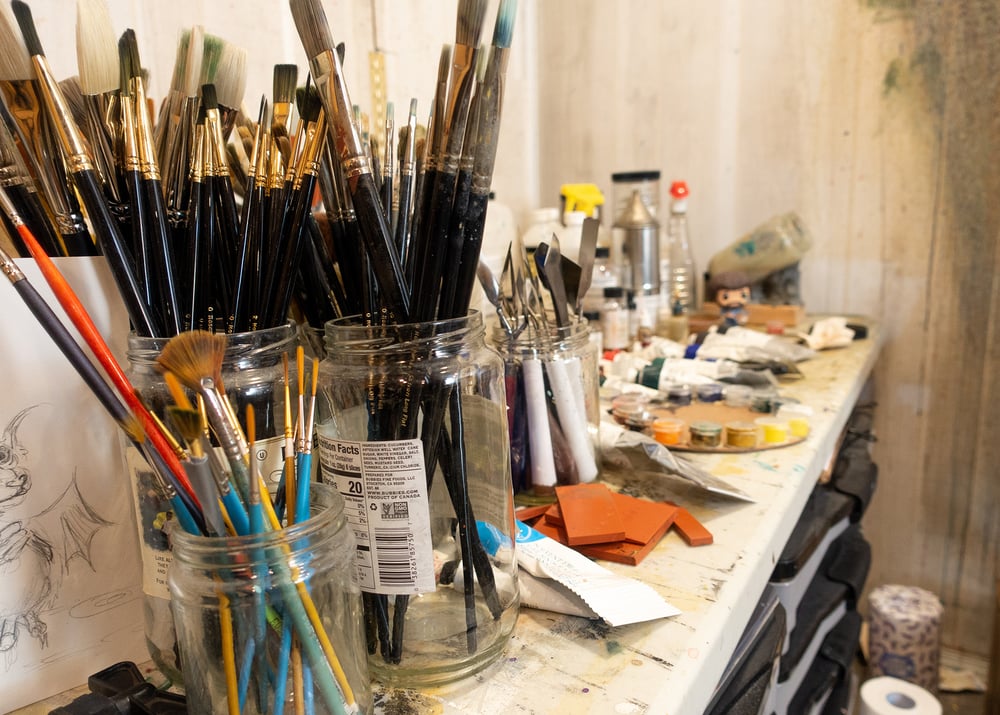 How do you see the art market changing? Where you do see yourself in this transition?
The market is going more and more toward the internet. Even high-end art galleries I work with now, they tell me 80% of their sales now come from the internet. I began my career selling entirely online. It levels the playing field for artists around the world. Suddenly any one artist painting in their bedroom can have access to a global customer base of millions. Or luxury galleries sell very expensive works to their distant clients sight-unseen, or their online pre-sales before a show exceed sales of the opening night. Or online services like Turning Art create a way for artists to make residual income off their prints. It goes the same way for customers and art collectors too: they now have access to millions of artists who might not have been chosen by the elite gallery industry of 20 years ago.
What advice do you have for artists who are beginning to build their careers? Have there been any habits or strategies that you have adopted that you feel have created more opportunities or visibility for your work?
I've taken all the things I did to become a successful artist and boiled them down into 4 steps. I call it SP3. Study, Produce, Promote, Persist:
Study: Learn all you can: art technique, art history, different mediums, study your favorite artists, take classes and workshops (in-person and online). Experiment. Only when you know the rules can you truly break them, or reinvent them, YOUR way.
Produce: Constantly create new work. Fill sketchbooks, and make finished pieces. Practice to refine your skills, and create an ever-growing body of finished work.
Promote: Show your work to everyone you know, apply to galleries, do art shows, sell your work online. Use all of the social mediaz and internetz. There are more ways than ever before to promote/sell your art.
Persist: Do the above things for the rest of your life, and you WILL be a successful artist. This is a marathon, not a sprint. You don't need anyone's permission or approval, accept your own. You CAN be a professional artist!
Do you consider yourself, and all artists, to be entrepreneurs?
Of course artists are entrepreneurs. We're going out into the world and creating something new that's never existed before, and ultimately somebody gives us money for it. It's a fabulous exchange, and the rewards absolutely outweigh all the risks.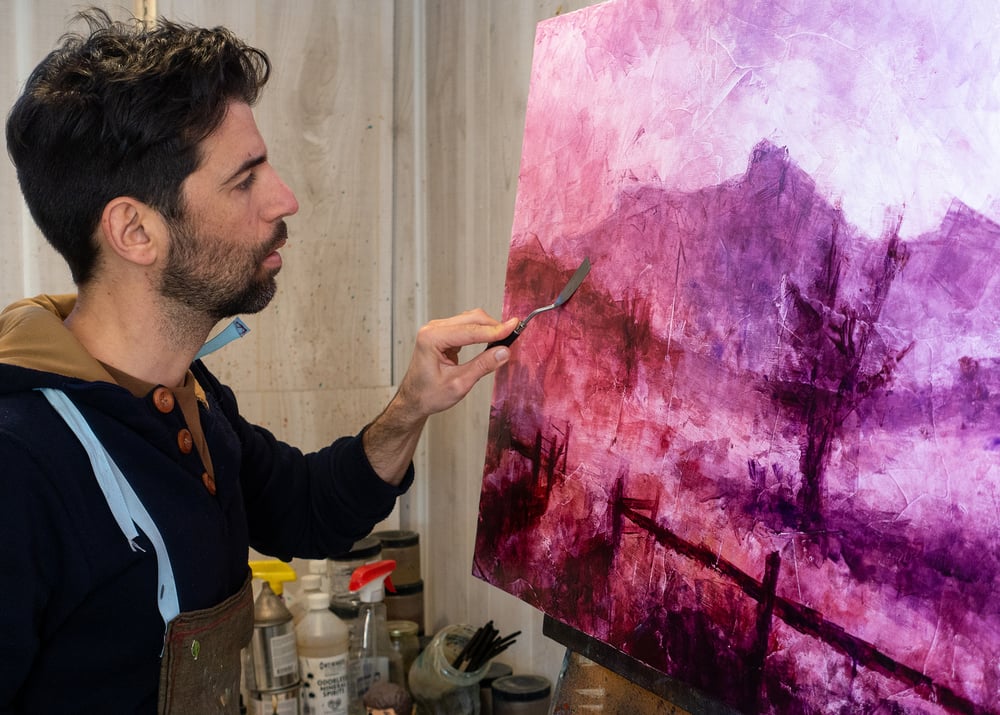 Failure is an inevitable part of success in any field. Do you have advice for overcoming setbacks?
If you learn from a failure, then it has actually helped you. It sucks thinking of it that way when you're in the middle of it, but it's true. The only way we ever truly improve our craft is when 1) we do something wrong, and 2) acknowledge where it failed and work to improve it. Even if you have to repeat those same steps many times for the same problem, you are succeeding infinitely more than the person who just gives up.
What sparked your interest in partnering with TurningArt?
I was looking for a way to make residual income from my art, and at that time I think TurningArt had reached out to me about showing my work there. I think they were a pretty new company (this was maybe 2011?), and I was also pretty new at showing online. But I loved the idea: people could essentially rent prints of my work, and rotate them out whenever they wanted, with the options to buy the print or even the original. So I added TurningArt to my business process, and years later they have a library of several hundred of my images, and I've sold many prints and originals, and done some commissions. I'm excited to see what other fun ways they may come up with for showing my work to their growing customer base.
What does having your artwork in the workplace and other commercial or public spaces mean to you?
I love that my paintings are part of people's daily lives. I consider myself a storyteller. My art tells someone's story – someone I've never even met. I'm honored to connect with people in this way, and TurningArt certainly helps me connect with hundreds of more viewers across the country.
To see more featured TurningArtists, return to our blog. To get Christopher Clark's art in your space, set up a free consultation with an Art Advisor here!
All photos by: Christopher Clark