Daniela Pasqualini creates modern abstract paintings rich with texture and color. Constantly observing her surroundings, Daniela transforms her daily experiences into abstract patterns and bold textural forms. This transfer of energy onto a canvas acts as a period of self-reflection, where all elements of her experiences are combined into something uniquely beautiful. Her philosophy, that everything is a product of an experience, frames each of her artworks, with movement, colors, and layers of texture representing moments of Daniela's life.
Can you tell us about your process?
Art for me is a way to free my mind. When one views my paintings, it is meant to be not just seen, but felt. The use of acrylic paint with impasto allows my paintings to jump off the canvas and come alive, resulting in a sculptural, three-dimensional appearance. I refer to my artwork as Modern Pointillism because I decompose the image in thin and linear brushstrokes with different colors, overlapping those with similar shades. My feelings and moods will guide the mix of colors and the temperament of each painting. I represent dismantled elements, giving the viewer the task of mixing them in their mind to recompose a fluid image of nature. For me, it is simply a technique that has come naturally and one I am constantly developing with each painting in order to give the viewer of my artwork a unique and emotional experience. I have always been a very passionate person and my expression of art is no different. Perception is always a key factor in art; how every individual perceives things differently based on angle, light, setting, and even personal background. Therefore, I encourage the viewer to observe my work from every angle.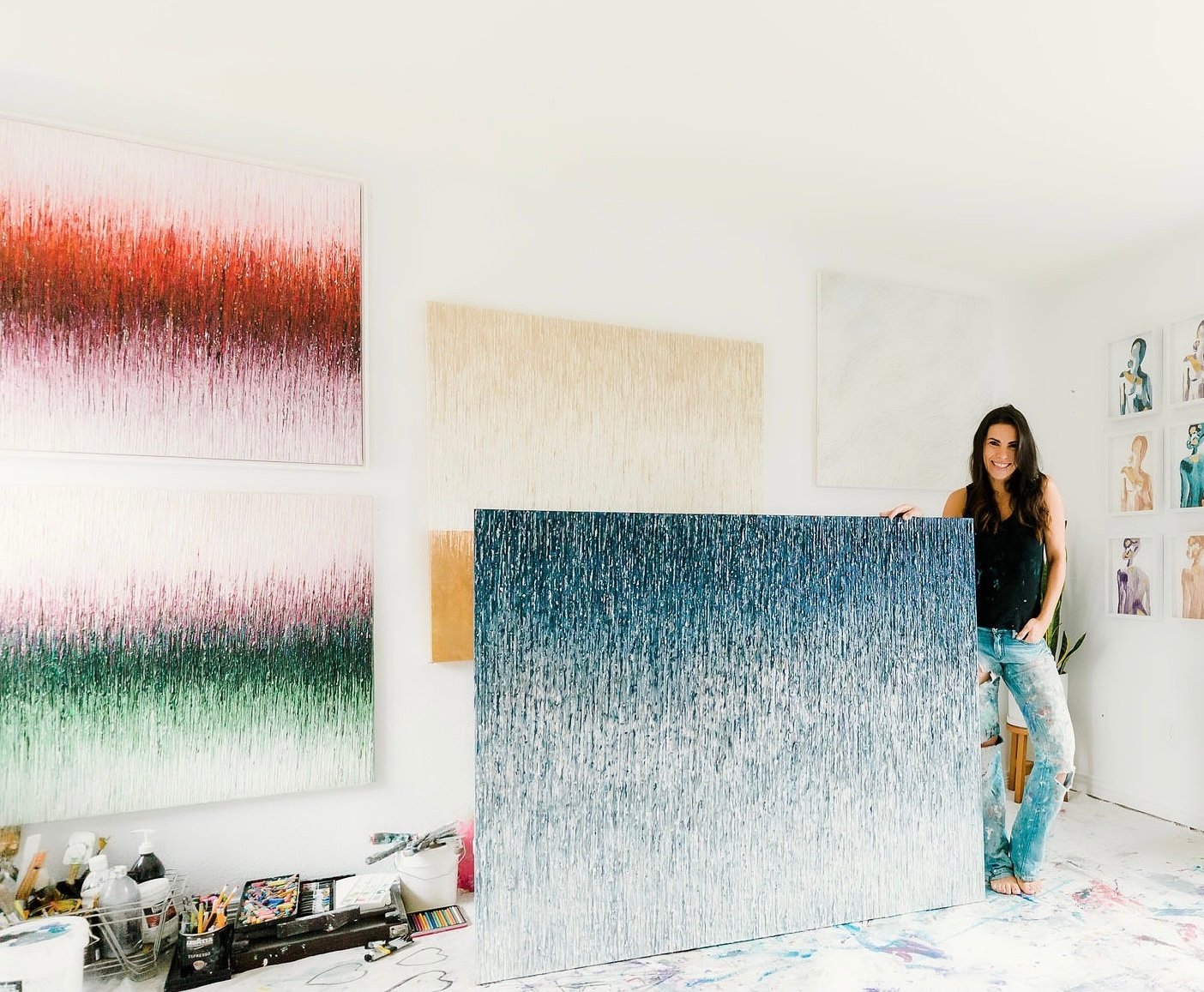 Can you tell us about your journey to becoming a professional artist?
I am an Italian abstract artist currently based in Dallas. They say that if you do what you truly love, then you will never have to work another day of your life and this absolutely describes my situation. I was born in Rome, Italy and I lived my youth in Petritoli, a little town on the Adriatic coast. After completing my degree in Business administration, work and life circumstances brought me to the Tuscany region of Italy, specifically Florence. This move represented an important turning point in my creative spirit and outlook on life. The constant connection with the historical and cultural context of the city of Florence and the many opportunities provided by the region have been artistic stimuli in my passion for painting.
In 2013 I was offered a unique challenge to leave the only country I ever knew and lived in and move with my family to Boston, MA USA. In New England, the many colors, varying landscapes, and diverse cultures provided me with a surreal environment as a backdrop to follow my true passion and launch my artistic career. Throughout my career, I have met amazing openminded artists and I have been in galleries both in Europe and the USA. I have partnered with Lord and Taylor, Birkenstock, and Modher SF handbags and I have worked with interior design companies and art consulting firms. Prints of my paintings are in Marriott hotels, Magnolia hotels, and even part of an exhibition in the Vatican.
In 2018 life and family brought me to Texas. While my creative process did not change it did evolve. The dynamic nature of Texas and its many diverse cultures allowed me to express myself in ways that I didn't know were possible. I personally have the unique benefit of having experienced life in both Europe and the U.S. and as a result, have benefited greatly as an artist. I think in Europe I am viewed positively because I am an Italian artist with an international appeal. Here in America, I find that people still connect to Europe and, more specifically, Italy, given much of the U.S. is founded by European immigrants, so the draw is still strong to connect to their roots. Art allows this to happen.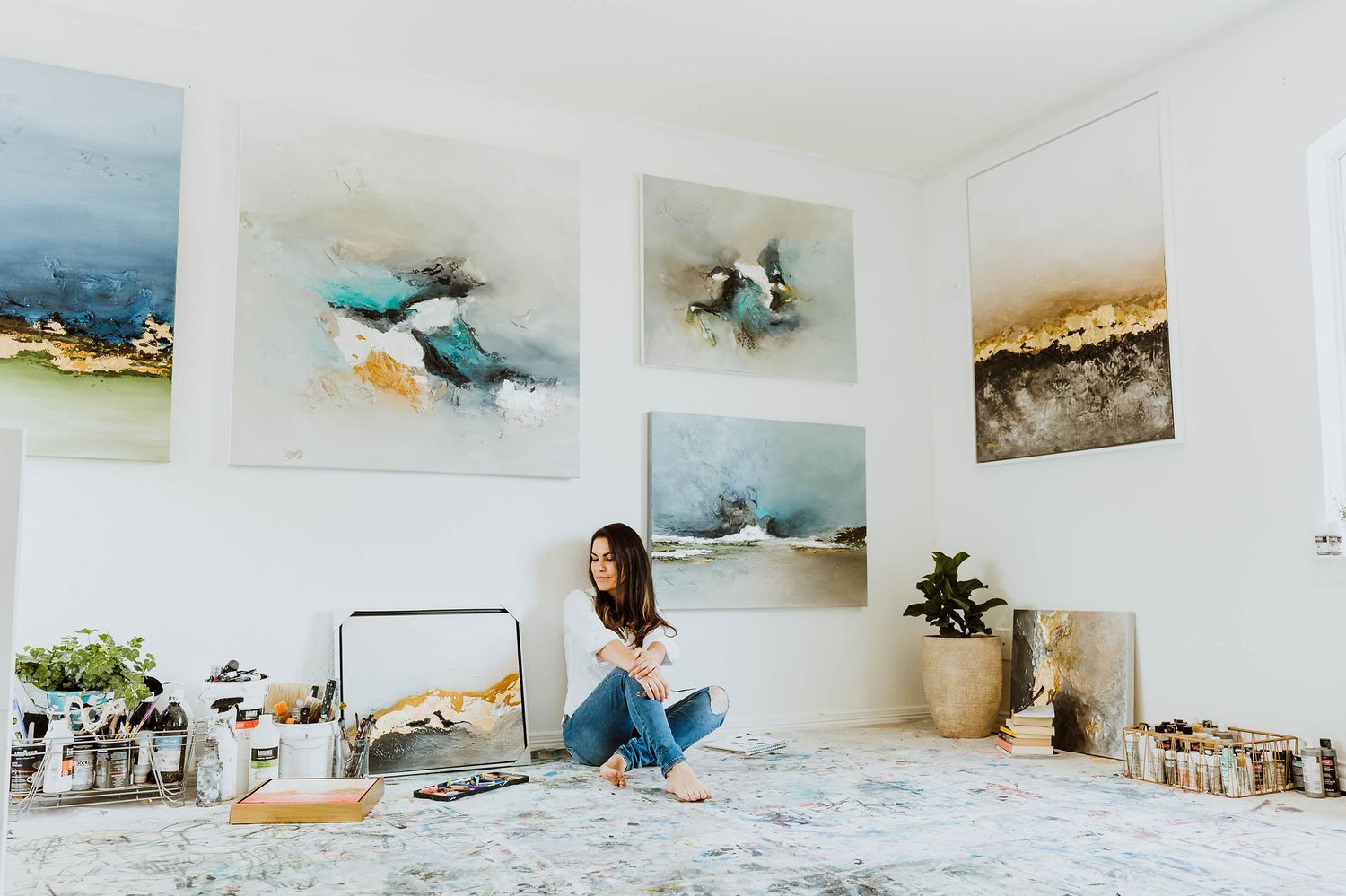 Walk us through a typical day in your studio. What is your routine?
Finding the time to dedicate to my career while being a full-time mom of 3 daughters is probably the single biggest struggle. Searching for and achieving the right balance is almost impossible. But I do my best! And not every day looks the same. I start the day in the "office" spending more than an hour checking my emails, responding to people who took the time to comment on my social media and "connect" with them, reviewing my calendar for the day and the week, creating a to-do list of the day!
Then I get the kids ready and drop them off at school at 7:40. After that I go to work out …at the gym or for a run at the lake close to my house! When I go back home, I move into administration mode: reviewing orders, issuing invoices, updating my website, drafting newsletters, packaging up orders, getting paintings ready for an exhibition, and processing and cataloging photos.
Then It's time to create … and if I am lucky, I can paint for 3 hours. And this is the part of the day that I truly enjoy. But the reality is that on a typical day, only a little bit is dedicated to creating art and a lot is about running the business. (I would say 60% business - 40% creating … I wish it was flipped) The evening is all dedicated to my family and the kids' activities.
Finding the right rhythm to be productive in the studio can be a challenge, what advice do you have for staying productive and focused?
There is no universal right answer to this question. I think the important thing is knowing where you want to end up. Every day you may find a different distraction; whether it's artist's block, family, or other commitments…the key is to know where you want to be and always have a plan to get there. It may not be a straight line but in the end, sometimes the creative process is best when it doesn't go according to plan. At the moment, I find music helps bring me back to the present and refocus and lock in. There are always distractions and issues but I can always lose myself in music which allows me to live freely in the art that I then create.
What advice do you have for combating creative block?
Thus far in my career, I have had a couple of periods where I felt uninspired. It was a period where I was physically and emotionally exhausted and I painted very little. The first thing I had to do was to take a step back and try to understand the reason I was feeling uncreative. I was honest with myself and the reasons why I thought I was having this artistic block. With the support of family, inspiration from everyday life, and the ability to think creatively, I was able to overcome this creative drought.
Whether I feel uninspired or not I am always branching out and experimenting with different mediums. I also take days off to visit museums. However, mainly what helps me to defeat my artistic block is to just throw together a few blank canvases and work on different projects at the same time to see what comes out. I put one painting away and work on another and, often, when I return to the first one, I add, or I take away elements that I did not see at the beginning of the process. The important thing is to never give up or think the block is permanent.
As an artist, how do you measure success? Can you recall a specific event in your career that made you feel successful?
On February 2016, I got selected and invited to show my artwork in two places in the Vatican during the Jubilee of the Misericordia: Palazzo della Cancelleria, Sale della Santa Sede and Vicariato, Palazzo Maffei Marescotti. Having family within one mile of the Vatican and always visiting as a grew up, it was a surreal experience to then have my art displayed in such an iconic place. Words can't truly describe the breathtaking location in the heart of Rome. It is something that I will always cherish as an experience, and I think has helped further establish my credentials as an emerging artist with plenty to give. The event was broadcasted on TV in Italy by Arte24. As part of the process, I also had the opportunity to have my work reviewed by the art critic and journalist Mara Ferloni. The show closed at the end of March and the painting created for the exhibition was purchased by an Italian couple.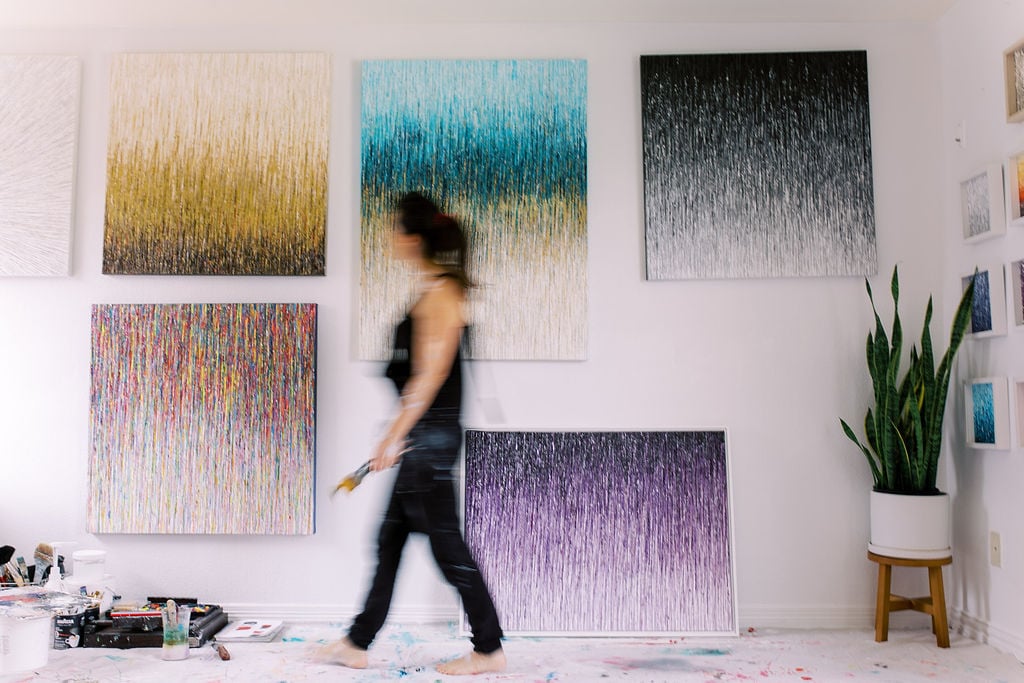 How do you see the art market changing? Where you do see yourself in this transition?
I view technology as a tool available to artists in the same way that brushes and paints are tools. There is always a reputation around new technology (too hard, too different) but we either embrace it or get left behind. As a woman in art, I have really tried to stay true to what I do and what makes my art unique but I still think it's important to embrace new technology. By doing so we find out what more we can achieve.
I started to deep dive into NFTs after March 2021 following the auction of the digital artwork by Beeple "Everyday- The first 5000 days" a collage of 5K pictures purchased for $69M. I tried to learn everything I could and educate myself. However, no matter how the world changes, I try to keep close to what I love and that is still the feel of paint on my fingers as I bring new artwork to life on canvas.
What advice do you have for artists who are beginning to build their careers?
Perseverance! Do not Give up and be authentic with your practice!
Other pieces of advice I give people who want to break into the art world are: Have a good portfolio shot with great light. Write a good artist statement. Do not procrastinate sending applications and do not ignore deadlines. Make sure your hard work gets seen using social media. During gallery shows, approach visitors and chat with them. Do not underprice or overprice your work. Get involved in your local community. Take art and business classes.
Since starting this adventure, I now understand that you must have a wide range of skills in order to successfully run your art career. Honestly, my finance education heavily influenced and helped my art career. I am able to keep good financial records and track my business expenses and income. I understand my expenses and manage my time to appropriately balance my sales effort with art creation. Additionally, I got smart about marketing myself in the right way by trying to expose my work to new audiences. I created a wide network and built an artist support system. I am a to-do list addict: always trying to approach problems and challenges systematically. I plan before I invest my money and I don't leave things to chance. I think it's important to understand your financial picture and to have knowledge about your business. The more you know the less you fear. In the end, be bold and believe in yourself. Trust the process and Work Work Work!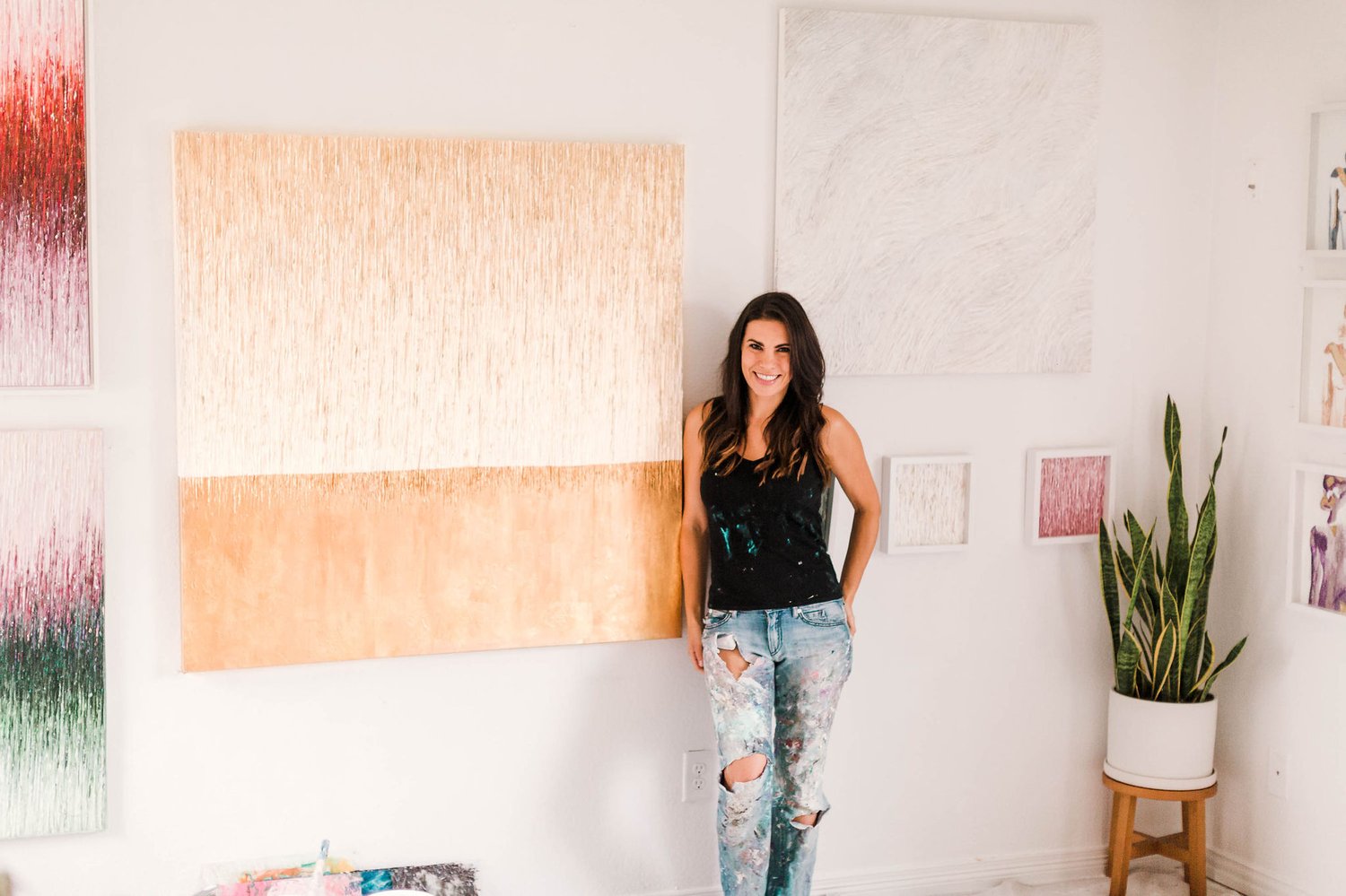 Do you consider yourself, and all artists, to be entrepreneurs? Why or why not?
Definitely yes, I consider myself an ARTrepeneur. Since starting this adventure, I understand that I must be able to access a wide range of skills in order to be not just a successful artist but run a successful art business. All successful entrepreneurs have a vision and an unrelenting drive to succeed and I think as artists we also embody these characteristics. The ability to put one's visions, emotions, and passions on display for the world to see, critique, love, and hate is essential and unique to artists and entrepreneurs. For artists and entrepreneurs, there is always a sense of what's next and with that comes feelings of awe, nervousness, excitement, and hope. As an artist, I can say with absolute certainty we live that dream of entrepreneurship.
Failure is an inevitable part of success in any field. Do you have advice for overcoming setbacks?
This is always one of the toughest things to face but I think once you embrace failure it can become your biggest strength. Accept that you will fail…but fail fast, learn from it and turn it into an opportunity. Some of my best pieces and ideas came from visions that, at first, didn't succeed. We learn from our failures more than from our successes. It is the Yin and Yang of art. It takes time, discipline, and courage. I have learned that success is not cheap, and failure is not the end of the world.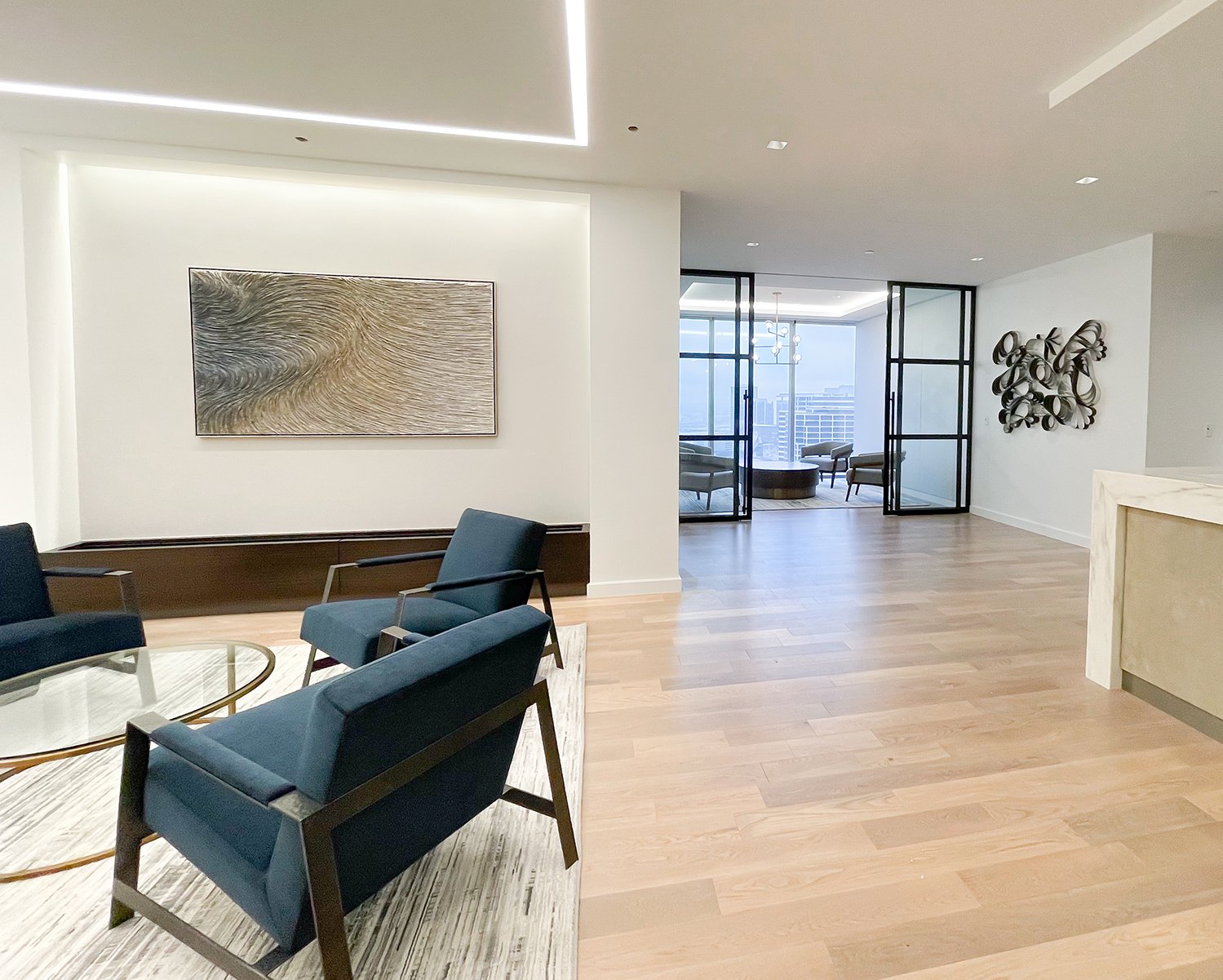 What sparked your interest in partnering with TurningArt?
I was inspired by the ability to gain visibility and grow my network and national audience. The fact that they handled all end-to-end details from planning, sales, and logistics was truly a difference maker for me being a small business. My experience with TurningArt has been amazing! I loved working with the team on a recent Dallas project! They were very professional, supportive, and friendly and they made sure the whole process went smoothly. I am looking forward to future opportunities with TurningArt!
What does having your artwork in the workplace and other commercial or public spaces mean to you?
Having my artwork in any space, whether it be commercial, public, private collector, gallery, or otherwise, is truly a special thing. I pour my heart and soul into each and every painting and to have a person or group appreciate my art and my expression enough to display it, makes me realize how much I can achieve in life. Specifically, having my artwork in commercial spaces, where it is seen by people from all walks of life, and to have people who are having good days or bad days be able to look up and see my artwork and feel a sense of calm, positivity, inspiration, or another feeling that allows them to just reflect on the moment, is truly amazing to me.
---
To see more featured TurningArtists, return to our blog. To get Daniela's art in your space, set up a free consultation with an Art Advisor here!