Dusty's fine art career is focused on salvaging industrial steel scraps from her father's steelyard and repurposing them into large abstract steel forms. She explores the tension between heavy metal objects and gravity and, in doing so, creates massive materials that appear light and approachable. Dusty appreciates steel's natural ability to protect itself through oxidation and she often exposes the raw aesthetic of rust in her works in order to convey that every piece of metal has had a previous life.
We joined Dusty in her Chicago studio to see how she constructs her sculptures and to learn more about her entrepreneurial journey.
Can you tell us about your journey to becoming a professional artist?
I realized I was a real-life artist around 16 years old in Ms. Sigel's art class at Villa Duchesne high school in St. Louis, MO. I always loved doing things with my hands and making things, but I didn't know I was good at it until my painting and drawing class. In those formative years, I learned the basics of drawing, painting, printmaking, ceramics, and sculpture. I really loved all of them, but I kept coming back to sculpture all through college. Even with a brief detour to be pre-med for a year in college.
After college, I moved back to St. Louis and fell into the "how do I make money?" conundrum and began a short-lived mural painting business for residential homes mostly and really bringing in most of my income from serving and bartending. I remember my sculpture professor always saying, "If you want to be a sculptor, you have to get to Chicago."
I moved to Chicago in 2006 and got my studio in West Town set up in 2007. I quickly found a wonderful community of sculptors here and have made lifelong friends and mentors that have helped me tremendously. One thing you learn as a large scale steel sculptor in a city is that you can't do everything yourself (despite my sincere attempts). You need to get help to move your pieces and learn about new ways of working. I like that about sculpting and I don't see it in other mediums in the same way. You have to get past your ego and ask for help.
I've been fortunate to serve on the board of Chicago Sculpture International and have been very involved in sharing sculpture with the community and building community among sculptors. I was able to meet a great network and that helps when you are establishing yourself in the art world.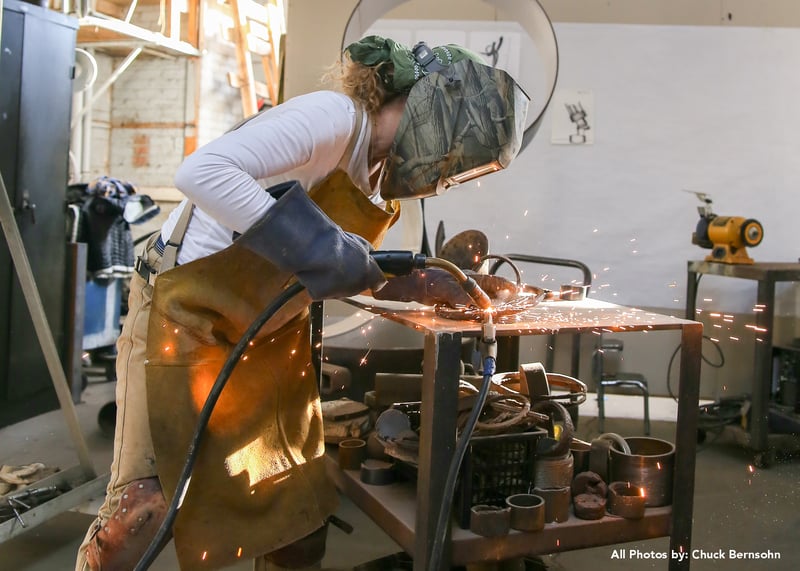 Can you tell us more about your process?
Part of my process is finding the old rusty steel pieces that have already had a life as some other useful object and collecting them. I sometimes make something from them right away or sometimes I look at a piece for years before making a sculpture out of it.
When I set out to make a piece, I start by picking a title based on what I am feeling. I then pick pieces that I think represent that title. Next, I sketch these pieces put together in many different constructions or compositions. The one that feels right is what I aim to make.
After sketching, I start cleaning up the pieces as needed for aesthetic and welding purposes. Often they are quite covered in grease, dirt, and rust. Next, I set up my welds with the help of vices, gravity, and my trusty gantry. Then I weld and test that each weld is secure (sometimes by dropping the piece on the ground). Finally, I finish the piece as I see fit. I like to expose the raw steel, but also like the aged patina and rust. Sometimes I add some oil-based paint or linseed oil as a finish. Sometimes I do nothing.
Et voila! A sculpture is made!
When you are looking for inspiration, what resources do you turn to?
I'm always looking at the way buildings are made and materials in general. I love being in nature when I painting, and sometimes even when I'm sculpting. I pull a lot of inspiration from nature.
Walk us through a typical day in your studio. What is your routine?
My routine is not having a routine, ha!
Part of this is because there are only so many hours in a week. In addition to my sculpture practice, I co-founded a visual note-taking firm in 2011 called Ink Factory.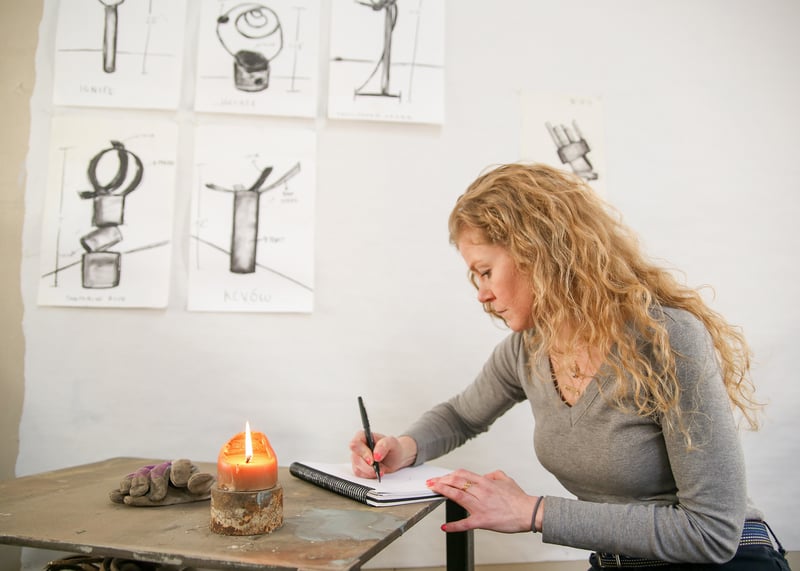 What is your advice for combating creative block?
I like to eat a snack and take a walk if I am feeling stuck. Changing your environment allows your brain to marinate on whatever you're stuck on.
As an artist, how do you measure your success?
I feel successful when I finish a piece I am happy with. I felt really accomplished when I exhibited with Sculpture by the Sea on the coast of Bondi Beach in Sydney, Australia. It's a lovely show and was fantastic to be part of it! It's great to have my work around the US, but something about being international was special to me.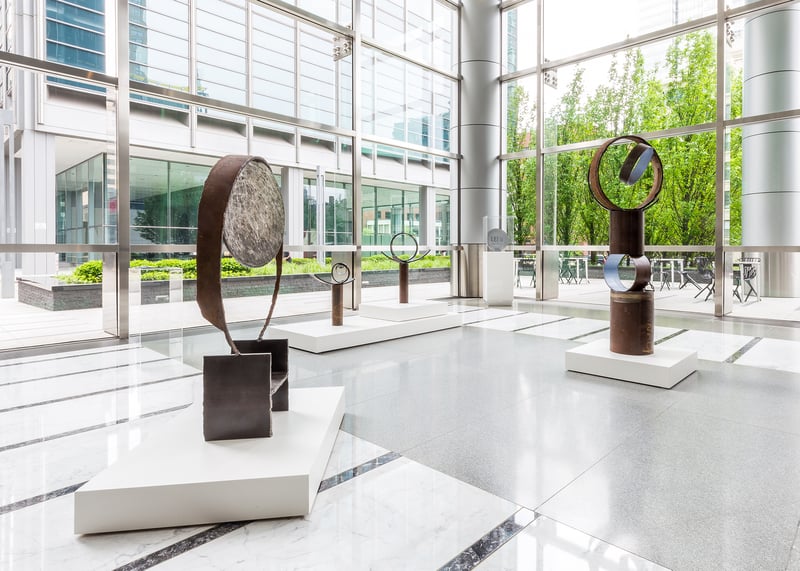 How do you see the art market changing? Where you do see yourself in this transition?
Art and the art market, in general, is something I am not the best at understanding. I think social media plays a big role, as well as the big galleries and art fairs.
I am here to make my work and show it as often as I can in public and private spaces. I love when people buy my work versus rent it – it frees up space to make new things!
In the future, I'd like to throw my hat in the ring for some big commissions. Luckily sculpture is a great way to make public spaces "cool" and is often used for commemoration, so there is often still a budget for it.
What advice do you have for artists who are beginning to build their careers? Have there been any habits or strategies that you have adopted that you feel have created more opportunities or visibility for your work?
Make as much work as you can and establish a network of people! I also think it is really important to follow up, even if the contact doesn't seem like the right fit now, down the road it might be and they will remember you connected with them. Also, if you don't like making and updating your website, find someone who does to help you. I need to be better at that and documenting my work and process.
Do you consider yourself, and all artists, to be entrepreneurs?
I am and most other artists I've come in contact with are, but there are several who are not entrepreneurial. Maybe they don't want a business out of their art. Street artists, for example, are often not compensated and do art for art's sake or to make a statement. I'm grateful that my fine art practice is not my main source of income. I think it takes the pressure off my creative nature and allows me to create the work I want to create vs altering it to make a sale to pay my rent. Having said that, I'm fortunate that my sculpture practice does pay for itself and then some.
I also am an entrepreneur in my 2D Ink Factory life for sure! Since I was in sculpture prior to co-founding Ink Factory (a company that helps engage audiences, employees, and clients through drawing), I believe my entrepreneurial spirit carries over into my sculpture practice, as well. When you are any kind of artist, you still need to think about things like finances, marketing, partnerships, taxes, etc.
Failure is an inevitable part of success in any field. Do you have advice for overcoming setbacks?
It's OK! Try again! It is the only way to learn and grow. And say sorry if you did something bad.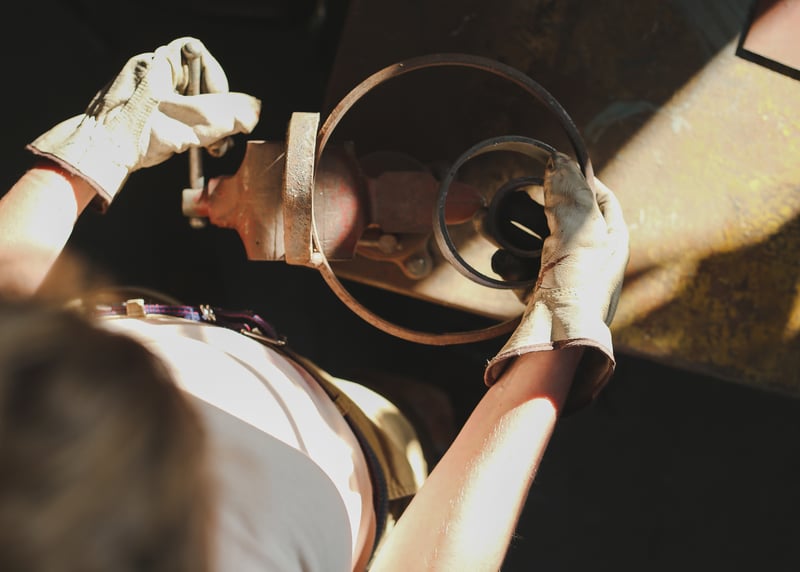 What sparked your interest in partnering with TurningArt?
Turning Art found me and I'm so grateful! I have really appreciated their willingness to collaborate and work through the complexities of 3D art vs 2D art. I am also very happy with the value they place on artists' work and the compensation they give artists for their time.
I'm happy to partner with firms like Turning Art that respect the work and find good homes for my pieces that I wouldn't have access to. I love the matchmaking aspect of their business model.
What does having your artwork in the workplace and other commercial or public spaces mean to you?
I love having my work in people's daily lives. My preference is to have art in public places so that it is accessible and enjoyed or provoking thought regularly. There is a place for museums and galleries of course, but not everyone feels welcomed in those spaces. It the highest compliment to me if someone wants to "live" with my work. There is a lot of art I like, but I don't want to live with half of it, haha!
To see more featured TurningArtists, return to our blog. To get Dusty Folwarczny's art in your space, set up a free consultation with an Art Advisor here!
All photos by Chuck Bernsohn.