As a Boston-based sculptor of Danish heritage, Jacob Kulin's longstanding admiration for Scandinavian design has influenced his creative pursuits. Clean forms combined with innovative materials and colors define his portfolio. Constantly looking at nature, Kulin strives to integrate the perfection of the outside world into his work. If it rains you'll find him outside looking at the ripple effects of puddles, an observation that may become the basis for his next design.
Can you tell us about your process?
I start with an idea or concept and sketch - a sharp pencil and blank stack of paper. I also rely on the collaboration of fellow artists—sometimes, I might want to see something in color, so I'll ask a friend who's a watercolorist to add some paint to my drawing. Other times, it's helpful to use technology, so I'll play around with CAD or Photoshop. Clients today have high expectations when it comes to design- they need renderings, color drawings, models, and prototypes. There are so many things to consider with each unique commission or artwork… Sketch's turn into models which turn into computer programming files to then develop fabrication drawings and so on…
Can you tell us about your journey to becoming a professional artist?
As a kid I loved to draw, paint, carve, and build in and out of school; I'd grab a stick and make it into a coat hook or carve a spoon out of it. This continued through high school, college, and beyond. During my master's degree, I got into fine metals and jewelry making - which then evolved into a passion for metalsmithing. Today, as long as I get to create, draw, paint, carve and build while earning a salary, I feel fulfilled. I remain grateful that I'm in a creative career and feel like I have much more to explore and discover. I'm constantly looking for creative challenges that allow me to continue calling myself a working artist/designer.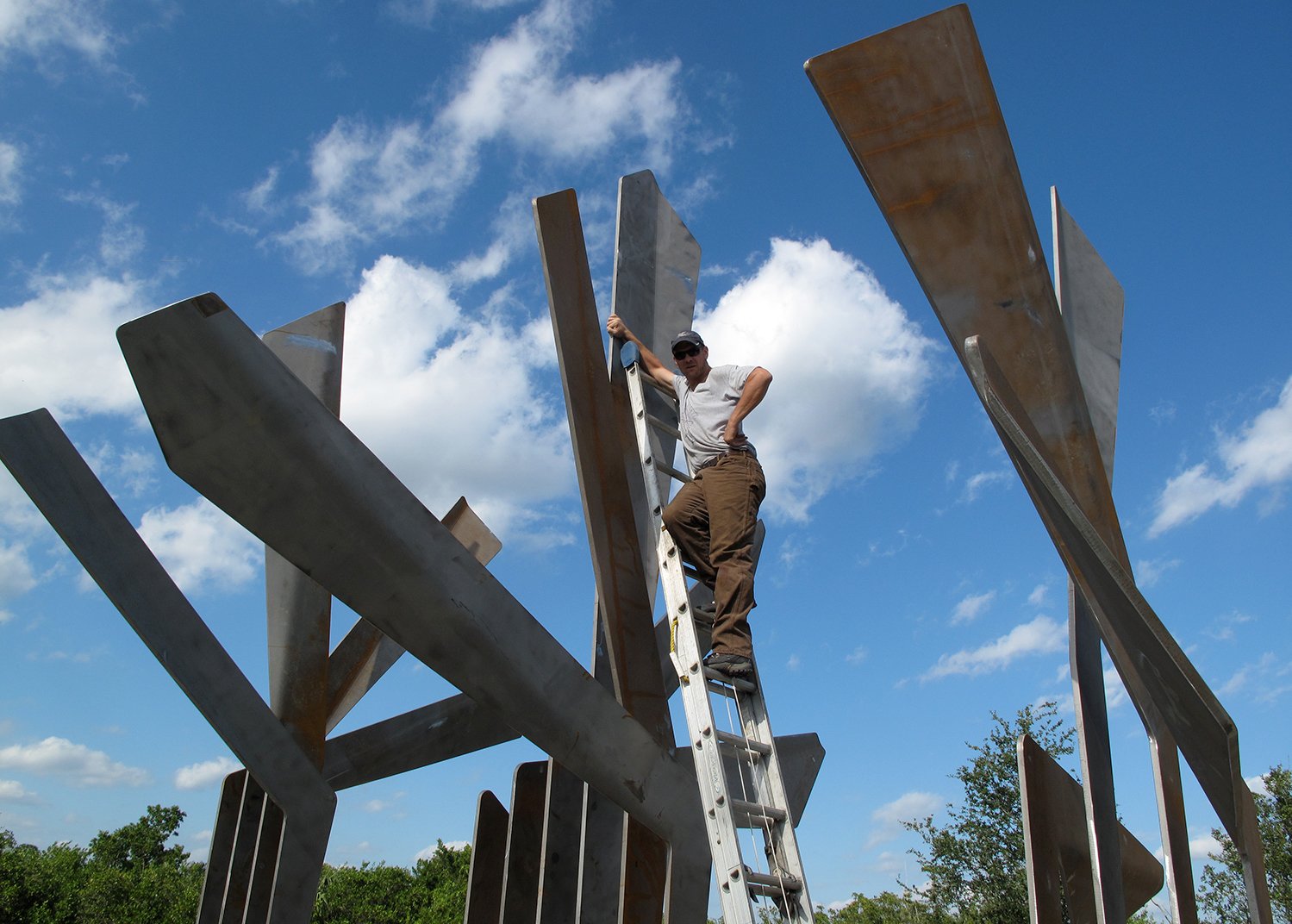 When you are looking for inspiration, what resources do you turn to?
I'm inspired by clean, modern design traditions from my Danish heritage, I also lived in Kenya as a child for some years, much of my personal taste comes from the vibrant design visible from both of these countries. I have somewhat eclectic taste - I'm a sucker for anything Danish modern - minimalist furniture and housewares from Denmark, but I also collect African masks and antique maps. I try and stay relevant by reading local and international magazines - I read all of the local design magazines and I still subscribe to Architectural Digest and National Geographic – hardcopy!
Walk us through a typical day in your studio. What is your routine? Has it changed in the past year?
Well, it all kind of depends on the nature of various projects being worked on at any one time. I'll usually begin the day in my studio office reading and returning client emails then switch over to sketching out recent ideas or concepts to ponder and/or problem-solve. Afternoons, and whenever possible, I'm with the kids – we try to get out for a walk, bike, or hike to clear the mind and find inspiration via all that nature has to offer. Seeing the world through your kid's eyes is pretty transformational— I have taught them to pick up a bug, leaf, or branch as if it's gold, always making sure to respect the profound beauty of Mother Nature. We build epic forts in the woods. Oftentimes in the evenings, I'll work in my studio when it's quiet and dark and with an element of solitude.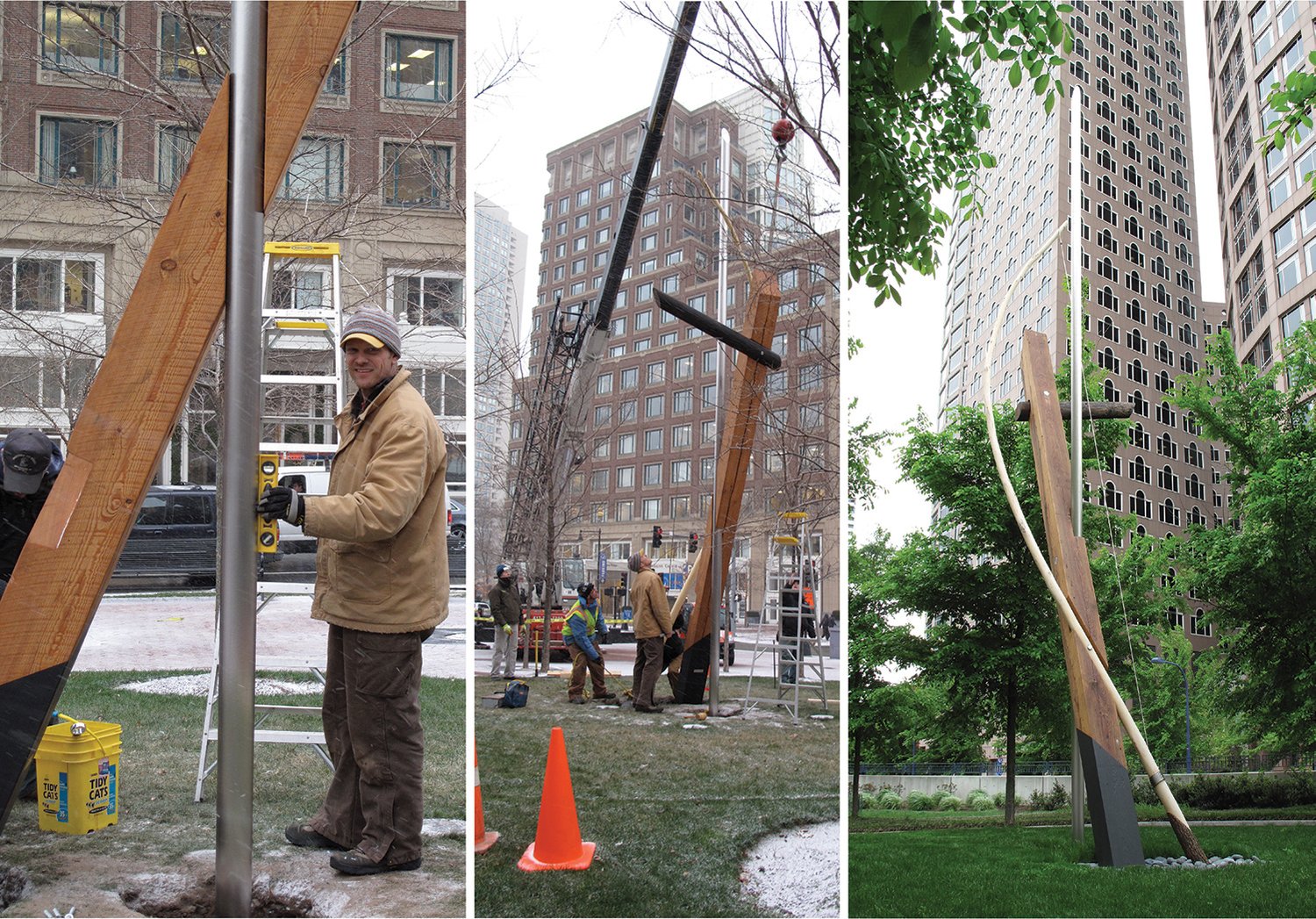 Finding the right rhythm to be productive in the studio can be a challenge, what advice do you have for staying productive and focused?
This is a tough one and something that we all deal with from time to time. That said, I've got a routine for keeping focused and on point. I always clean up the shop in between projects, a cleansing of the palette, if you will. Then, I'll put on some classical music which works well for getting me relaxed and in the zone. My rhythm is kind of dictated by this organized process (my wife would call it OCD) but whatever it is, having a clean, blank slate works well for strong, creative productivity.
What advice do you have for combating creative block?
If/when I feel a sense of creative block or frustration, I put what I'm doing down, shift gears and place my attention toward something else. Could be grabbing a coffee, a quick game of pickup basketball, cleaning the studio, or organizing administrative paperwork. Whichever I choose, the object is to remain proactive while hitting a mental reset button. After an hour or so I'll return and literally say to myself, it's a new and clean canvas soooo…Let's go.
As an artist, how do you measure success? Can you recall a specific event in your career that made you feel successful?
A milestone for me was being selected by an urban community and city art commission to design/build/install a large outdoor public sculpture for a community park in Boston inspired by music and located blocks away from Berklee College and the Boston Symphony Orchestra. At the final unveiling, Mayor Marty Walsh was in attendance and spoke of the importance the visual and performing arts have on the City of Boston. This was quite an honor, locally and professionally, and certainly one that I'll never forget. Another cool project was getting selected by MassPort to design a permanent installation inside Logan Airport's Terminal B. I felt very VIP when I got my security badge that allowed the artist full access to the airport terminal including the actual tarmac below the installation site; I was so impressed with the inner workings of the airport.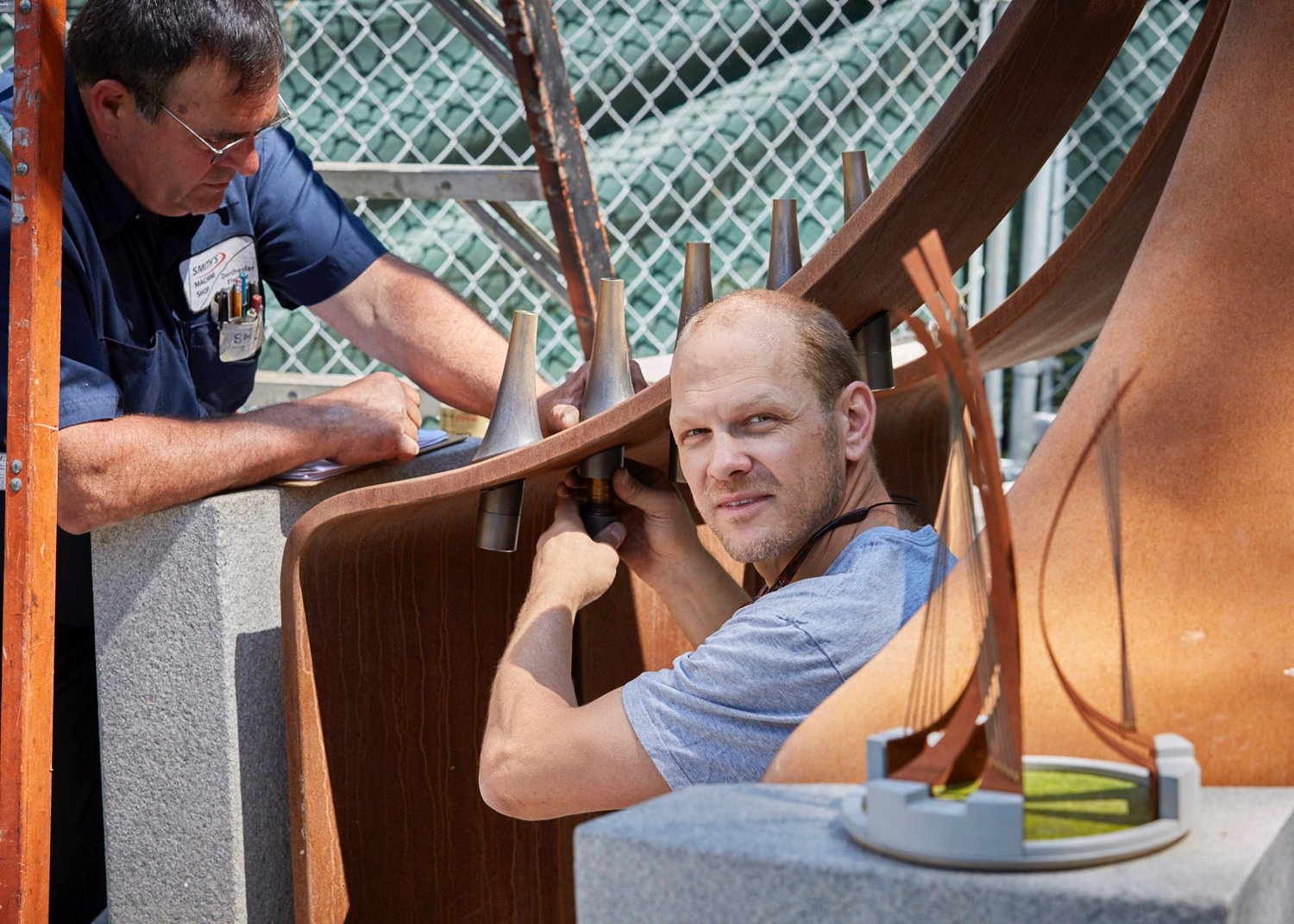 How do you see the art market changing? Where you do see yourself in this transition?
Not so long ago, most artists only sold work through galleries (which remains very important), however, in today's world things have shifted. There are now multiple ways from which creatives can find exposure and sell work (do business) via the internet and other platforms. People have acquired my work in galleries but also from my website, on Facebook, Instagram, and LinkedIn – wild - a sheik living in the U.A.E. saw an Insta post and commissioned me to do a large wall-mounted sculpture for his home.
I am always looking for different ways to find creative opportunities. I apply to local and international calls for corporate and public art weekly via online portals. I also maintain relationships with patrons who have bought and sold my work and this has led to continued business.
What advice do you have for artists who are beginning to build their careers? Have there been any habits or strategies that you have adopted that you feel have created more opportunities or visibility for your work?
Stay the course, believe in yourself and your creative skills. Building your career is an ongoing lifelong process or series of chapters, right? So, I tell myself there WILL come a time when you look back at all the efforts and thank yourself for never giving up. Although it may sound cliché it's important to "see your success". Become an expert of your craft, strive to fully understand the limitations of your medium, and be sure to always intelligently and cohesively articulate the meaning of your work.
Do you consider yourself, and all artists, to be entrepreneurs? Why or why not?
Part of being an artist today (for me) is understanding that in order to grow and expand upon opportunity, you have to outsource. Creative people aren't always good with modern business—so hire an accountant or web designer, have someone else do your PR or marketing. I think being an entrepreneur takes discipline and adaptability, which are not necessarily creative traits, so you need to understand what you're good at and where you need support—to me, this is entrepreneurial thinking.
Failure is an inevitable part of success in any field. Do you have advice for overcoming setbacks?
Failure means you are learning, failure means you are trying to push limits, failure keeps us humble and hungry. Some say practice makes perfect, I say "perfect practice" makes perfect. In other words, make sure your practice is being performed properly in order to truly master your craft.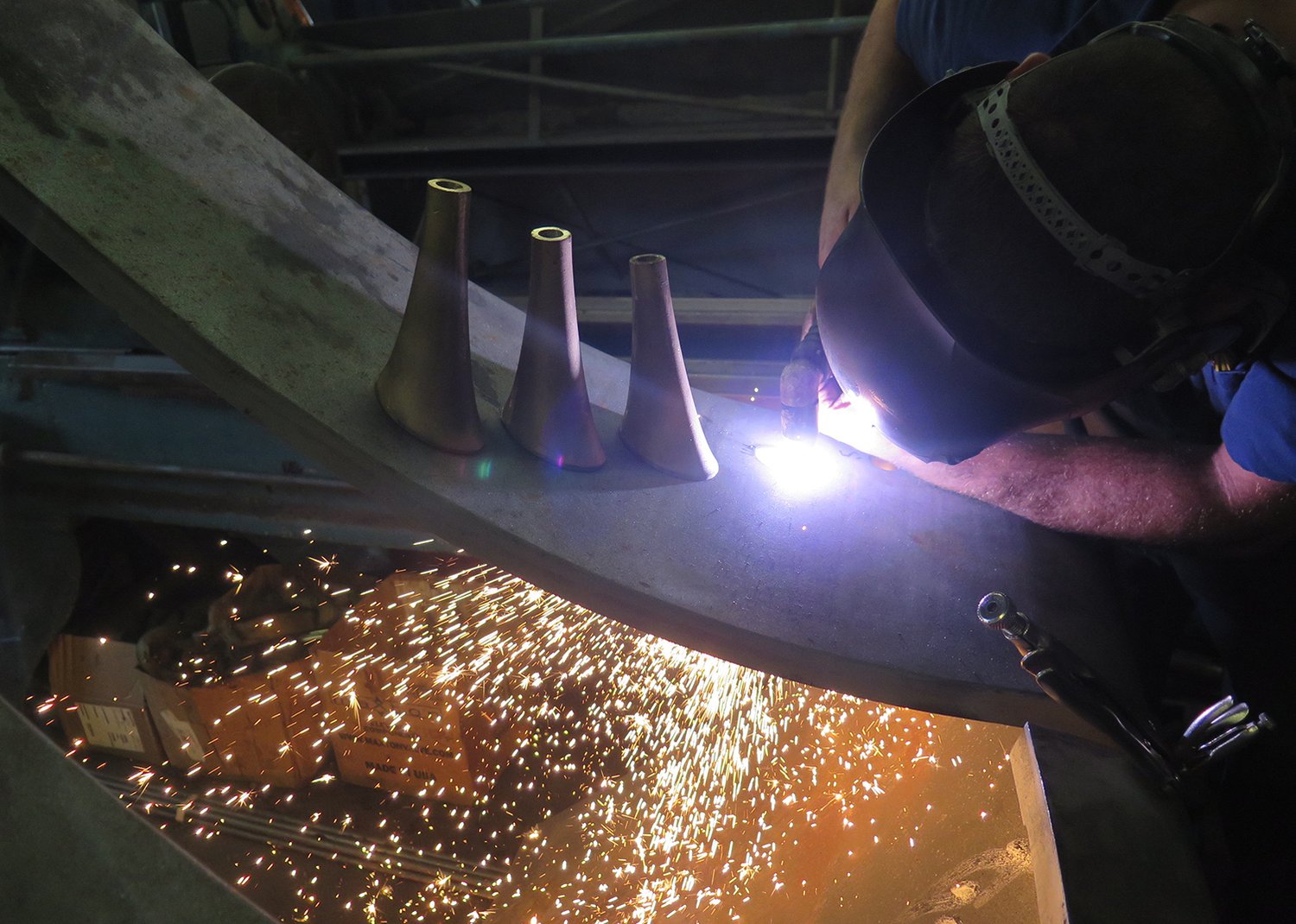 What sparked your interest in partnering with TurningArt?
TurningArt is a perfect example of thinking outside past norms for buying and selling artwork. Although my relationship with TurningArt is relatively new they respect and value their clients and artists.
What does having your artwork in the workplace and other commercial or public spaces mean to you?
It means a great deal and I remain forever honored by the trust and belief my residential, corporate, and public clients have shown me.
To see more featured TurningArtists, return to our blog. To get Jacob Kulin's art in your space, set up a free consultation with an Art Advisor here!