Jamaal's artwork is rich, vibrant, and colorful. With a focus on minimalist pop abstraction, he aims to break down art to its simplest form in order to bring out the power of its relatability. Jamaal makes bold color choices to capture attention, kindle emotions, and evoke a response from the viewer. His artwork is meant to be understood and appreciated by all different communities and cultures.
Can you tell us about your work?
As an artist, I've embarked on a visual journey to create rich vibrant works of art that convey harmony between soothing and exciting colors. I use color schemes that engage the viewer and provide a visual balance to ease the mind or to foster a sense of agitation and chaos.
In a lot of my work, you will consistently see an orange nerd motif known as Spencer Ward. Spencer not only represents the zany lovable nerd but also represents the bold & beautiful in all of us. The color orange represents boldness, youthfulness, strength, and endurance. With that said, Spencer and my paintings are all about celebrating who we are as people. Celebrating the gifts that all of us as individuals have. Whatever it may be, it's meant to be celebrated.
Can you tell us about your process?
My process is a blend of analytical and methodical thoughts mixed with the magic that is intuition. When creating pieces centered around the nerd, Spencer Ward, I think of the message I want to convey. I then do a lot of reading, museum walking, and music listening. With a little bit of meditation, an idea surfaces which I map out using colored pencils and paper. I then transfer that to canvas allowing for new ideas to take paramount and enhance the original idea. This is the intuitive part that takes over because as I see it, creativity was being cultivated the entire time during my intense research process (books, museums, music) waiting to surface at the right moment.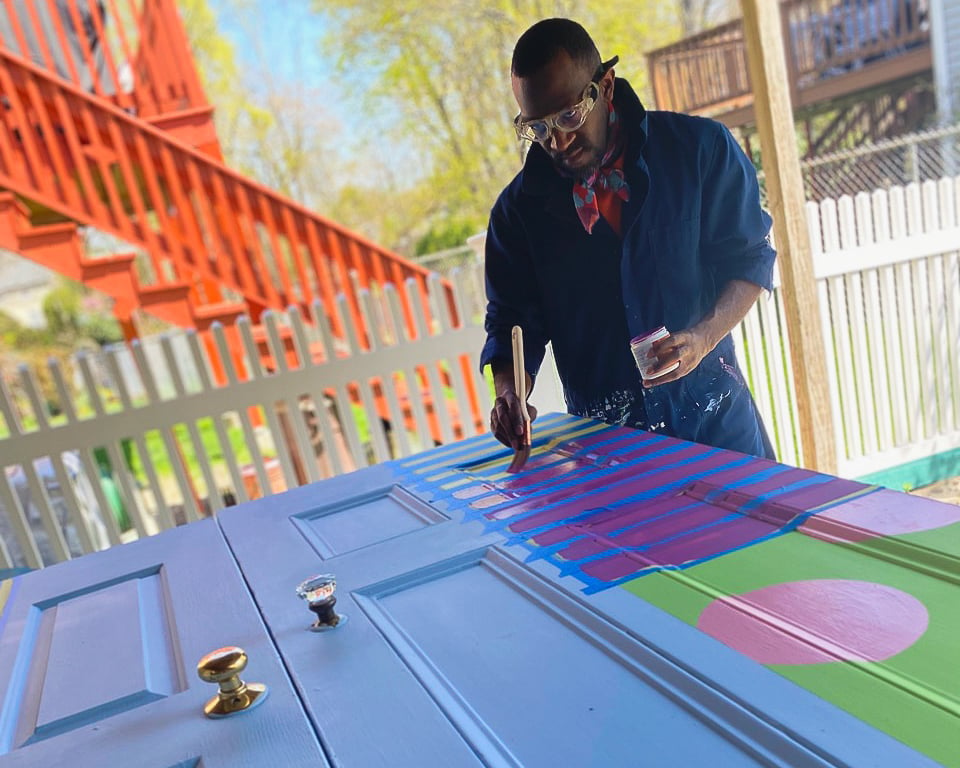 Can you tell us about your journey to becoming a professional artist?
I remember I was a junior at Babson College studying to be an accountant. That summer I was offered an internship at one of the major accounting firms. By the end of the summer, I realized I had to pursue my calling as an artist. I graduated with a business degree and I have been an artist ever since. I remember being shy to tell people that I was an artist whenever they asked me "what do you do for work?" I use to tell them sales sheepishly. So my journey as an artist has truly been a journey of acceptance of who I am. Being proud of it. I've learned full acceptance of self is a bold move in life. I am thankful to learn that along my journey so far.
When you are looking for inspiration, what resources do you turn to?
I become infatuated with reading books on all and any subjects. I try to juxtapose concepts generally not seen together to get my imagination and creativity going. I then meditate or go for a run and let all of these ideas ruminate in my mind. I take in everything I can. Imagination then strikes when I least expect it. When it does, I seize the moment.
Walk us through a typical day in your studio. What is your routine? Has it changed in the past year?
I will say that this past year has changed my outlook of what my studio surrounding looks like and where I paint. Being indoors for a year has made me yearn for the outdoors. I have found myself often painting in my backyard. I am currently working on painting doors for two outdoor exhibits: Studio Without Walls' "The Light Gets In" at Riverway Park in Brookline, MA from May 28th - September 6th and Newton Out Doors that will be on display in and around Newton's village centers from May 18th to November. With this recent transition, I've gathered a lot of inspiration from nature and the colors that overlay one another when looking at the blooming flowers.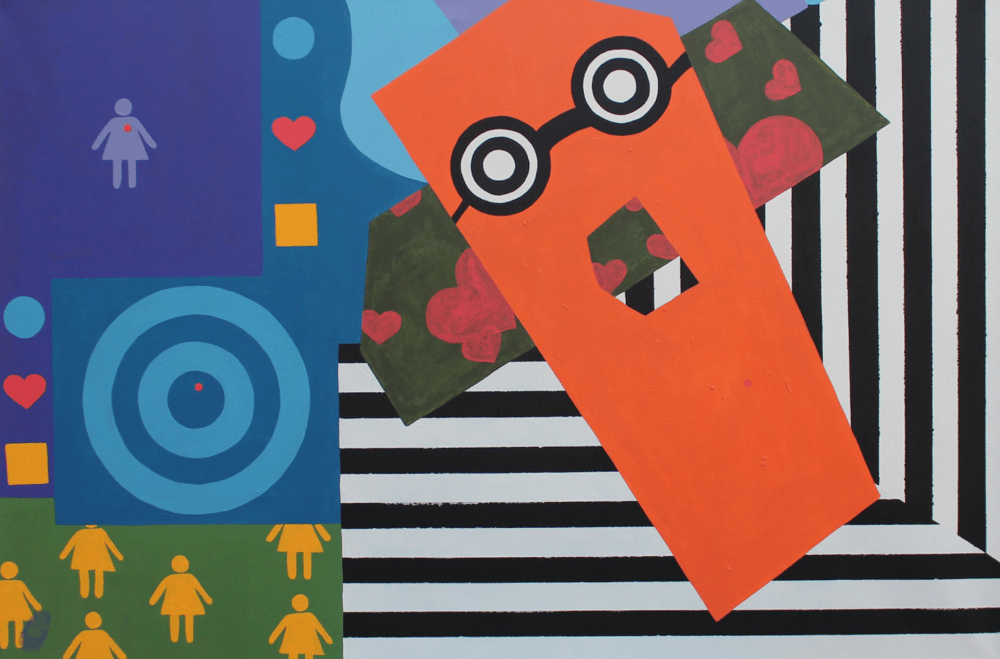 Finding the right rhythm to be productive in the studio can be a challenge, what advice do you have for staying productive and focused?
I recently learned this tip myself after taking a course on how to learn better. Intense focus and valuable productivity are best utilized in spurts. With this new knowledge, I set myself a timer of 25 minutes and I just create - even if I do not feel that inspired at that moment. I just create, draw, paint, concept map for 25 minutes and then give myself a break before reviewing what I have done. This can get my productivity going or, at the very least, the ideas conceived during that period become seeds for new works in the future.
What advice do you have for combating creative block?
Acceptance. Accepting that creative blocks are all part of the creative process. When a creative block is happening, see it as the opportune time to research and get inspired. As I mentioned before, reading, listening to music, walking around the museum…and taking that 25 minutes to just focus and create after. Repeat. Creative ideas will start to form unconsciously in your mind. When they begin to surface, seize the moment! Those become the eureka moments.
As an artist, how do you measure success? Can you recall a specific event in your career that made you feel successful?
I measure success on how well I am able to create opportunities that allow my friends to join in on the success together. Most recently, I co-curated an exhibit, entitled Real F.R.I.E.N.D.S, that received a lot of praise from viewers, the press, and the media. Real F.R.I.E.N.D.S was exhibited for 6 months between Beacon Gallery in Boston, MA, and the Boston Mayor's Office Art Gallery. I worked with a dozen friends to create artworks that captured the positivity and silver lining of the pandemic. Pulling off a show like that during the height of the pandemic was quite a success for me. On top of that, I got to see my friends get recognition and opportunities stemming from that show. Building a community to lift and keep one another up. That's success to me.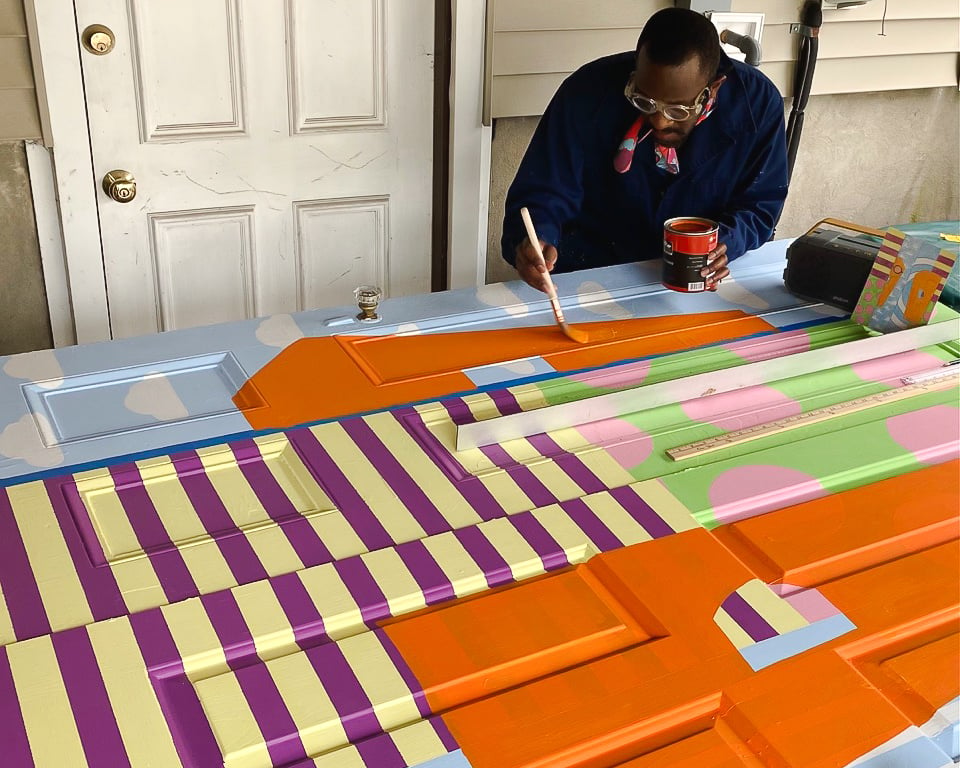 How do you see the art market changing? Where you do see yourself in this transition?
The art market is becoming more digital. Viewers are enjoying the fact that they can see entire art shows online. As this transitioning is happening, I see myself leaning on partnerships and companies who have a strong digital presence and understand how to market artists in that space. Ideally, I look for companies that are able to navigate and excel in the digital world as well as still create quality opportunities in the physical realm for the artists they work with. TurningArt comes to mind being one of these types of companies.
What advice do you have for artists who are beginning to build their careers? Have there been any habits or strategies that you have adopted that you feel have created more opportunities or visibility for your work?
Do not be afraid to be yourself and voice your opinions through your work. I remember reading a lot of biographies of successful 20th-century artists and one theme they all had in common was that their own unique voice was seen in their artwork. When you saw Jackson Pollock, you knew immediately it was his, same for Warhol, Basquiat, and countless others. They found a style that resonated with them and worked it. Stay true to that and stick through it with all the highs and lows of the artist's journey. In due time others will catch on and opportunities will come.
Do you consider yourself, and all artists, to be entrepreneurs? Why or why not?
Like I mentioned before, I went to business school so I quickly saw that art is a business. You, as the artist, are selling yourself. You are creating a brand and marketing it endlessly. It's important to not only be able to do that but know how to manage and account for your finances so you can learn how to live off the work you are creating. It took me a couple of years to gain confidence to say this to others when they asked me "what I did for work?", but now I can proudly look them in the face and say an Artrepreneur.
Failure is an inevitable part of success in any field. Do you have advice for overcoming setbacks?
Failure and setbacks are all part of the journey and process. Acceptance is the key just like with creative blocks. That acceptance can bring forth opportunities within that failure. At the minimum, the opportunity that failure brings is the chance to learn and better yourself for your next moment of success.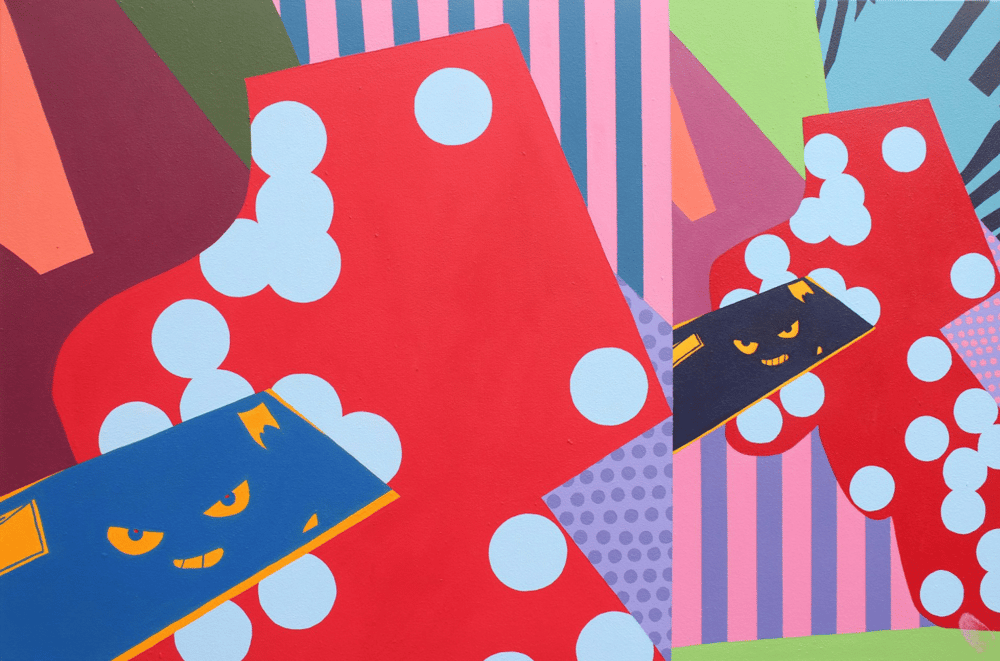 What sparked your interest in partnering with TurningArt?
TurningArt understands community. They understand supporting artists and giving them a platform to present their work. TurningArt is transparent with their message and practices. This is NOT too commonplace in the Art World. So when you find an art company that is, stick to them like gesso on paper! I remember reaching out to partner with TurningArt early on when they were first starting. It was one of the best decisions I've made.
What does having your artwork in the workplace and other commercial or public spaces mean to you?
I always made my work so it can be easily accessed by the public. I want it to bring cheer and joy to whoever sees it. My work being in the workplace, so it can do just that, is one of the ways I measure success. TurningArt allowed me to achieve that early on. I never told the company this but that gave me the confidence to keep going and creating. Thank you TurningArt.
To see more featured TurningArtists, return to our blog. To get Eversley's art in your space, set up a free consultation with an Art Advisor here!