Kelly Neidig has been painting all her life, but after being diagnosed with chronic Lyme Disease in 2010, both her life and painting practice changed. Initially, Kelly could only lie in bed and watch the daylight pass across the room while listening to the faint sounds drifting in from the outside.
In this state, Kelly started to notice the contrast of her slower meditative world compared to the buzz of the fast-paced world around her. She became fascinated with time and how people experience it differently and, as she gradually became more in tune with her slower pace of life, the focus of her artwork changed to convey the new way she experiences the passing of time.
We joined Kelly in her studio to learn more about her routine, creative process, and artistic career.
Can you tell us about your journey to become a professional artist?
I've been making art for as long as I can remember. I grew up in a small town outside of Pittsburgh, PA and spent most of my time making art with any supplies I could find around the house, most often embellishing the pages of Sears and JCPenney catalogs. I went to college at Penn State and was accepted into the landscape architecture program but as soon as I found out I could change my major to art, I did. I didn't really know how to be a successful artist upon graduation, but I was determined to figure it out. After graduation, I lived in Phoenix, AZ where I met some wonderful local artists who gave me great advice on how to build up a body of work, photograph it, and approach galleries and other spaces for exhibition opportunities. Since 2001 I've been producing, showing, and selling my work. I've become established in my local art community, volunteering for several non-profits and I've also received fellowships, grants, and artist residencies.
How would you describe your paintings?
My body's need for rest gives my mind the space to contemplate new ideas and figure out how to translate them into my art. So even when I am not painting I am thinking about my art. By slowing down I have had more time to think. My new body of work is informed by quantum mechanics and special relativity. I am fascinated with the experience of time dilation: the difference in the elapsed time measured by two observers. By creating a visual movement in my work through repetition of patterns and contrasting colors, I convey the experience of passing time. For me the work symbolizes a slow expanse of time but observers of the piece will have their own experience and opinion.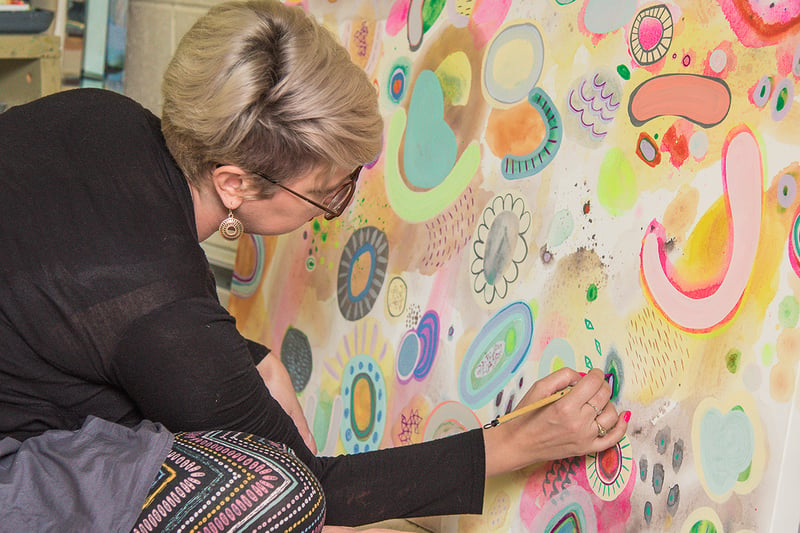 Can you tell us about your process for creating a new painting?
I find that I like to work seated on the floor with the canvas lying flat in front of me to allow the watery layers to pool as they dry. I will put on some music or sometimes a horror movie to watch as I sit and wait for the paint to dry. I start each painting with no solid idea of what it will look like. I am usually more inspired by color than context. I pick a color that inspires me and just start putting it on the canvas in thin liquid layers. Most of my time in the studio is spent waiting for paint to dry and contemplating my next move. Each decision I make is based on where the painting is in the current moment.
When looking for inspiration, what resources do you turn to?
Reading books and articles on quantum physics really gets my imagination flowing. I love the idea of vast expanses of space in areas that are so small we can't even see with our strongest microscopes. I think about how the micro world of atoms mirrors the workings of the macro universe. I look to artists like Rothko, Turrell, and Kusama, because, to me, their art conveys an intense experience of the present moment. I value art's ability to translate experiences across space and time.
For emerging artists, finding the right rhythm to be productive in the studio can be a challenge, what advice do you have for staying productive and focused?
Staying productive and focused is still a problem I face in my practice. I have found that it helps to just get into the studio, even if I don't feel like painting. I will spend time doing anything - watching a movie, responding to emails, working on a craft project... That way I am in my space, and maybe I'll look at a piece I've been working on and have an idea of what to do next. I don't try to fight my dry spells because I have been doing this long enough to know that a burst of inspiration is always right around the corner. I just wait for it. I'm good at waiting for things.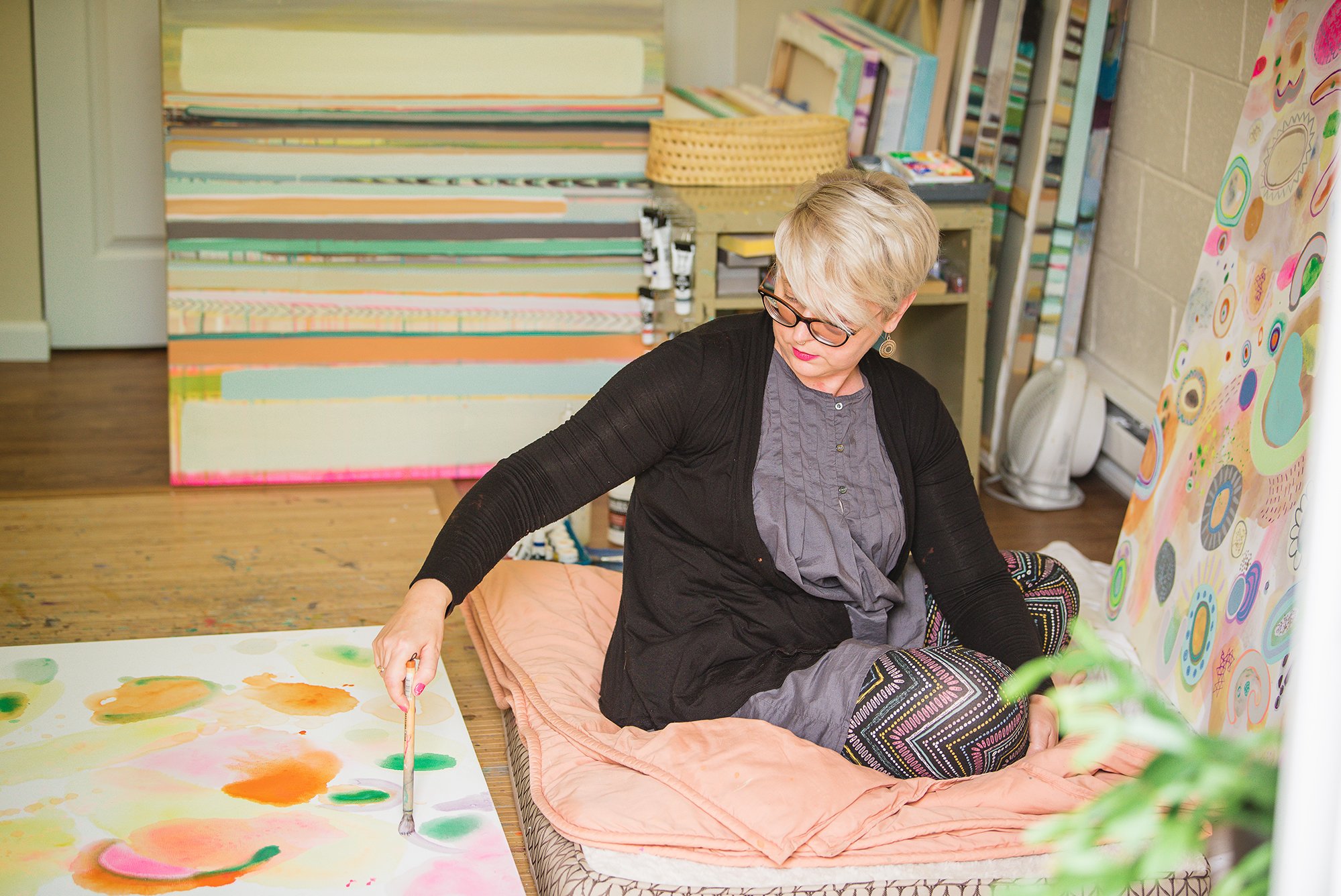 What is your advice for combating creative block?
Look at other art that really inspires you. It works every time.
As an artist, how do you measure your success?
When I first started painting I thought showing art and selling art were markers of success. Now I feel successful just because I am still making work that is different from what I was painting 10 years ago. I think it is easy to get stuck painting a "Signature style" for your whole career. But the artists that inspire me the most have a body of work that changes over time.
Can you recall a specific milestone in your career that made you feel successful?
My first museum show at the Museum of Northwest Art in LaConner, WA. It's so cool to be able to say I've had my work in a museum!
Do you consider yourself, and all artists, to be entrepreneurs?
I don't believe an artist is an entrepreneur if they are just making work and not showing it and getting involved in their art community. There is so much more that goes into being an entrepreneur than making a product for sale.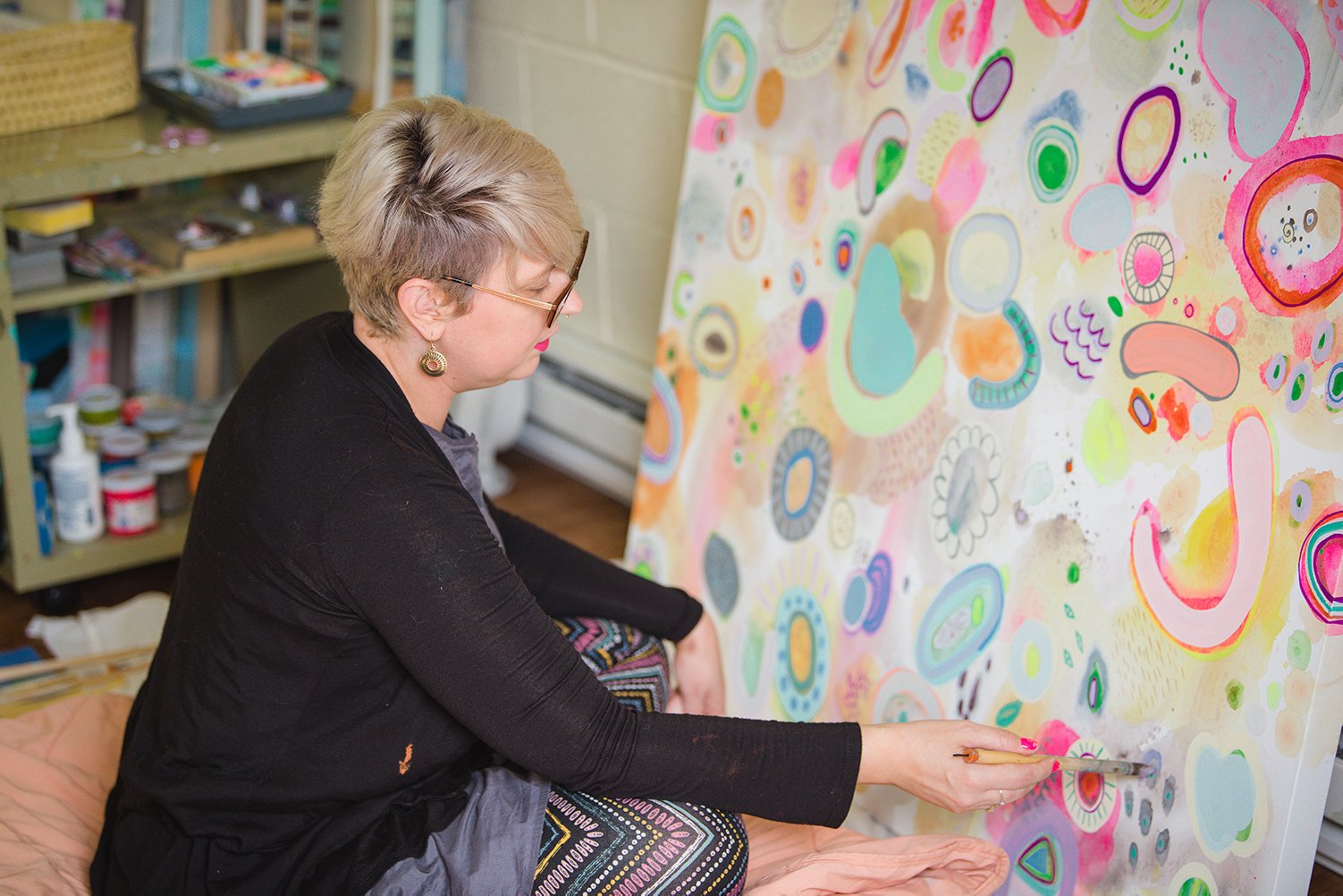 Failure is an inevitable part of success in any field. Do you have advice for overcoming setbacks?
Take a day off, watch some scary movies and cuddle on the couch with something furry. Eat some ice cream and pamper yourself. Get a good night's sleep, wake up the next day and tackle the world.
What sparked your interest in partnering with TurningArt?
I like all the options there are for people to get art into their living/work spaces. TurningArt makes it really easy for artists to submit work and grow professionally.
Has your experience with TurningArt differed from other art companies you have worked with?
It is really easy to work with TurningArt, everyone I have been in contact with is awesome.
What does having your artwork in the workplace and other commercial or public spaces mean to you?
It gives me the opportunity to get my work in front of people who wouldn't otherwise get to see it in a museum or gallery space. I really just want my art to make people happy!
To see more featured TurningArtists, return to our blog. To get Kelly's art in your space, set up a free consultation with an Art Advisor here!