Liz becomes solely focused as soon as she picks up her materials and begins to blend pigments, sketch shapes, and form compositions. Hours pass as she surrenders to the creative process, letting the paint dance across her canvas. This process gradually draws out semi-recognizable contours and shapes. Liz believes that these forms are a fusion of her dreams and recollections; the shadows and lights of people she has met along with the landscapes she has explored. They emerge on the surface, and she is delighted to become acquainted with them.
Can you tell us about your work?
I definitely do not pre-plan my work or have any idea when I arrive at the studio what will transpire during the hours I am there, however, I am certainly influenced by all that happens in my quotidian life and all that I observe in the outside world. I intuitively paint using washes of color, revealing shapes and forms that mimic everything and nothing at all. I prefer to let others tell me what they see rather than prescribe them their results.
Can you tell us about your process?
I like to play with depth and contrast. I begin with washes, just getting some color on the canvas to mess up the blank slate, then I add in some dark forms to provide shape and distinction. I keep building and growing from there, for as long as it takes. In this flow, I reach for colors that call to me at the moment, going straight from paint tube to canvas or mixing, mixing, mixing to create the perfect hue. I study lucidity versus opaque and love to pair the unexpected - neutrals with neons, light covering dark and then bringing dark once again. This feels symbolic to me, how we repress emotions only to have them surface again or how we forget an experience and are reminded of it again by a smell or an old photograph. My work is only complete when I feel like I can swim in it, like it has the depth to be bottomless yet keeps me afloat.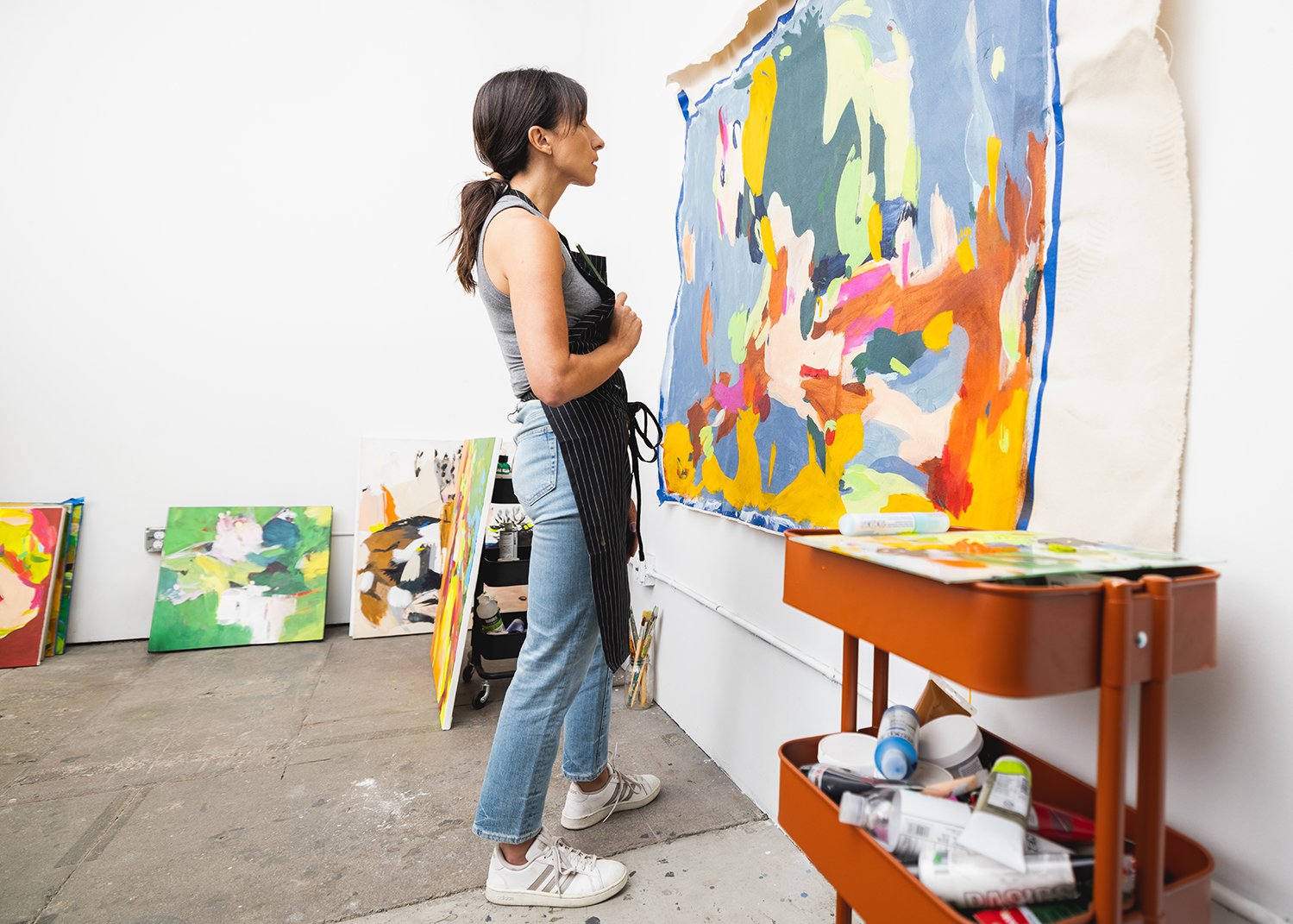 Can you tell us about your journey to becoming a professional artist?
My parents met in Wisconsin in the 70s and moved to Colorado to live a creative, hippy lifestyle. There they married and had me. My dad was a musician and my mom a weaver, so I was always encouraged to express myself. Plus, as an only child, I had a lot of time on my hands to build, draw, and make - and no one to steal my crayons. As an adult, I pursued the business side of the art industry before surrendering to becoming a practicing artist myself. I have now been creating and selling in various capacities for about a dozen years.
When you are looking for inspiration, what resources do you turn to?
Travel is certainly my favorite. Or moving - as I did to Southern California five years ago and found that my palette and shapes became much more tropical. Current news stories and media references find their place as well, and often the cheery outward appearance of a piece masks my personal political opinion or sorrow, as with my first mural which was painted just after the Unite the Right rally took place on my college campus in Virginia. I processed my grief for the atrocious racism displayed in a place that I loved by swirling my paints and adding those layers upon layers, which became my output of healing and love.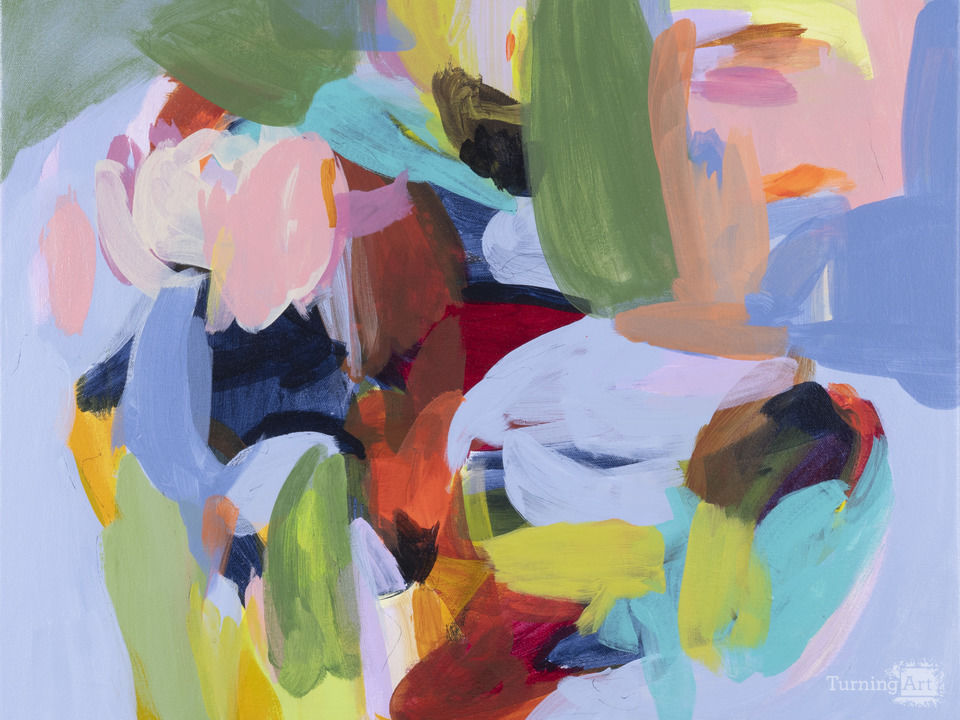 Walk us through a typical day in your studio. What is your routine?
Since I am a "side hustle" artist and also maintain a full-time job in development at the USC School of Architecture, I am very purposeful on my studio days. While I cannot force the creative muse to appear if she really is on holiday, I try to arrive, change into my Dickies coveralls, and get going with purpose. My favorite thing about being in the flow of painting is how time flies so quickly and how concentrated I get, lost in the process and yet wholly present. This is actually how my now fiance Charlie was able to pull off the perfect surprise for our engagement. He popped over one Sunday to "check on the status of my paintings" and was down on one knee before I was out of my creation haze. I said yes of course, wearing navy Crocs to my chagrin, and so this is one of the many reasons that Keystone Art Space means the world to me.
Finding the right rhythm to be productive in the studio can be a challenge, what advice do you have for staying productive and focused?
I remind myself, so I also remind others: be kind to yourself. If you can, approach a creative process with a sense of play and release your expectations on a final product. If you can, silence that pesky little critic who wants to rear his head and throw you off course. If you can, just start and then just push through uncertainty. If you can't, stop for the day. There will be others.
What advice do you have for combating creative block?
Get outside! My studio is a block away from a community soccer park, so sometimes I hop over there to get my legs moving, feel some fresh air, and recenter. I believe that just freeing your physical body can release psychological holds, so if time is limited, just a few pushups and jumping jacks will also do the trick!
As an artist, how do you measure success? Can you recall a specific event in your career that made you feel successful?
I love change and pursuing new challenges, and my perspective is that the success measure should vary from year to year. Early in my art career, I decided to try selling at outdoor fairs, and so my success was interacting with my community in that way and gaining a few customers outside of my personal circle. Soon after, I did my first public mural. I was terrified at first to work at such a large scale and as part of a cohort of much more established, cooler than me, street artists; but I pushed through and lined up several more murals soon after. At one point, I took on my first commission. I learned how to be a good communicator in that scenario, setting expectations with clients and delivering upon them. Last year, I embarked upon my first solo show. I am really proud of my discipline in creating 23 original pieces, publicizing, and installing them. This year I am dipping my toes into wholesale licensing and was selected to be part of the "Made in California" show at Brea Gallery.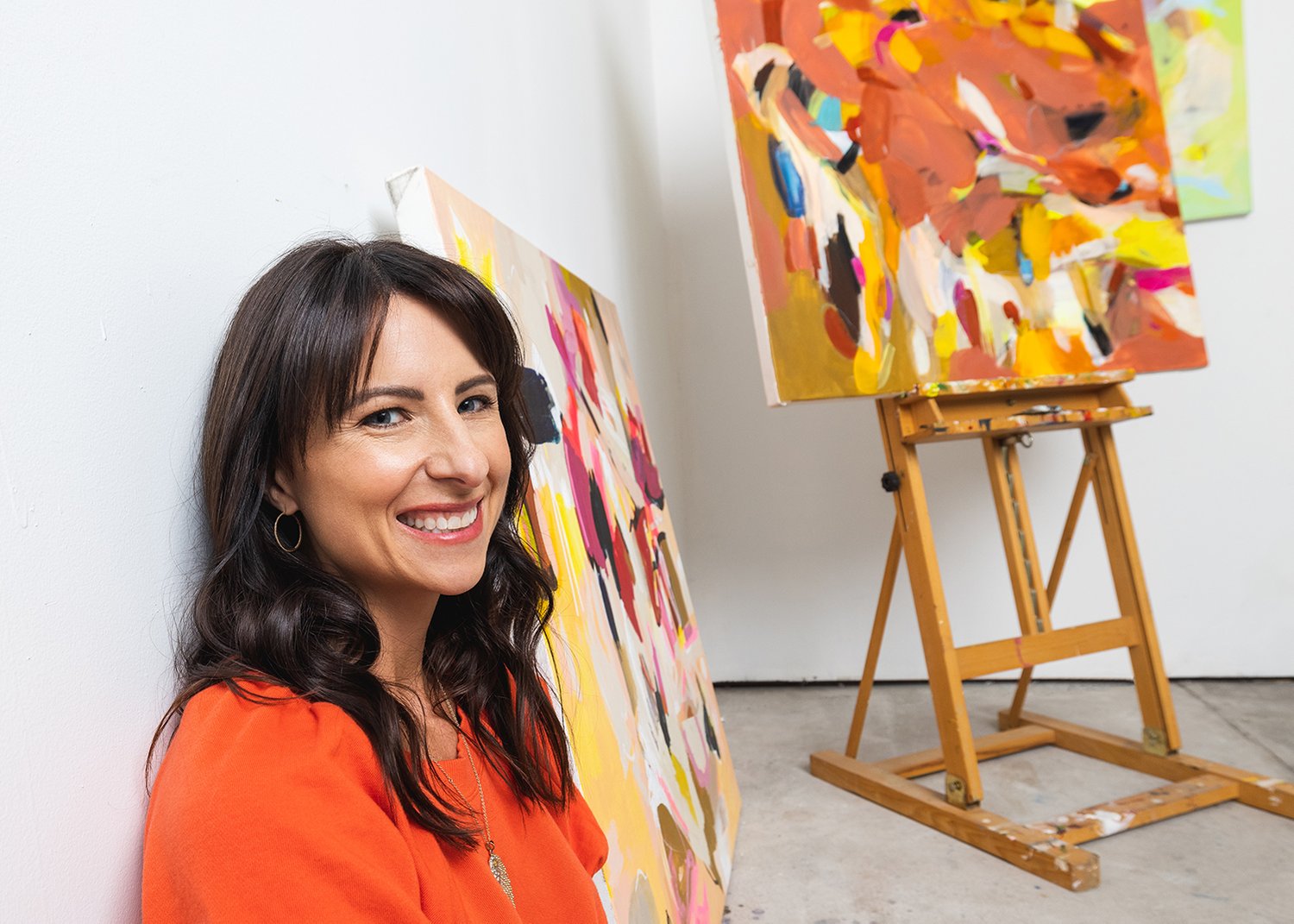 How do you see the art market changing? Where you do see yourself in this transition?
There are so many more options than there used to be! I have a background in producing international art fairs and in corporate art consulting, so I have 20+ years of familiarity with some of the more prominent and traditional ways to get your art out there, but today the proliferation of social media has created limitless ways to bring my art to audiences and to make money as a creative. I see myself as someone who is trying to authentically harness the opportunities in ways that make sense for my art and for my sense of integrity. I always do a gut check when an opportunity is presented.
What advice do you have for artists who are beginning to build their careers?
I follow Austin Kleon's maxim to "steal like an artist", meaning that anyone can observe, listen, and soak up others' methods and techniques to suit your purpose. While I am not endorsing outright copyright infringement, I find nothing wrong with watching how an artist uses a tool to get an effect and emulating the same stroke or watching an Instagram reel and deciding to use a similar shot sequence. I draw upon my lifetime of observations, my background in art history, and my unstoppable sense of adventure to create my compositions. So, I guess I have stolen little bits here, there, and everywhere. On the business side, I find that what works for me in my development role at work can be used when I put on my agent hat for my own art.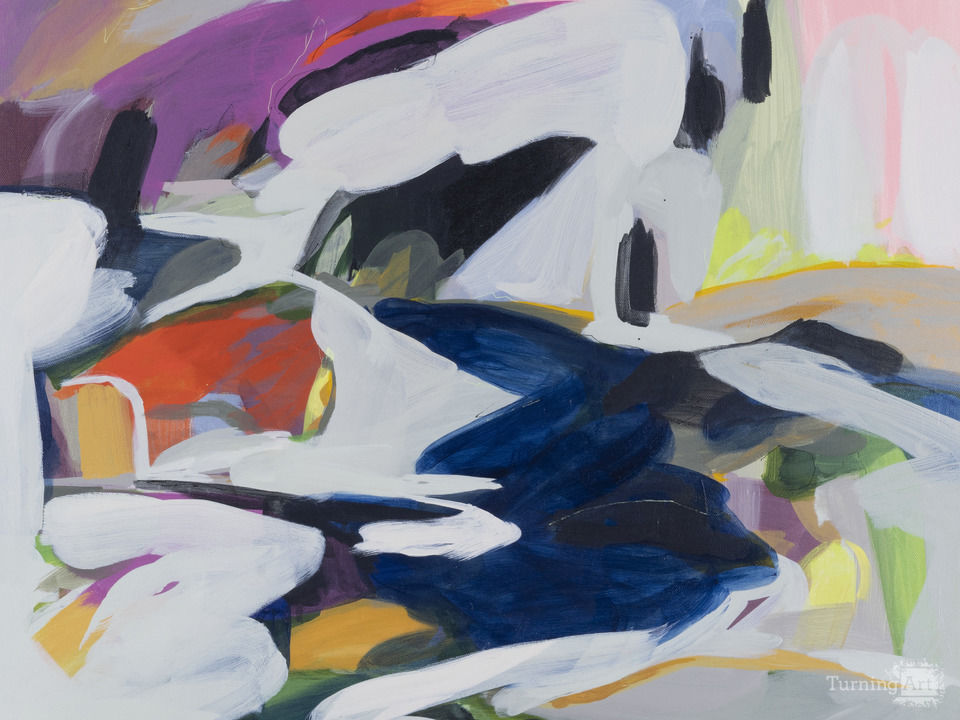 Do you consider yourself, and all artists, to be entrepreneurs? Why or why not?
Absolutely! While there is a romanticism around the Henry Darger story (An outsider artist who lived his life as a reclusive janitor and gained fame post-mortem), I personally love sharing my work with the world and finding ways to make it accessible. However, I do not work for free. Part of successful entrepreneurship is knowing your value and communicating it to potential clients - and being willing to walk away when there is not a point of intersection. I enjoy the creativity of forging partnerships, celebrating them when they go well, and learning from them when they do not.
Failure is an inevitable part of success in any field. Do you have advice for overcoming setbacks?
Some setbacks are meant to keep you back, and some are meant to propel you forward. You might not know which is which until some time has passed.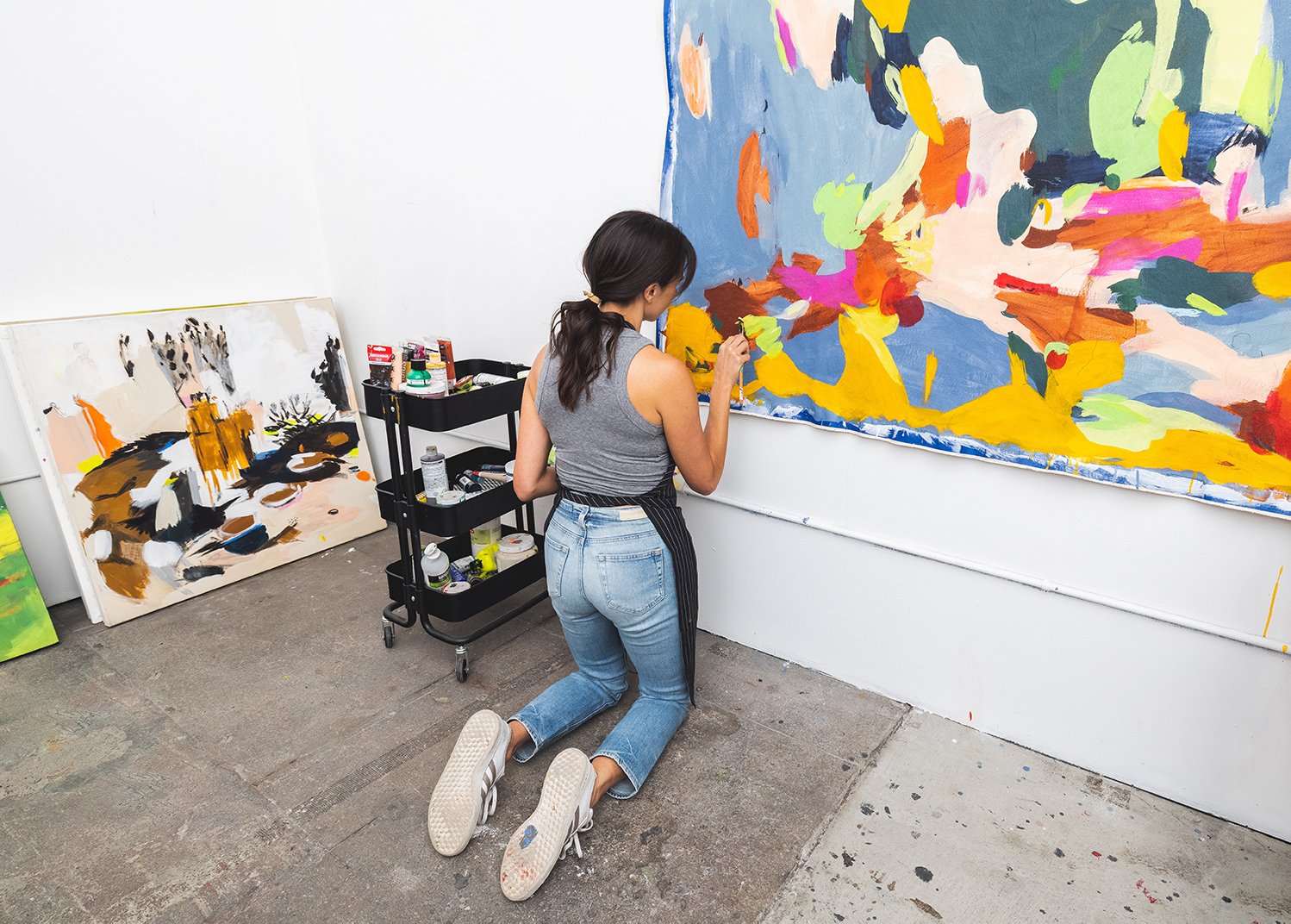 What sparked your interest in partnering with TurningArt?
I love the TurningArt business model and the roster of artists and clients that they have assembled and are continuing to build. I have past experience working in a similar business with two regional firms that sourced art for corporate clients, so I love to see this automated and global platform making the matchmaking much more efficient.
What does having your artwork in the workplace and other commercial or public spaces mean to you?
I have always and will always love galleries and museums, but the reality is that most people only visit those types of venues on special occasions, whereas they are in workplaces and other public settings all the time and are influenced, consciously or subliminally, by their surroundings. I like the idea of brightening someone's day or challenging their perspective when they are in their routine life moments.
---
To see more featured TurningArtists, return to our blog. To get Liz's art in your space, set up a free consultation with an Art Advisor here!