Mai Wyn's artistry comes to life through her skillful use of oil on stainless steel panels, where she masterfully captures the natural world she encounters during her hikes. Drawing inspiration from her current home in the Rocky Mountains and her upbringing in the Lake Country of the Upper Midwest, Mai Wyn seamlessly integrates nature into a contemporary context.
By exposing raw metal substrate, she creates a unique contrast between industrial material and nature-based subjects. Mai Wyn's paintings explore our evolving connection with nature and our innate desire to stay connected to the land, even in our high-tech world.
Can you tell us about your process?
My process for painting on steel has evolved from my own experimentation with the materials over the years. The areas that will remain metal are masked off and the areas to be painted are prepared using an automotive primer, this ensures good adhesion between the oil and stainless panel.
Due to the complexity of these painted images, the first and most important step in my process is creating a detailed line drawing the same size as my final work. I use a large dry-erase board to accomplish this. The drawing is transferred to the masked panel and an X-acto knife is used to cut away and remove the tape where the primer and oil paint will go.
Once the painting is complete, I add a quick coat of varnish and remove all the tape to reveal the metal areas…which is definitely the most thrilling part of the process.
Can you tell us about your journey to becoming a professional artist?
Like so many artists I discovered an aptitude for art at an early age, which coupled with a deep love of the natural world, led me to a career as a landscape and wildlife painter. My personal challenge in art school was painting landscapes in a new way, one that wasn't laden with nostalgia. I began experimenting on aluminum and steel panels, exposing areas of the raw metal substrate as framing elements for my landscape paintings. It was a way to paint nature through a twenty-first-century lens or window. Somehow it worked and I have been fortunate to make my living primarily from selling my paintings for the last twenty years. Early experience in cooperative galleries led me to open my own commercial gallery space in 2013, which unfortunately I closed at the onset of the pandemic. However, those years working with other artists were invaluable and the contacts I made, including an extensive collector list, have allowed me to continue painting through my home studio via commissions, pop-ups, and a handful of galleries.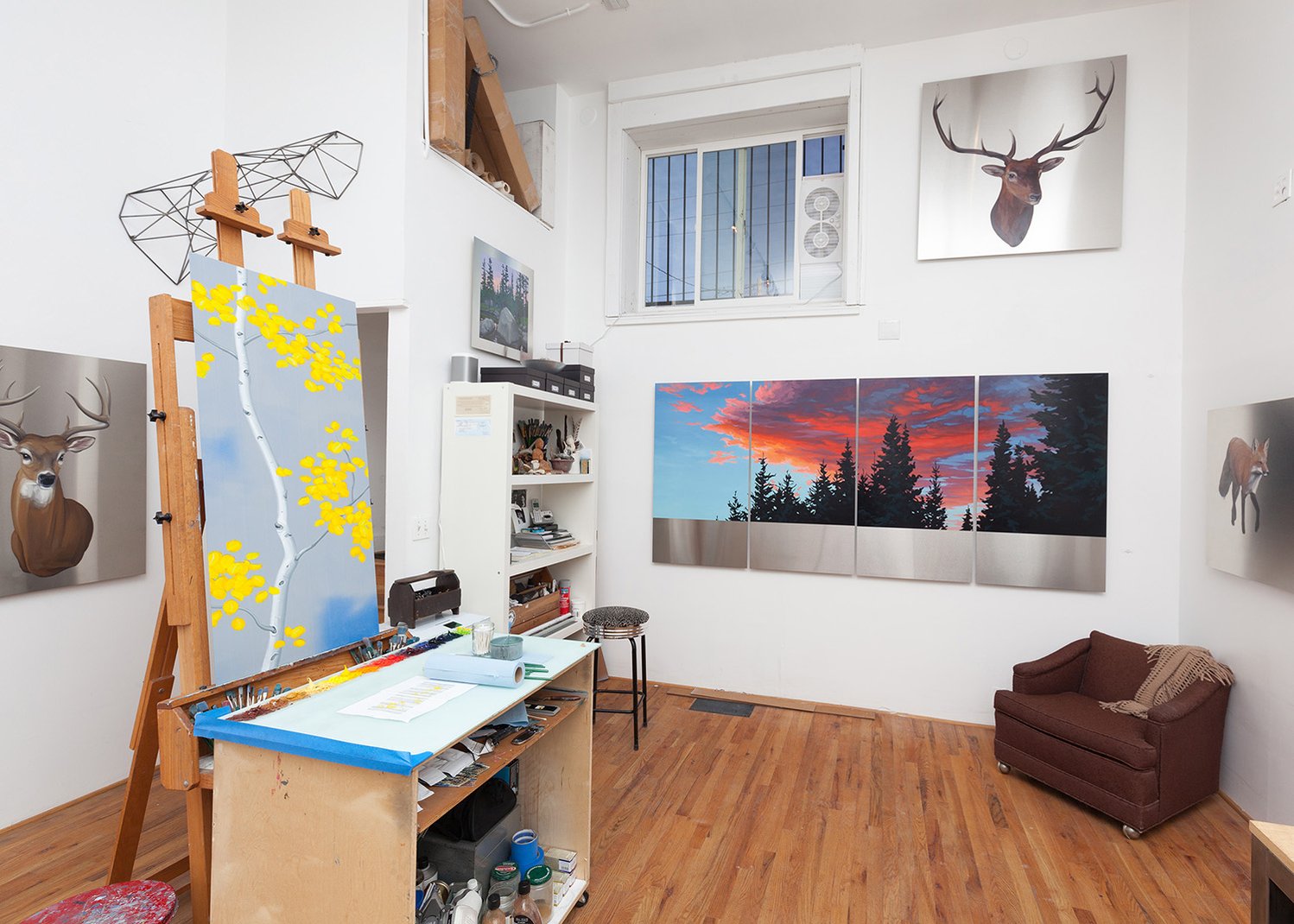 When you are looking for inspiration, what resources do you turn to?
My inspiration comes primarily from getting out on the trails and enjoying nature with my family. I also sometimes go on solo trips, just to stay a bit more focused particularly when looking for new inspiration. When it comes to the animals, I can't (and don't always want to) have close encounters with most wild animals out in the woods. Instead, I visit the Museum of Nature and Science, the zoo, and wildlife preserves, and rely on bits and pieces of lots of reference photos to create my animal portraits.
Walk us through a typical day in your studio. What is your routine?
The last few years have been challenging with my young daughter just entering her school years, but I am grateful for the flexibility the artist's life affords me. I worked hard all this spring so that most of this summer break I can spend with her adventuring! But on a regular work week, I spend Monday getting back into the rhythm of things which might include cleaning up the studio, paying bills, and organizing my calendar around approaching deadlines. Sometimes I do prep work, like priming the metal panels, over the weekend so that way during the week I can just focus on painting. Due to the size of my studio, I typically only work on one or two paintings at a time. One might be in the drawing phase, one is usually in process on my easel, and maybe a few are being packaged to head out the door. Once a painting is prepped and ready to paint, I typically work solidly for 3-5 days to get the bulk of it done. Good things do not happen if I drag out a painting for too long…it can be hard to know when to stop and I've been known to paint the life right out of a piece. If I get a whole week in, I usually enter the weekend in a good mental place and feel accomplished.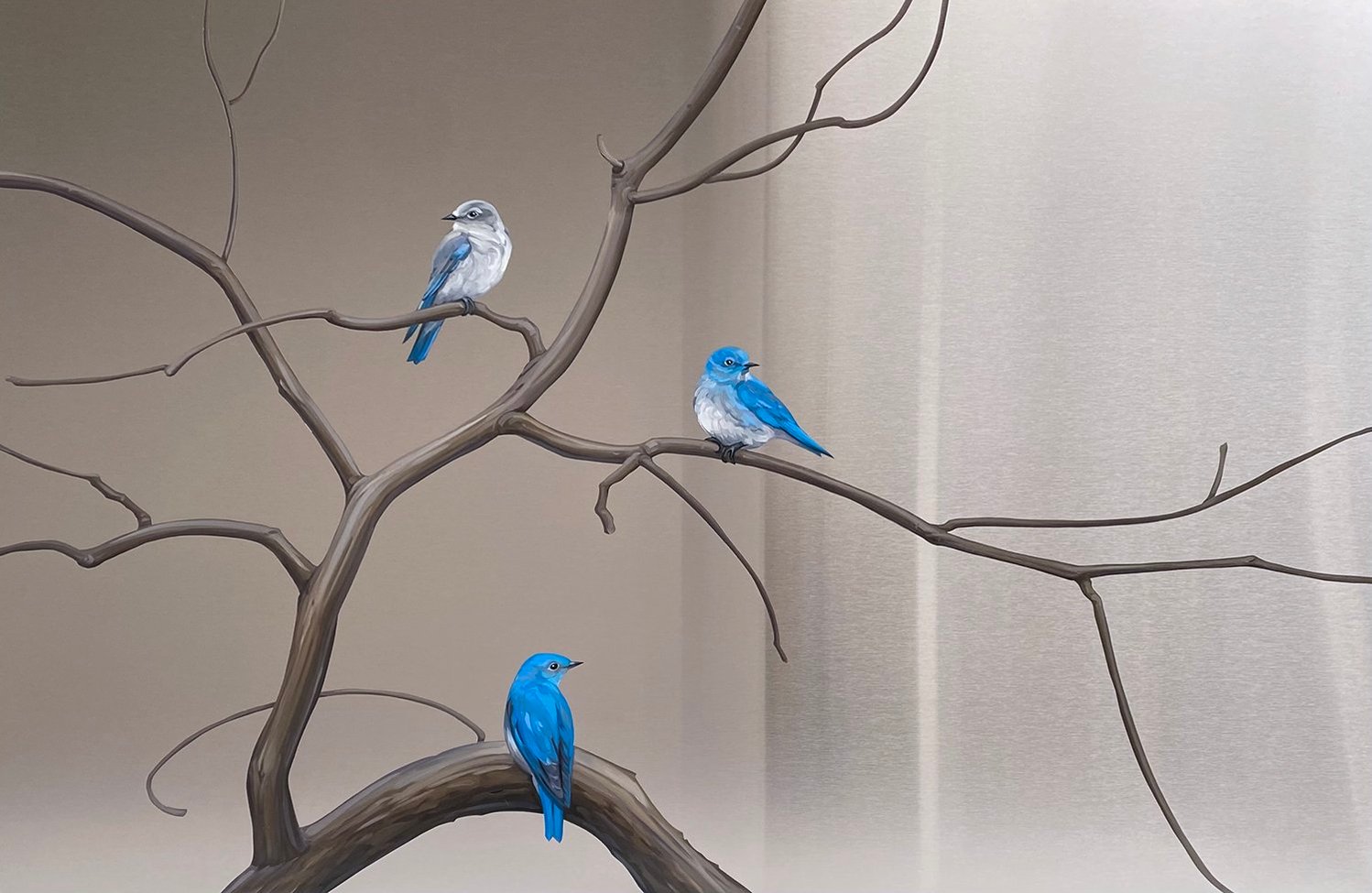 Finding the right rhythm to be productive in the studio can be a challenge, what advice do you have for staying productive and focused?
Productivity and focus are huge issues for me right now with a small child. You just have to expect that those long studio stretches, working hours on end, just can't happen very often. My advice is to break up your task list into much smaller bits and get realistic about what can be accomplished with just 30-minute to one-hour stretches. For example, I might write on my task list that I need to prep five new panels today. A better way to do that is to make it three separate items: cut the wood for support frames, build frames, mount steel…a much more realistic task list and if you get even one thing done, it feels like an accomplishment.
What advice do you have for combating creative block?
I think the hardest thing for artists to do is give themselves a mental break for new ideas to germinate and evolve. There is so much pressure to produce, especially when your livelihood depends on sales.
Keep working, but also try and find some quiet time. Go out on a walk or hike, get to a local show you've been wanting to see, put pen to paper and write it out. When I have a moment to just let my mind go of all the things around me, I always find new inspiration.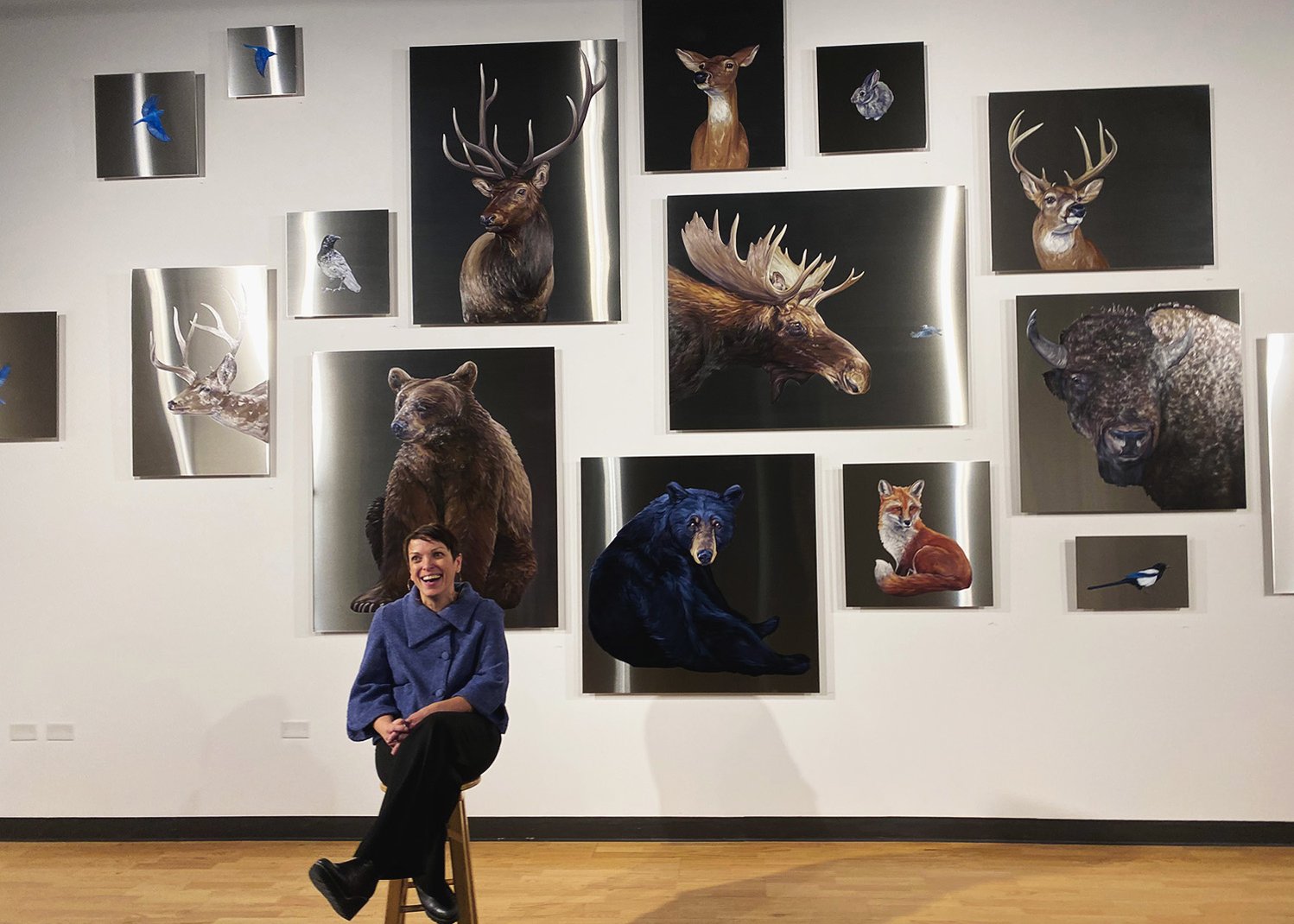 As an artist, how do you measure success? Can you recall a specific event in your career that made you feel successful?
There have been many moments over the years that made me feel like a successful artist. Early on I felt like I'd arrived when I got a check from my gallery with sales that surpassed my "other" job income. It took a few more checks to gain confidence, but I finally quit that other job. That moment was both scary and incredible. It also always feels like a milestone when I have a solo show in a public art center or museum setting. I recently installed a large show here in Denver at Regis University which I felt great about, and after a really successful artist talk, I was on cloud nine. But in general, after all the years of struggle, I am really just so proud to be able to make a living at this.
How do you see the art market changing? Where you do see yourself in this transition?
I am old enough to have seen a lot of change in the art market. When I started out it was all about finding the galleries that would help foster your career. They handled it all: marketing, installation, sales, and client relations. Your job as an artist was to produce the work and shake hands at the openings. Today the artist is not only responsible for the work, but they must also have a solid social media presence, and newsletter to reach out to their own collector list, promote shows, and oftentimes produce their own events. It's tough. I'm a complete Gen-Xer who has zero desire to parade myself around on social media, but alas it is what is required. It is how I stay in touch with my collectors and build new relationships. I should really go post something right now…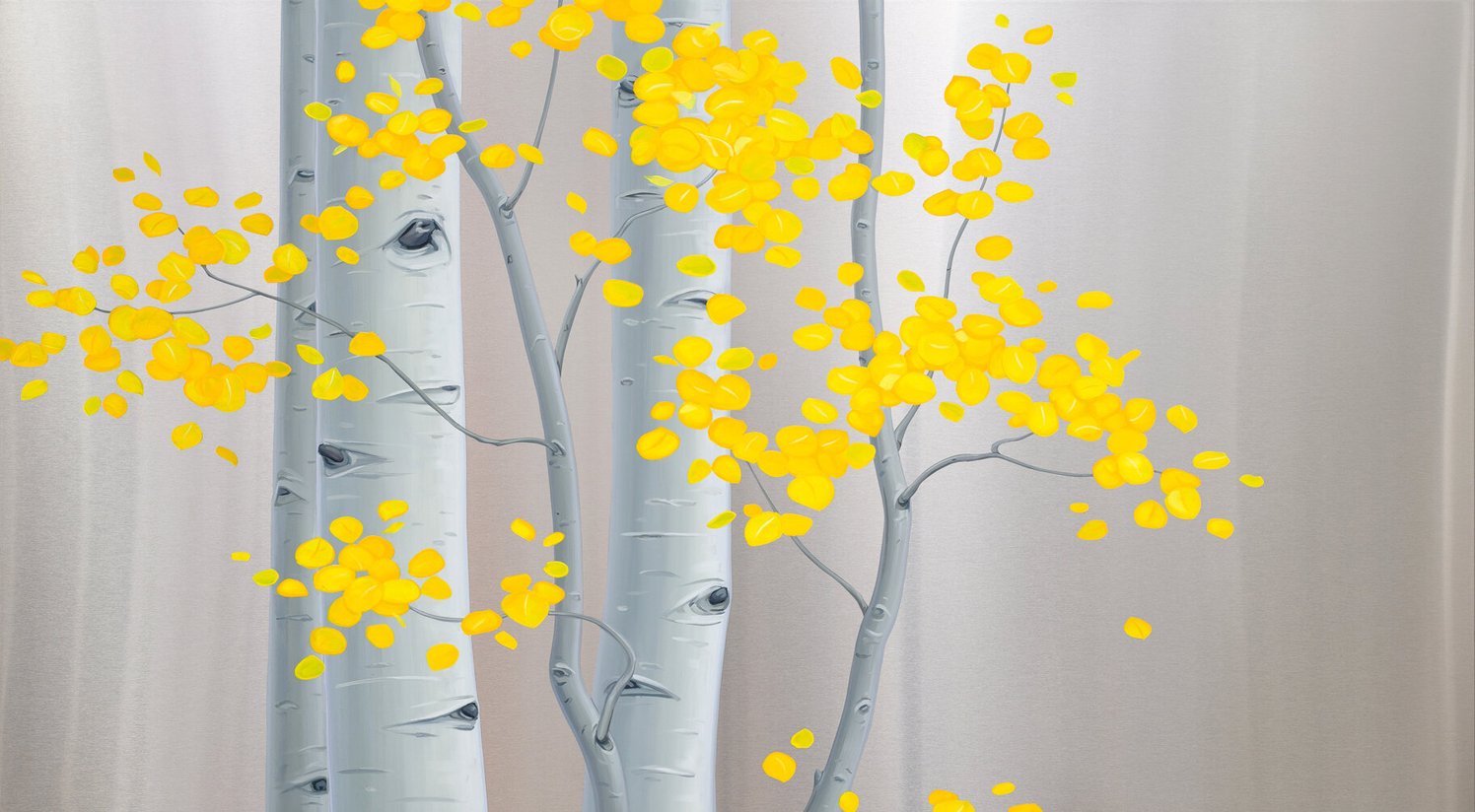 What advice do you have for artists who are beginning to build their careers?
Being involved with other artists is the best advice I can give a young artist. Share a studio, join a cooperative gallery, and organize shows with other like-minded creatives. Also, go to shows and introduce yourself to artists you admire, maybe volunteer to help them in the studio…it could lead to a mentorship, possibly a job, and a wealth of knowledge. The art community is really so giving if you just put yourself out there and want to learn.
Do you consider yourself, and all artists, to be entrepreneurs? Why or why not?
I don't think all artists are entrepreneurs, however, I do think all artists would benefit by being more business minded. The artists that are successful not only make incredible work, but they also work really hard. They put in long hours fulfilling their studio practice and a lot of hours building a business. Gallery and customer relations, social media presence, strong communication skills, branding, inventory management, and basic accounting: I believe most of these skills can be learned along the way, but should never be brushed off. Most of the artists I know who brush off the business side of things are not selling their work. Perhaps they are making art just for themselves and that is totally fine, but if you want to make a living at it, you need to learn the business side.
Failure is an inevitable part of success in any field. Do you have advice for overcoming setbacks?
Sometimes life gets in the way of our art career: an aging parent, a new baby, an injury, or an illness. It's definitely been challenging to sit back and watch the careers of some of my peers take off while I've been busy with other life issues. I have resolved that it's ok. I have managed to do what I need to to keep my career going with the knowledge I will have more time for it in the future. If anything these last five years have taught me, it's how to work smarter. Your time will come if you keep at it. Be excited for what the future holds and don't fixate on things that are out of your control.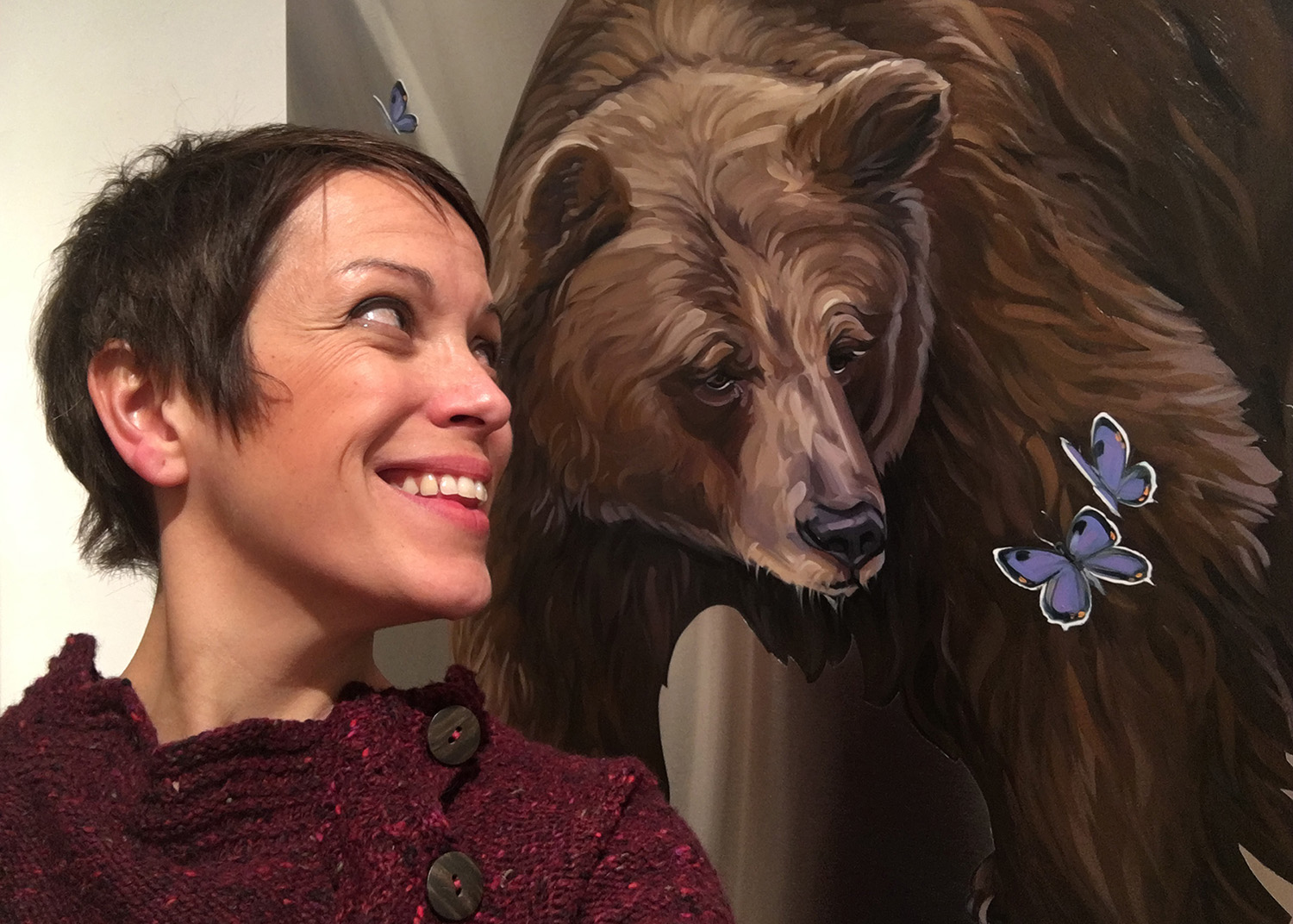 What sparked your interest in partnering with TurningArt? Has your experience with TurningArt differed from other art companies you have worked with?
I am fairly new to TurningArt, but have had great success over the years with other art consulting groups. I am excited to share my work with a wider audience and I appreciate the exposure I am getting. I love what TurningArt and a few other art consultants are doing to connect clients with artists in addition to fostering the growth of aspiring artists by sharing stories like mine and providing other educational opportunities. It's a win-win for everyone!
What does having your artwork in the workplace and other commercial or public spaces mean to you?
It's pretty thrilling to see my work in public spaces and I often get great feedback when people realize they've seen my paintings out in the world. I have been fortunate to have work placed in hospitals, other medical facilities, hotels, and businesses. As we wander the halls of these places waiting for an appointment, worrying about a loved one, or whittling the hours away at work, I love to think that my paintings bring a little joy and interest to those people's day. I hope they take a pause and recall the sound of quaking aspen in the woods or admire the beauty of a setting sun over a lake, if just for a moment.
---
To see more featured TurningArtists, return to our blog. To get Mai Wyn's art in your space, set up a free consultation with an Art Advisor here!