While Oi's contemporary abstract expressionist prints are notable for their vivid palette and spritely motifs, they also evoke a calm and meditative state that draw the viewer closer for further investigation. Diligently working in her studio, Oi's passion for creating art is visible in her emotionally charged and vibrant works that are deeply influenced by nature and her own relationships.
Can you tell us about your work?
My monotype prints are abstract in nature, meditative, soulful, and happy. I use colors, shapes, and textures to compose my pieces. I am currently working in geometric shapes that are inspired by the Matisse exhibition I saw at the Museum of Modern Art in New York City. I was fascinated by Matisse's cutouts and wondered how I could use his methods in Printmaking. It took me a little more than a year to puzzle it out. I am totally addicted to cutouts!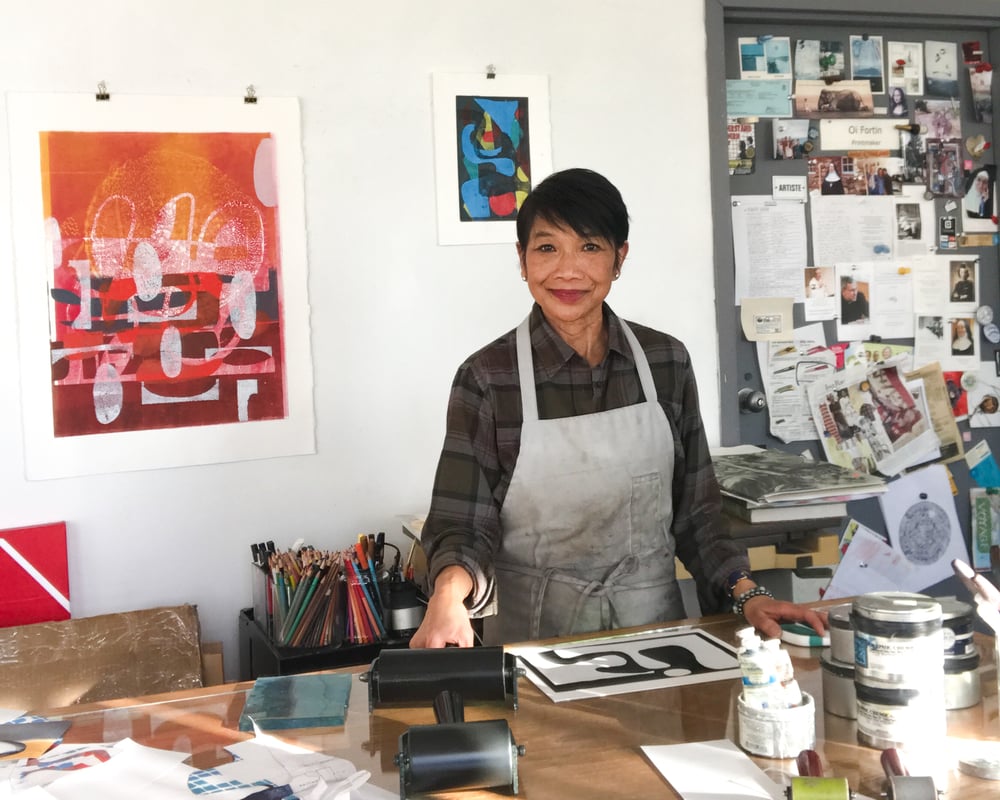 Can you tell us about your journey to becoming a professional artist?
I was born in Bangkok, Thailand, the land of a thousand smiles! Thais are happy-go-lucky people and I have tried to stay that way, despite moving to the USA many years ago. Twenty years ago, I left the corporate world to be a full-time mom. Living on a sailboat in New Haven, Connecticut with an 18-month-old baby was very fun and rewarding, however, I missed the structure of a work-life. My best friend recommended that I take an art class at a community art center. I found a babysitter for Monday morning for 3 hours, and the only class that was available at that time was printmaking, which I knew nothing about. In that class, I discovered that my favorite type of printmaking was monotype. After 3 years of taking classes and attending printmaking conferences, I had my first very successful exhibition. Two years later, I rented my studio and purchased my printing press. It has been a wonderful journey.
Can you tell us about your process? What is a monotype?
A monotype is a print made by painting or drawing with ink on a plate of smooth material, such as Plexiglas. Special printmaking paper is placed on the plate and the two are passed through a printing press, transferring the image onto the paper. The print produced is one-of-a-kind (monotype), although sometimes a faint "ghost-print" can be made from any ink remaining on the plate. Inks are oil-based or water-based. Different materials can be placed between plate and paper, or paper and press to emboss and embellish the monotype.
Currently, I am working in layers using shapes and textures to create each print. To create these layers, a single piece could go through the press multiple times, adding something different with each pass. So a typical print could take about two weeks to get done. I am printing on Arches88 paper (made in France), 300g per sheet. It has a very smooth surface and feels like linen. I use oil inks - Charbonnel and Graphic Chemical etching inks.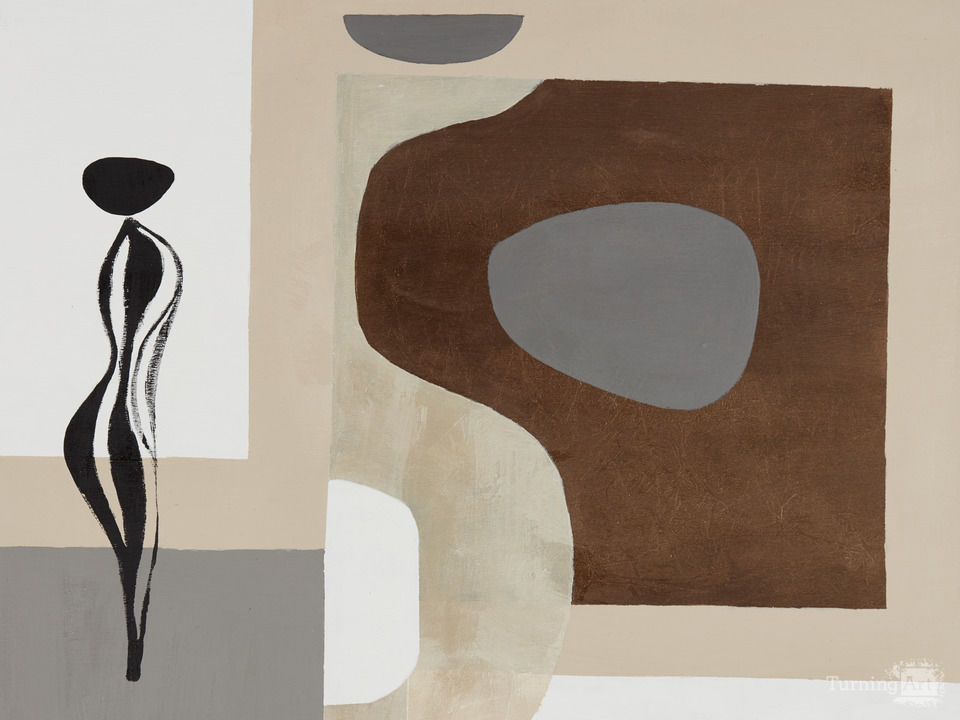 When you are looking for inspiration, what resources do you turn to?
Museums, books, poetry, sailing, hiking, listening to music.
Walk us through a typical day in your studio. What is your routine?
I start my day with a long walk in the park with my dog Gigi, and yes, sometimes Gigi accompanies me to the studio. My small studio is in an old factory building where Erector Sets were once made. It has a high ceiling and lovely, tall windows that allow a lot of sunlight. When I walk through that door I leave all the worries behind and dawn my artist hat. I have no idea what I will do that day but start with looking at what I have on the wall drying, then I look for a few color palettes to play with so I can finish the pieces or start new ones. As a monotype printmaker, I like to work in multiple layers, and each layer has to dry before another layer can be placed on top. This takes a week or a few days, depending on the heat and humidity in my studio. Once I start printing, I am in "play mode" and the creative juice is flowing...I usually print until 5 pm and have 5 - 6 prints going in different stages of finishing. During my end-of-day ritual, I clean my studio so I can arrive the next day to a blank slate. All in all, I am so grateful to have the time and ability to do what I love.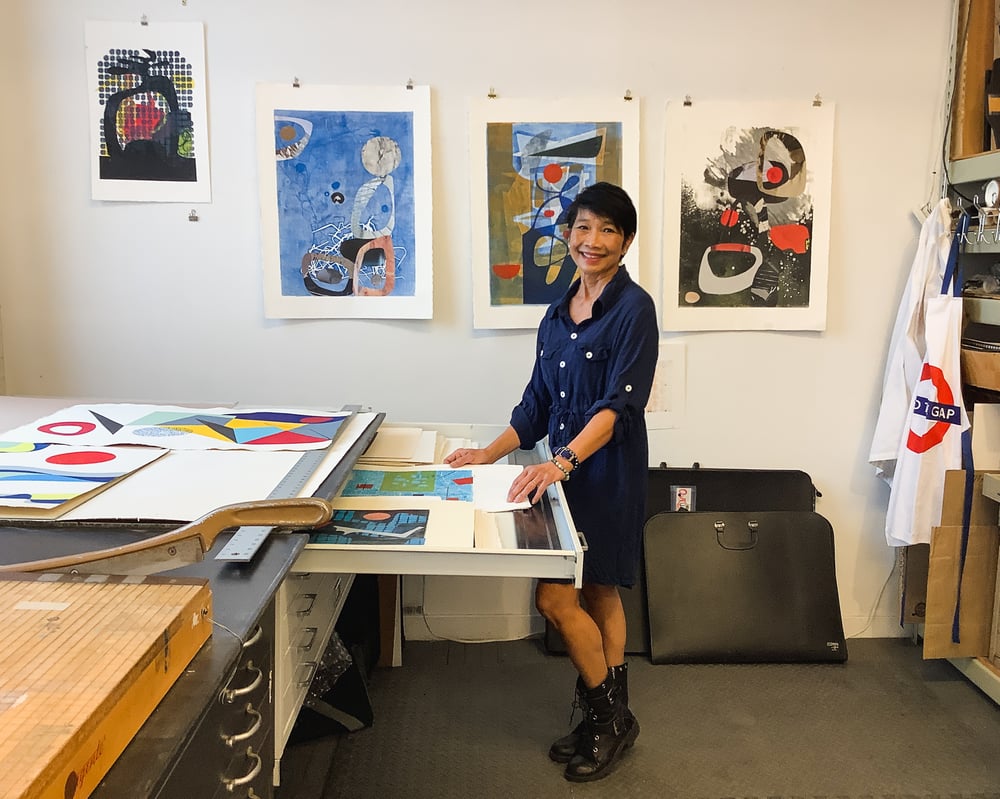 During this challenging time with COVID-19 finding the right rhythm to be productive in the studio can be a challenge, what advice do you have for staying productive and focused?
That is hard; I had to be more disciplined in getting to my studio on time every day. On a good week, I am in my studio 4 days per week and doing marketing and research 1 day a week. The thing that helps me commit to this schedule is the competitions I enroll in. The push of a deadline, along with the parameters of that specific competition, lights a fire under me. Living and making art during COVID-19 is not easy, but this is a good opportunity to do my best work and focus on what makes my soul happy.
What advice do you have for combating creative block?
For me, I clean my studio completely, put all unfinished works away. All the walls are empty and I start working with only black ink for a few days.
As an artist, how do you measure your success? Can you recall a specific event in your career that made you feel successful?
What is success?..... I think doing what I love is a success because no matter how much money I make, if I hate what I do all day that would be death. Making art and putting my heart and soul into what I do to bring joy to others is a real success. Once I was taking down an exhibition I had at a hospital, and a man told me that viewing my art had kept him from going mad worrying about his mom's surgery. That was my eureka moment! I made someone happy! Success!
How do you see the art market changing? Where you do see yourself in this transition?
I am grateful to have found Turning Arts as a marketplace for my artworks. I think selling art online is here to stay. Social media is another portal to the marketplace. I am still learning about online sales & marketing and not sure if I can do it all myself. I know how fast things are changing in just a year. Artists not only make art we have to be the…. entrepreneur, web designer, publicist, marketing guru, and salesperson. That's a lot of hats to wear!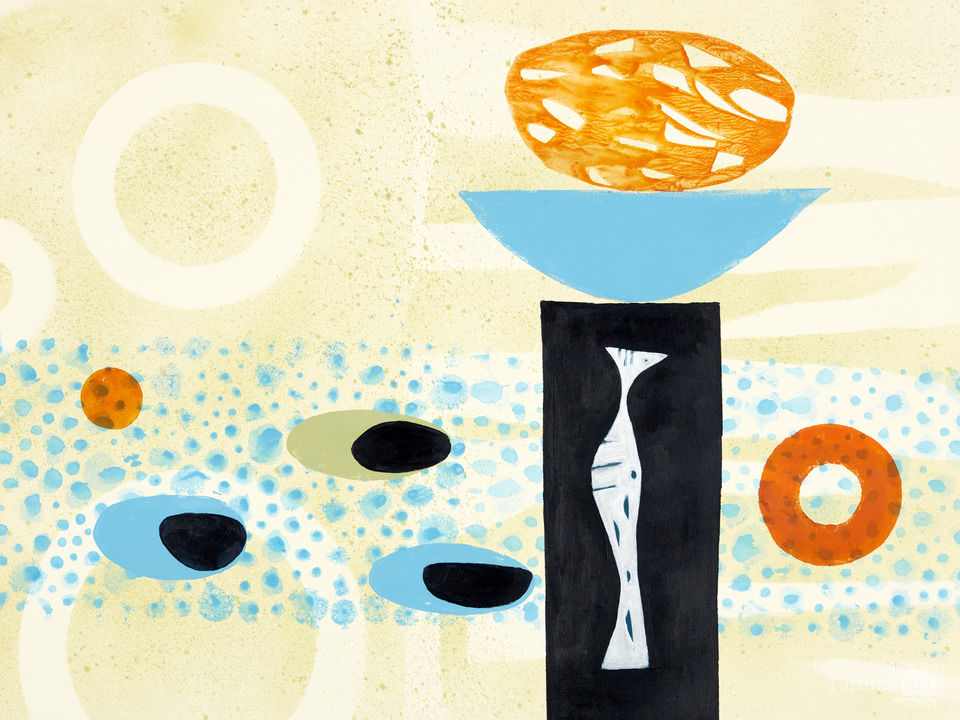 What advice do you have for artists who are beginning to build their careers? Have there been any habits or strategies that you have adopted that you feel have created more opportunities or visibility for your work?
Being an artist is a career choice, it is a job. It takes work. This requires you to make a schedule, set goals, and budget both dollars and time. Promote your work: select your best work, take good photos and post them to social media. Enter art competitions and don't get discouraged because one juror rejects your work. There are others out there who will love it! Build community: have conversations with other artists, share your knowledge, thoughts and listen well. Also, take time for self-care: no job is more important than your mental health. Have fun, explore every opportunity coming your way. Remember, that the heart and soul you put in your works will bring others joy.
Do you consider yourself, and all artists, to be entrepreneurs? Why or why not?
Yes, We are all entrepreneurs willingly or not! I would rather just make art in my studio but I know my products the best. So, I am responsible for all business aspects such as public relations, selling, marketing, promoting, paying bills, packaging and shipping.
Failure is an inevitable part of success in any field. Do you have advice for overcoming setbacks?
It is important to remember that when we 'fail', or someone doesn't like our work or we don't get into the show we want, that is one person's opinion. That person's opinion does not define me or my work. When one door closes, another will open.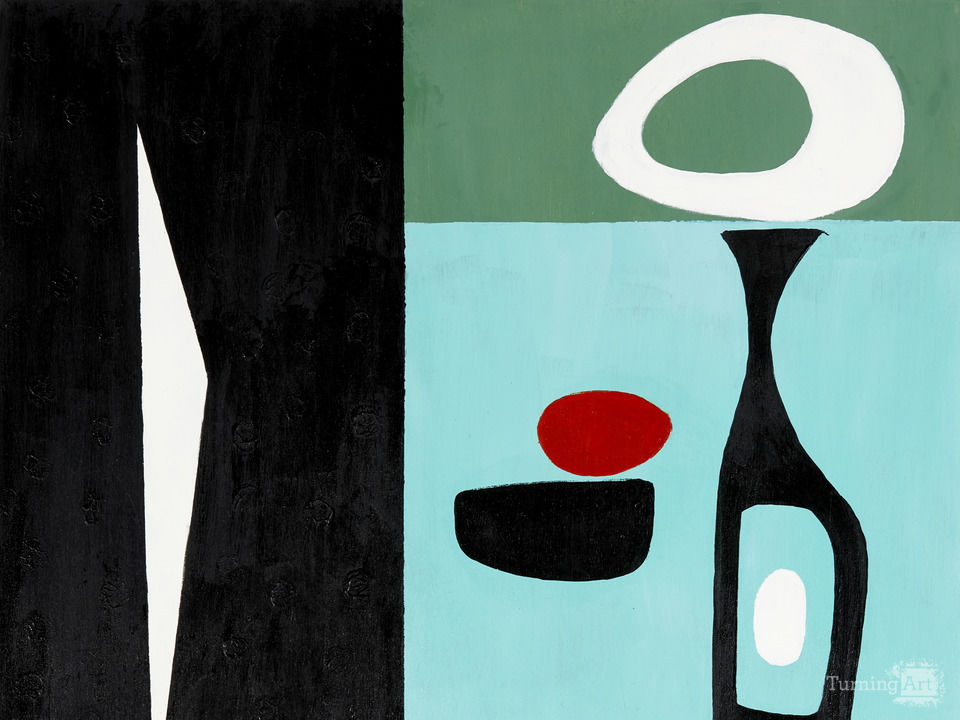 What sparked your interest in partnering with TurningArt?
TurningArt is the first online company I partnered with. I wasn't sure if I wanted to make duplications of my one-of-a-kind Monotype Prints but once I made the decision, it was a no-brainer. It was the easiest thing to do with the help of your great staff like Abby and Michael Mac! I am very happy with our partnership. Other online companies have more restrictions, few have staff who listen and respond to artists.
What does having your artwork in the workplace and other commercial or public spaces mean to you?
To see my work in commercial and public spaces is such an honor! It brings me joy to know that my art is brightening otherwise drab spaces and hopefully lifting viewers' spirits. In the words of Thoman Merton:
"Art enables us
To find ourselves
And lose ourselves
At the same time"
To see more featured TurningArtists, return to our blog. To get Oi's art in your space, set up a free consultation with an Art Advisor here!