Graphic designer Regina Humphrey's work focuses on youth, nature, and the historical buildings of New York City. From doves clutching roses to trash filling the Hudson, her works are full of endless details ranging from whimsical to sobering. They depict an honest perspective of her world as a millennial living in Brooklyn. Regina's bold illustrations are rich with color and intended to leave a lasting impression on the viewer, always going for the "wow factor".
Can you tell us about your process?
When I illustrate a landscape, I write my ideas down. Then, I sketch three good ideas on paper. A good idea would be drawing something that has a meaningful message. Lastly, I choose the best one out of three and refine my sketch on my iPad using Adobe Illustrator or Fresco.
Can you tell us about your journey to becoming a professional artist?
I've always known that I wanted to become a professional artist ever since I was a kid. My father inspired me with his portrait sketches. While in school, I was always participating in art clubs. In Junior High, I designed my 8th-grade yearbook cover. Then in High School, I joined Innovation Magazine, an NEP (National Education Program). As Chief of Graphics and Photography, I was in charge of the design, photography, and overall appearance of each completed issue. These activities influenced me to pursue higher education.
During my four years at Saint Peter's University, I worked in a variety of internships. I interned for Fine Artist, Aileen Bassis and assisted with her printed lithographic books. I also interned for Stephanie Lee, who started a company called Vocetic. In addition, I interned for Art House Productions. I designed flyers, banners, and postcards for their events. In 2016, I graduated from Saint Peter's University. I received my B.A. in Graphic Arts and minored in Marketing Management. Despite doing several internships, I had a rough start in getting paid work. After I did two more internships for other companies, I finally got my big break working at a print shop called MSGraphix as a Freelance Graphic Designer. There I designed companies' websites, ids, and T-shirt artwork. Last year in 2021, I illustrated a blacknow logo for ServiceNow. All of my work experience paid and non-paid has prepared me to become a professional artist.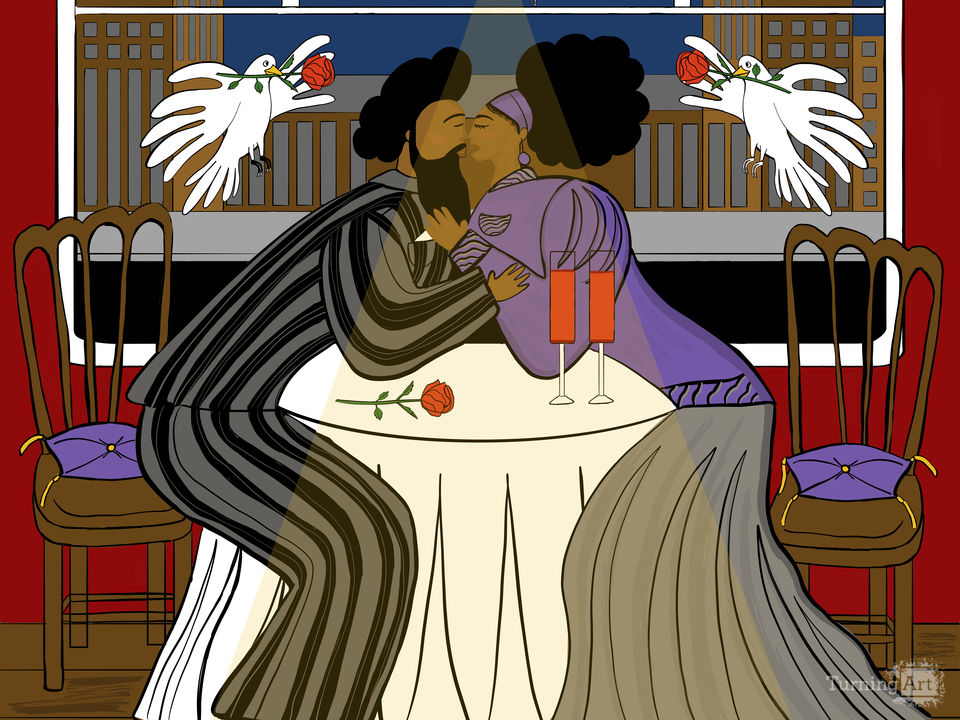 When you are looking for inspiration, what resources do you turn to?
The first place I look for inspiration is social media. Pinterest and Instagram are great platforms that help my creativity. I also look at book covers or watch an animated movie or TV show to get inspired by the visuals. I then will create a mood board and try to connect the dots between all these sources of inspiration.
Walk us through a typical day in your studio. What is your routine? Has it changed in the past year?
My studio is in my apartment. I like to create in the morning time. When I wake up at 7 am, I start sketching. At noon, I'll go to Instagram and engage with my followers. Throughout the day, I'll answer emails and brainstorm new ideas. Then, I go on the computer and complete my artwork in Illustrator. I wrap up the day at 7 pm.
Finding the right rhythm to be productive in the studio can be a challenge, what advice do you have for staying productive and focused?
You have to protect your mind in order to remain productive and focused. It's good to have supportive friends and family members that you can confide in. I find that talking about your problems to someone is a good thing to do. You might feel vulnerable in opening up to people but hearing someone else's perspective will help. Try to stay open-minded and be less critical about how you see yourself because that can hinder you from staying productive. Your mind can go all over the place if you're pessimistic. Some simple activities I do are yoga, meditation, and prayer.
What advice do you have for combating creative block?
I think you need to have fun in order to combat creative block. If you're an indoor person, read a new book, cook something new, or listen to your favorite music. If you're an outdoors person, I suggest shopping and taking photos of beautiful objects.
As an artist, how do you measure success? Can you recall a specific event in your career that made you feel successful?
I measure my success based on my goals. When I became a member of the Society of Illustrators last year, my illustrations were seen in public for the first time. It was a part of the Members Open Show for 3 months. Also, I think it is a huge accomplishment for me as a young black artist. Black artists are not popular in the art field overall. So, I like to break down those barriers.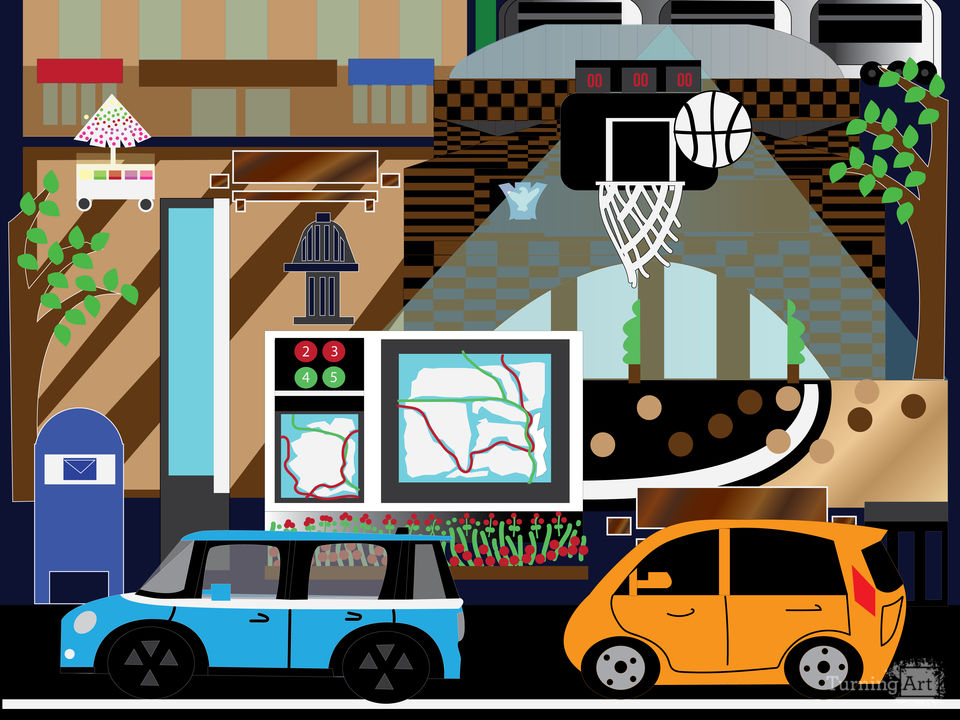 How do you see the art market changing? Where you do see yourself in this transition?
The art market is changing for the better. There are more artists than ever illustrating diversity. The black lives movement has influenced artists to express social justice issues. I see myself embracing this trend.
What advice do you have for artists who are beginning to build their careers? Have there been any habits or strategies that you have adopted that you feel have created more opportunities or visibility for your work?
I suggest doing a variety of internships whether paid or unpaid. Try your best to work for a business or another sole proprietor that can help you learn new things. Launching various online shops has increased my social media habit. By uploading my artwork weekly, it has allowed me to promote my designs on Instagram. I was able to gain 4k followers in my art community. Also, I participate in design challenges. You have to remain active all the time whether you work for a company or not. One of my professors always told me that you have to always be thinking about art all the time. This quote is a great affirmation.
Do you consider yourself, and all artists, to be entrepreneurs? Why or why not?
Yes, I do think of myself as an entrepreneur. I am an entrepreneur because I enjoy promoting my own artwork and like to work independently. What makes an artist an entrepreneur is that you're an individual who's not afraid to take risks and do something innovative. You can't be traditional as an entrepreneur. The art world is constantly changing. You can't be afraid to try new art techniques. Sadly, I don't think all artists are entrepreneurs because people have different goals. Art is a risky business and it's not for the faint of heart.
Failure is an inevitable part of success in any field. Do you have advice for overcoming setbacks?
My advice is to learn what you did wrong and most importantly forgive yourself for failing. I say this because you don't want to live in the past. Just focus on the future.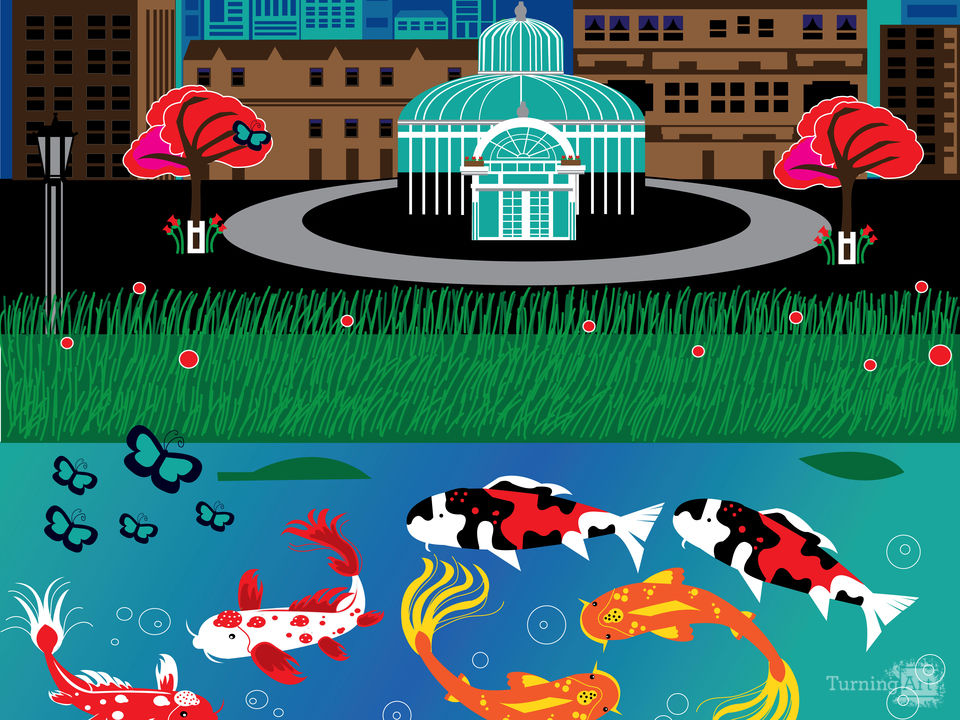 What sparked your interest in partnering with TurningArt?
I received a newsletter recommending me to TurningArt. I wanted to try something new and different to see if I could get my artwork in commercial spaces. My experience with TurningArt has differed from other art companies that I work with because TurningArt gives me the opportunity to share my work in offices and commercial spaces. I like that the company works hard to promote my artwork.
What does having your artwork in the workplace and other commercial or public spaces mean to you?
Having my artwork in the workplace and other commercial spaces means that my work is valuable enough to put in their offices.
To see more featured TurningArtists, return to our blog. To get Regina's art in your space, set up a free consultation with an Art Advisor here!