Ryan Coleman has found his style in the dynamic fusion of gestural drawing, painting, and sculpture - a unique artistic journey that combines his early work as a cartoonist with his current work.
Most recently, Ryan and TurningArt completed an outdoor sculpture installation at the Seaport Science Center, intended to represent the intertwined innovations in art and science. You can watch the installation process here.
Can you tell us about your process?
It really varies whether it's a mural, sculpture, or painting, though they all come from the same desire to incorporate the aspects listed above, and to create something that might move someone emotionally or intellectually. What's exciting about making art is you never know what will be next.
Can you tell us about your journey to becoming a professional artist?
The abbreviated version is that I always wanted to be an artist, and just kept going with it, figuring out things along the way. Little by little, more opportunities began to pop up.
Up until high school, I wanted to be a professional cartoonist. I was (and still am) really inspired by the art of cartooning, and reference aspects of it in my work. It was when I discovered painters like Robert Rauschenberg, Cy Twombly, and Basquiat (to name a few), that I knew 100% that painting and fine art was the path I wanted to pursue.
I worked as a full time studio assistant for Jeff Koons in the 2000's for almost ten years, which was an amazing experience, meeting some great people and getting more inspired to start my own career. My wife and I moved to her hometown of Atlanta in 2011, and shortly after moving, I took the leap and went full time with my work.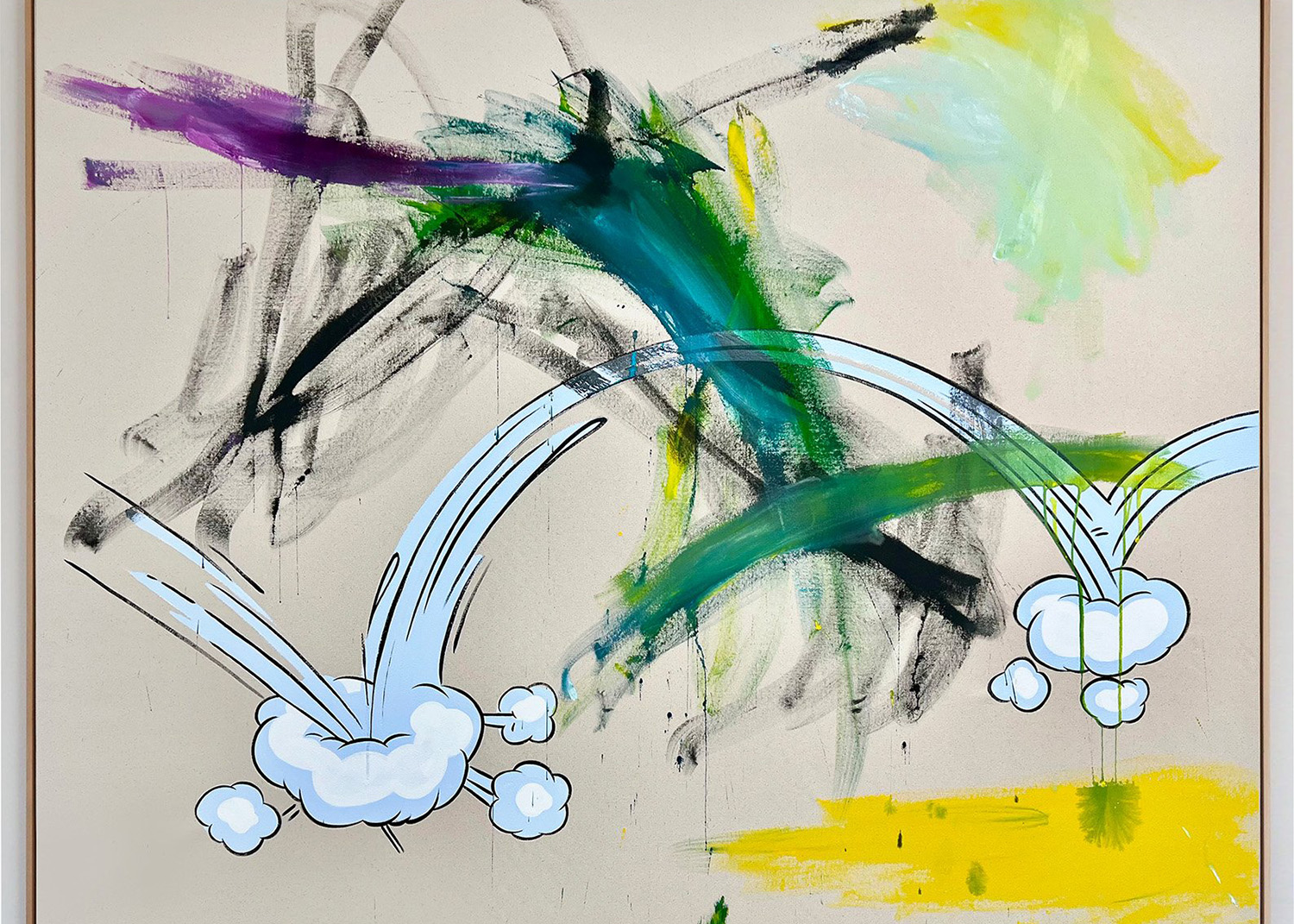 As an artist, how do you measure your success? Can you recall a specific event or milestone(s) in your career that made you feel successful?
I've found this question to be a subjective one. For me, success is being able to focus full time on my creative endeavors, while simultaneously being able to take care of the realities of life.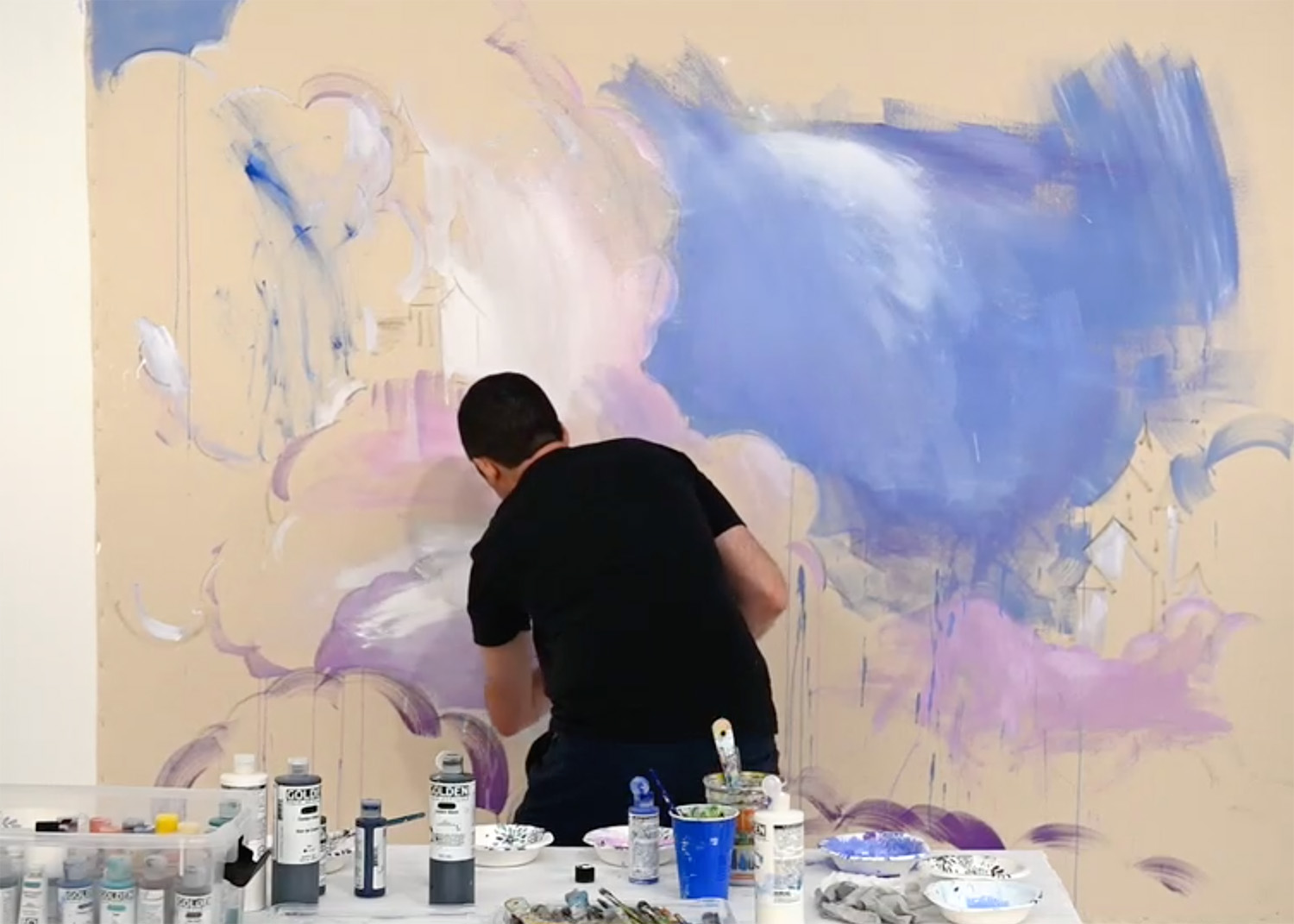 How do you see the art market changing? Where do you see yourself in this transition?
It's so incredibly interesting how things have evolved and continue to evolve, particularly within the last 20 years.
The internet has obviously changed everything. When I was in college in the late 90's/early 2000's really the only approach was the traditional brick and mortar gallery model. Finding gallery representation to nurture one's career is still a goal in the fine art realm, but it's not the only way anymore.
Being able to share your work to the world digitally and through social media has completely turned everything upside down, and in a good way for artists/creators.
Also, it seems that art is as popular as ever. I never take anyone's interest in my work for granted, and am very thankful for the art sales opportunities that come along. It's one of the greatest feelings when someone purchases something that comes from your heart, mind and soul.
What advice do you have for artists who are beginning to build their careers? Have there been any habits or strategies that you have adopted that you feel have created more opportunities or visibility for your work?
I think one of the hardest aspects of being an artist is finding your own unique voice and brand. For me, this wasn't a short, quick road. Don't be afraid to experiment until things start to click, particularly early on in your career, or in school.
Following your intuition can be a real asset, even if what feels like the 'it' thing one day, can the next day feel like, what am I doing?? This is where time comes in; it's usually the best judge of what's working and what's not.
I would recommend, however, being discretionary in what you share with the world early in the journey via the internet because once it's out there, well… it's out there.
Also, relationships are very important, the people you meet along the way.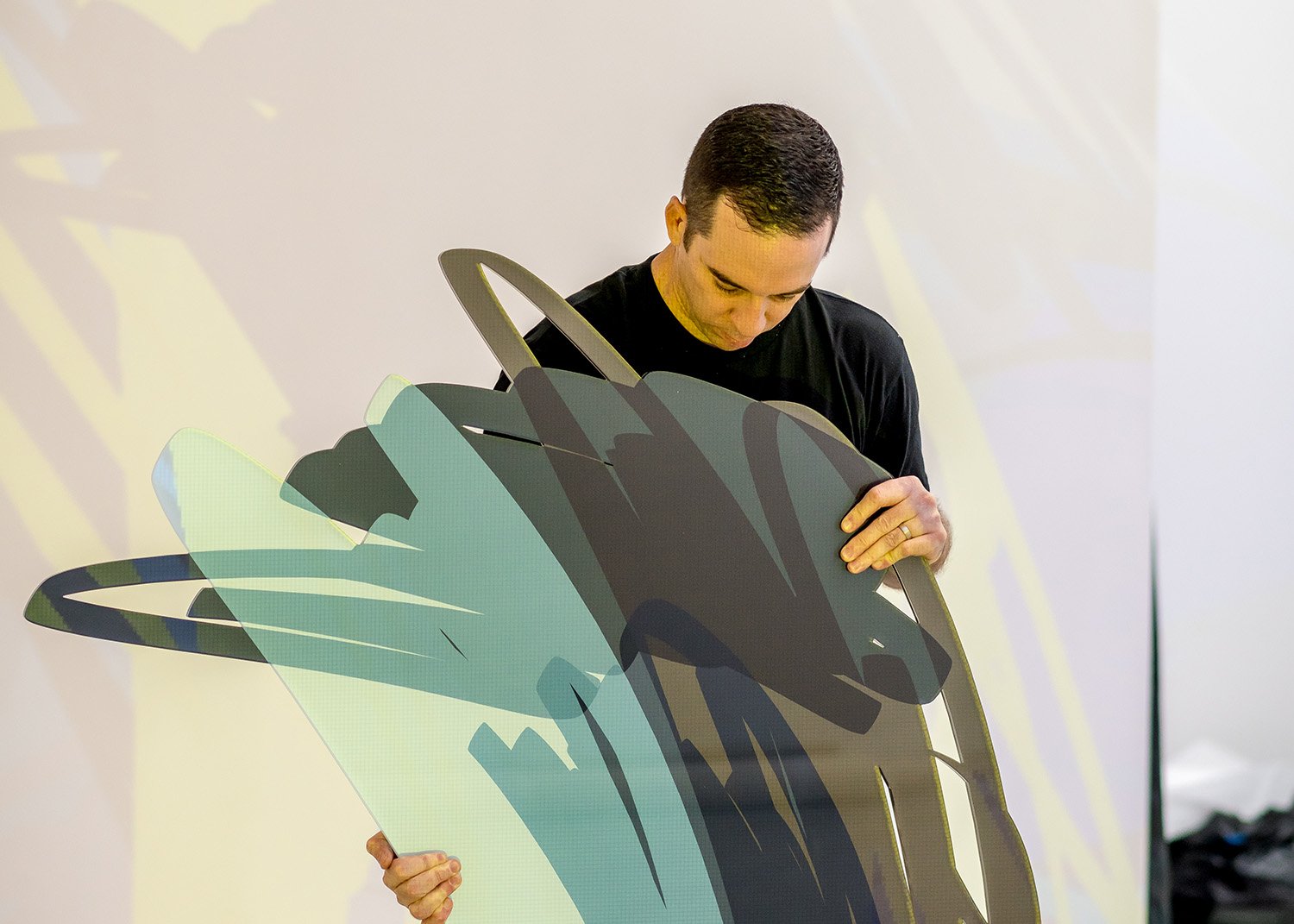 Do you consider yourself, and all artists, to be entrepreneurs? Why or why not?
Yes, at least those who are self employed. This is just my opinion, but I think it's helpful to think of being a full time practicing artist as a business. Basically, most of the same rules apply. I think an exception would be when artists have a gallery that takes care of all sales, marketing, etc.
Failure is an inevitable part of success in any field. Do you have advice for overcoming setbacks?
Absolutely, it's all part of the journey. I can't tell you how many open calls, submissions I've done over the years that got rejected. It's frustrating in the moment, but in hindsight each failure can be learned from and you get stronger. Whether that's learning to accept rejection, or shifting focus.
However, when you then get the email beginning with "Congratulations…" instead of "Thank you for your submission…" after many rejections, the feeling of elation is indescribable.
Through this, you naturally learn to appreciate things more, every opportunity. Nothing is a given or guaranteed. There will be naysayers, and sometimes rightly so. Learning to accept criticism is also part of it.
As subjective as art is, there are also aspects of it which seem objective, but that's a whole other philosophical conversation!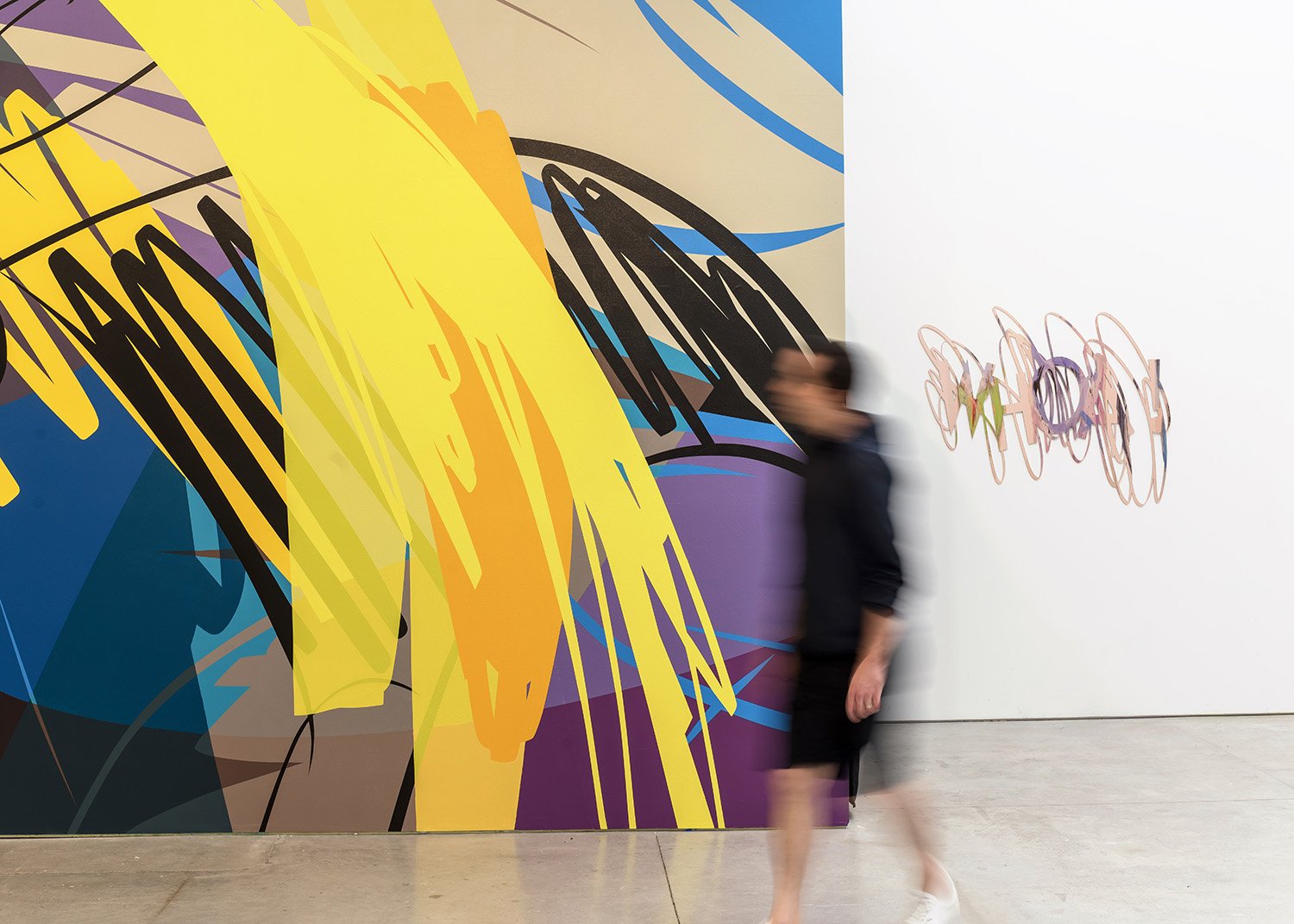 What sparked your interest in partnering with TurningArt? Has your experience with TurningArt differed from other art companies you have worked with?
I was in touch with an Art Advisor from Turning Art at least five years ago, but we never did any work together until recently. The project we just finished is likely my most awesome and career changing project to date. We collaborated on my first outdoor stainless steel sculpture and installed it in the Seaport District of Boston. It's something I've dreamed of doing for a long time, and to see it finally installed was an indescribable feeling.
I'm very thankful for Alyce from TurningArt for presenting my work to the client, and working with me over a six month period to get it completed. I really appreciated the attention to details, availability, and communication. Looking forward to the next project!
What does having your artwork in the workplace and other commercial or public spaces mean to you?
It's incredible, an amazing feeling. I always wondered how artists got their work into such places, and learned that it's usually through Art Advisors who work directly with clients to source work. Art Advisors are often times the secret weapon for artists having successful and sustainable careers.
---
To see more featured TurningArtists, return to our blog. To get Ryan Coleman's art in your space, set up a free consultation with an Art Advisor here!
Photography credits: Justin Bereman