TurningArtist Scott Troxel creates wooden sculptures that rely on the pillars of strong composition, balance, color, form, and movement. Inspired by mid-century modern design and art deco, his work has the rare ability to appear timeless, modern but retro, organic and grounded, yet still futuristic and otherworldly. It feels modern and bold but perhaps from another era.
By taking an organic medium like wood and shaping it into something modern and timeless, Scott hopes to challenge his viewers to engage with the change of technology, design, and aesthetics across generations.
We interviewed Scott to learn more about how he creates these impressive 3D sculptures.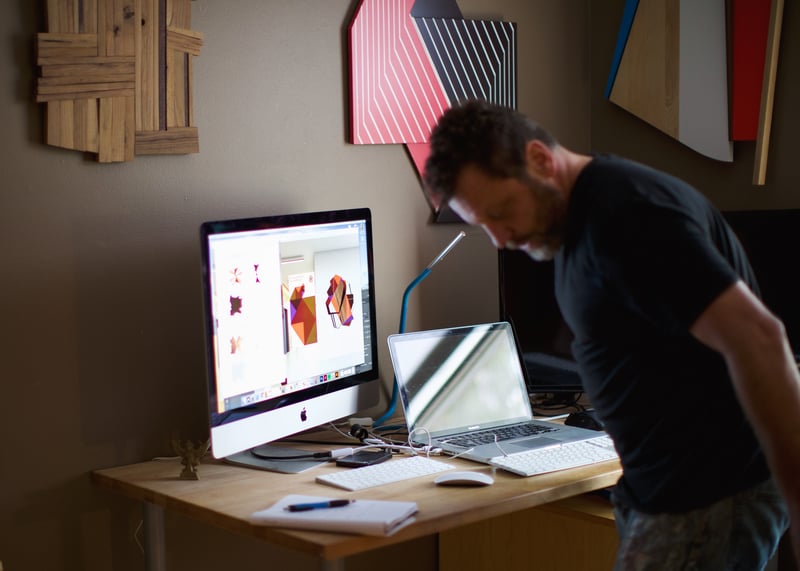 Can you tell us about your journey to becoming a professional artist?
It was definitely not a typical route. I started college as an art major. I had some bad experiences and wasn't really satisfied with where it was going. My friend was a film major and I became fascinated with the idea of moving images as an art. It was when portable video was emerging (Pre-digital). Temple had a great film department and I was hooked. I graduated with a film degree. After college, I ended up in project development and brand management. I would design products in China and see them all the way through the sampling phase to retail. It was really satisfying from a creative aspect. After that, I moved into marketing and graphic design/art direction. I guess I got busy with having kids and working so my art took a back seat. In my early 40's I started seriously working on my art again. I painted for about two years then began experimenting with wood and wall sculpture (I found it limiting to be constricted to a flat canvas). For the last 4-5 years, I have pretty much dedicated my practice to wall sculpture. It took several years but I am now able to do this full-time with the support of art advisors and the galleries that believed in my work.
Can you tell us about your process?
My work is pretty diverse. So depending on what I am making I approach the creative process differently. I started out making wood assemblage style wall sculptures but over the past four years or so have developed a more modern minimalist body of work. I still do assemblage type work from time to time. This body of work is not predetermined and the creative process is like an abstract expressionist painter. The creative process determines the outcome. For my modern work, I have a completely different process. I usually develop ideas in Adobe Illustrator and Photoshop. Once I have a pretty good idea for a piece, I begin making it in the woodshop and studio. Of course, during the transition from a computer screen to a 2D or 3D piece, things will change. But knowing what the piece will generally look like before I start is a large part of this process.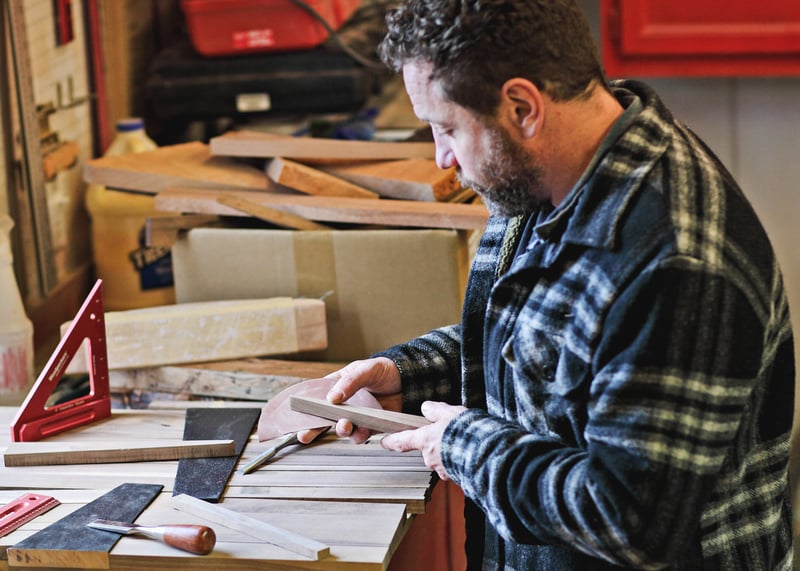 When you are looking for inspiration, what resources do you turn to?
I spend about an hour or two at the end of the day, looking at art, design, and architecture online. I read articles on sites like HyperAllergic and DesignBoom and look at work on Pinterest and Instagram. There is no lack of inspiration for me, I see it everywhere.
Walk us through a typical day in your studio. What is your routine? Has it changed with COVID-19?
I usually get up early. After coffee (of course), I work at my computer for a bit. Checking emails, updating websites and inventory, etc. After this, I come up with a game plan for the day. I have a few different workspaces (Inside studio and two woodshops) and my fabricator has a shop. So depending on what I am specifically working on that day, I could be doing a bunch of different things. I pretty much buzz around like a bee throughout my workspaces (cutting wood, painting, gluing and assembling pieces, finishing surfaces, sanding, checking on fabrication projects, etc.). The fabrication aspect of my work offers a very different creative process than other art forms (a painter in the studio for example). COVID-19 hasn't really affected my routine too much in terms of my studio practice. My studio and shops are on my property, so this helps. Of course, when I venture out for supplies, it becomes surreal.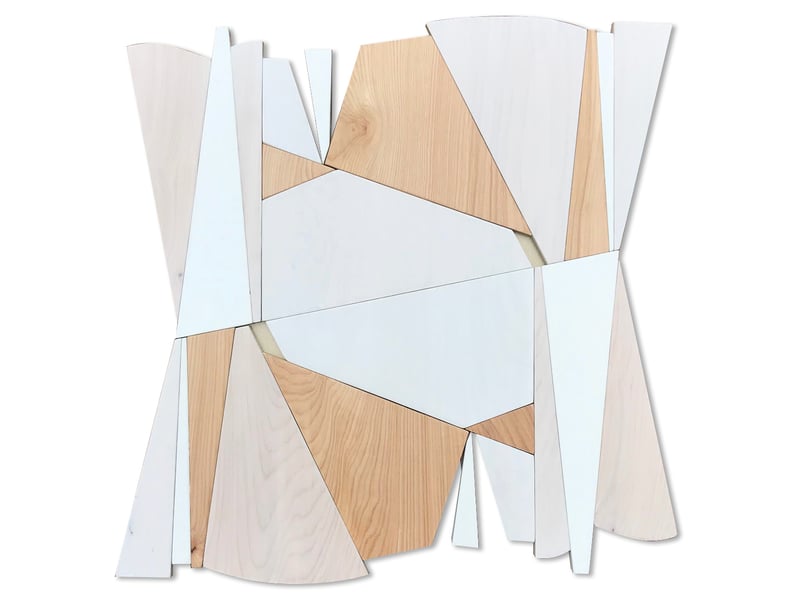 What is your advice for combating creative block?
I think it happens to every artist and me quite often. I do a lot of my brainstorming on my computer in illustrator (Do to the nature of my work as a wall sculptor) but sometimes I need to break away from the screen and get my hands dirty to overcome creative block. I go into the studio and woodshop and just start making. Some of my best pieces (And worst) have come about this way. The only way to get past it is to continue making IMO. Even if it is bad art, it helps an artist purge.
As an artist, how do you measure your success?
Personally, I think I started feeling successful once I made a piece I was completely satisfied with. It just felt perfect to me at the time. That piece was called Voyager and it was a modern wall sculpture that is probably still one of my favorite pieces. In terms of continued success, I think it is a constant battle for artists. Things like getting a large commission, selling a piece for a decent amount of money or getting work into a prestigious gallery feels great. But I think I measure success these days as being able to support myself and my family financially, as a full-time artist.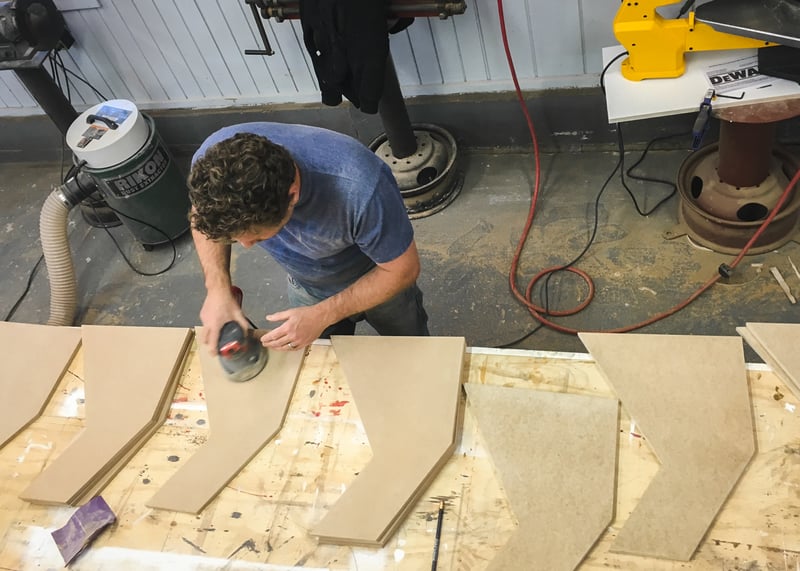 How do you see the art market changing? Where you do see yourself in this transition?
I think the art market was already expanding rapidly with online-based sales. With COVID, the galleries that were not actively selling are now scrambling to up their online game. Platforms like Artsy and 1stDibs have really helped legitimize and propel worldwide online art sales. I have always done well online with my art, so I am definitely embracing selling on these platforms.
What advice do you have for artists who are beginning to build their careers? Have there been any habits or strategies that you have adopted that you feel have created more opportunities or visibility for your work?
I was in marketing and brand management prior to becoming a full-time artist at age 44. So for me it was not a reach to build my personal art brand and to market myself. Many artists do not have this knowledge coming out of art school. My advice would be to understand the fact that exposing your work to the world is a constant necessity. Marketing yourself is so important in 2020. You can't sit back and expect to be discovered, you really need to be proactive to get on the radar of clients, galleries, and art advisors. Post on social media, create videos, start an email newsletter, etc. As an artist, you are essentially a brand and you need to work to expose that brand to people that may want to buy or sell your work.
Do you consider yourself, and all artists, to be entrepreneurs?
Absolutely. Unless you are picked up by a blue-chip gallery right out of school (Which rarely happens), you have to be prepared to hustle every day. Being an artist is really, really hard. You are basically building your brand, not just creating work. To be successful, you have to learn how to network and market yourself. You can't just sit back and wait for someone to discover you and your work. You have to run your art practice like a business owner starting from scratch. In my case, it took years to build up my practice and I still hustle to keep my work and my business relevant to my clients and galleries.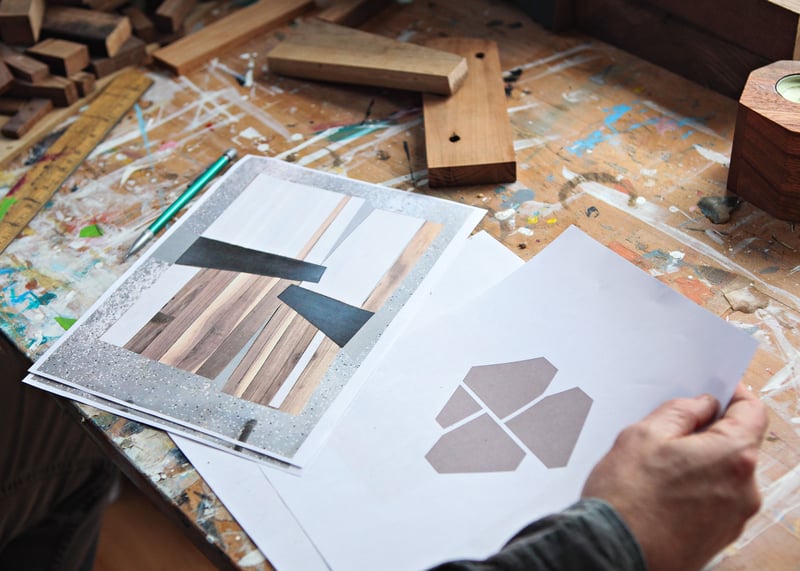 Failure is an inevitable part of success in any field. Do you have advice for overcoming setbacks?
Every artist I know has failed. Gallery rejections, juried show rejections, slow sales, etc. The only way forward is to push through the rejections and believe in your work. If you don't you will never make it in this business. No one likes rejection, but art is subjective. I understand not everyone likes my work and I am fine with that. Once you get past the idea that everyone will love your work, you can deal with the failure. If I had one piece of advice, it would be to keep moving forward. Artists deal with highs and lows constantly. Great sales then no sales. Good work then bad work. It never seems to be constant. You need to absorb the highs and lows and keep pushing forward with your work.
What sparked your interest in partnering with TurningArt?
I worked with TurningArt on a very large commission project for a prominent Manhattan-based company. I was impressed with the communication and level of professionalism throughout the process. It sounds like a small thing, but from a large scale fabrication standpoint, communication and project management are extremely important. TurningArt was on top of all the details throughout the commission and it made my job, as the artist, much easier. You don't always get that from Art Advisory firms.
What does having your artwork in the workplace and other commercial or public spaces mean to you?
It's funny. I think the fine art world looks at commercial art as less important than gallery driven work. Or an artist that does commercial projects is not as serious as an artist who is not concerned with being commercially viable. I would much prefer my work to go in a lobby or public space where more people can interact with the piece or pieces. I love the idea of my work being exposed to as many people as possible without the stigma of a gallery setting.
To see more featured TurningArtists, return to our blog. To get Scott Troxel's art in your space, set up a free consultation with an Art Advisor here!