Sunlight fills TurningArtist Sofia Maldonado's San Juan studio, while large tropical foliage peaks into the windows from the garden outside. Upon entrance, it is immediately clear that nature is a driving inspiration behind Sofia's work. The visual language of Sofia's paintings draw from her surroundings: colorful Caribbean landscapes featuring the region's brilliant ocean, lush tropical forests, and dazzling sunsets. Through nature, Sofia explores her love of color, which she continuously studies through natural dyes and color field painting (an abstract painting style made famous by Mark Rothko and Jackson Pollock, among others).
Sofia is known by many for her sprawling site-specific murals, which can be found all over the world, but also maintains a dedicated studio practice that varies from small drawings, paintings on canvas, and experimental projects that involve performance or site-specific installations. No matter the medium, Sofia's artwork is constantly evolving.
Can you tell us about your journey to becoming a professional artist?
My journey in the arts started at a very young age. I grew up in Puerto Rico, a tropical island in the Caribbean (a colony of the United States) - where I had the honor to study at La Liga del Arte, Central High School for the Visual Arts and graduate with a B.F.A from the Escuela de Artes Plásticas. During my high school and college years, I painted murals illegally in the streets, developed various community projects and began my studio practice. In 2008, I obtained my M.F.A in Painting from Pratt Institute, NY.
New York played a big part in my career development. It formalized my journey as a professional artist, active muralist, and educator. I was commissioned various public art projects by Real Art Ways (CT), Time Square Alliance (NY), The Bronx Museum (NY), and exhibited in numerous venues, such as Museum of Art and Design, Whitney Biennale (2017), The SFiles at Museo del Barrio, amongst others.
My first solo museum show was at the Museo de Arte de Contemporáneo de Puerto Rico where I was able to exhibit the visual language I had developed while living in NY: canvas, drawings, mural installation, and design products.
In 2015, during the economic crisis, I decided to return to my home country Puerto Rico to develop Kalaña, an abstract public intervention at an abandoned tobacco factory. This piece gave birth to a new dialogue, in which I use a spray gun to create massive colorful fields: "Using color as a signifier of abandonment, rather than a beautifying agent".
While living in Puerto Rico, I had the opportunity to be part of La Práctica a dynamic art residency program by Beta-Local, and taught in various art programs at Universidad de Puerto Rico and Escuela de Artes Plásticas. Today, I am a full-time artist constantly balancing work and a mindful lifestyle.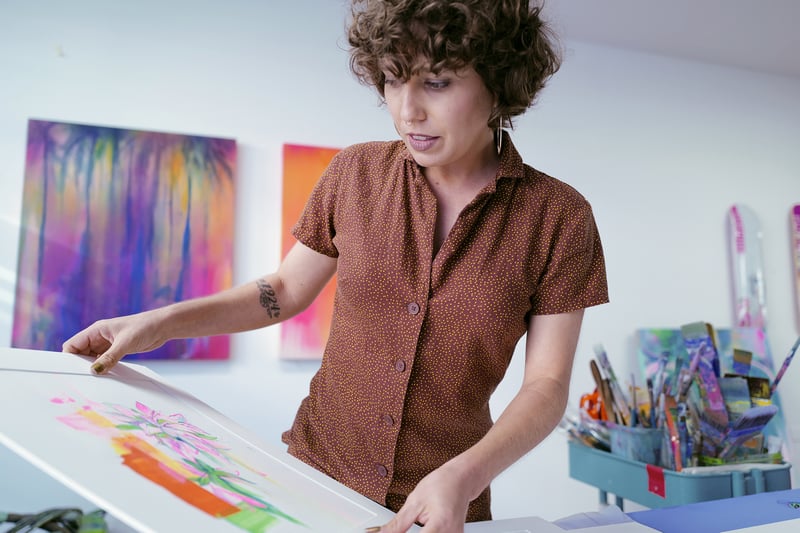 Can you tell us more about your work?
My work has gone through many stages. Prior to abstraction, I was focused on the female figure and hip hop, drawing much influence from my "graffiti days". Today, I create murals that run from floor to ceiling, and I love working on site-specific projects.
As mentioned I also have a studio practice where, I've created works like FemTrap, a project that involved trap music and pole dancing, and Color Flip, a project that transformed an East L.A mini-market into a color field installation and community hub.
Walk us through a typical day in your studio. What is your routine?
A typical day in my life starts with a short morning meditation & yoga, fresh fruit and oatmeal (I'm all about plant-based diet), then I start working in my studio at 9 am. Whether I'm working on a mural offsite, running some errands, or traveling, meditation is a must to start my day! I try to keep an active lifestyle combined with a gym routine because painting murals is very physically demanding and I've got to stay in good shape.
Since I'm based in Puerto Rico, it is very important to do at least one artist residency per year to keep expanding my artist network. As for mural work, I get to travel often and stay for long periods of time abroad. This gives me the chance to explore. For example, last year I was invited to Mural Fest in Albuquerque, after the event I went on a road trip from New Mexico to Los Angeles and camped out at Monument Valley, The Grand Canyon, and Joshua Tree. That trip was magical! All those adventures feed my work.
For emerging artists, finding the right rhythm to be productive in the studio can be a challenge, what advice do you have for staying productive and focused?
You need to build a routine and keep an agenda of all meetings, deadlines, projects, etc. Organization is a key to success. The truth is that sometimes you will have to put in many hours of computer and office work when you would rather be painting, but that's part of the job. It is very similar to a freelancer's life.
On the brighter side, you get to design your day and stay healthy with a lifestyle that you love & enjoy! While building a community of friends and supporters.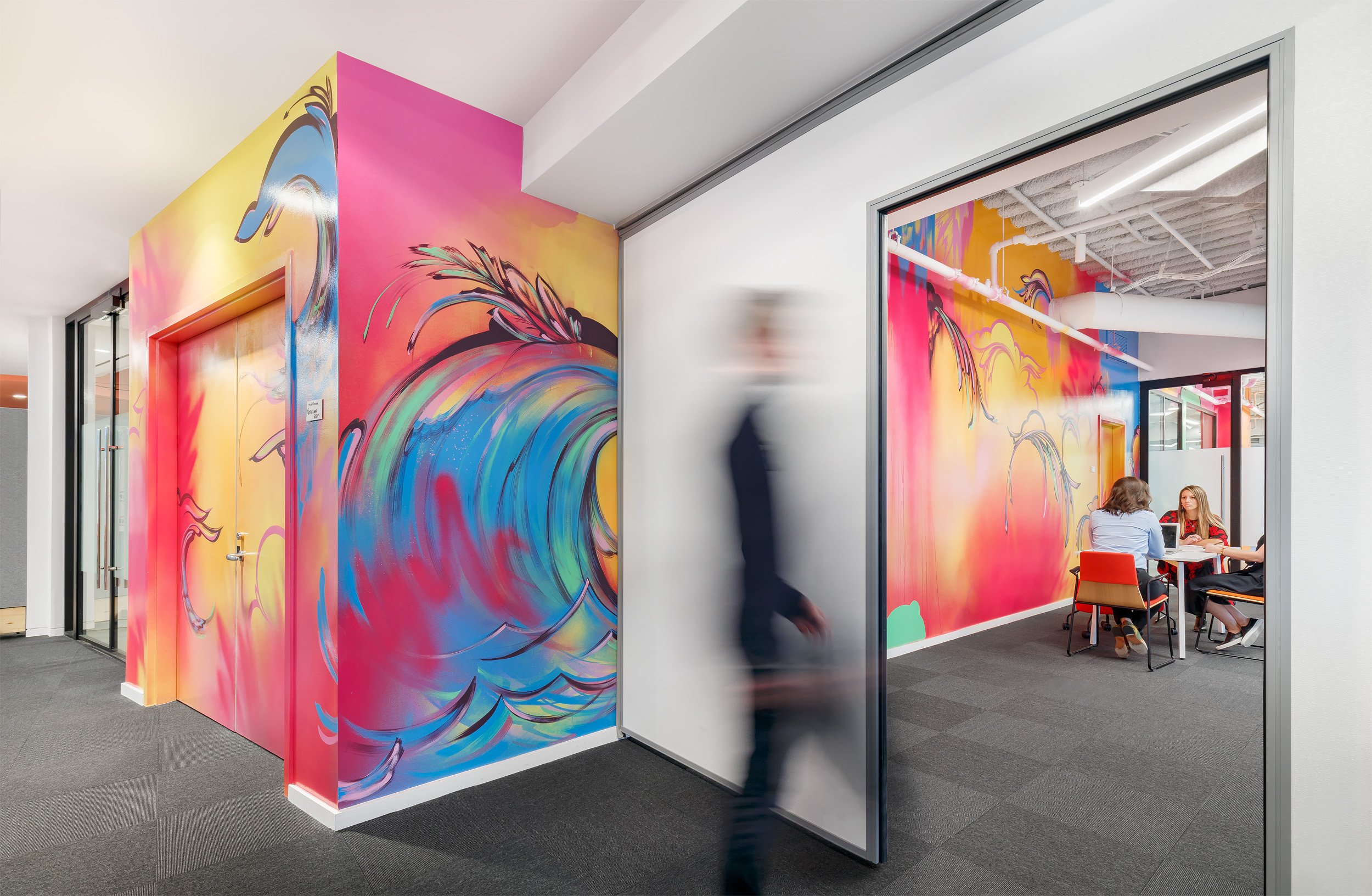 What is your advice for combating creative block?
Go to the beach! Haha!! Or do something outside of your comfort zone. Artists can get a bit lonely in their studios. Ideally keeping a good list of podcasts, friends, books and just enjoying the simple things in life can help you prevent creative blocks.
Meditation should be a must in your daily routine.
As an artist, how do you measure your success?
There is always a moment when you realize that your career and artwork is getting recognition, but in the end, the most important feeling is that inner peace within yourself. The fact that you enjoy your path and journey through the arts!
While living in New York, I remember the first time I had a Chelsea solo show, it was right after my M.F.A, all my friends were there and it was electrifying - we had an indoor mini ramp with local skaters. After that show, many other exhibitions and travels came along.
Going down memory lane… I would say one of the pivotal moments in my career was the exhibition "On Painting" at CAAM - Atlantic Center of Modern Art in Las Palmas in Gran Canaria, Spain. This was the first exhibition that contextualized my mural work within contemporary painting. "On Painting" allowed me to create a deep intellectual connection with a variety of artists, expanding my definition of painting.
During the past year, I have felt so fortunate to be part of TurningArt's family. I've been creating large scale murals in corporate environments for some time, but to be part of a company with such an elaborate curatorial process is amazing - it's definitely a milestone!
Success is following your own journey and creating artwork that you enjoy, while keeping a healthy balance between learning how to express yourself and connecting with an audience that listens to, respects, and appreciates your visual language.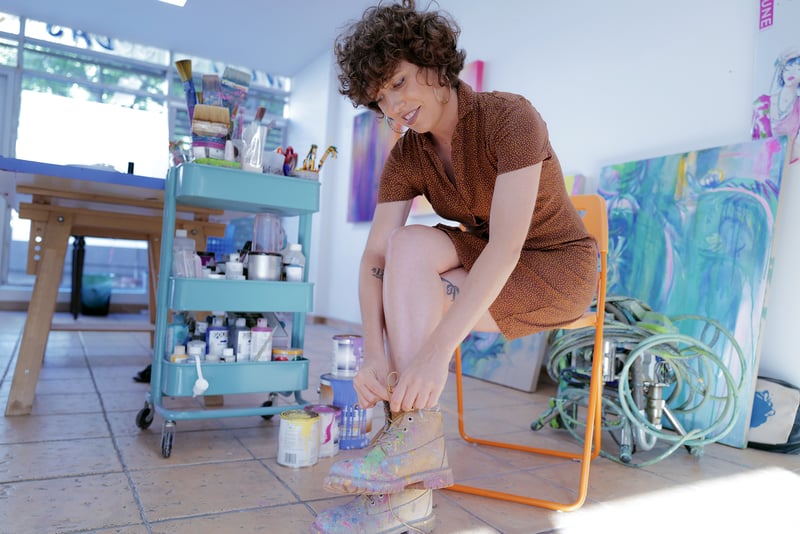 How do you see the art market changing? Where you do see yourself in this transition?
Wow! The million-dollar question. Yep, the market is changing. In 2015, I moved to Puerto Rico, it was in the midst of the economic crisis years, and yes! I felt the change in me, too. As artists, we tend to have a love and hate relationship with the market. I would rather go back to the idea that art is the result of hard work and soul, or as Kandinsky says, "The artist must train not only his eye but also his soul."
We are in an era of much destruction, climate change and inequality. I've been gravitating towards a more eco-friendly approach to art with a less direct impact on nature. I focus most of my energy on projects that are in tune with my beliefs, rather than following the market's latest trend. Balance is the key.
What advice do you have for artists who are beginning to build their careers? Have there been any habits or strategies that you have adopted that you feel have created more opportunities or visibility for your work?
While teaching at the university I used to tell my students to be aware of the art world, museum shows, and artists they admire. In this way, they can get to know themselves and better understand their art. In terms of career "survival", networking is of great importance as well.
Critics shouldn't dictate your path, because there are many ways to develop your visual language & career. It is up to you to decide where to focus. Some artists develop more formal strategies via grants, museums, and galleries; others use social media and festivals. There are so many avenues, you can switch between them and mix it up - be free!
Do you consider yourself, and all artists, to be entrepreneurs?
I'm definitely an entrepreneur.
Failure is an inevitable part of success in any field. Do you have advice for overcoming setbacks?
Failure? This is a good one, wait till you go down that road! It is similar to an ego death. You will learn much about yourself, and most of the time - if you keep a positive attitude - it was meant to happen, for failure engenders self-improvement and growth within your career.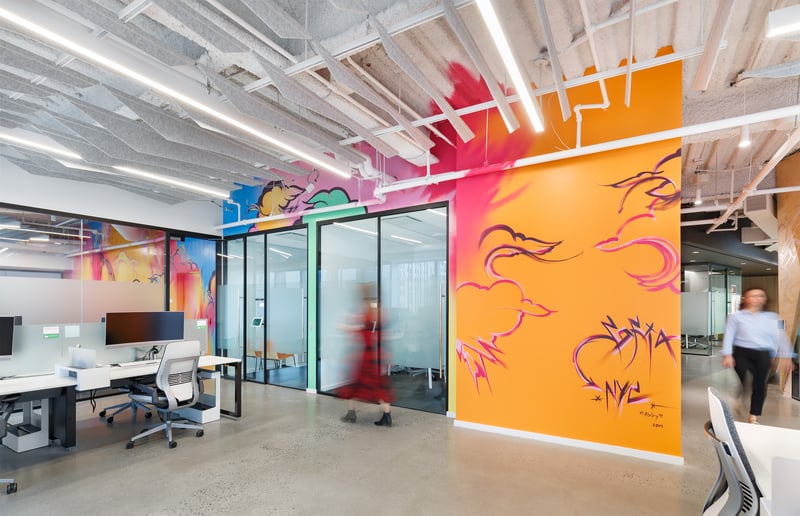 What sparked your interest in partnering with TurningArt?
I love TurningArt! It is the perfect mix for my work: abstract murals in a corporate fun environment. I am a great admirer of interior design and architecture. Since I started working with TurningArt, in 2018, I've learned so much about brainstorming, group feedback, and the thought process that goes into these major construction projects.
I enjoy incorporating the client's suggestions and colors, using them in my favor - for my abstractions - without feeling restrained. This goes back to the question of how the market is shifting, as an artist you can always use change to your advantage.
The most important part is to have fun during the process, because every project is unique, and every team brings a new learning skill to the table!
What does having your artwork in the workplace and other commercial or public spaces mean to you?
Art is a weapon that penetrates the eyes, the ears, the deepest and subtest human feelings" - David Alfaro Siqueiros
It's key! My work responds to site-specific spaces and is a dialog of color and abstraction. In the workplace, it becomes a conversation piece that invites the viewer to reflect and exchange ideas between colleagues. Murals aim to shift the work environment because they bring an expansive energy into the space for which they were designed.
I also enjoy the process and the questions that each person has while I'm working on-site. All of a sudden the construction workers, the janitor, the security guy and the company employees, even the CEO, jumps into the fantastic process of the mural.
In the public space, murals are a reflection of their environment, they reshape communities and can be used as a silent weapon. For me it is all about the "site" - my murals reshape and respond to the community that it impacts: an office, a university campus or a public space.
To see more featured TurningArtists, return to our blog. To get Sofia Maldonado's art in your space, set up a free consultation with an Art Advisor here!