If you ask Vicky Barranguet about how she paints, she'll tell you it's a lot like jazz. Improvisational, physical, and expressive, Vicky's abstracts are an investigation into the structure of a painting. Transforming spontaneous gesture into elaborate and complex systems, Vicky finds balance in form, space, and detail.
Vicky's career began in her hometown of Montevideo, Uruguay and brought her to New York City in 1997, where she now works from her studio in East Harlem.
We were lucky to join Vicky in studio as she prepared to begin a new piece. Chatting as she got her station in order, it wasn't long before she was ready to get started. With music filling the room, she picked up her brush and began to paint - without hesitation - and quickly found the rhythm. It's a marvel to watch, but for Vicky the approach is simple; quoting Picasso, she explains "Inspiration exists, but it has to find you working."
In this interview, Vicky shares more about her artistic process, career, and experience with TurningArt.
What can you tell us about your journey to becoming a professional artist?
I was interested in art since a young age, but ended up studying other things. When I got married (to a musician) and moved to Boston, I started taking art classes. One year later, in 1997, we moved to New York City. I studied at the Art Students League with William Scharf, apprentice of Mark Rothko, and with Larry Poons. They were a key in this journey, helping me find my own voice with confidence. My painting started becoming more abstract than figurative. I worked as a graphic designer for a long time, until art took over. I've been a full time artist for many years and I'm very happy.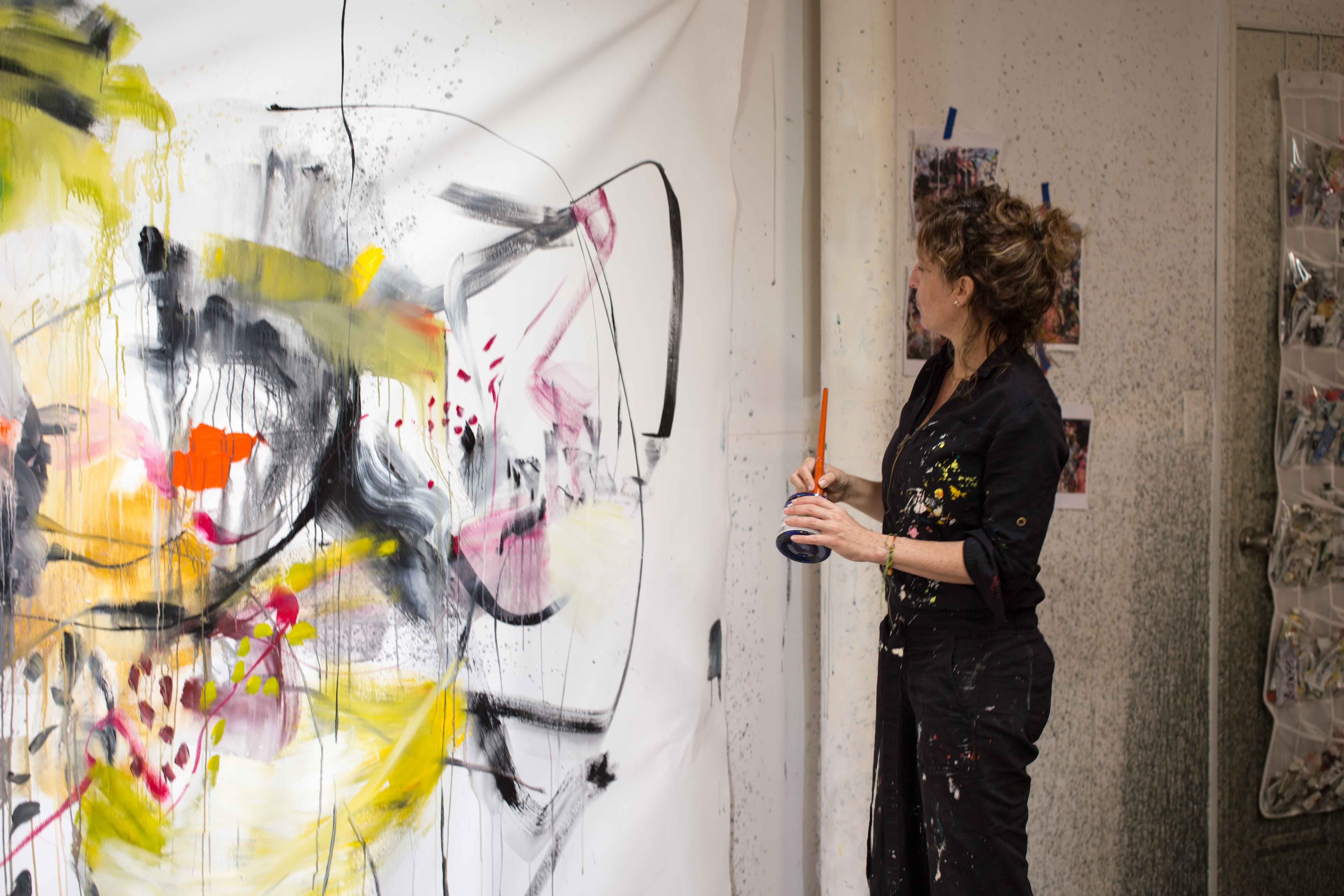 How would you describe your paintings?
I paint on canvas, predominantly with acrylic and sometimes mixed media, and my focus is on abstract expressionism. Life and music always dictate what comes next in the studio. My work is very spontaneous and is driven by my emotions to certain changes and life situations.
What is your typical process for beginning a new painting or series?
I prefer to not have a plan and be free, that is when the best things happen. Usually, I do not think about what I will be painting unless it is a commission piece. My process is simple: take a brush and some paint, and start.
When the piece is done, it should have good composition and balance.
Walk us through a typical day in your studio. What is your routine?
I really don't have a fixed routine, every day is different. I work in a building full of great artists, so I basically paint and have coffee and lunch breaks with my fellow artist friends. On other days I prepare for studio visits with curators, galleries, and collectors.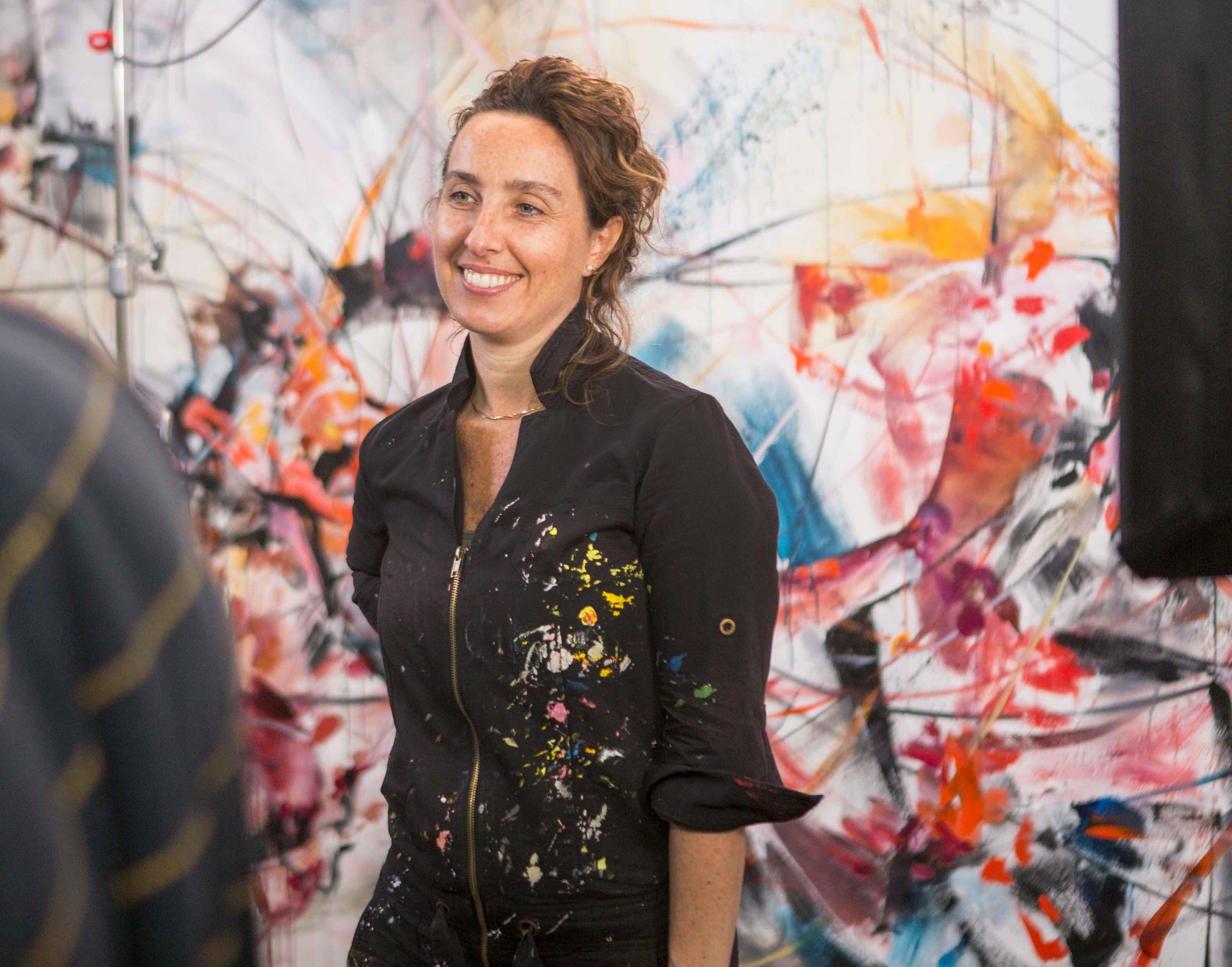 What advice do you have for artists who are beginning to build their career? Have there been any habits or strategies that you have adopted that you feel have created more opportunity or visibility for your work?
Social media is a huge window to reach new audiences and see how people react to your work Go out, visit museums and art galleries, and meet people in the art world.
For emerging artists, finding the right rhythm to be productive in the studio can be a challenge, what advice do you have for staying productive and focused?
I try to be in the studio every day and do as much as I can but reality is that sometimes life gets in the way and you can't always get there. It doesn't matter where you are, you can always be creating in your mind, finding inspiration in the street, a museum, a movie, or even a coffee with a friend. Be easy and patient with yourself. Have confidence that if you keep working, and believe in yourself, you will find your rhythm and will be very productive. Be real, don't pretend, and don't copy other artists. You can always draw inspiration from other artists' work, but then transform it into yours, your own imprint, your touch, create your own art and find your voice. To me, if art is not sincere, it loses vibrancy.
What is your advice for combating creative block?
I believe that sometimes you just need to take a break. Get some fresh air, get disconnected, and reconnect with your work later. It's all about keeping a balance.
Other times, it can be about pushing yourself: start to work without even knowing where you are going, don't think or plan. For me, that helps and can often be when my best work happens. Emotions are an important ingredient in art, and sometimes events in our lives and the world can distract us or block our creativity and practice.
If you let yourself go, you may find yourself in a different dimension, and begin to see things in a different light. It's about finding creativity and letting your emotions come out: feeling instead of thinking.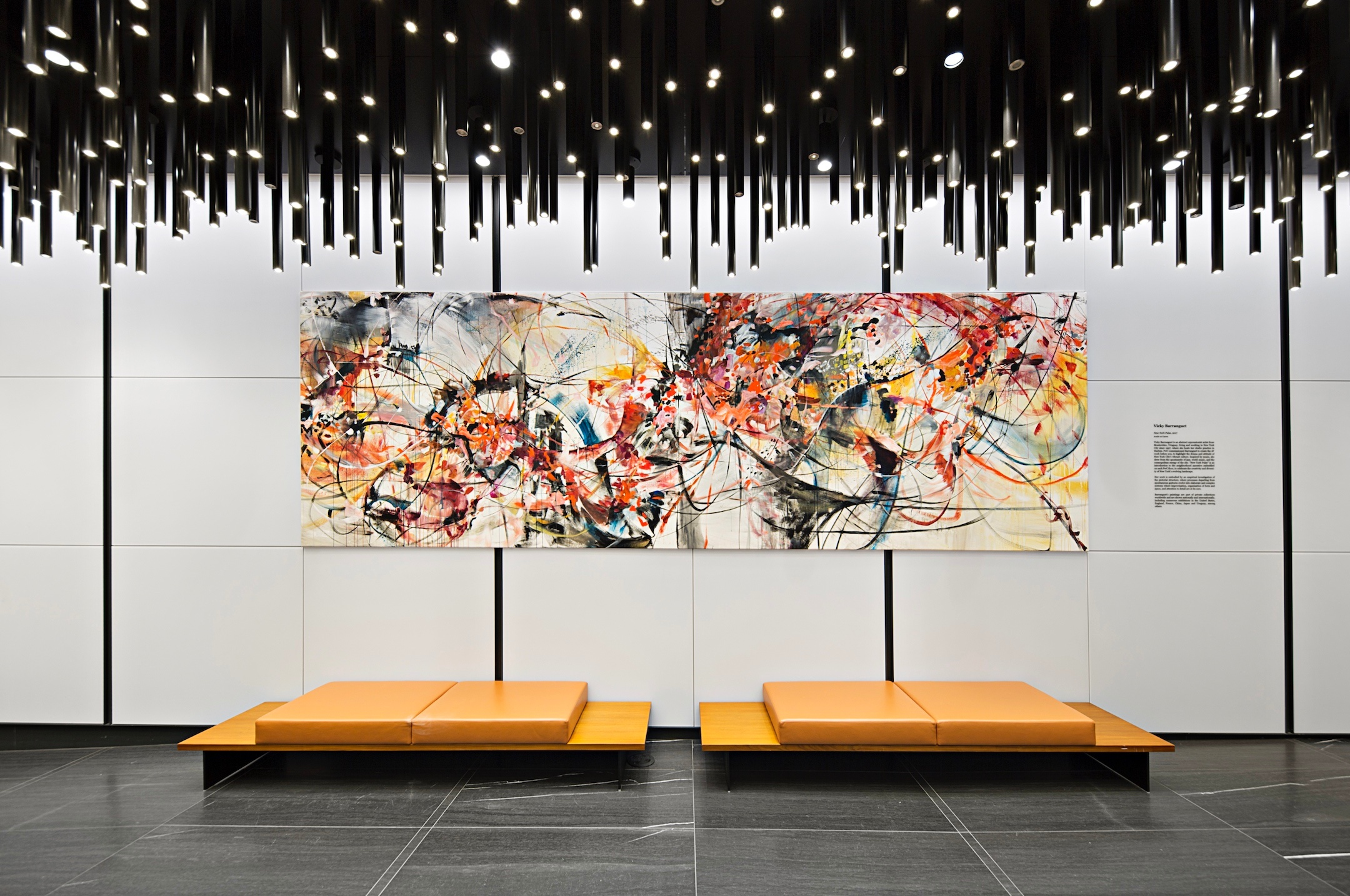 How do you see the art market changing? Where you do see yourself in this transition?
The main change, which has been going on for a few years now, is the online art market. There are so many new ways and outlets for galleries, art advisors, curators and artists to promote and sell art. Art is being seen by people that would never, otherwise, be in touch with art. Now people can look at art from their home.
I find myself using these new tools all the time, as well as collaborating with galleries and curators. These changes create new rules, but the main thing is to be ethical and respectful of the people that promote you.
Do you consider yourself, and all artists, to be entrepreneurs? Why or why not?
Totally. Just by being artists we are taking a risk. Art is a business, and we are our own bosses.
Failure is an inevitable part of success in any field. Do you have advice for overcoming setbacks?
We learn from our mistakes, in art and in life. Take all that, and make it better.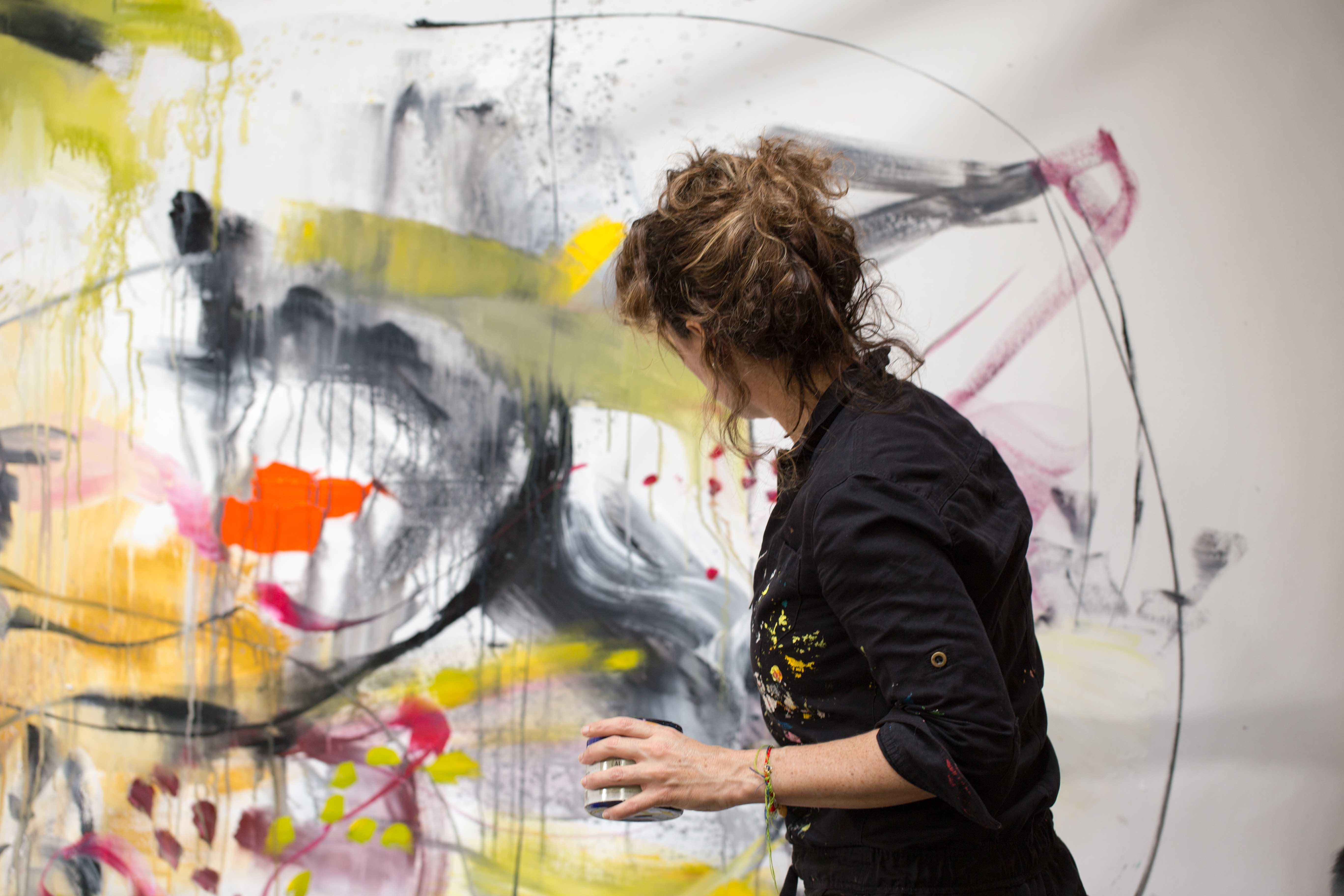 As an artist, how do you measure your success? Can you recall a specific event or milestone(s) in your career that made you feel successful?
Yes, in 1998, the first time that someone was interested in my art. They were visiting my office where I had one of my paintings and they said they wanted to buy it and take it home! I was very surprised and pleased. To reach someone's heart with art is a great feeling!!
What sparked your interest in partnering with TurningArt? Has your experience with TurningArt differed from other art companies you have worked with?
Working with TurningArt is always a great experience. They take great care of the artist and they respect our point of view. They are the perfect liaison between the artist and client. It is an honor to be part of the TurningArt community.
What does having your artwork in the workplace and other commercial or public spaces mean to you?
It is a great opportunity to find new audiences and expand the visibility of my art. At the same time, it feels great to give people who are concentrated in other lines of work the chance to look through a window of art, and hopefully feel connected with it to the point that it generates some type of emotion. My experience has been very positive, and it makes me happy to hear their thoughts and opinions about my work.
To see more featured TurningArtists, return to our blog. To get Vicky Barranguet's art in your space, set up a free consultation with an Art Advisor here!