As defined by BOMA, commercial building classifications indicate "the competitive ability of each building to attract similar types of tenants" by taking into consideration a range of key factors from infrastructure to finishes. To better compete within their market, property managers must identify the values of today's office tenants and adapt to meet them as affordably as possible. For Class B properties, there are clear and effective ways to close the gap with Class A properties, without needing to make costly and time-consuming physical renovations. To make that task a little simpler, we've compiled a list of 4 high-value, low-cost amenities here.
1. Hosting Community Events
As the workplace continues to shift and adapt to employees' ever-evolving needs, companies will seek to lease spaces that can facilitate a more social and collaborative atmosphere.
TurningArt experienced the perks of coworking when we were at the Cambridge Innovation Center (CIC), where the frequent opportunities to meet and network with the other companies through regularly scheduled community events proved invaluable.
While this is a major client retention tool within the coworking model, it's been a tenant retention tool for Class A properties for far longer. In coworking spaces, because there are multiple companies in a single shared space, community events are a breeze to facilitate. In order for a property manager to hold the same kind of event, it requires intensive planning, and the building must have significant square footage pre-dedicated to communal use. Class B properties don't often have large communal spaces, causing management to miss out on opportunities to build community and tenant ties to the building.
However, the absence of a communal building space doesn't have to mean the absence of community events anymore, thanks to companies like Kapow. Kapow's online platform allows users to search events by budget and headcount to narrow in on the outing that's just right for the occasion. And if they don't have it? Not a problem, Kapow will work with their existing partnerships to create a custom package.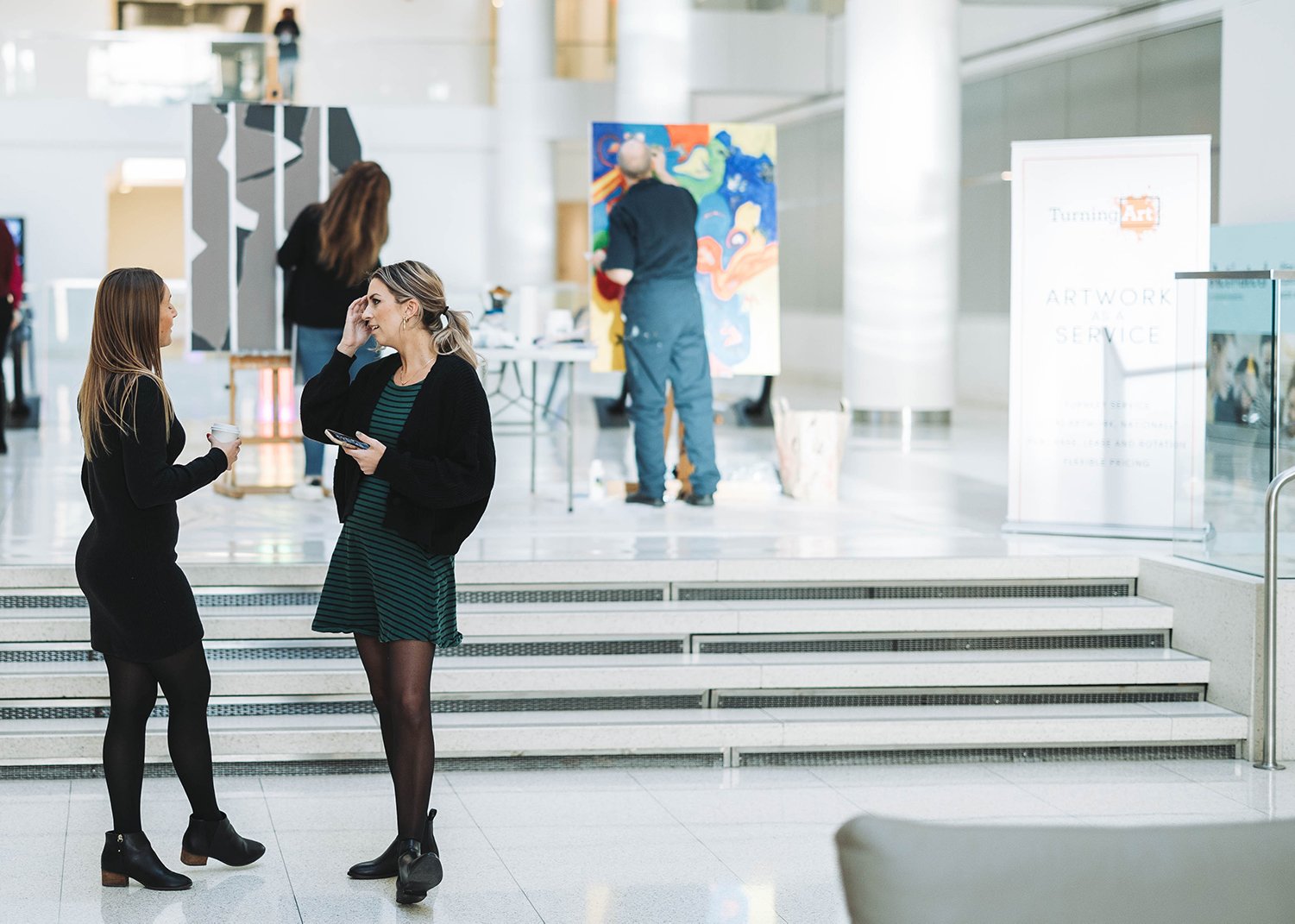 2. Artwork
What do all commercial office spaces have in common? Walls, floors, and surfaces. Ok nothing groundbreaking there, but it drives the point that there is ample space for creative decor in every building. You won't find Class A properties without it, and it's an effective distinguisher amongst Class B's. With the quality of office environments becoming more significant than ever, and investments in well-being driving today's office culture, prospective tenants want to see the same values reflected in their building.
The presence of artwork in a commercial building achieves this by not only indicating an interest in aesthetic details but also property maintenance and tenant satisfaction. For a typical Class B facility with a modest aesthetic expense budget, TurningArt offers an artwork leasing service at affordable rates with flexible print rotation options. To further enhance the building's community through artwork, TurningArt builds collections with the work of local artists, provides an optional tenant artwork-voting platform, and offers membership discounts to any building tenants who want to bring TurningArt into their office or home spaces as well.
3. Plants
Of course, decorative elements hardly end with artwork. Plant companies are cropping up all over the country to meet the growing needs of businesses. Thanks to intuitive online platforms and scalable service models, having thoughtfully designed plant and floral arrangements is a more convenient and affordable practice than ever.
Beyond their aesthetic benefits, plants have proven scientific benefits as well. Acting as natural air purifiers, plants in offices have been found to improve employee well-being and increase productivity by an average of 15%, according to a study by Dr. Chris Knight from Exeter University. If a company is happy and more productive in their space, they are all the more likely to stick around, which can lead to direct savings from tenant retention.
In New York City, The Sill offers to bring the outdoors in with their commercial plant services that cater to a range of budgets. Their service includes complimentary on-site consultations, plant installation, and plant maintenance programs to make management a breeze.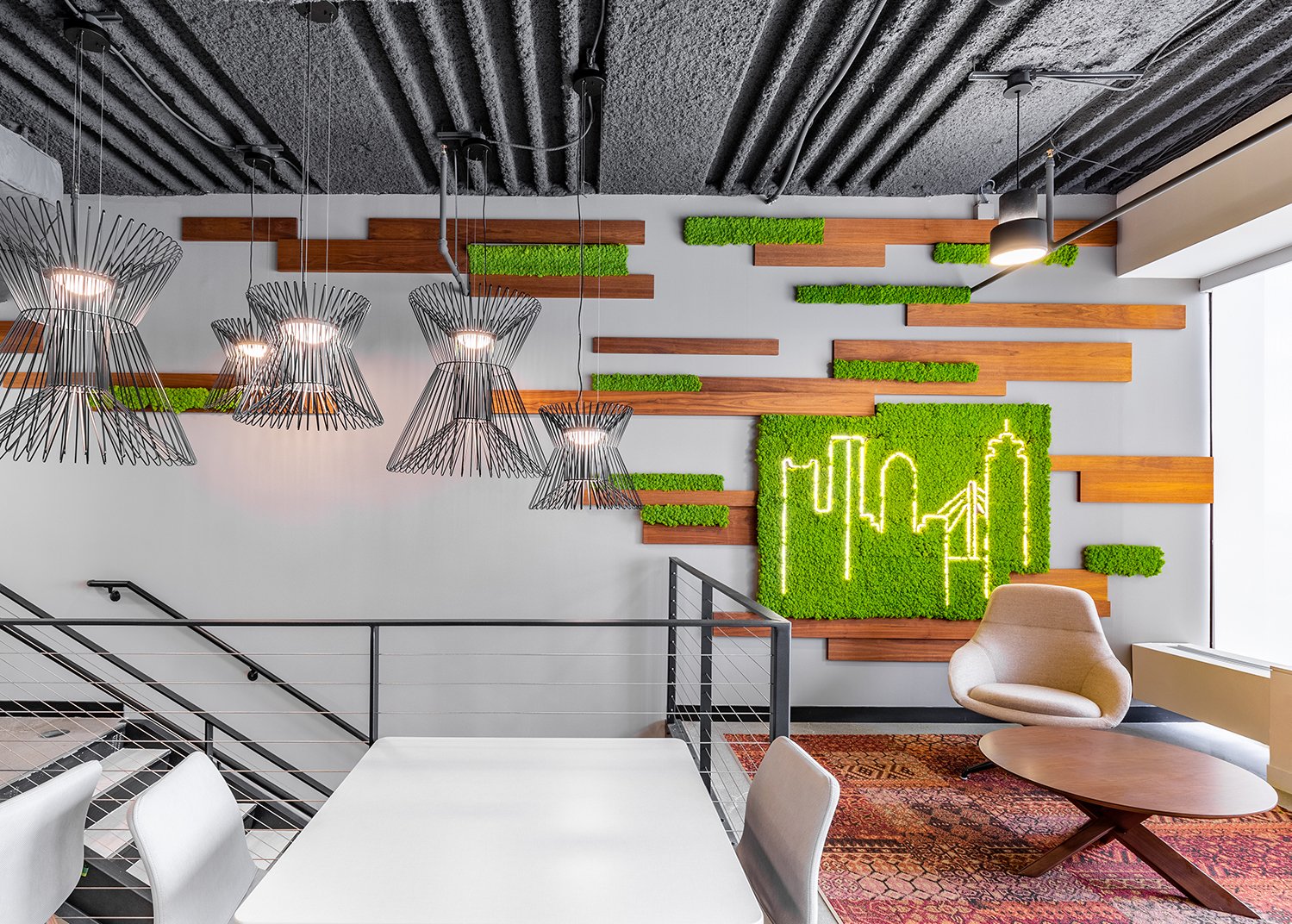 4. Bike Rental Services
Location is arguably the most influential factor in determining a building's competitive advantage in attracting clients, and incidentally, it's the factor property owners have the least control over. And while a building's location can't be changed, it can be significantly improved with increased accessibility. To achieve this at a low cost, many commercial properties are looking to the burgeoning bike-sharing industry.
By providing rentable bikes for the building, tenants gain easy access to a wider range of the area's offerings, which can ease misgivings about a slightly offset location. Not only that, it encourages employees to engage in a healthy and social activity, while offering a green transportation alternative to tenants throughout their workday.
---
If you're a property manager looking to upgrade your building with artwork, get in touch with us by clicking below: