The use of art in healthcare settings is for more than just decoration. It has been shown to reduce stress and anxiety, improve mood, and even promote faster healing. From colorful paintings and vibrant murals to soothing nature scenes and calming abstract designs, artwork can transform the often sterile hospital room into a warm and welcoming space.
The Benefits of Art in Healthcare Settings
Improving Patient Outcomes
Imagine walking into a hospital waiting room and instead of blank white walls, you are greeted by a colorful mural. These forms of artwork not only enhance the physical environment but also positively impact patient experience and outcomes.
According to a Cleveland Clinic survey, an overwhelming 91% of two and three-day hospital visitors reported feeling in a better mood after being surrounded by art and 72% of hospital visitors reported that art reduced their stress. Additionally, 73% of surveyed patients who noticed the art described their environment as calming. Another study conducted by the Department of Health Working Group on Arts and Health determined that artwork is "a clear contributor" to the delivery of a better healthcare experience, concluding that patients experience less anxiety and an improved perception of care throughout their visit.
Improving Employee Emotional Well-Being and Quality of Care
Art in healthcare settings doesn't just benefit patients and visitors - it can also improve workplace satisfaction for healthcare employees. A recent study conducted by the University of Colorado School of Medicine has shown that employees who work in environments with art surrounding them are more likely to remain in their job, reducing employee turnover.

Art also has the potential to improve the quality of care by changing the way in which employees engage with patients. Brigham and Women's Hospital in Boston recently developed a first-of-its-kind visual arts team-building program for healthcare workers, aimed at enhancing communication and promoting problem-solving among employees. The goal of this program is to improve the coordination of care and reduce medical errors, key factors that will lead to better patient outcomes.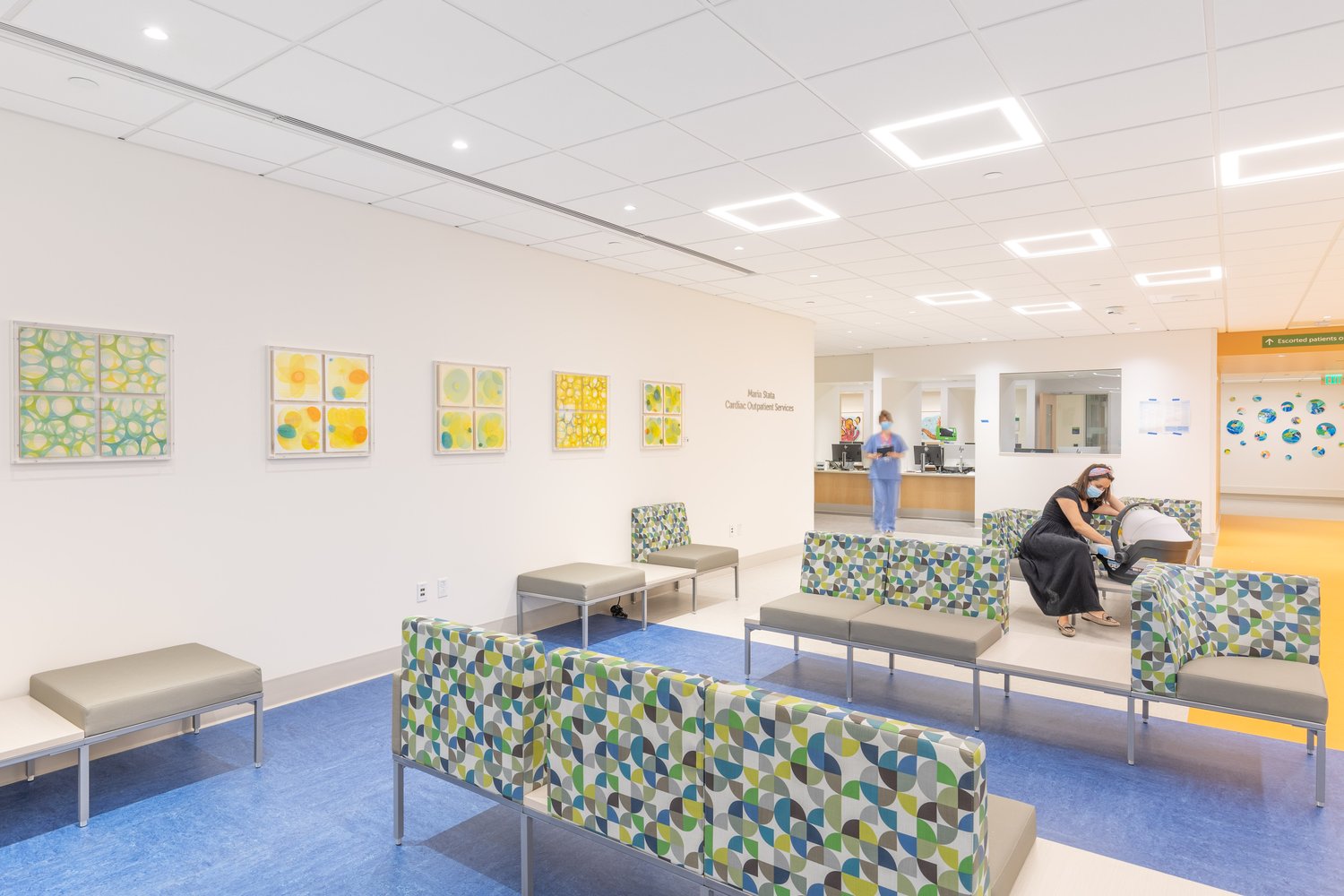 Choosing Art for a Healthcare Setting
Choosing artwork designed to encourage calm and decrease anxiety is crucial, as it can significantly impact the experience and well-being of patients, visitors, and staff. Pieces with calming colors and imagery are more likely to contribute to a peaceful experience for patients. In contrast, art pieces that are inappropriate for healthcare settings may include those with clashing colors and too abstract of a subject matter, as they can disrupt a patient's emotional well-being.
The incorporation of art in healthcare settings has numerous benefits, but it also poses unique challenges. Selecting the correct types of artwork suited to the setting and the audience is critical if you want to benefit from its presence.

Alyce Delbridge, an art advisor for TurningArt, is well-versed in dealing with these challenges and aware that each installation should be curated to the hospital's specific needs. She says:

"A trend across healthcare settings is for art to transport and distract by creating opportunities for connection and conversation, but there isn't a one-size-fits-all approach to healing artwork programs. A successful artwork program comes from listening and learning. We engage all levels of hospital staff, current and past patients, as well as patient family members to set art program goals and objectives. Setting these key aesthetics in line with the type of healthcare space and patient population is essential for success."

It's key for those implementing and designing these art installations - especially for an external party - to achieve the same level of compassion and humanism as the hospital itself has. This can only occur with deep familiarization with the needs of the facility.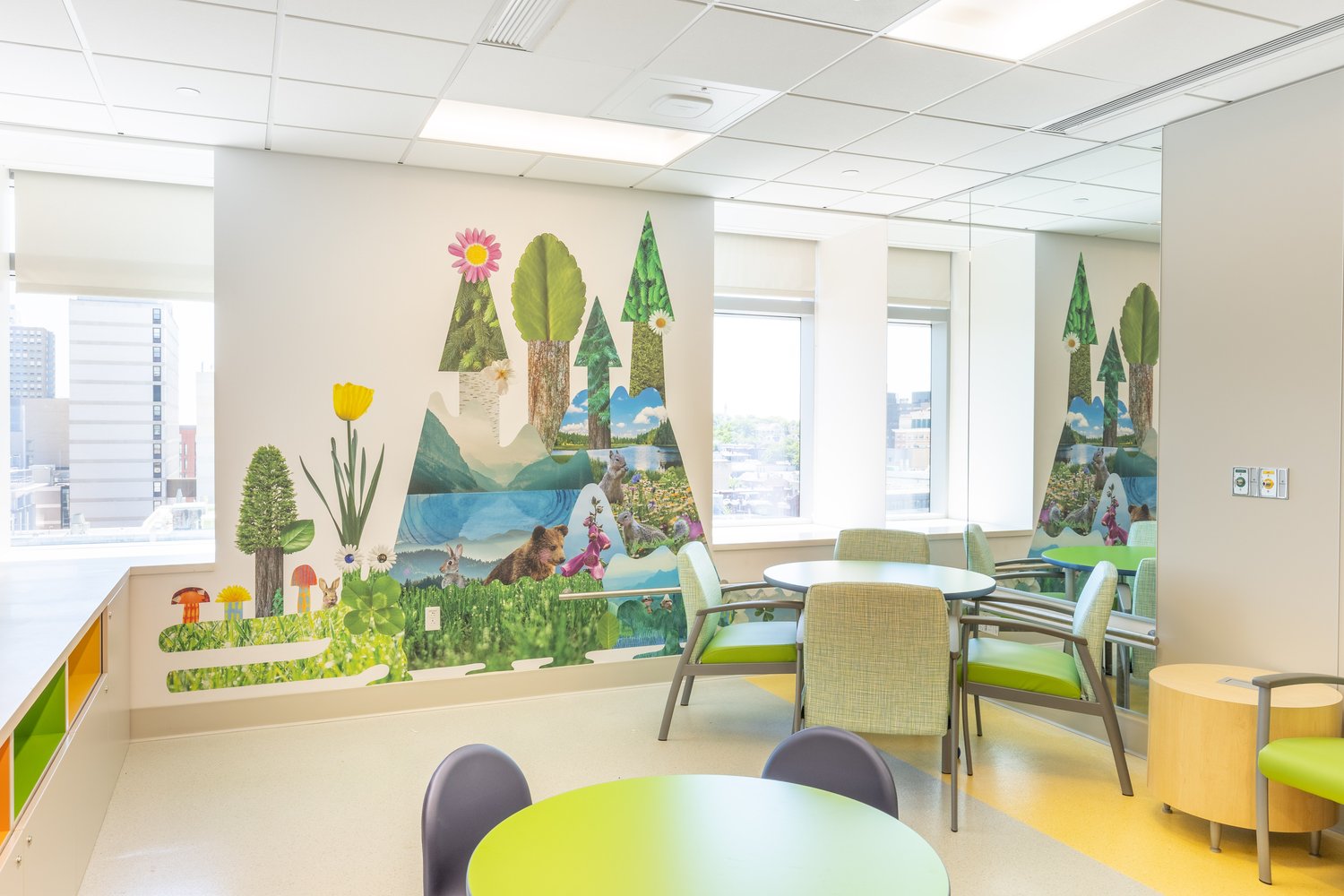 How TurningArt Can Help
TurningArt provides turnkey artwork programs to healthcare spaces of all sizes. We strive to elevate the employee and patient experience, inspiring hope, comfort, and healing through art. Working with an extensive catalog of a full range of art types including prints, originals, and commissions, our Art Advisors curate stunning art collections designed to meet the unique needs of any healthcare facility. We also offer a unique opportunity for all stakeholders to engage with the artwork through our voting tool. This interactive tool allows employees, patients, and the surrounding community members to vote on the proposed selections of art, creating a sense of involvement in the art selection process.
We are proud to contribute to the creation of more humanistic and caring healthcare spaces by curating beautiful and meaningful art designed to promote well-being among patients and employees alike.
---
Connect with an Art Advisor to schedule a complimentary consultation or request a customized quote.