Art has emerged as a powerful tool in healthcare environments, transcending its traditional role as a form of self-expression. In the healthcare landscape, art can be a catalyst for healing, a medium to showcase the quality of care delivered, and an avenue for fostering community.
Art in Healthcare - A Growing Trend
Integrating art into healthcare programs has become increasingly popular in recent years. According to a report by Americans for the Arts, nearly half of the nation's healthcare programs now offer arts programming, with 78% implementing it for its healing benefits and positive impact on emotional well-being for both patients and employees. These percentages speak to the rising demand for well-designed healthcare spaces and highlight the transformative power that art can bring to these environments.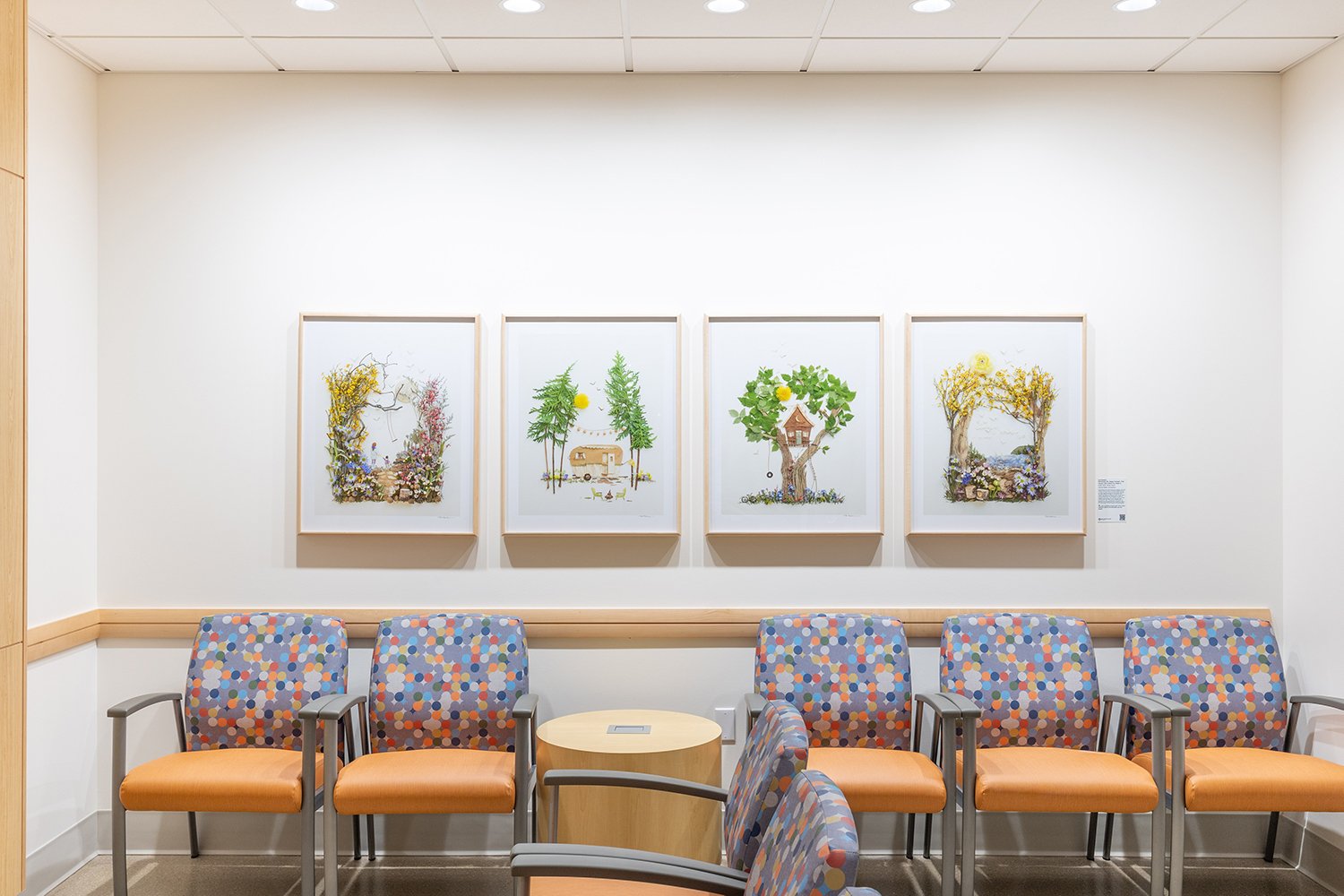 The Value of Art
Improved Perception of Space
The presence of art in healthcare settings offers significant benefits by improving people's perception of their surroundings. A study titled Art for Reward's Sake found that the neural response to experiencing artwork activates the reward circuit of the brain and, due to this fact, people evaluate products more positively when they are physically associated with art imagery. This finding underscores the importance of creating art-filled spaces because just the presence of art can positively impact patient and employee satisfaction.
Increased Patient Retention
Leaving a positive lasting impression on patients can speak volumes to a healthcare institution's quality of care and reputation. Incorporating a thoughtfully curated selection of art throughout the space creates a consistent brand image that, according to Health Facilities Management, can increase patient retention by bolstering people's confidence that they'll receive high-quality care from that healthcare organization.
Cost-Effective Solution:
Among the many costly initiatives that healthcare institutions incorporate to improve client care, artwork is one of the lower-cost options that still gets results. Blair Radler, the CEO of Rady's Children Hospital in San Diego, states,
"In this new healthcare era of increased transparency, rising consumer expectations, and spiraling costs, we need solutions that improve patient care and at lower costs. As a hospital CEO for 26 years, I witnessed how well-designed and effective art interventions can deliver these benefits."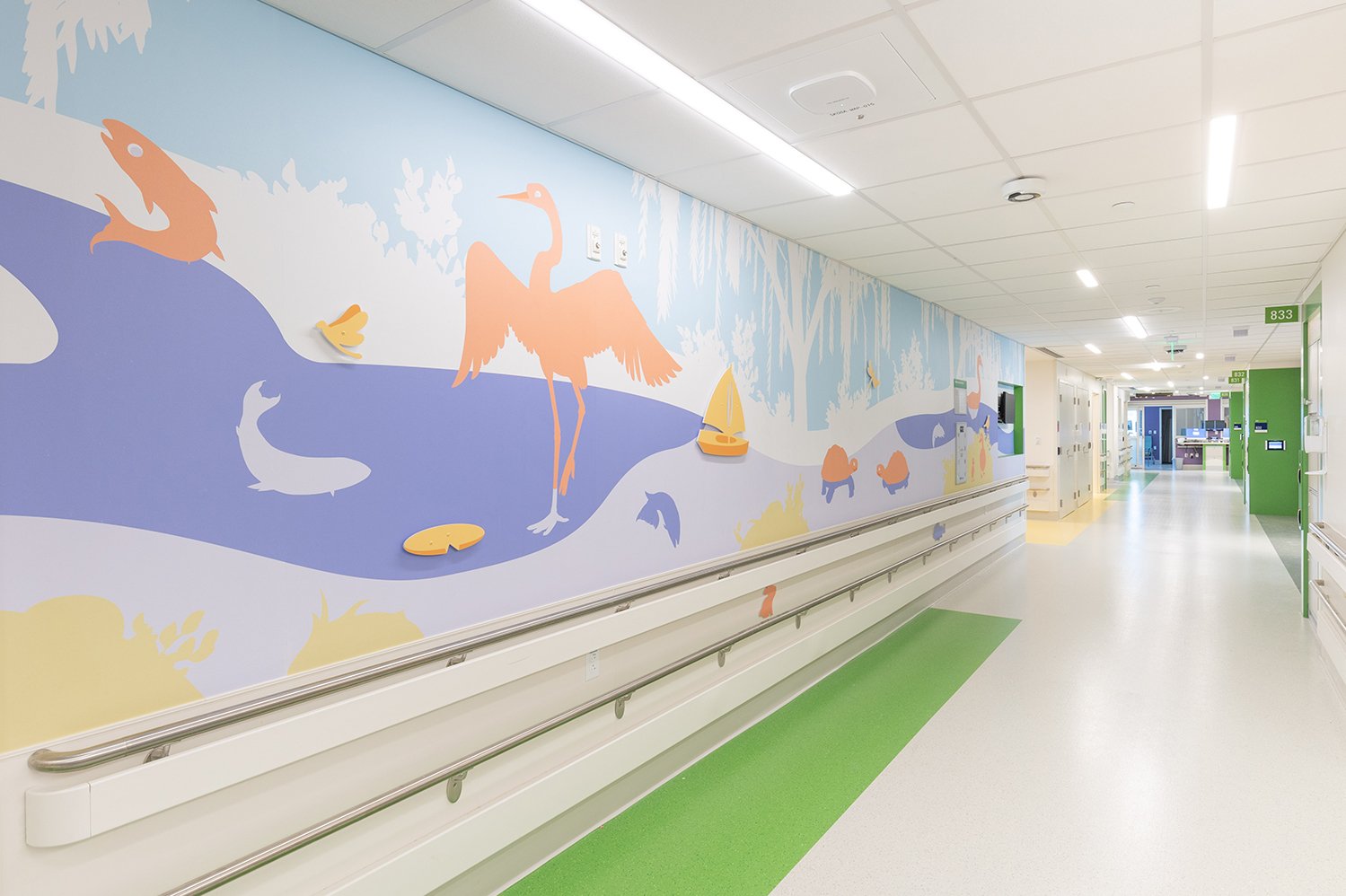 Inspiring and Patient-Centered Care
Art has the remarkable ability to visually reflect the quality of care within healthcare environments. Incorporating art local to the area into a healthcare setting can create a sense of familiarity which can help patients feel more at home in a new foreign environment. A curated art collection also reflects that institution's intention to create a welcoming patient-centered experience. For example, TurningArt is curating a collection of local art for the Cherokee Indian Hospital Authority's new long-term care facility, Tsali Care. For this project, the first goal is to create pride and ownership by representing the needs, desires, and history of the Cherokee community through local artwork. Second, culturally familiar themes and media will establish a warm, comfortable, calming, and home-like atmosphere for residents and staff. Third, every employee, resident & family member and their varying ages, abilities, and backgrounds will be considered; the collection will be physically accessible to those with impaired movement and relatable to those receiving cognitive care. Finally, through storytelling themes, reference to the local landscape, and culturally relevant subject matter, the artwork collection will foster a sense of community through opportunities for connection and socialization.
How TurningArt Can Help
TurningArt specializes in providing comprehensive artwork programs tailored to healthcare spaces, regardless of their size. Our ultimate goal is to enhance the well-being of both employees and patients by creating an environment of hope, comfort, and healing through art.
With an extensive catalog encompassing a wide array of art forms such as prints, originals, and commissioned pieces, our skilled team of Art Advisors, well-versed in the industry knowledge needed to navigate healthcare spaces, curate art collections that cater to the specific needs of your space.
---
Connect with an Art Advisor to schedule a complimentary consultation or request a customized quote.