My clients are often surprised to learn that we at TurningArt can handle an entire corporate art outfit remotely. And even though I enjoy touring spaces and meeting clients in person, I find that our ability to leverage technology and provide a high-touch, convenient service remotely is of immense value.

Starting with a

FaceTime walkthrough, blue prints, or

cell phone photos, we Art Advisors are able to determine the right sizing and placement of artwork without even needing to step foot in the space. With

our catalog of over 20,000 artworks, clients are able to browse custom, curated online galleries where they can like, skip, and comment on specific pieces, as well as solicit their coworkers' opinions via our convenient group voting platform. Once the art is installed, the client's collection becomes interactive with our gallery-style placards that feature mobile links to exclusive content about each artist and artwork.

For my clients, it's the convenience and dynamism of those varied features that make the difference. So, with that in mind, I've put together a list of four more services that leverage technology to provide customizable corporate solutions. By utilizing these easy and savvy services, a company can enhance the environment their employees enters every day and promote well-being in the workplace.




For Perks: AnyPerk (www.anyperk.com)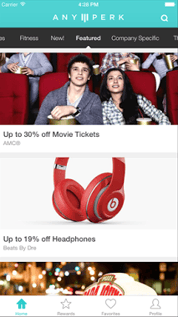 For many small companies, long hours and low paychecks can be par for the course, especially if the organization is just starting out. The passion employees have for a company's mission might get them in the door, but what will keep them from jumping ship to another gig? That's where AnyPerk comes in. For $10 per employee a month (or less, depending on the rate negotiated), AnyPerk allows workers to access over 850 perks, such as discounted sports tickets, hotel rates, gym memberships and even moving costs. Participating companies (over 2,500 to date) can simply browse the hundreds of services and products on the AnyPerk website.Offers have no redemption limits or expiration dates. These benefits demonstrate to employees that their companies are doing more to stretch their hard-earned money, and AnyPerk does the heavy lifting to negotiate the deals, allowing companies to focus their energies on getting more work done.
For Staff Events: Kapow (www.kapow.com)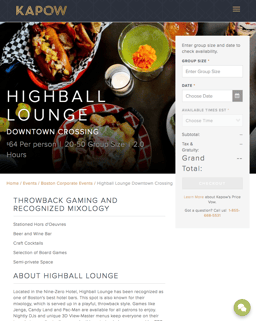 Every employer knows that expressing appreciation for staff is critical to employee satisfaction and, in turn, the success of an organization. But the planning that is necessary for organizing a company-appreciation event can be overwhelming to many, which is why Kapow is here to help. Kapow is an online marketplace that specializes in planning unique corporate outings in various markets around the country. These events can range from tours of a cider brewery where you can learn how to make your own at home, to visits to a boutique where you can design a custom piece of clothing. The site manages every aspect of a company outing – sending invitations, reserving the venue, securing the best possible rate – so that all a group needs to do is remember to show up. By taking the guesswork out of the process, Kapow creates one-of-a-kind experiences that will do wonders for team morale while eliminating the headaches that are often associated with a day out of the office.
For Food: Boxed (www.boxed.com)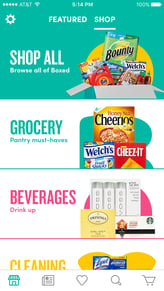 When that afternoon fatigue strikes, an empty break room cabinet where K-cups should be is a guaranteed way to leave a disappointed (and tired) staff uninspired to power through the day. At TurningArt, we've solved this probably by adding Boxed to our favorites bar. With guaranteed rates of up to 80% off retail (and free shipping for all orders over $29), Boxed delivers groceries and office supplies in bulk in 1-3 days. Your office will never run out of coffee, snacks or paper towels again, and employees appreciate not having to head to the coffee shop down the block to battle the 2 p.m. lines, losing valuable time that could be put to much better use. Boxed also offers 1 rewards point for every dollar spent, and 500 points means $5 off your next order. The savings – both in money and time – make Boxed a no-brainer, and it can't be overestimated how much employees value an office that is as convenient (if not more so) than their own homes.
For Design: Dot & Bo (www.dotandbo.com)

And speaking of homey environments, the San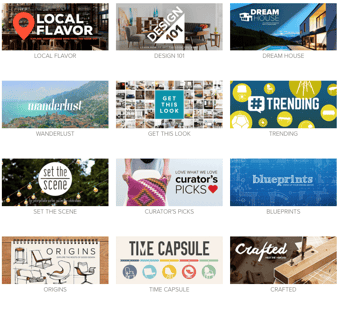 Francisco-based company Dot & Bo specializes in creating inviting, modern office spaces that help organizations express character. Whether you're pitching to a potential client or interviewing a prospective employee, an office that looks like an endless sea of brown and gray doesn't make a strong impression. With Dot & Bo as a guide, you can browse unique products – colorful sofas, rustic storage cabinets – at competitive prices. An employer can consult with a dedicated stylist, who will make décor suggestions and even create renderings to demonstrate what certain choices would look like in your office space. Employees spend at least 40 hours a week inside the four walls of their company, we need to focus on design surroundings that make them feel not only comfortable and relaxed, but invigorated and inspired too.
By incorporating even just one of the above resources into regular practice, the positive effects will reverberate across the organization and help to build an improved office culture for all. And if you want to start with your artwork, we'd love to help!