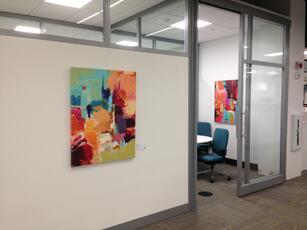 Often, when businesses move into a new building or expand their existing space, selecting office art is an afterthought. A great deal of time and effort is invested in flooring, lighting, and furniture, while walls are left noticeably bare. This is understandable. There is a lot to consider when making a move, and art is a finishing touch, not a first priority. Moreover, the acquisition of artwork mistakenly thought to be time-consuming and permanent.
The art world is evolving, but the way many companies think about art isn't. The classic way of acquiring office artwork requires several steps and contact with multiple vendors. For example, companies would first bring in art consultants to examine their space and make recommendations. Then, they'd need to find the art that was suggested, which could involve engaging with expensive galleries or hunting for independent artists. Next, framers and installers would need to be hired to actually get the artwork onto the walls.
This process could take months and cost much more than initially expected. Fortunately, there are other ways of acquiring art that are much easier and affordable. Here are a few tips for making the process of selecting and installing art more efficient.
Rent artwork
The first mistake companies make when considering artwork is assuming that it has to be permanent. Offices are constantly changing: workspaces are reconfigured, employees come and go. Renting art gives companies the flexibility to change the look and feel of their spaces as they grow and evolve. Currently, in the United States, office turnover is around 20%. This means that, on average, companies move every five years. Artwork that fits one space seldom fits another, and the process of selling off existing artwork can be complicated. Then – the cycle of buying new art starts again.
Schedule regular art rotations
Even the most inspiring piece of art can grow stale over time. Rotating artwork is a great way to keep workspaces feeling fresh and up to date. Further, creating an environment of change can boost office morale and inspire creativity among employees.
Rotating has another benefit: it allows companies to feature the works of an array of local artists, which is a meaningful way for them to show their support for the communities of which they a part.
Let employees help
Art providers that lease artwork and provide rotation services often take care of most of the legwork, such as framing and installation, but the process can be made even easier by involving employees in the selection process. After all, with the ability to change art frequently, the process should be democratic to ensure that the workplace is reflective of its company's taste.
Not only does employee participation make the selection process easier, it helps employees feel more invested in their space. In fact, employees' involvement in such decisions is shown to have a strong influence on their perception of their employers. It encourages them to view companies as innovative and strong in culture, according to Gensler's 2013 U.S. Workplace Study.
If you'd like to learn more about the impact that art can have on your company, take a look at our eBook and if you'd like to speak with one of our Art Consultants, click here.