As a professional photographer, TurningArtist Alex Nye emphasizes the importance of looking at the world in unfamiliar ways. His subject matter includes architecture, landscapes, cityscapes, and aerial vantage points that are made unique through his use of unconventional perspectives and techniques.
Beyond capturing the source photos, Alex spends an immense amount of time in photoshop manipulating light and settings to create new alternate realities. He is best known for his "4D" photography series, which merges hundreds of exposures from different times of day into one surreal composite. The resulting images enable viewers to see multiple moments in time as a single, blended visual.
We interviewed Alex to learn more about his creative process and his thoughts on the importance of art in the workplace.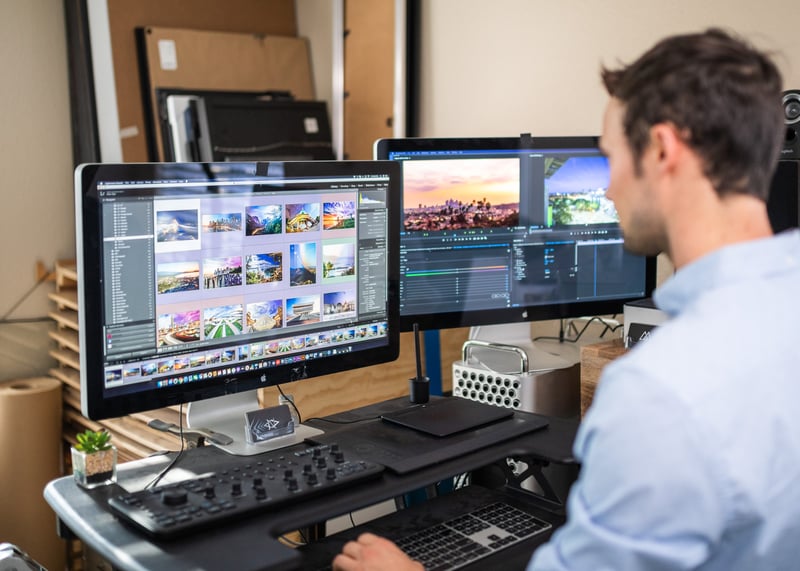 Can you tell us about your journey to becoming a professional artist?
My creativity took many different forms throughout my life, first through drawing, graffiti, and graphic design. In early middle school, I discovered my love for cameras and making movies. I applied to schools to major in filmmaking and landed myself in the more general field of Visual Arts at SUNY New Paltz (in upstate New York). In college I fell in love with still photography, bought my first DSLR camera, and pretty much never stopped playing with it. In my senior year, I began showing my work in galleries and selling my photos as prints. After finishing college in 2013 I made the bold choice to move across the country to California to pursue my career as an artist full time. I worked hard to refine my craft, network, and put my work out into the world. Since then I've won a handful of regional and international awards, shown work in galleries around the country, and sold hundreds of prints to corporate offices and private collectors. Simultaneously, I built the commercial side of my business. I created a production company called Prismedia LLC and established a niche in the architecture and construction industry.
Can you tell us about your process?
Aside from the occasional impromptu photo adventures, scouting and planning is a large part of my creative process. Using powerful tools to plan out exactly where I want to be and at what time, I spend hours virtually scouting a location before getting there in person. I use weather apps and live webcams to track interesting cloud formations. I use Google Earth to study topography and discover interesting vantage points to shoot from. I use "ephemeris" apps to identify the time and angle of the sunset and sunrise, the size and alignment of the moon, and the position of the stars and Milky Way when shooting at night.
Shooting a 4D composite requires extreme patience. I'll often wait for hours to capture the same scene as different people, cars, lights, and objects cross in front of the lens. The time-lapses I create consist of hundreds to thousands of images depicting all the changes throughout a given day.
My meticulous approach doesn't stop after shooting. Post-production is incredibly important to my process, and it's when a lot of the magic happens. The editing phase is where I can really infuse my artistic hand, show creative personality, and experiment with fresh ideas. I use Photoshop to selectively blend exposures together, clean up details, and craft a scene to match my vision. I could talk all day about my technical process, so check out my youtube channel for more of that!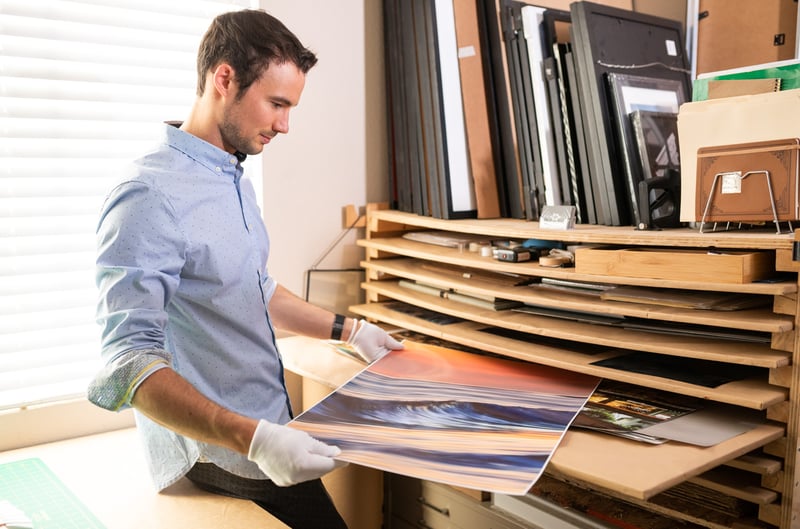 When you are looking for inspiration, what resources do you turn to?
Inspiration comes in many different ways. As a photographer sometimes it just takes getting outside. I like to explore a new place with my camera or wander around a familiar one with a new sense of childlike curiosity. A fun exercise is to limit yourself to using one specific lens and try to find as many compositions as possible. When in my studio and I don't have a pressing deadline, one of my favorite ways to get inspired is by digging through my archives. I have a massive 100+ terabyte library of photos and videos that I've captured over the past 10 years. Those contain infinite possibilities of fun things to edit. I can either pick up an old project I never finished or imagine new combinations to blend.
Walk us through a typical day in your studio. What is your routine? Has is changed with COVID-19?
After coffee and eggs with my fiancée, she goes off to work and I walk down the hall to my humble 175sqft studio office. As a digital artist, I require a lot less space than your traditional painter. Most of my time is spent at my Mac Pro computer, the heart and center of my studio. This powerful machine is essential for making all of my systems run smoothly. I use my home-made print rack and workbench to sign and package prints when orders come in, or to frame prints for an art show.
On any given day I could be juggling a number of tasks including sending emails and messages, managing files and data dumps, editing photos and videos, writing proposals or invoices, updating my website and social media, researching clients or galleries, applying to art calls and contests, watching online tutorials, etc. The best part of my day is getting into a flow state of editing. I'm typically juggling 2-3 client projects at once, so I alternate between working on those and personal work. I mostly just follow what inspires me. I try to cut off my workflow every day before sunset to get outside and either exercise or shoot. I'll grab my camera bag, head to the hills or the beach, or explore some cool architecture downtown. The workday never ends for me; I almost always go back into the studio for another few hours before bed.
My daily routine hasn't changed much since COVID. The main difference is that I now don't take as many breaks to get outside or to the gym. A lot of my client projects were also postponed, so I don't have as many photoshoots in the pipeline. On the bright side, that now gives me way more time to work on my personal projects!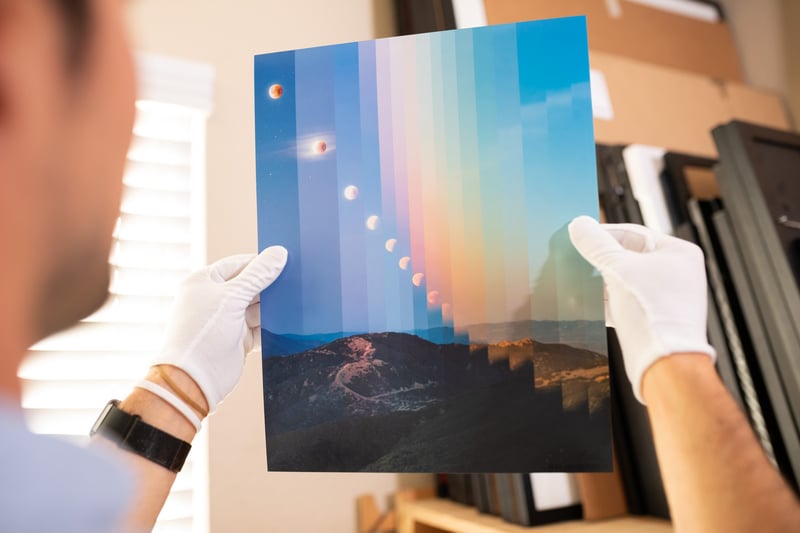 During this challenging time with COVID-19 finding the right rhythm to be productive in the studio can be a challenge, what advice do you have for staying productive and focused?
I've worked from home six of the past seven years, so I'm quite familiar with the self-isolation grind. There are challenging aspects but also big opportunities for growth once you find your flow. These days it starts with having a positive mindset about the situation you're in. You aren't stuck at home, you get to be home and create! You finally have the time to take on those personal projects or tackle some of those mundane office tasks (that we all procrastinate on). Here are a few ideas for photographers to get hyped about doing while at home. This is basically my to-do list right now:
Dig through the archives, and edit old photos you never got a chance to.
Go wild with photoshop, experiment with randomly blending old photos. (This is how some of my most interesting pieces were made, like "Imbalance")
Organize and back up your files (everybody has messy hard drives)
Upload photos and videos to stock websites for sale, and to TurningArt!
Edit home movies or travel films from that vacation you went on two years ago.
Update your website, add recent work and other content.
Write blog posts, website copy, or revise your old artist statements.
Watch free tutorials or masterclasses to learn and expand your skills.
Experiment with indoor photo techniques like macro or "droplet photography."
Register your images through copyright.gov (who has time normally)
Label your gear, and record serial numbers to a spreadsheet (sexy, I know).
Research your particular industry, identify and learn about your future clients, and develop a marketing strategy so you can hit the ground running when the world reopens.
I hope this list gives you some inspiration to get ahead in your business or try something new and creative! Personally, over the years I've had hundreds of project ideas that I wanted to do at some point but had to stick them on the back burner because of a busy schedule. Your home is your oyster, get stoked!
What is your advice for combating creative block?
1) Take breaks! Looking at the same piece for a long time can make you numb to what you're seeing. It's important to recognize when you hit these ruts and to step away from a project to think about something else. Sometimes it takes days of setting aside, but when I come back to it with a fresh mind I'm reinspired and more observant.
2) Movement and exercise throughout the day, even inside! I operate at two standing desks, which helps me stay alert and moving all day. I also have a pull-up bar and balance toys to stand on while I edit.
3) Share your work and get feedback. Skype with friends and mentors. I've been sharing my projects with friends to get fresh perspectives. Seeing the cool things other people make with their time also gets me inspired to create.
As an artist, how do you measure your success?
Success comes in many different forms. One obvious answer would be when your craft can support you financially. However, I felt successful before my art was paying the bills. Early on in my career, I put a lot of energy towards finding contests and calls for art. Through this process, I won a handful of awards and showed my work in galleries, which led to my first prints sales. This recognition for my work (despite not making me much money) is what helped launch my career and build a reputation. Most importantly it motivated me to keep pursuing my craft. Now, seven years into my journey I've had my work purchased by national corporate offices, Hilton Hotels, the National Park Service, and Lexus to be used on bus stops and billboards throughout Canada.
It's important not to let money be the primary metric of success. I think I've accomplished much more because, for the most part, my passions motivate me. When your main motivation is maximizing profits, you end up taking on projects that aren't as exciting or creatively rewarding, which results in lower quality work. As much as possible, I've made an effort throughout my career to chase the assignments that energize me. While initially this can limit your income, long term this strategy positions you as a specialist and allows you to charge higher amounts for work that you are more proud of. To me, true success is having a job that allows you to follow your passion!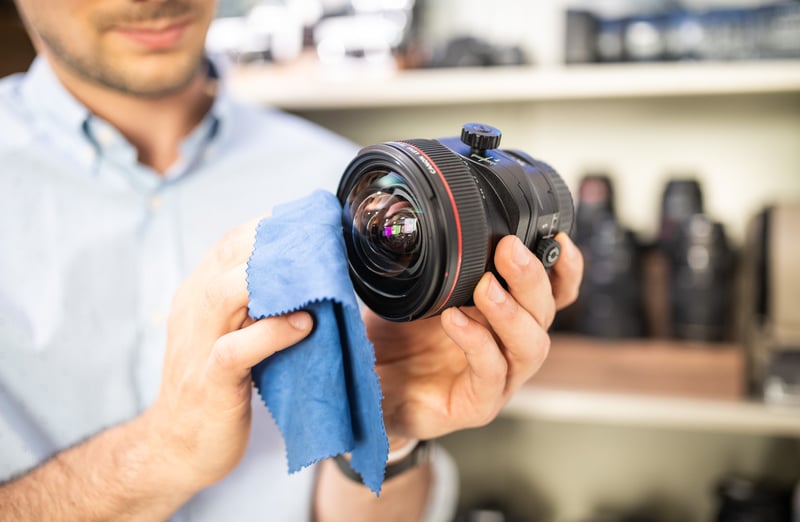 How do you see the art market changing? Where you do see yourself in this transition?
I feel that art is finding its way into mainstream culture in new ways, especially with the explosion of the internet. You don't need to rely on high-end galleries to build a reputation. Of course, it still takes effort, but artists now have the ability to build huge audiences on social media without paying a dime. People buy art where they come across it, and these days it seems people are online much more than in galleries. Now with COVID and the new lifestyle it brings, I feel the importance of having stable forms of residual income. I'm more inspired than ever to put all my work for sale on TurningArt and other online platforms.
What advice do you have for artists who are beginning to build their careers? Have there been any habits or strategies that you have adopted that you feel have created more opportunities or visibility for your work?
1) Find the things that light your fire. If you are fully committed and passionate about your craft, then working on it won't feel like work. Become obsessed. Experiment, explore, keep practicing, and creating. No matter how good you think you are, always strive for improvement. Quality over quantity!]
2) Network, find mentors, put yourself out there to get honest feedback, and find people who support what you are doing. Share your work with everyone. You also never know who will help you out or connect you to a client. Be a good person and don't burn any bridges!
3) The key is to be visible in as many places and platforms as possible. These days it's hard to predict where people will discover you. I've made print and licensing sales from having my work in physical galleries, but also on the web and social media. When uploading to any platform, it is essential to keyword your files with relevant words that people might be searching for. Otherwise, how would anyone find it?
Do you consider yourself, and all artists, to be entrepreneurs?
Unless you have an agent or great representation, these days being business savvy is essential for artists. You need to be able to look at your work objectively, calculate the numbers and make sure your prices are sustainable after all of your time and expenses. A lot of new artists (myself included) get so excited to make a sale or land a job that they don't really think through the appropriate profit margin. This is another reason to establish mentors, and talk to other people in your market about standard rates, etc.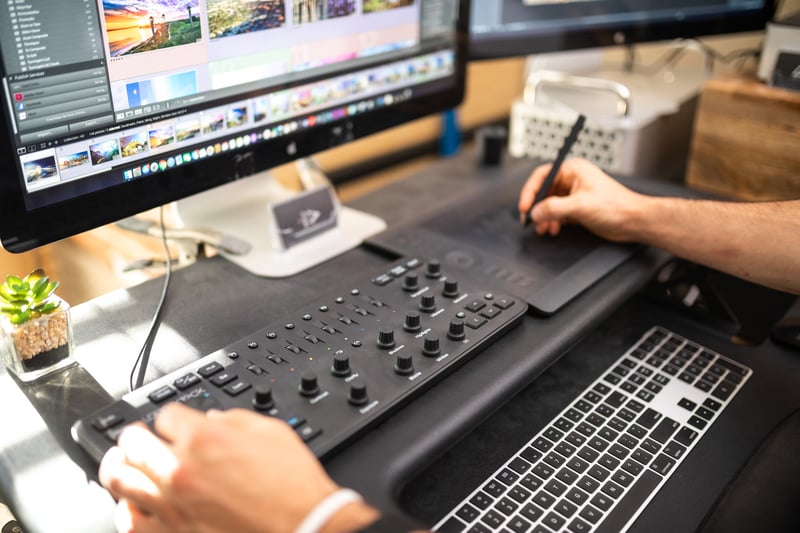 Failure is an inevitable part of success in any field. Do you have advice for overcoming setbacks?
It's way easier said than done, but simply put you can't get too attached to any one project or client. At least, don't put all your emotional eggs in one basket. Art is very subjective. Accept that your work isn't for everyone. I get denied from at least four out of five shows that I apply to, or clients I reach out to. You need to grow thick skin, and keep pushing forward. Be patient and persistent and over time you'll find the right audience who loves what you do. Keep putting your heart into everything, and grow from the failures. Besides, in a few years, you'll look back on your old work and be amazed at how much you've improved!
What sparked your interest in partnering with TurningArt?
TurningArt discovered me before I knew about them, and I'm sure glad they did! I had never heard of a platform quite like it. There are plenty of websites to display your work online or to try selling your work, but I've never had great luck with those. TurningArt has a very user-friendly platform and a dashboard that gives you a ton of insight into how your work fits in the market, what's being viewed, how many are purchased, and where they end up. They also have an amazing team of advisors to promote artists and connect clients with the right work for their space. It's like having gallery representation, but with a much larger audience and reach. You can focus on creating what you love, and they help you get it out into the world!
What does having your artwork in the workplace and other commercial or public spaces mean to you?
Creating work that people will live and interact with is such an honor. It also gives me an extra sense of responsibility. I'm setting the mood for a space. One of the goals of my work is to be inspiring and provoke innovative thinking. I love that my work can bring that kind of energy to a workplace where people spend long days.
Additionally, my work is designed to be seen up close. I take pride in refining every detail of my images, including things that would never be noticed on a screen. Thanks to TurningArt I have a handful of my images printed on wall-sized graphics in offices across the country. I enjoy having a platform to display my work where those details can be inspected and appreciated.
To see more featured TurningArtists, return to our blog. To get Alex Nye's art in your space, set up a free consultation with an Art Advisor here!