TurningArtist Caroline Geys' work encompasses the creation of site-specific interior and exterior murals and installations, fine art, and digital art. Creating in various media, she is constantly seeking ways to innovate and incorporate sustainability practices in her installations and sculptures. Caroline gravitates towards colorful, geometric, linear, and organic contemporary aesthetics that embody movement. Both the natural and built environment, op-art, nature's phenomenons, and patterns inspire her to create artwork that is centered around optimism.
Can you tell us about your work?
Several dimensions of my childhood and early adult-hood are recurring themes throughout my art. My work reflects evolution related to life transitions, pedagogy, and nostalgia. I utilize this theme as an abstract language to investigate and decode, concentrating on the chromatic and formal relationships within these compositions. I focus on the exploration of various individual forms that make up a city and rural areas; the micro within a macro dynamic including topography, architecture, cultural and physical infrastructure. These elements encompass the idea of organic vs. environmental, and the nature of urban development.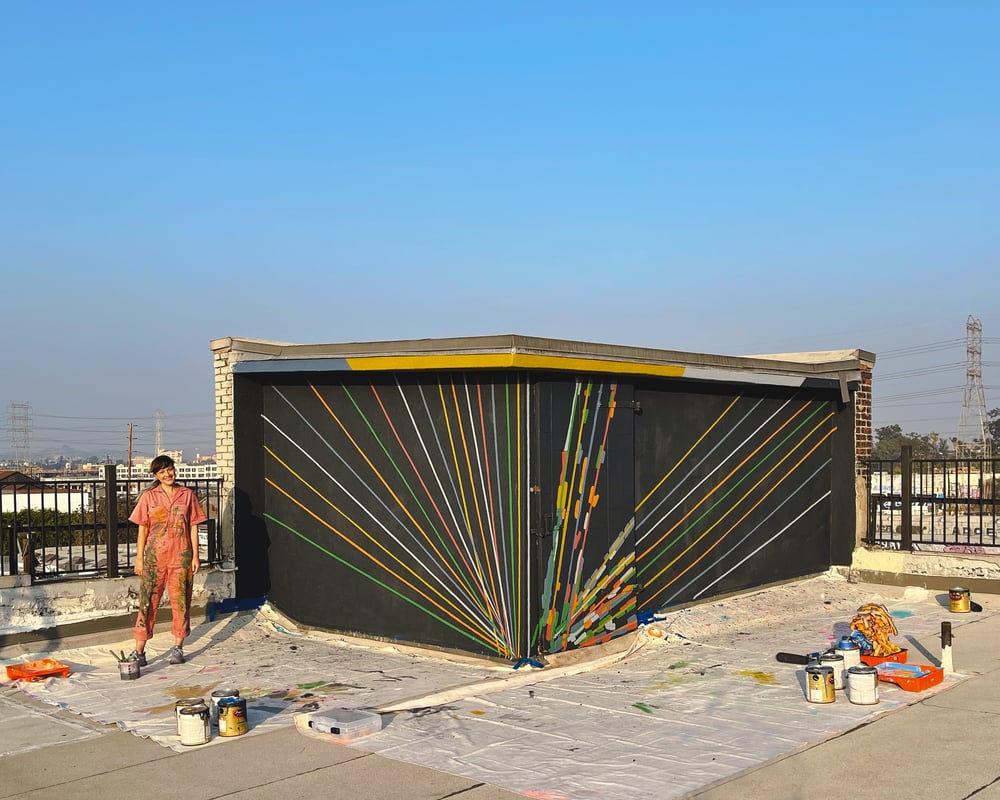 Art House Lofts Vortex Mural (in progress), Arts District, Los Angeles, CA
Can you tell us about your journey to becoming a professional artist?
I began drawing at the age of seven and besides a few art classes in high school and college electives, I am a self-taught artist. Since I was nine years old, I knew I would own a design studio one day. I have a drawing of my bedroom desk with my logo and incorporated in 1989. At that time, I had no idea it would be such a long journey.
Like many of us that have our own obstacles to achieve our dreams, I also had mine. As an optimist, life's trials and tribulations have enabled me to learn from those experiences, dream, and pursue my goals. I always wanted to live as a full-time artist and designer. My family came over to the states from Antwerp, Belgium when I was 3, and it took me 34 years to receive my green card. Years of being on the various visas and immigration frustration road blocked many aspects of my life.
We also had a family tragedy when I was nine. We had a fire caused by arson and lost everything except for, fortunately, most family photos, and two pieces of antique furniture. Prior to moving to Orlando, my father owned a gallery in Antwerp with his business partner focusing on 18th and 19th Century Flemish and French paintings and sculptures. He brought his collection with us to our first home in Orlando.
I believe our family tragedy inspired me from a young age to create. I sought to make myself and others around me happy by bringing as many colors to life on paper, canvas, and other mediums. I am grateful for how my parents raised and taught me throughout the years and for all the artwork that surrounded me as I grew up.
Attending art school was at the forefront in my early years although I veered in a completely different direction to study business with a focus on marketing and real estate, partly due to my father and obtaining a visa. I was fortunate to attend elementary, middle, and high schools in my earlier years where I was able to take art classes. Those early development years have made a permanent imprint in my work and serve as a continued inspiration to everything I create. Throughout college and my twelve-year career in marketing for architecture, interior design, and real estate firms, I constantly was constantly creating art for galleries, clients, and collectors in order to be able to make the jump to my dream career. Upon receiving my green card in 2017, I took the leap I've wanted to take for so long and I launched Caroline Geys Design Studio.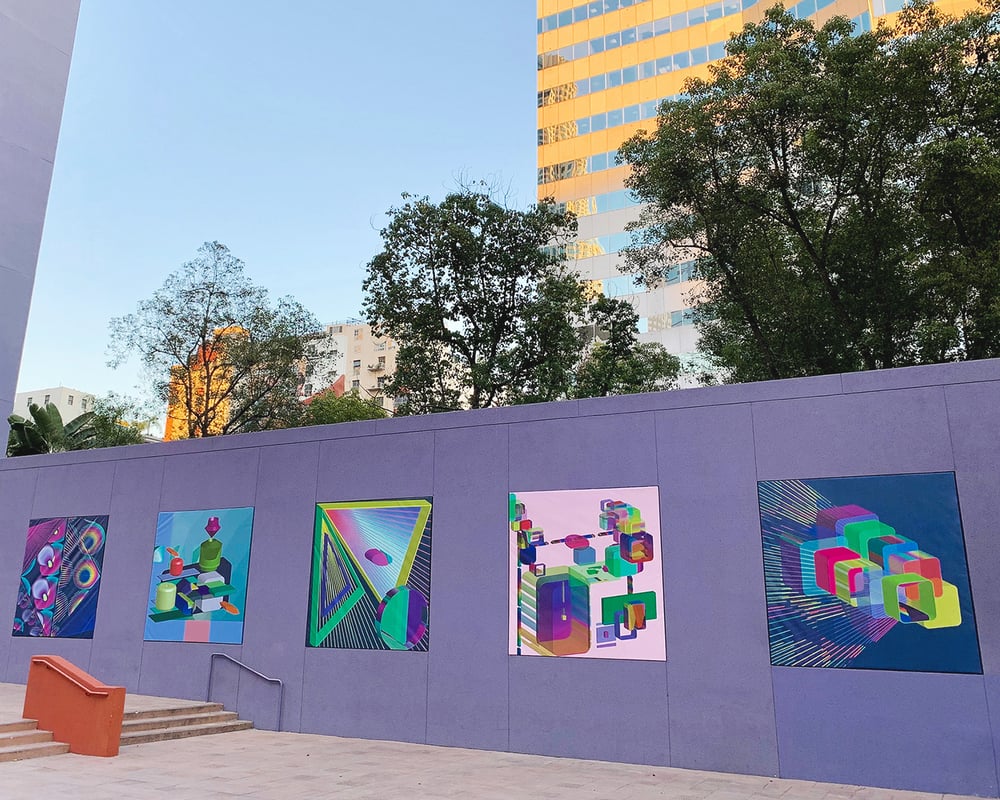 Pershing Square, Exterior and Interior Objects, ArtSquared, Downtown Los Angeles, CA
Can you tell us about your process?
Every piece that is made within the studio or on-site, is created with thought, care, and meticulousness. I have an opposite approach to my fine art (unless a commission) compared to my commercial work for clients. When I draw, paint, or digitally create a design, I do so in the moment, and nearly most all of the time, the piece is not planned; I let my hand do the dancing. Sometimes, I pre-conceptualize in my head and then jump to the sketchbook, canvas, or a textile. In contrast, when I have a client project, the process is planned and scheduled. The concept(s) from the conceptual development phase is approved to move forward in the project. Each project and series are site-specific and emotionally different, so the process can change depending on location.
When you are looking for inspiration, what resources do you turn to?
Architectural imaginings in my earlier work are the result of inspiration from my first visit to New York City at the age of 19. In the years during my marketing career, architecture and design continued to inspire my work. Places I've traveled to and have dreamed of visiting also have had a substantial impact. For as long as I remember, I try not to let other artists influence me; however, that is inevitable on some levels.
Walk us through a typical day in your studio. What is your routine? Has it changed with COVID-19?
Every day is different; however, there are tasks that are on repeat each day. As a one-woman show, I handle every part of my business. Since the beginning of the pandemic, I have dived into my work, studio, and marketing practices, more than I ever have in my life. As much as the world has constrained us in various ways, it has propelled many of our lives creatively and a reset has been activated. However, it's been difficult in many ways.
There were several projects that were slated for my studio and exhibitions of my fine art that were canceled this year due to the pandemic. We have all been navigating our own ways through the muddy waters these last several months. I've been finding ways to reinvent my practice, continuously learning, pushing my boundaries, and sticking close to the fundamentals that have always guided me.
While I marketed firms throughout my career, it helped me learn how to market myself. Prior to the pandemic, I had never gone live on Instagram or Facebook or posted a video of myself chatting or painting. I knew that if we weren't able to see people in real life to be as safe as possible, I needed to show viewers my live character instead of only photos, text, and time-lapses. I am an extrovert in many ways but am also an introvert. Breaking out of my shell via social channels was a huge step for me.
In March, I hand sewed some masks for myself and for our families with existing fabric I had from an installation and embroidery thread I have for holiday crafts. Within the weeks that followed, I designed my first collection of fabric masks that a manufacturer in the UK would print on. In the summer months to follow, I moved the operation locally and went through product development with my fine art printer and a local sewing company to create a mask that I was 100% happy with. It was functional, comfortable, well made, and sold well. I have had two different full collections of spring/summer and fall/winter collections.
During these times finding the right rhythm to be productive in the studio can be a challenge, what advice do you have for staying productive and focused?
I've always been ambitious to push my own boundaries, but the pandemic made me propel myself forward in areas where before I felt stuck. Experimentation with various mediums continues to provide me with ideas and I definitely suggest it to other artists who may feel blocked. From one medium to the other, the velocity of my art continues to grow. There are no limits to what you can create.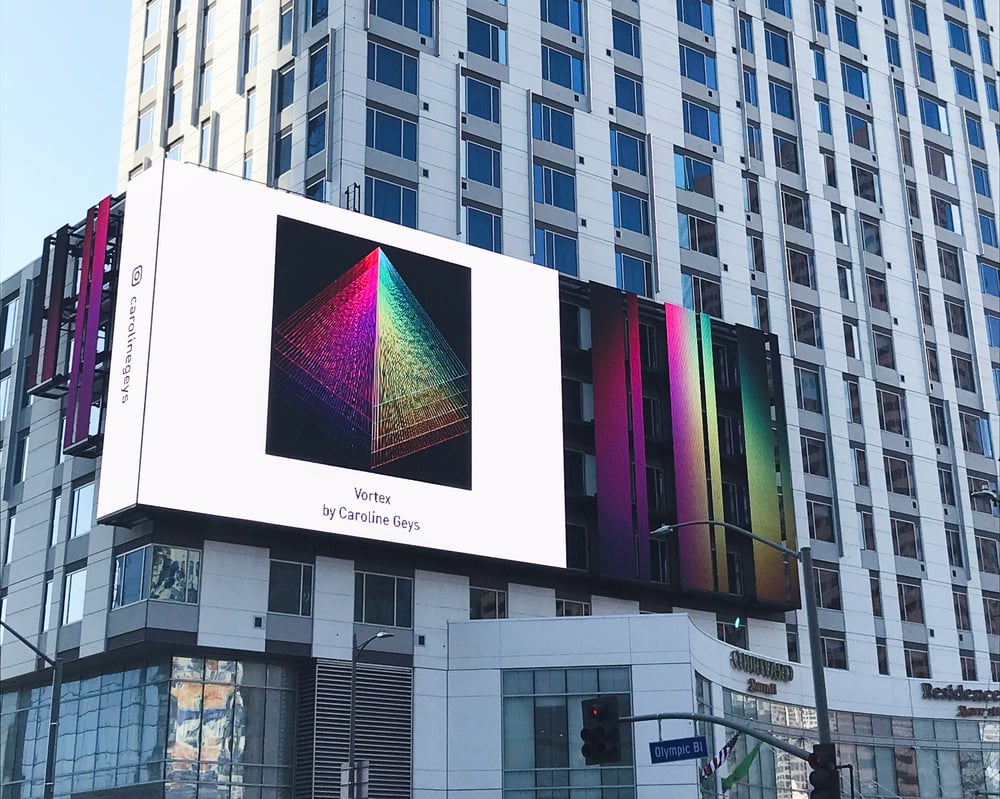 Marriott Courtyard at LA Live, StandardVision, Vortex, Curated Monthly Program, Downtown Los Angeles, CA
As an artist, how do you measure your success?
Measuring my success is an amalgamation of factors; financial, creativity, and challenging. Sometimes those factors take precedent over one another depending on what project or piece of art I'm working on. As an artist who sways between the commercial and fine art world, the goals and expectations change, but my determination remains as strong between the two. In the present day, those worlds continue to overlap.
It's difficult to pinpoint a specific event or milestone, each project, artwork, and experience endured is a building block. There have been several moments throughout my career that I felt all of the emotions possible of what I had just created and the power of a collaboration with another creative company, or organization.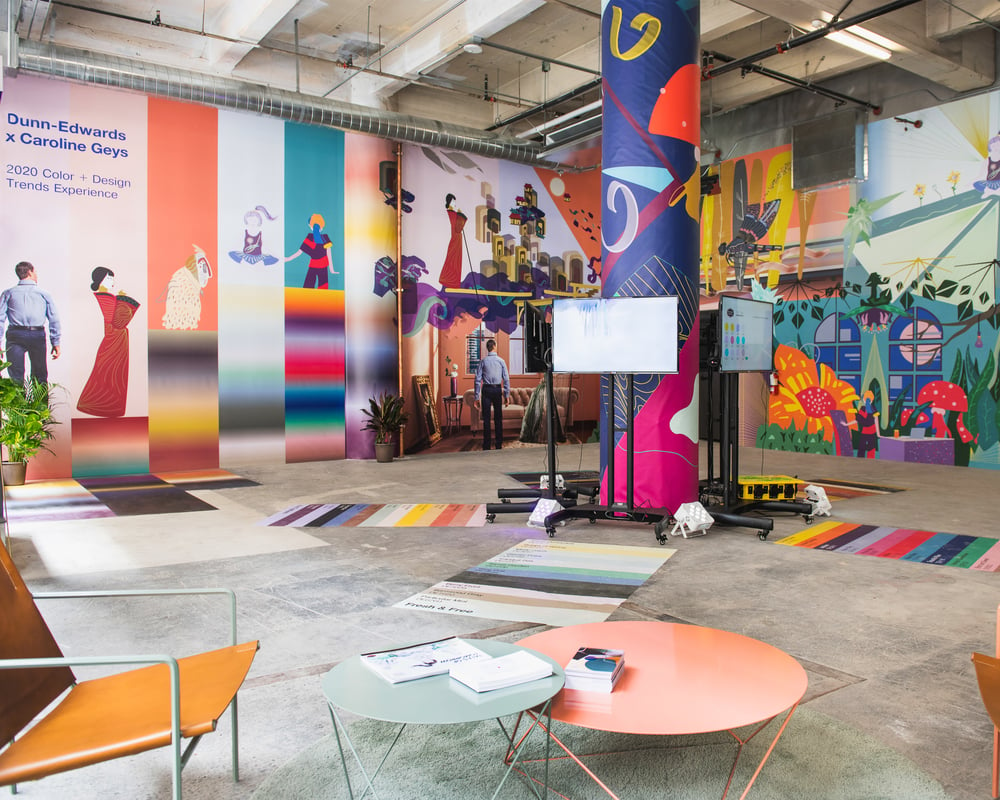 LA Design Festival / ROW DTLA, Dunn-Edwards x Caroline Geys Trends + Design Experience, Downtown Los Angeles, CA - Photo Credit: Bethany Nauert
How do you see the art market changing? Where you do see yourself in this transition?
I think the art market has been changing over the years as we've progressed more into the digital space in every way. The pandemic has many of us more dependent on the digital sphere to connect with those we need or want to interact with on a daily basis. Everything is online. Along with this fact is the opportunity for artists to market and sell their work in ways that were never possible before. It's not for everyone and it is tough to do it all on your own, but there are endless opportunities that the digital realm can provide. I feel it is so important to continually grow from what you endure. At this point, I'm more involved in the art world than I ever have been and there are no ways I want to let go of the momentum that I've built for myself after all of these years of dedication and love.
What advice do you have for artists who are beginning to build their careers? Have there been any habits or strategies that you have adopted that you feel have created more opportunities or visibility for your work?
Believe in yourself through and through, even though at times you will have doubts. Lean on those that love and support you the most. Don't expect for a project or a sale to be a done deal, until it is. Create work that you will be proud of for years to come even if your aesthetic changes throughout time. Learn to let go of what you think may not be completed at that time. Treat your clients and other creative collaborators with respect and give credit and request credit where is due. Protect your work by copyrighting, have communication in writing for projects and sales. Stand strong for what you deserve but be flexible when needed. Market your work and yourself whenever you can in the best way that represents you and your message. Always keep in mind why you love to create and try not to lose touch with that feeling. Be grateful for those that believe in you and will always stand by you with the best intentions. Experiment and innovate!
Do you consider yourself, and all artists, to be entrepreneurs? Why or why not?
My father instilled me with an entrepreneurial spirit from an early age but I didn't know it till many years later. Every artist is an entrepreneur in their own way and there are multiple levels that feed this interpretation. This fact can be especially true if they are selling their own work. Besides exhibiting with galleries throughout the years, the large majority of the time, I have been responsible for marketing and selling my own work. I have learned so much along the way, priceless experiences both good and bad. We have to recognize which experiences help us move forward and which ones can be detrimental to our growth and how we want to grow our business.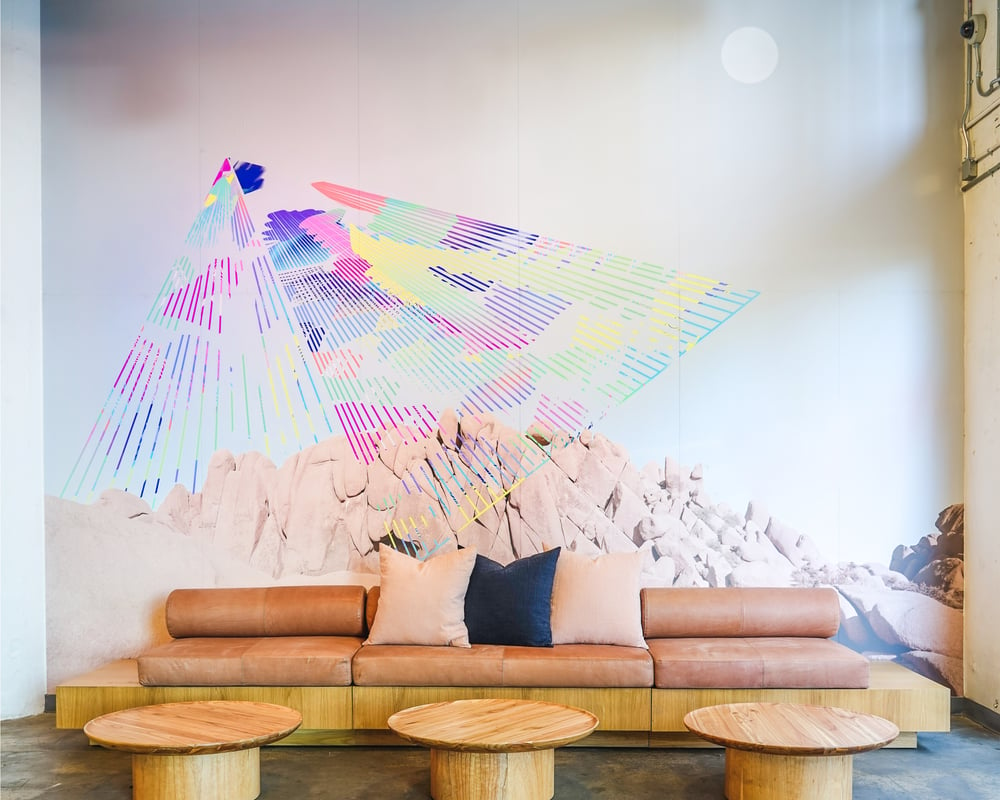 ROW DTLA, Joshua Tree Vortex, commissioned by Preen Inc., Downtown, Los Angeles, CA / Photo: Jake Ahle *Hospitality Design Magazine Award Winner in the Select-Service Public Space Category, 2019
Failure is an inevitable part of success in any field. Do you have advice for overcoming setbacks?
In some ways, failure can happen every day, multiple times a day, depending on what you're trying to accomplish. Failure has its weight no matter how you measure it.
I used to take a "no", losing a project, or a sale a lot tougher than I do now. There were moments and several days to follow that I'd feel down because of it. I chose to learn quickly from what I thought went wrong or what just wasn't meant to be for me at that time. My internal bounce back rate is much less than it used to be. Learn and move on, put your energy into yourself for the next opportunity. Every day I struggle, I learn, and I continuously push with all of the love and energy I have.
Failure is inevitable when you're constantly pushing yourself out of your own boundaries. You have to just pick yourself up. Only you can push yourself. Leaning on those that love and support you helps in many ways. As independent as I am, I know I need the support and love I have on a daily basis. It's ok and I encourage you to ask others for help and guidance when you need it or can be open to it. Surround yourself with people that love, respect, and accept you for you.
What sparked your interest in partnering with TurningArt?
I came across TurningArt when I had just begun my own studio full time in 2017. As an artist that sways between the commercial and fine art worlds, their team members are wonderful and effortless to work with, and the services they provide are in sync with what I have been looking for: to be a part of a network of artists.
What does having your artwork in the workplace and other commercial or public spaces mean to you?
Growing up with a father that was a land developer and marketing for architecture, design, and real estate firms, I understand the importance and the meaning of having artwork in public places and it is always a dream to have my work put in these spaces. Being able to see various sizes and pieces of my artwork in different locations is a very special feeling. I will always cherish becoming a part of a space while creating a piece of art and leaving an imprint that will provide viewers with their own emotions about the space.
To see more featured TurningArtists, return to our blog. To get Caroline Gey's art in your space, set up a free consultation with an Art Advisor here!
Check out her website here!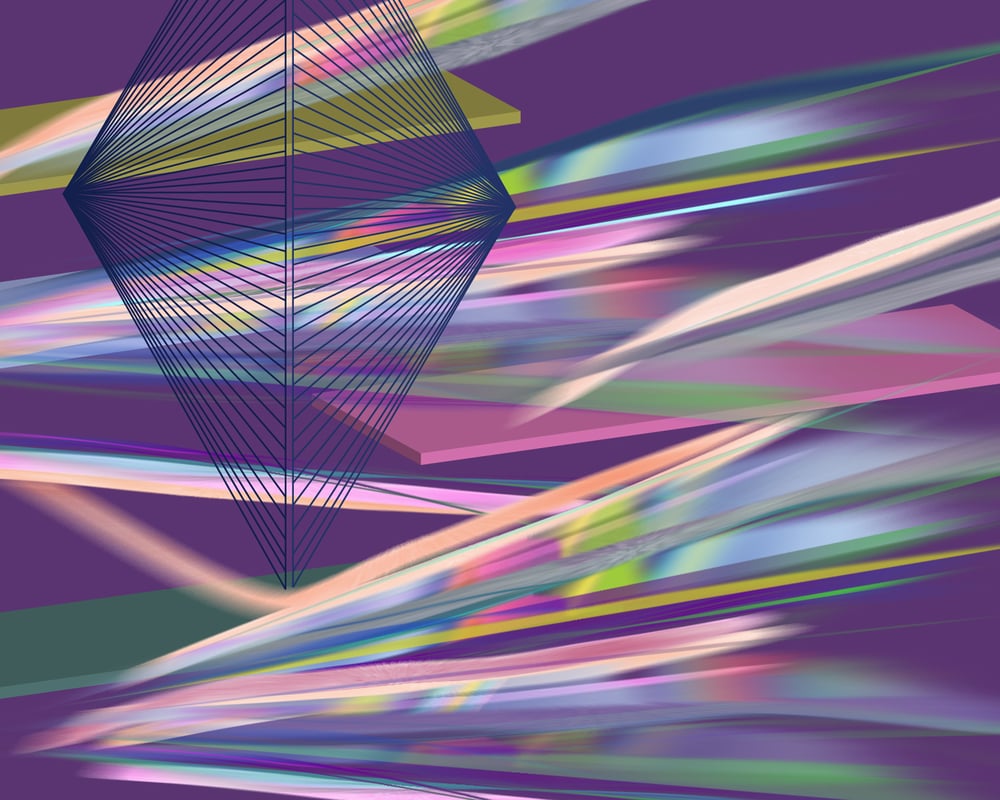 Burgundy Bauhaus, two layer anti-microbial fabric mask