Everett Spruill was born in a creative household where sewing, carpentry, classical music, and piano lessons were the norm. He would spend many of his afternoons in the Birmingham Museum of art drawing the African artifacts, an activity that fueled his fascination with all things African and helped to shape the direction of just about everything he has created. Everett never considered making art his career until a visit to a Picasso exhibit at the Miami Museum. The simplicity and grandeur of the work, along with the geometric patterns and African influence, inspired Everett to finally make the leap. Currently, he works in a variety of mediums and subjects, combining cubist, graffiti, and collage techniques to create colorful images of jazz, African cultural icons, and still life paintings.
Can you tell us about your work?
I fill my canvases with bold colors and rich textures to transfer feelings of resilience, peace, and harmony. My works explore jazz, the combined cultures of the African Diaspora, and American culture. Many of my works make reference to stained glass with colorful geometric patterns that include African textiles and reclaimed materials of the past and the present. My goal is to give the viewer a concise window into the African American experience and a closer look at the African aesthetic.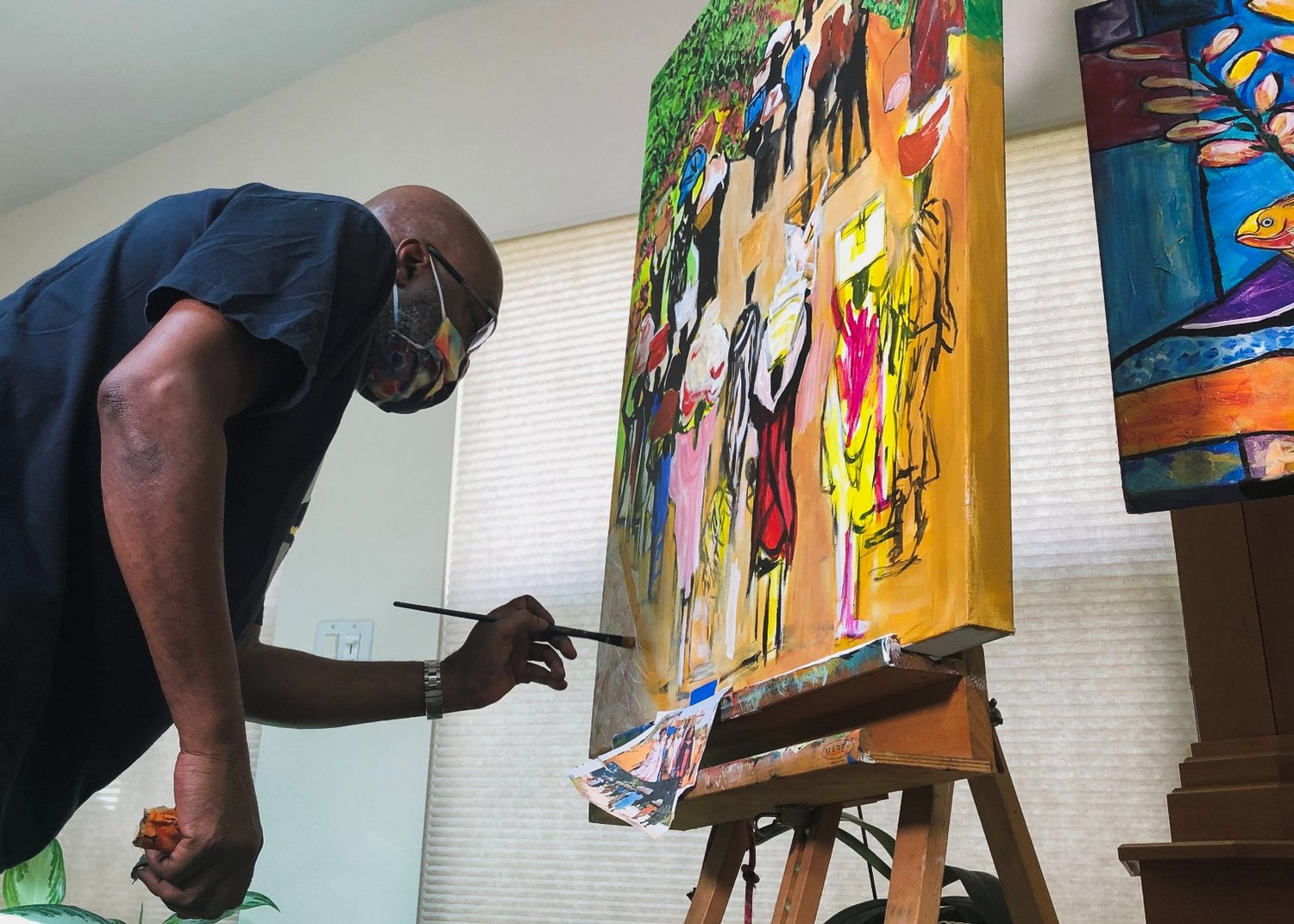 Can you tell us about your process?
As a self-taught artist, my techniques are the result of extensive experimentation. I focus on the importance of drawing, composition, tone, and mixing colors in each creation. I have three styles and use a wide variety of found objects, including, but not limited to, shells, magazine pages, tissue, postage stamps, various paint mediums, photographs, cut and torn hand-painted paper, air-brushed hand-cut silkscreens, drawings, and computer-manipulated images. Each work is very well planned, usually I do several thumbnail sketches. Working with both acrylics and recycled materials allows for a variety of techniques, mainly cubism and collage. My latest works attempt to recreate the feel of stained glass. The stained glass effect is obtained using a wet-on-wet technique and retarder to slow down the drying of the acrylic. I create hand-cut stencils which are airbrushed/spray painted.
The creative processes for my "Intuitive Creations" follow a number of steps. I use a gloss varnish to adhere drawings, photos, postage stamps, or torn and cut paper to the substrate. Transparent tissue is applied partially covering and connecting the first images. Using a wet-on-wet technique, watercolor and acrylic washes and lines (mostly primary colors) are applied, allowing colors to run, an action that partially covers and connects the adhered images into a harmonious unit. To create textural effects, a clear acrylic gel is applied by knife and scored or scraped into patterns. I then Airbrush through several hand-cut stencils to apply opaque symbols and designs that will unite the composition. Accents and highlights are added with splattered and dripped acrylic paint.
My representational images (Jazz and Blues and Family series) include combinations of the same techniques, materials, and processes mentioned previously; however, the central figure begins with a drawing, usually from photos. Paper, fabric, or photos are cut to form the various sections of the image and or background and are assembled together like a puzzle. I work only on archival acid-free museum boards, watercolor paper, and canvas. Hardwood panels are sometimes used for smaller images and are triple primed and sealed with stain-resistant varnish to prevent yellowing from the acids in the wood. Permanence and longevity are major concerns, every effort is taken to best preserve and protect the work by using archival paints (non-toxic) and substrates free of materials that shorten the life of the work. Each work is protected with acrylic varnish.
Because my work is intuitive and emotional rather than cognitive, many times the exact processes are not the same. Nevertheless, I'm satisfied with a completed work when it consists of the all-important variables of line, shape, color, texture, repetition, and balance.
When you are looking for inspiration, what resources do you turn to?
Life experiences are the major source of inspiration. I carry a camera with me wherever I go and I sketch constantly….because I have a variety of interests and hobbies, I'm never at a loss for ideas or subject matter. Photography and postage stamps have played a big part in my love of art. My grandmother introduced me to Philately at an early age...I have stamps from all over the world that featured the world's greatest art in miniature.....it stuck with me....so to this day I continue to collect literally EVERY commemorative stamp issued by the US since 1965. I have so many stamps that I decided to make them a part of my art in a way that is relevant to the painting...African stamps are amazing.
Walk us through a typical day in your studio. What is your routine?
I currently work from home. I use my two-car garage as a primary production/storage area for spray painting and packaging works for shipping. I have a spare bedroom that's used exclusively for producing. My day starts around 9 am with pre-planned activities….I keep an ongoing to-do list prioritized by dollar amount…commissions and delivery of sold works take precedence….after that, responding to customer requests, checking my various income streams… Finally, I spend the day working on at least 5 -10 works in progress. Paperwork is also a must, so while I'm watching sports or eating, I do the admin stuff on the computer. The day ends around 2 am and I do the same thing again unless I have an event or an appointment. My goal is to produce about 200 originals a year.
Finding the right rhythm to be productive in the studio can be a challenge, what advice do you have for staying productive and focused?
I think diversity is the key. Try new things. Some artists are taught to produce in just one style; I say work in a few styles - it helps to expand your creativity and it may open up more opportunities.
What advice do you have for combating creative block?
In my opinion, if you have a problem finding stuff to inspire you…you're in the wrong business. My work is personal, most artists' work is personal….it's easy to tell my own story, my interests, and my passions. That's all you have to do… then there's abstract art… just express yourself with marks and or color and produce lots of it.
As an artist, how do you measure success? Can you recall a specific event in your career that made you feel successful?
Innately, I'm a businessman first; that's my formal training. As an artist, I want my voice to change the world and influence the way people think. Combine the two and you get an artist that wants financial success as well as societal acceptance. Therefore, I strive to be financially free through my craft. I crunch the numbers. On the other hand, I make my work accessible. I give away lots of art - .literally. My goal: a Spruill in every household, by any means necessary. My biggest milestone came in 1995 and 1996 when I created consecutive commemorative works for Disney's Black History events.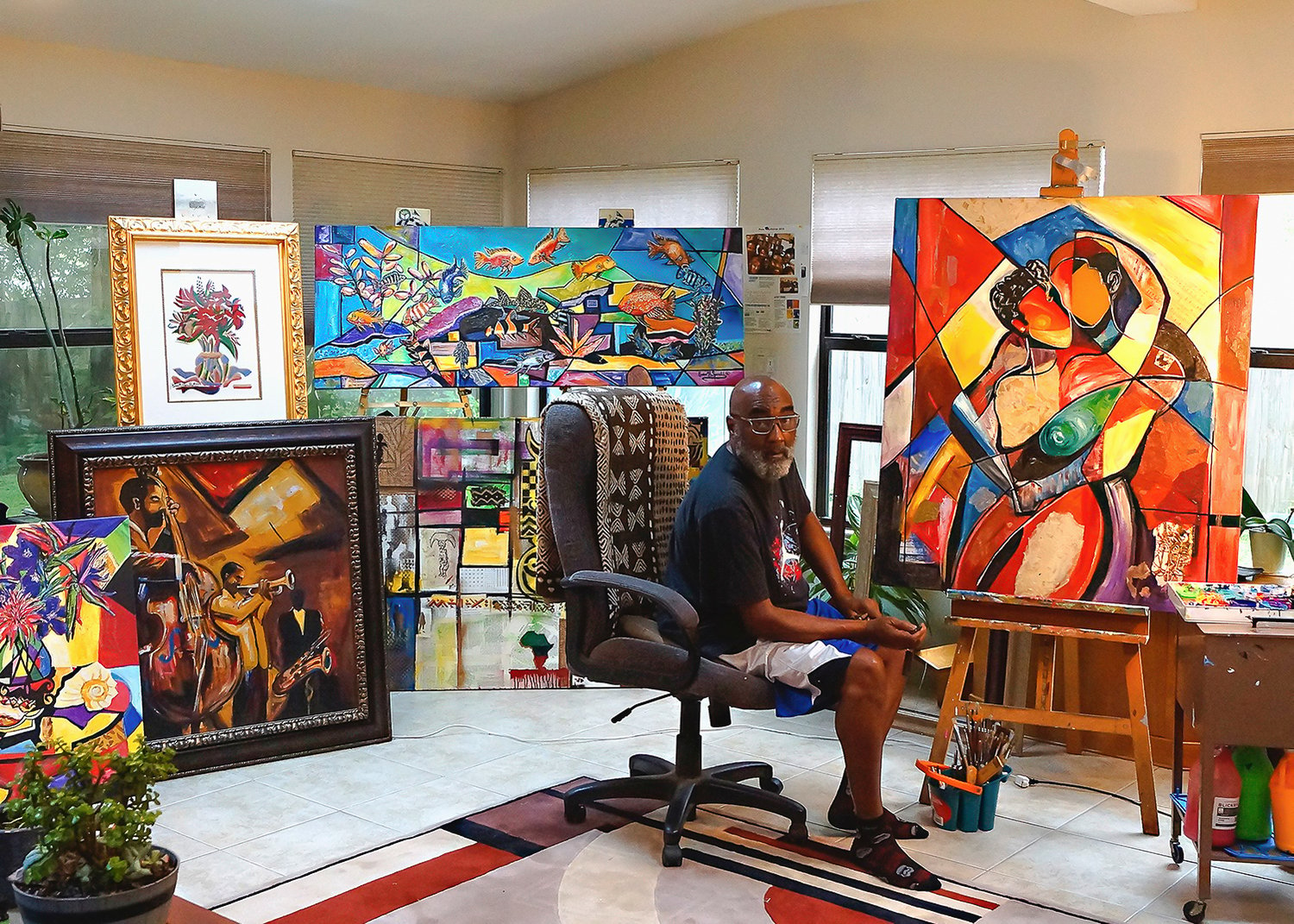 How do you see the art market changing? Where you do see yourself in this transition?
The art market is trending up, especially for African American artists, so, I'm very optimistic about an increase in awareness and of course sales. With the infinite opportunities available through the internet, I'm confident that the sky's the limit.
What advice do you have for artists who are beginning to build their careers?
My advice: have a business plan and produce, produce, produce daily. Also, have an optimized web presence, and have art to give away, yes, free art. Art is a gift meant to be shared. Don't' be afraid to make some cold phone calls.
Do you consider yourself, and all artists, to be entrepreneurs? Why or why not?
Of course, we're entrepreneurs. Our work is at its core Intellectual property. Whether you're in it for the money or not, the property has value and it must be treated as such; it's an asset that appreciates in value. Ignore those facts and your legacy is done. Treat it as a business from the start. Protect your creative investment.
Failure is an inevitable part of success in any field. Do you have advice for overcoming setbacks?
The only way to fail in the art business is to quit. In the art business, it's simple: just about anything goes. There's no such thing as bad art. Somebody is gonna like whatever you produce as long as you produce a lot of it and most importantly…share it.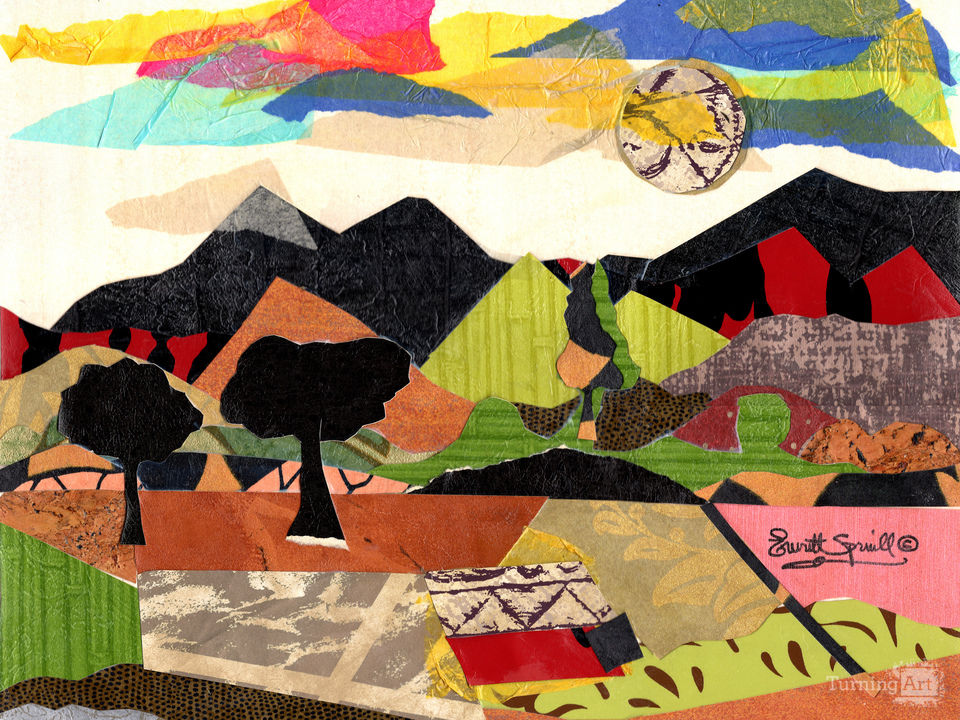 What sparked your interest in partnering with TurningArt?
As a businessman first, I'm always looking for outlets to get more exposure which in my mind, translates to sales. I just did a search, liked the platform, and signed up.
What does having your artwork in the workplace and other commercial or public spaces mean to you?
I love sharing my work…it's part of the primary mission. I produce so much art that it's almost necessary to exhibit/store it in a public place. It serves two purposes. Yes, it feels good when people tell me they saw my stuff in a public place and even better when they purchase it.
To see more featured TurningArtists, return to our blog. To get Everett's art in your space, set up a free consultation with an Art Advisor here!