In her home studio, TurningArtist Lacey Kim applies a coat of primary color to her canvas before layering on one line after another. It is impossible to track the trajectory of each line on the canvas; however, for Lacey, it is the state of "not knowing" that opens the door to a world of endless possibilities. Lacey embraces the experience of making art and answering the call of intuition.
We interviewed Lacey to learn more about her work and how she finds inspiration in our current world.
Can you tell us about your journey to becoming a professional artist?
I was born and raised in Korea. Growing up in southeastern part of the country, I found art quite naturally, for I was a quiet kid and rather enjoyed spending time doing things like calligraphy and drawing. I was the type who liked to think, draw, and read. As long as I had the tools I needed, I found pleasure through expressing myself. Eventually, that led me to think about a future in art. After graduating from Seoul Women's University with a BFA, I pursued an international education, completing an MA at Nottingham Trent University in the UK, then an MFA at New York's Pratt Institute. Each place and experience has informed my creative process. To date, my work has been shown in cities like New York, Chicago, Miami, and Seoul.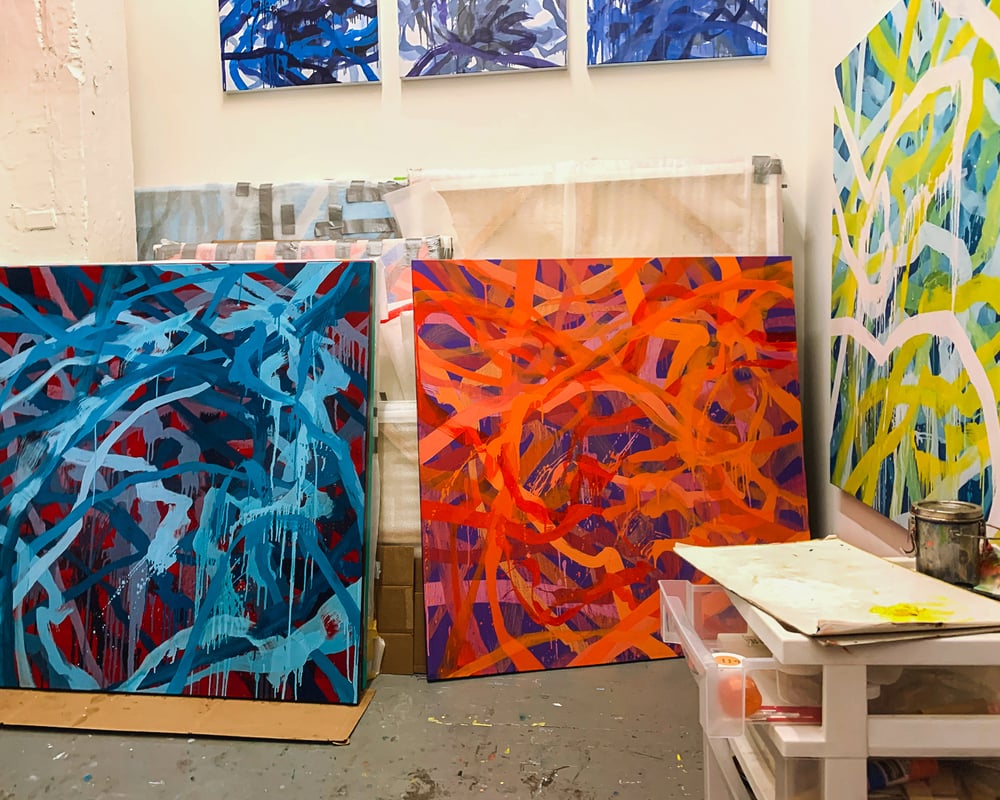 Can you tell us about your work?
I have always loved the feeling of applying paint with a brush. The texture created when the paint is combined with a liquid solvent, and the changes observed when colors are mixed with one another, provide a constant, intimate thrill.
My painting reflects a line-based language, defined by layers and color combinations. I try to be true to myself while I work on each painting for I believe directness of acting and being is the way to one's true nature. This nature is not something we make; it is already there. Zen teaches that we spend years forgetting and abandoning this nature, but that we can always access it again. Once realized, this clear approach translates effortlessly to everything I create. The process of painting is not simply about my own journey but about connecting with others. My work reflects something that is shared; Mahayana, or 'great vehicle', captures the idea of finding wholeness in harmony with other beings. Creating art is, therefore, a powerful way to engage this wholeness.
I consider the contents of each painting a reflection of a captured moment - the record of a fleeting experience. I hope my work provides viewers with a window to the truth of their own being.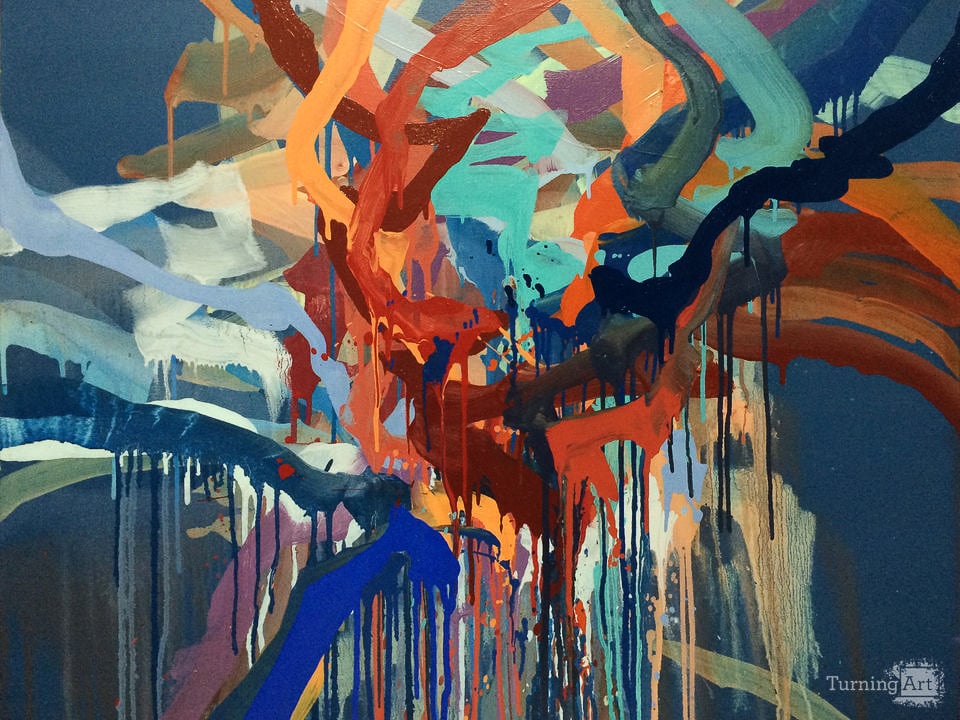 When you are looking for inspiration, what resources do you turn to?
Everything certainly has the potential to influence my creative process – from scenes of nature to exciting shapes or colors I might come across on an otherwise mundane day. Very often, emotional responses to systemic injustice drive an urge to connect with people on the basis of empathy and compassion. This shapes my work, also.
Walk us through a typical day in your studio. What is your routine? Has it changed with COVID-19?
Like many other places, COVID-19 hit my home city hard. Lockdown forced me to stay away from my studio for six months. This gave me the opportunity to set up a home studio, where I took up watercolor and gouache.
At home, a normal day starts with a healthy breakfast, followed by a review of any online opportunities available for artists. After that, I start to paint, and the hours fly by. I typically work until my husband tells me it's time for dinner!
During these times finding the right rhythm to be productive in the studio can be a challenge, what advice do you have for staying productive and focused?
Experimenting with new and/or different materials is one thing that kept my process feeling fresh, even from home. Also, I try to stay true to the work that comes naturally to me – regardless of my environment. Like anything else, art is a practice; it requires dedication and attentiveness.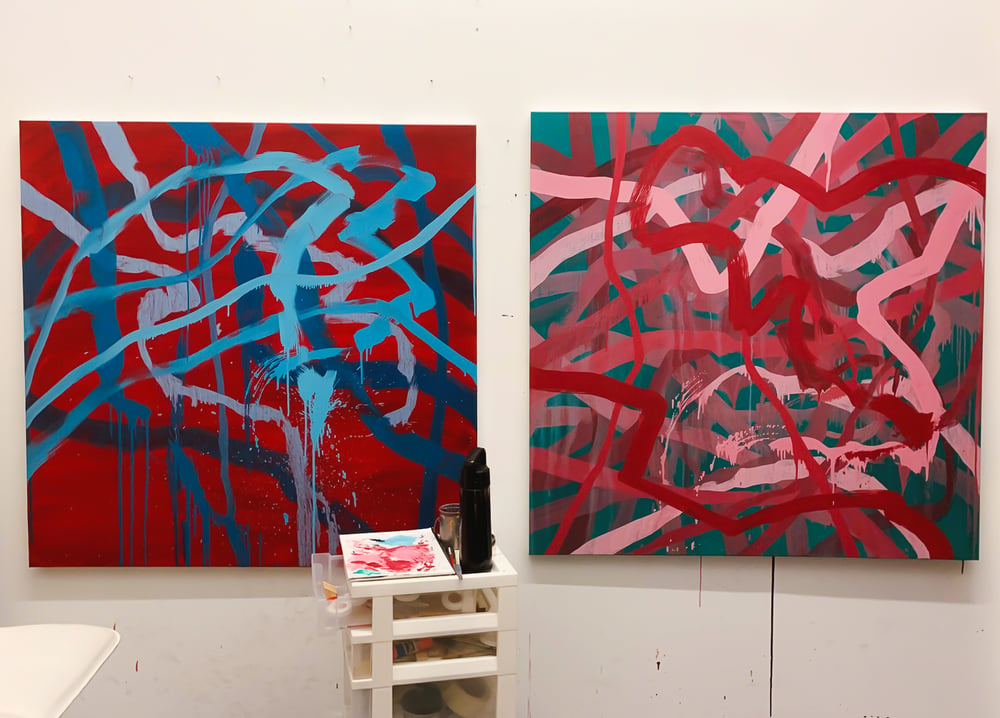 What is your advice for combating creative block?
Try not to. Make, stop, think, let your mind wander. Remember that silence is a part of speaking. When the process feels challenging, try to focus on the substance that inspires you.
As an artist, how do you measure your success?
I am always applying for new opportunities to show my work. The thrill of finally getting the chance to exhibit is definitely unforgettable. A couple of years ago I was able to show my work in downtown Manhattan. It was particularly gratifying since the space was large enough to accommodate many of my larger paintings.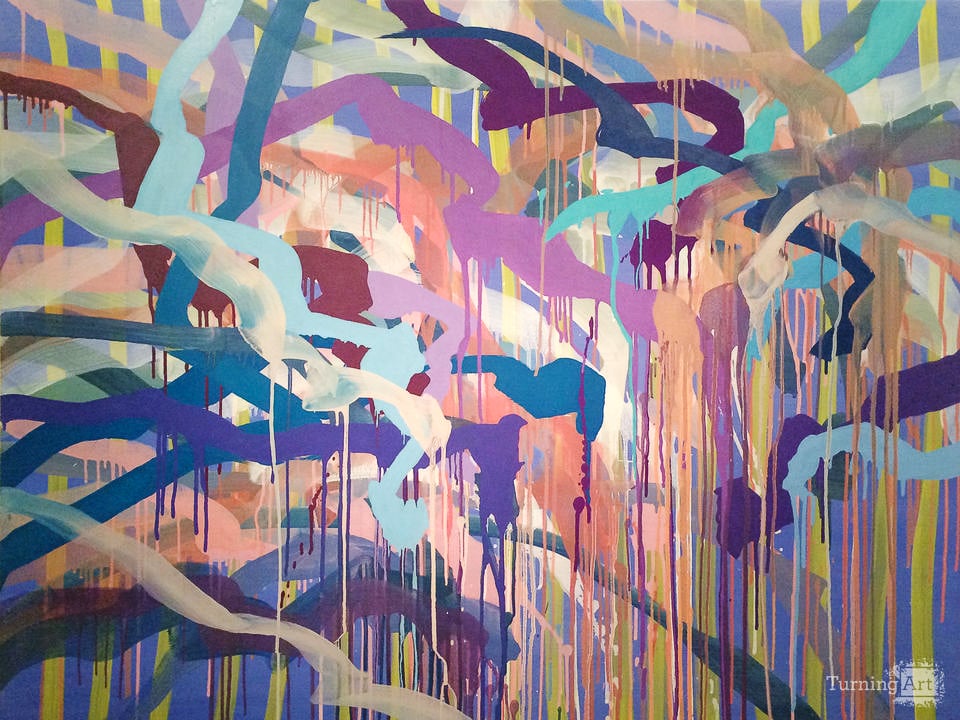 How do you see the art market changing? Where you do see yourself in this transition?
I've seen the art market become more open, and generally more people-friendly. I am grateful for the emergence of the online market and try to engage with the art world online as much as possible. I am especially excited about the potential to connect with artists, gallerists, and enthusiasts internationally.
What advice do you have for artists who are beginning to build their careers? Have there been any habits or strategies that you have adopted that you feel have created more opportunities or visibility for your work?
Share as much as you can. Put yourself and your work out there, then be prepared to do it again and again.
Do you consider yourself, and all artists, to be entrepreneurs? Why or why not?
I think artists, myself included, are both entrepreneurs and laborers. Passion and inspiration are critical, but so are discipline, skill, and routine.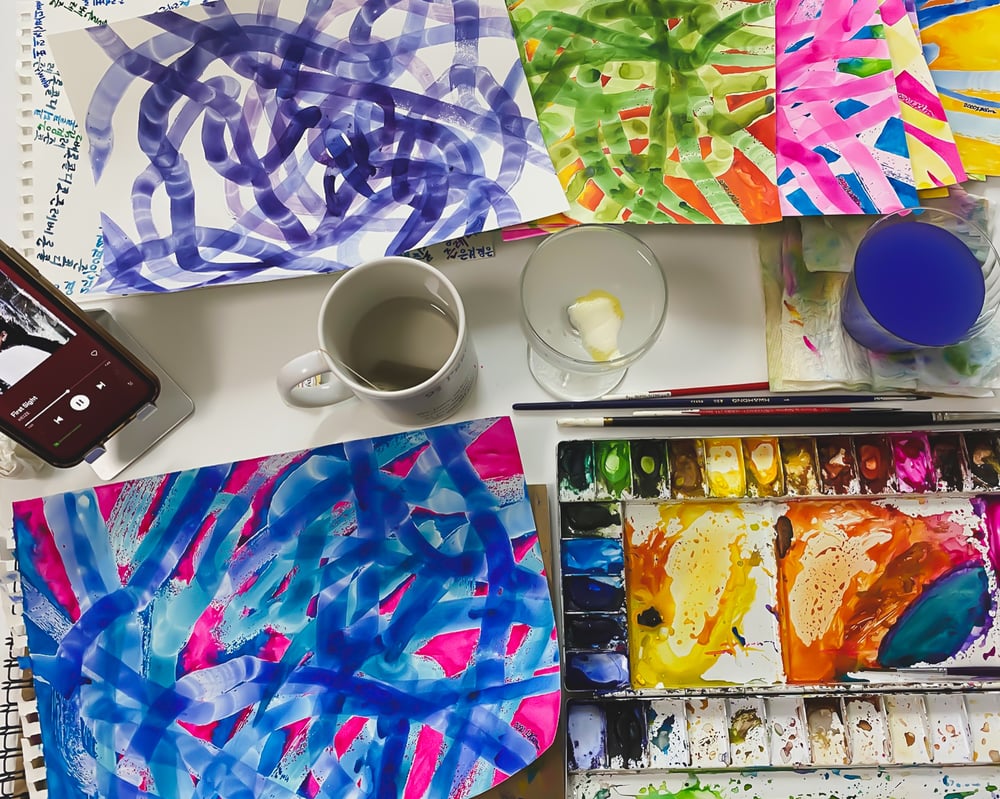 Failure is an inevitable part of success in any field. Do you have advice for overcoming setbacks?
I try my best not to fear setbacks, but rather embrace them. There is usually something interesting to be found within a challenge – something you can learn from, or otherwise incorporate into your art. I try to remember that the bigger picture is what's most important.
What sparked your interest in partnering with TurningArt?
TurningArt gave me one of the first opportunities to share my work online. Our partnership has been defined by mutual trust and respect. I deeply appreciate the platform TurningArt provides for making my work more accessible, at any scale.
What does having your artwork in the workplace and other commercial or public spaces mean to you?
It means quite a bit. On the most basic level, my work is about being present. When I imagine my paintings in the background of everyday life, bearing witness to countless unfolding stories, I feel a profound sense of joy and motivation to continue.
To see more featured TurningArtists, return to our blog. To get Lacey Kim's art in your space, set up a free consultation with an Art Advisor here!