Whether your company is faced with office relocation, remodeling, or moving into its very first space, creating a welcoming work environment is instrumental in establishing your company's culture. With mounting research demonstrating a causal link between employee well-being and productivity in the workplace, thoughtful investments in decor and design, including rotating art have become the new normal.
Factors such as furniture, lighting, plants, and open floor-plans are significant in contributing to a productive environment, but artwork maintains a unique ability to serve the aesthetic atmosphere while also communicating a direct and positive message about a company's culture and value--even through its presence alone.
Despite the rejuvenating nature of change, the "new leaf" feeling proves fleeting, as the fresh and exciting quickly become the familiar and routine. To combat this inevitable pitfall, many companies have turned to rotating their artwork collections throughout the year. Art rotation provides a unique opportunity to keep spaces fresh and adaptable to new trends or seasonal tastes without disrupting workflow.
A study from the Wharton School at the University of Pennsylvania, known as the "Fresh Start Effect", found that temporal landmarks are direct motivators in aspirational behavior. The research explores why people are more likely to commit to setting goals or breaking bad habits at certain landmark times of year, such as birthdays and New Year's. The author proposes that these milestones allow us to leave the bad and undesirable in the past to give way to new mental periods, creating the sensation of a fresh start. Changing your space's artwork in sync with temporal landmarks provides a tangible, visual agent to reinforce the "fresh start" feeling. For businesses, those opportunities present themselves to a team at various points in time, including the start of a new year, each season, or every quarter.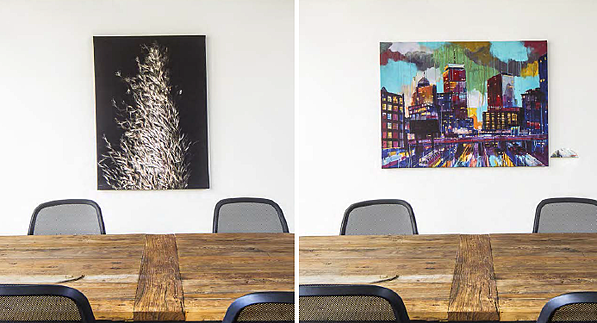 The benefits of art rotation do not end at the turnover alone, as individual piece selection goes a long way in contributing to a motivating and positive atmosphere in the workplace too. Art selections can be tailored to voice a company's mission, relate to its field or product, act as a spotlight on the local creative community, or become a hybrid of all three. In addition, rotations can be set to themes that are important or meaningful to the team. Whether they are based on the time of year or quarterly goals, use your artwork to communicate the value of community, culture, and employee well-being.
However, the reality is that for many companies, making thoughtful artwork selections is just one of many daunting tasks amidst the labored undertaking of designing or redesigning a space, and the prospect of revisiting selections multiple times a year may sound downright overwhelming. Previously, reconciling those very legitimate concerns against the substantiated notion that office environments do have a direct effect on productivity was either extremely costly or extremely time-consuming, and sometimes both.
With TurningArt's print rental service, it doesn't have to be a choice, as companies can reap the cultural and aesthetic benefits of art rotation both affordably and conveniently through customizable service options. Our catalog of over 15,000 works by independent emerging artists offers something for everyone, and scheduled rotations at customizable frequencies means never having to settle on just a few. Plus, with artists creating and adding new artwork to their TurningArt portfolios on a daily basis, that perfect piece for your space could still be in the works. From start to finish, our curators can navigate the catalog and set just the right tone to any space, while simultaneously solving pesky hang ups like framing, shipping, and installation.
When it comes time to rotate, let your artwork move beyond wall decor to become an interactive experience for employees. Rather than leaving the responsibility of piece selections to just one person, TurningArt provides an artwork voting feature in which employees gain access to a private login that enables them to anonymously rank and comment on a set of curated pieces. When the new pieces arrive, the artwork embodies a personal experience for the team and attributes to the culture at large.

These are just some examples of how art rotations can complement your space while contributing to employee well-being . If you're in the midst of an office relocation or redesign, and you need a hand in finding just the right art for your team, let us know, we've got you covered!