There's nothing quite like autumn. Even if you're not in a place that experiences the cooler weather and changing colors in these months, the season still evokes feelings of coziness, warmth by a fire, and cool walks among crunchy leaves. Here are a few of our favorite pieces that exemplify those feelings of fall.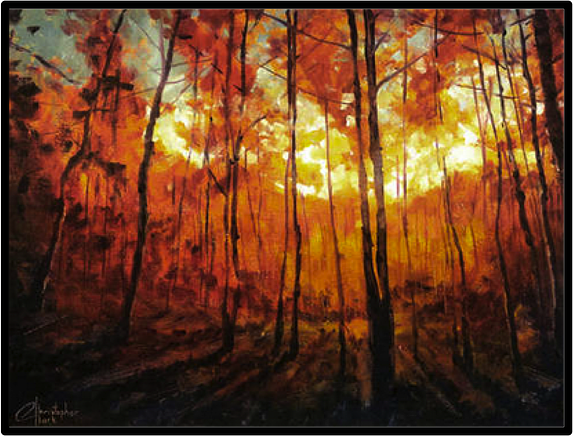 "Autumn Gold" by Christopher Clark captures the essence of this time of year like only an impressionist-style painting can. The impressionist movement, dating back to the 19th century, is hallmarked by its emphasis on light as a visual expression of the fleeting nature of time. As the days get shorter and sun shines through the falling leaves, there is truly no more organic display of those themes, so what better style to capture them in? Chris, who now lives in the Southwest, fondly describes this painting as bursting with memories of warm fireplaces, and the smells of cinnamon and nutmeg.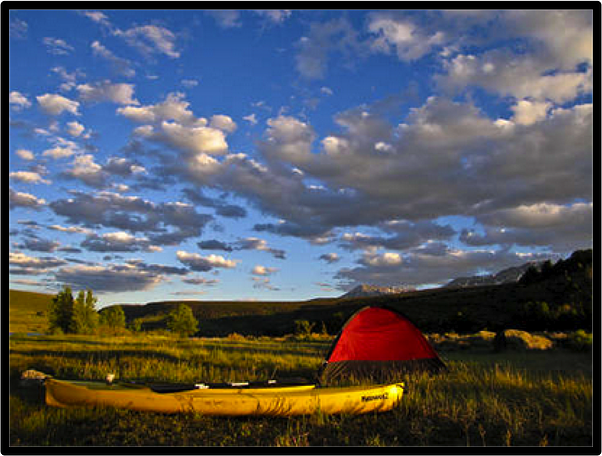 In many places, fall marks the end of camping season, but these months also leave us with ample opportunity to take one last 3-day weekend and spend it outdoors. If you're looking for a swift, motivating push to pack up the car or if you just can't make the time and are in search of the next best thing, look no further than Will Elmore's photo "Camping in Colorado.". With mountains in the background and a big yellow kayak in the foreground, relaxation and adventure have never felt more compatible. The early evening light, red tent, and golden brush fill this photo with a crisp warmth only autumn knows.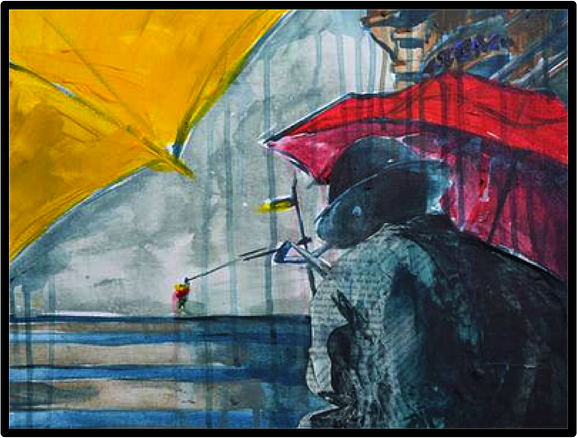 Heidi Keyes's piece "Taking Cover- Budapest, Hungary" was inspired from a photograph she took while on a month-long artistic journey throughout Europe in the fall of 2012. Although we all like to remember autumn as brimming with sunshine and foliage, Heidi's piece very accurately captures the dreary side of the season, along with that distinct kind of city-rain that takes a shower to get off of you. Although we know it's a scene from Budapest, the lack of representational context makes it feel like it could be a scene from any city, or rather, every city. Despite the gloomy setting, Heidi plants bolder, more idyllic fall colors into the scene that act as a beacon for brighter days. She crafted the central figure's coat from pages of her favorite book, "The Bell Jar," to tie the piece into her series exploring the inspiration she amassed taking trains and buses while backpacking, reading, and ruminating her way throughout the continent.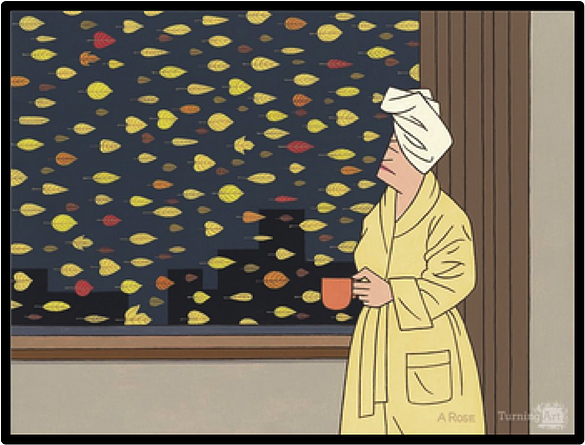 Of course, as with anything autumn-themed, foliage needs a proper spotlight. To avoid fully succombing to the season's cliches, we're going with Alan Rose's "Slow Storm.". Alan's ability to depict scenes that feel decidedly mundane, while appearing extraordinarily imaginative, creates a playful dichotomy. Across his entire body of work, Alan renders ordinary moments with a quirky point of view through flat, cartoony and controlled imagery. His style lends itself to his penchant for off-beat, droll humor as he constantly seeks the perfect balance of seriousness, silliness and ambiguity with each composition. While some critics debate if and how humor has a role in serious art, Alan is firm in his belief that humor is an essential and honest part of reality, not merely a distraction from it, and as a consequence, it must have a role.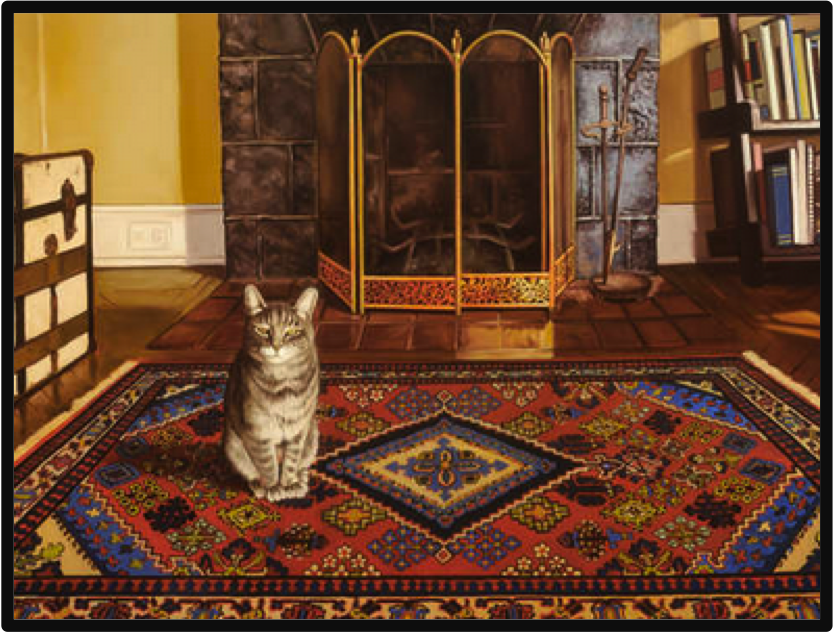 Deciding on just one Ben Ferry piece was the real challenge here. Ben's rich, warm palette is dominated by browns, yellows, and reds to create just the right feeling for the season. Ben has an uncanny ability to depict light through shadow in a way that you can practically feel it by looking at it. I ended up choosing "He'll Kill You Too" because it looks like a pretty great room to spend this time of year in--maybe sit and read while you wait for your pumpkin pie to bake? Whatever you do, keep an eye on that four-legged housemate.
If you'd like to see more of our favorite staff picks, follow us on Facebook and Instagram for daily updates! And - if you'd like to learn more about how you can get some great pieces like these, click the button below: