Whether you're snowed in by the fire or outdoors stringing lights on a palm tree, the holiday season has a special air about it that drifts through homes from coast to coast. It's a time set aside for family and friends to celebrate, reminisce, reflect, and give, with delicious meals and an abundance of desserts peppered in between. It doesn't matter if you're busting out Michael Buble albums the day after Thanksgiving or finding yourself in an itchy handknit sweater dreaming of spring, it's a time of year unlike any other, and we all know it well. To welcome it, we're decking the blog with some our favorite TurningArt pieces inspired by the spirit of the season. Enjoy!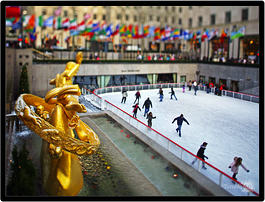 Manhattan is home to some of the most iconic holiday events and displays in the world. Near the top of that list are the tree and rink at Rockefeller Center, which Raymond Haddad captures in his photo "Tiny Skaters". As a resident New Yorker, many of Raymond's photos celebrate the character and vivacity of the city through both its crowning landmarks and unsung moments of beauty, which he carefully arranges with eye-popping color and contrasts. As an added bonus, the illustrious Prometheus statue in the rink is an icon in itself, completed by the prolific American sculptor Paul Manship, it is known to be the most photographed statue in all of New York City.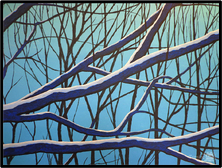 Although the sight of bare snow-capped branches as depicted in Ricardo Maldanado's Still Winter might only be familiar to those of us up north this season, it's an undeniable hallmark of the holiday season. Ricardo's paintings are known for their bright and vivacious palettes, so leave it to him to bring life to a ordinarily stark and barren scene. When asked to describe this piece, Ricardo explained, "There are those days in winter when the air is clean and cold and everything is still. It is blue all over. The snow on the branches of the trees does not melt and it feels like the season will last forever."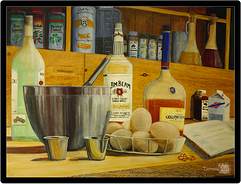 Of course, the best way to battle the cold outdoors is with libations indoors. 'Tis the season to guiltlessly indulge in cream-based cocktails, and thus no holiday post would be complete without the mention of Eggnog. In this painting, Louis Ebarb stages all of the recipe's fixings in a rustic wood kitchen that I imagine we might find inside of a cabin set within the snowy woods of Vermont. The warm palette of this playful still life brings a charming spirit to the piece that perfectly encapsulates the essence of the season.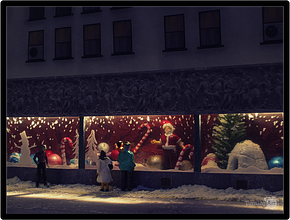 Alber Napoleon Wildner achieves a unique and playful dichotomy in his artwork by depicting satirical, tongue-in-check narratives through the painstakingly-detailed medium of miniature dioramas. Because dioramas themselves are so frequently staged in holiday displays, I find the circular relationship between the medium and subject in 30 Days till Christmas especially clever. Each of Alber's dioramas are created using miniature 1:100 scale models, which he builds by hand. His interest in miniature photography originally stemmed from its ability to play with our sense of reality and scale. He continues to push the limits of this concept today, while creating distinctly unique works of art in process.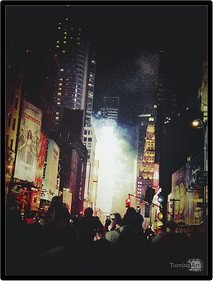 Like all good things, the holidays must come to an end. And honestly, by the time New Year's Eve rolls around, I think we can generally agree we're more than ready. Ready to put down the cookies, ready to take down the decorations, and ready ring in a new year full of opportunity. In my opinion, there's no better image to capture the excitement and energy of New Year's Eve than Phil Provencio's photograph 3..2..1, taken in Times Square at the ball drop. Phil has a remarkable ability to take candid scenes from the unpolished streets of New York, add a touch of whimsy and romance, and transform them into what look like stills from a movie set. 3..2..1 does just that, and has me looking forward to 2015 already.
If you'd like to see more of our favorite staff picks, follow us on Facebook and Instagram for daily updates! And - if you'd like to learn more about how you can get some great pieces like these, click here!