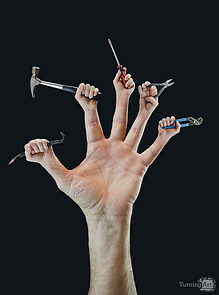 When it comes to installing office artwork, you have two options: hire a professional or do it yourself. The process is not as simple as one may intuit, so, naturally, we recommend hiring a professional. Nonetheless, for those do-it-yourselfers, here's a list of things to consider before you pick up a hammer.
What surfaces are you working with?
You could be installing on drywall, brick, marble, glass, metal or a variety of other surfaces. You may even have to account for multiple surfaces within each space, and each surface may require a different method of installation and different equipment.
Do you need a hole-less solution? If so, can your surface withstand adhesives? Magnets? Can your ceiling accommodate a suspension system?
Not all surfaces can be drilled. If you find that you've chosen a space for artwork that has a limitation like this, it will require extra time, and lead to additional expenses. Often, employees charged with the task of hanging the art are not prepared with the recommended materials like industrial grade adhesives or magnets, nor do they have the expertise to do so correctly. This means you may have to return to the idea of hiring a professional art installer to rectify the situation.
What heights are appropriate for particular area?
Typically, artwork will be hung so that the center of the piece is 64 inches above the floor. But – this standard won't work if there are obstacles that could either obstruct the view of the artwork or, worse, endanger it. For example, chair and benches that are part of sitting areas, may not block the artwork, but could increase the likelihood that people accidentally bump into your art or lean against it.
In other cases, a particular placement might be visible from one area of a space, but not from another. Doors could obscure your artwork when left open or hanging lights could block it from certain angles. Pipes, columns and other building features can also block your art. Like any other investment, you'll want to get the most bang for your buck with your artwork, so maximum visibility is critical.
What about lighting?
The wrong lighting can be just as disruptive as obstructions to the visibility of a piece, and it can even alter its appearance. This may require you to rethink placement, or consider installing additional lighting fixtures to focus attention on the artwork.
For multiple pieces hung side-by-side, what is the appropriate height and spacing?
Typically, the total visual area encompassed by multiple pieces should be fspaced evenly within the framework created by the edges of walls; however, fire extinguishers, light switches, windows, signage, and other objects may share that space and must be accomodated.
Are there compositional elements that should be considered? When does it make sense to hang multiple pieces on different levels but equal spacing?
In diptychs and triptychs you'll find diagonals, horizon lines, colors and motifs that play off one another, but can also complicate the overall balance. These compositional elements could interfere with a window view or an architectural element if hung stacked, side-by-side, or in ascending height order levels. You'll have to determine which of these options creates the most balance.
Will you display a placard?
For single or multiple displays there are options for placard placement. Often, installers will choose the bottom right corner of the piece so that it's part of the display, but others may choose an entirely different wall to avoid clutter or distraction depending on how busy the piece or wall may be.
What if a chosen piece doesn't fit the space as anticipated?
Appropriate imagery for certain spaces is worked out in the curatorial stage – but sometimes those selections may not work as well as planned. For example, a piece chosen for an office kitchen may appear out of place in reality because it doesn't quite gel with the dominate features of the decor, such as a copper counter or stainless steel appliance. Having an ability to improvise a placement takes intuition and experience.
What tools will you need?
The best installations go smoothly with a plan where the above questions are fully answered and your art handlers have the right equipment, which could include:
Hammer, nail, pencil, 25 ft measuring tape, level, painters tape (to avoid making marks on wall), ladder, drill or hammer drill (necessary for brick), hanging hardware (do you need d-rings, nails and hooks, suspension, magnets, adhesives, special fiber cloth and solution to erase finger prints, safe packaging or wrap to transport/place pieces, drop cloth (for messy drilling
As you can see, there's a lot of planning that must be done and each step must be taken with care in order to ensure a smooth art installation. Although it's possible for a company to install art itself, it may be much more of a headache than anticipated and the risk of damaging expensive pieces looms as a very real possibility.
As a full service art company, TurningArt handles the entire process from curation to installation and we'd be more than happy to talk more with you about our process. If you'd like to learn more, click here to speak with an Art Consultant.